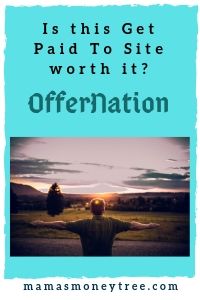 What is OfferNation, as a get-paid-to (GPT) site? What are the various ways through which you can earn, and do they really pay out?
Welcome to my OfferNation review.
There are so many GPT sites around these days, some are scams, many are not. But you cannot possibly join every one of them.
The trick to earn from such platforms is to find one or two that pay decent amounts, with activities that you enjoy, and just focus on putting your time and energy on there.
In my honest and in-depth OfferNation review, I will walk you through the entire members' area, showing you its potential, so you can make an informed decision as to whether this GPT site is worth your time and effort.
Without further ado, let's dive right in now!
---
OfferNation Review Summary
Product: OfferNation
URL: https://offernation.com/
Product type: get-paid-to (GPT) site
Price: free to join
Scam / Legit? : Legitimate
Recommended or not? : Recommended, if you are only looking for a little extra pocket money
OfferNation is a great get-paid-to (GPT) site, where you get paid to engage in numerous activities like taking surveys, doing offers, clicking ads, referring friends, using promo codes, downloading apps, etc.
It is a trustworthy site that pays out, with average earning potential compared to other GPT sites.
If you do not want to spend your precious time earning just enough for that afternoon cuppa, check out my #1 recommendation to making money online:


Read on for the detailed review of OfferNation, and why I recommend it.
---
What is OfferNation
Let's find out what is OfferNation by first taking a look at its home page.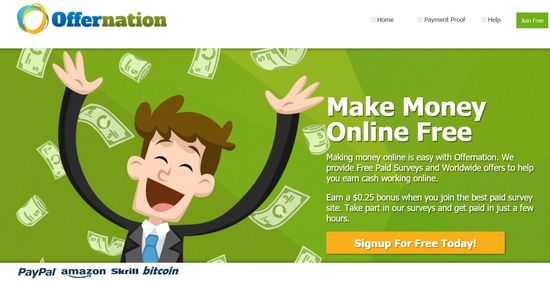 OfferNation is a get-paid-to (GPT) site, owned by 99 Ventures, which also owns RewardingWays and Superpay me. It is an online advertising company, hence it works with lots of companies all over the world to help them reach out to their audience.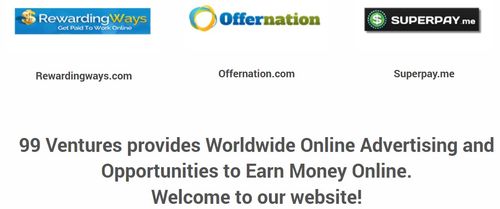 As you take surveys, or sign up for free trials, download apps, etc. you are interacting with the brands that are on the platform.
They pay OfferNation for this kind of exposure to their potential customers, and OfferNation then shares with you their advertising revenue.
That is how you can get to earn on GPT sites, without having to pay any fee to join.
Having said that, do not expect to make anything close to a life-changing income through GPT sites.
If you are focused and can find a platform that gives decent earning potential, and are able to spend a couple of hours on it each day, it can possibly cover a small portion of your monthly groceries bill.

Signing up on OfferNation
The sign up process is simple and quick. Simply by entering your name, email address, mailing address and payment method, you are all set to dive into the platform and start exploring and earning.
The good thing about this GPT site is that anyone can join, no matter where you are in the world. But note that opportunities differ for different countries. You will not get the same survey options, and offer wall choices as other members in other countries.

Ways to earn on OfferNation
Completing Surveys
This is one of the main ways that you can earn on OfferNation. The thing about this survey section is that OfferNation works with numerous survey providers, which means you do not take the surveys on this platform itself, but through its partners.



This also means that in the first few days or weeks that you start using OfferNation, you would have to fill out your personal information each time you choose to do a survey for the first time with a survey provider.
This can be a hassle, but you will get through this initial stage as you use the platform regularly.
There are many survey options available, some of which give cash rewards, others earn you points. It does not really matter, because ultimately you can convert those points into cash when you request for a pay out.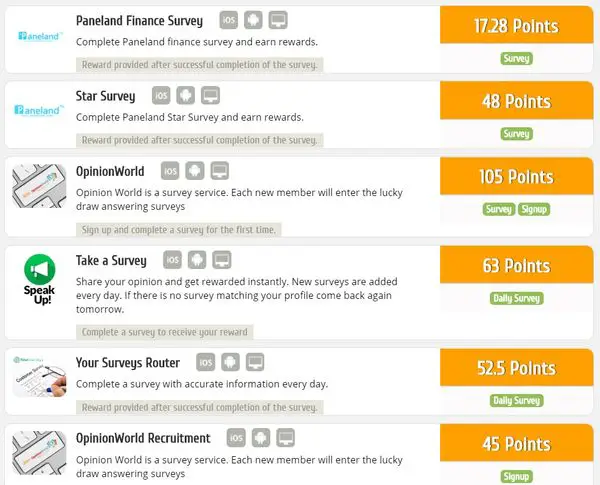 As with any other survey sites, if you choose to earn through completing surveys, you have to accept that you may not qualify for every single survey, since the companies will want to target on a specific group of audience, with certain spending habits, or demographic profile, etc.
This means you may spend time on the pre-qualifying questions only to find that you are not eligible to take the surveys, or you may even be halfway through the actual survey to suddenly get disqualified.
These are common occurrences that you would have to live with, as long as its frequency is reasonable.

Offerwalls in OfferNation
Offerwalls includes a nice variety of offers from many companies, that you can take to earn points or cash. It could be watching videos, taking more surveys, subscribing to a free trial of some service, downloading apps, etc.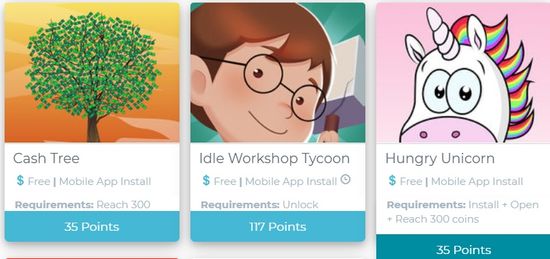 Do be careful to read the terms in detail before you decide to do any offer, because often it is not just about downloading an app, for instance. You have to open the app, and use it to meet certain requirements (say earn 300 coins) before you will get paid.
For anything that involves free trial subscription, very likely you are required to provide your credit card details.
Do stay organised and make sure you cancel the subscription before the free trial ends, if you do not intend to carry on with it, otherwise you may be charged the first billing cycle.
Again, read the terms carefully to understand what you are signing up for.

$1000 Cash Contest on OfferNation
Every 3 months, OfferNation holds a $1000 Cash Contest, for the top 20 earners (worldwide), which is a very generous gesture on their part.
This encourages much more activity on the platform.
The highest earner wins $350, the 2nd highest earner wins $200, the 3rd highest wins $100, and the remaining $350 gets distributed among the remaining 17 winners in decreasing amounts.

Referral program of OfferNation
For every person you refer to OfferNation, you will earn 25% of all their earnings.
This does not, in any way, affect the amount that your referral earns, it comes from OfferNation, as a form of rewarding you for bringing more people on board their program.
Even though 25% commission of referrals' earnings sound like a lot, it is actually not as easy as it sounds, because your referrals must choose to engage on the platform in order for you to earn.
And you will need a huge number of referrals before your earnings can become more substantial.

Promo Codes
OfferNation may randomly place promo codes on their social media accounts, like Facebook or Twitter. When you see those, enter them onto the Promo Codes section of OfferNation, and you will get a small reward, for practically doing nothing.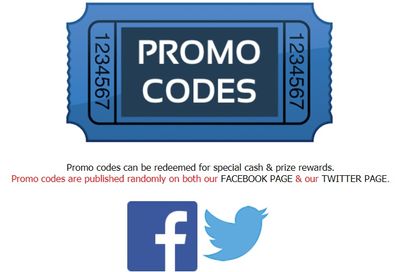 These are not frequent, though. So do not bank on it as a way to earn. But this would entice members to follow OfferNation on their social media accounts, to keep a look out for these promo codes.

How to cash out on OfferNation
The cash payment options include PayPal, Payza, Skrill, and Bitcoin. The minimum threshold for cashing out through PayPal and Skrill is just $1. For Payza it is $10, and for Bitcoin it is $40.
$1 minimum threshold for cashing out is very low, and it is a great advantage and motivator to anyone using the platform, as you really get to see the tangible results of spending time on the platform quite immediately.
There is also the option of cashing out with Amazon giftcard, and the minimum threshold for that is 500 points (which is equivalent to $5).
When you are ready to cash out, you can convert cash to points (if you are going for Amazon giftcard), or points to cash. The conversion is 100 points = $1.

Earning potential for OfferNation
Among the top 20 worldwide earners on OfferNation, the average monthly earning looks to be about $300 to $400.
That's not bad as a side income, but please remember these top 20 earners must have spent more than full time hours on the platform, in order to earn this much.
For me personally, I will not choose to put in something more than full time hours to earn a small side income. This time can be better spent creating much bigger things, as I will reveal to you later.

Users feedback about OfferNation
Feedback from users of OfferNation is mostly very positive, as you can see from the screenshot below, which I took from an independent review site, not from OfferNation's site.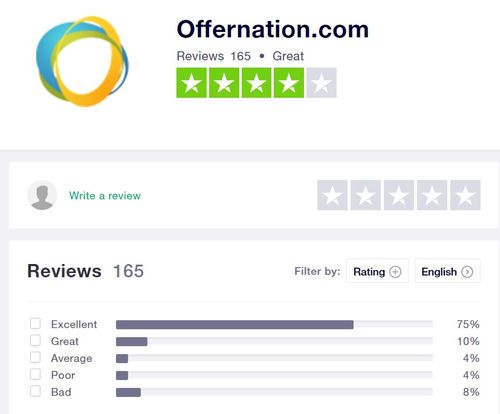 So it is a safe and trustworthy site that is honest to pay out its members for the time and effort they put in.
Some usual grouses are the long verification period of 60 days whenever an account is flagged for verification, and hence locked, and the user will not be able to do anything on the site until everything gets sorted out.

How I make my online income
I have never relied on any GPT sites to make money online, as the earning potential is just too little, compared to what I am doing.
Moreover, you can't always control what happens to your account on those GPT sites, as they are subject to very stringent security processes, in order to sniff out any kind of fraudulent activities.
And on the day that you stop working on the GPT site, your earnings plummet straight down to zero.
Instead of trading my time for just that little bit of money, I choose to use it to create something much bigger.
Here's a peek into my earnings on a recent day:



That's almost $200 in just one single day. It's nothing to boast about, though, as it's just a small fraction of its full potential. I just wanted to show you the possibilities.
I am now working full time from home, and I started from scratch with zero knowledge in this area. If I can do it, you can, too.
Check out this training platform that provides all the resources, tools, along with an entire community of aspiring as well as already successful online income earners. The best part is, you get to start for free:
---
Pros of OfferNation
1. Established and honest GPT site
OfferNation does pay out to its members, so if you decide to use this platform to make a little extra pocket money, it should work for you.
2. Very low minimum threshold for cashing out
You can get your money out of there pretty quickly, which is a very strong advantage that it has over many other GPT sites.

Cons of OfferNation
1. Earning potential is low
Do not be misled by the high earnings you see of the top 20 earners in the world, using OfferNation. Those people must have put in more than full time working hours on the platform, in order to earn this much. The hours to earnings ratio is still not worth it, given the abundance of legitimate opportunities on the internet these days.
---
Is OfferNation Scam or legit? 
OfferNation is definitely a legitimate GPT site that pays out for your effort on it. Other great GPT sites include:
Swagbucks
Inbox Dollars 
InstaGC
OfferNation
OneOpinion
PointsPrizes
PrizeRebel
RewardingWays
Survey Junkie
Toluna
Vindale Research
---
Recommendation
The method I am using to make money online is a proven one, taken by countless successful online income earners before me. The potential here is huge, as it can become a full time income, and even a passive income stream.
There is no face to face selling involved here, no recruiting, it is not MLM.
This is something that is your very own internet business, with no boss to report to, no products to carry, no one company that you have to work for.
What's even better: you get to choose your own niche, something you are passionate about, whether it's a hobby or a health issue that has impacted your life. All the work can be done from the comforts of your home.
Ever since I learnt how this business model works and decided that it is something worth doing, I have never looked back.
This real deal does not promise instant results, but instead provides the knowledge and lifelong skills required to grow a successful online business, which is exactly what I have done. Check it out by clicking on the button below:


And for reading all the way to the end of the post, I believe you have it in you to make this work. Here is your FREE PDF Guide: 4 Simple Steps to Making Money Online. Fill in your details to claim it:


If you have any concerns or questions regarding this OfferNation review, do comment below, and we will start a conversation from there.
---