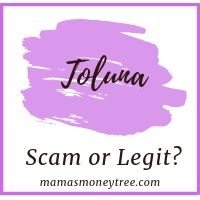 You are at the right place to check out what is Toluna Surveys.
Is it a scam, or a legitimate way to earn some money online?
I provide an honest, unbiased and first-hand review of this survey platform, so that you can make an informed decision as to whether this get-paid-to (GPT) site is worth your time, or you would be better off doing something else.
Join me as I walk you through all the details, from ways to earn to payment methods, from its pros to its cons. 
Without further ado, let's dive right in now!
---
Toluna: Review Summary
Product: Toluna 
Creator: Toluna Group
Product type: Survey platform, get-paid-to site
Price: free to join
Scam / Legit? : Legit
Recommended or not? : Not really
Toluna, as a survey platform, is not one that I would strongly recommend, because of its many negative reviews, as well as my own negative experience with them.
Another important factor is their pay out is much less than many other survey sites, at an average of $1 per survey.
Instead of spending your precious time on Toluna and earning peanuts, you might as well be building your online business, which if done properly, can actually become a passive income stream.
Nope, it is not MLM, if it's what you are thinking. This is about creating your very own website, in a niche area that you are passionate about, so you get to work around your passion and interests. It is how I have done it, from scratch, working from home, through the training and support from this awesome platform and community. do check it out:


Read on for the detailed review of Toluna, and why I do not really recommend it.
---
What is Toluna Surveys
To answer your question: "What is Toluna Surveys?" in the best way possible, I wanted to dive right in to experience it for myself.
My Own Experience with Toluna
So I went about signing up, filling in my profile details and setting up my account. Once I was done with my email verification, I was awarded with 500 points. Wow, cool!
Excited, I went right in to try out the first survey that was 'recommended', I can't remember the exact points but I know it was definitely worth more than 10,000 points.
It had to do with some personal lifestyle questions like car ownership, which I completed, and at the last part was prompted to install an app on my mobile phone or my computer to monitor its usage for data collection. It was called Consumer Insight Program.
I followed through the instructions for installation on my mobile phone, including all the trust certificates that I had to allow, VPN and stuff like that.
Later when I checked back on my account, the points remained at 500. So I figured the promised 10,000+ points would probably come in only after I let the Consumer Insight Program run on my mobile device for more than 20 days in the month, which was what I read somewhere when installing it.
The point I want to make here is that the reward system for this particular program was not made clear. I did complete the survey questions, but I was not told explicitly that I would get the points only after installing and letting the program run for a month. So that's rather misleading.
Secondly, just a few hours after installing the Consumer Insight Program on my mobile device, I completely uninstalled it. I felt extremely uncomfortable with the notice that when I made Toluna's certificate on my device a trusted one, it can have access to all the private data that I send on any website.
Does that mean all my passwords, bank account details, credit card details, etc. are exposed for Toluna to see? I felt an infringement of my privacy. So I simple deleted the program from my mobile. And wondered why such a thing was even allowed in the first place.
There, a rather negative start to my own experience with Toluna. Read on to see what other information I have gathered about it.

How to earn points with Toluna
Just like with any survey platform, you get rewarded (through a point system) for completing surveys.
Each survey can earn you between 15 points to 20,000 points, depending on the survey type and how long it may take you to complete. The average number of points per survey is between 2000 to 3000 points.
As for converting the points to cash or cash vouchers, every 3000 points is worth $1. This is a very low payout, in comparison with other survey platforms. So you spend possibly 15 to 20 minutes to complete an average length survey, to earn just $1 or less.
Just this low payout alone is enough to put me off spending anymore time on Toluna.
You can also earn points through testing products. You provide your opinion of the products you test, and you get to keep them.
Anyway, another point I would like to bring up is that it was difficult to find any information on converting points into cash within the Toluna platform, it may have been there but I missed it. I guess this means it isn't so user-friendly or instinctive? I had to dig for this information outside of Toluna itself.

Community Features in Toluna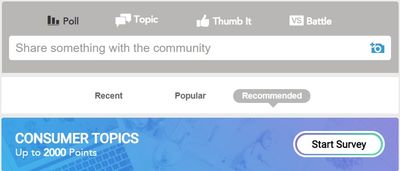 This is something unique and interesting about Toluna that I don't get to see on other survey sites.
There is this community aspect of it, where you can actually create mini polls, topics, battles, and thumb it. These are mainly just for fun, but it enhances the socialising and interaction within the platform.

Many user complaints about Toluna
Firstly, take a look at the general overview of how users feel about Toluna.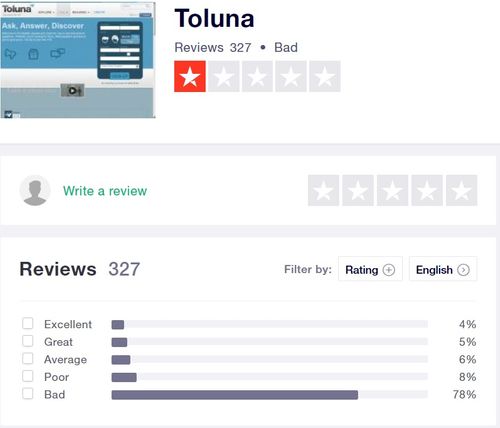 Doesn't look very promising, does it? With the vast majority giving it the lowest rating, I would start to get worried if I were the owner of Toluna.
Firstly, there is a whole bunch of complaints about late payout. These are not isolated cases, but in vast numbers.
Even Paypal payouts can take months to process, whilst other platforms typically takes 2 to 3 days.
To have to wait so long for a sum of money that cannot be that big, is just not reasonable, and unfair to the users who have invested their time doing surveys, expecting to get paid on time.



Then there is another category of complaints that rant about estimated survey completion time being terribly inaccurate.
You may think some people will rant about everything and anything, but it can't be coming from the minority pessimists, if this category of complaints consistently show up, by users who are really fed up with the wrong timing estimates.



Yet another whole bunch of complaints about the system logging them out just as they were completing the last question of their survey, hence feeling totally cheated of their time.
To me, this is just completely unacceptable and unethical. You might as well just spend your time sipping tea, reading a book, or bringing your dog out for a run. I can only shake my head at this.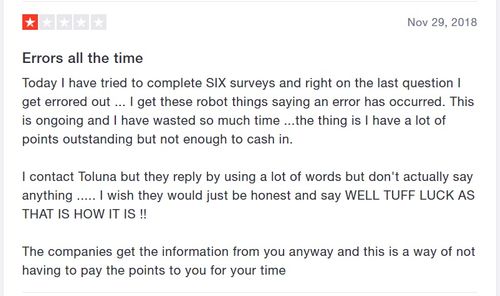 So you can see for yourself, these are all real feedback from a trusted review site.
Instead of wasting time on surveys, let me show you how I spend my time building up my online business.

What I do with my time (not surveys, for sure)
When I started being a stay at home mum, I was looking for ways to still contribute to the household income. I tried doing surveys, but found it all too time-consuming, and the earnings were just peanuts.
In my search for a means to make money online from home, I stumbled upon a training platform which has changed my life.
It taught me how to build up my own website from scratch, in any niche topic that I am passionate about. I also learnt how to get free traffic coming to my site, and how to make money from this traffic.
Here is a peek into my earnings on a recent day:



That's almost $200 in just one single day. It's nothing to boast about, though, as it's just a small fraction of its full potential. I just wanted to show you the possibilities.
Today, I am proud to say that it is the best thing I have ever done for myself, because I have seen it working its magic.
From a stay at home mum, I have now upgraded myself to a work at home mum.
Check out my other post in the link below, where I explain in detail how you can make money online, the proper way:
---
Pros of Toluna
1. User-friendly interface
Toluna has a very interesting and friendly interface, so it is quite intuitive to use. I spent quite some time poking around, looking into stuff without getting bored.
2. Very easy to set up an account
To sign up with Toluna, it took me just a few minutes to fill in my details and get everything set up and running properly, running into no problems at all.
3. You earn points for referring people to join
You get 500 points for referring people to join Toluna, if they click on your referral link. That's rather cool. Though they do limit the number of people who join under you each month. Beyond that, you do not get to earn anymore referral points.

Cons of Toluna
1. Lowest paying survey site, with late payouts
This must be the lowest paying survey site that I have seen, barely scraping $2 per hour. This is not considering all those instances when people get logged out just as they were completing the last question of their survey, they could have wasted an entire half hour of their precious time!
And all those late payouts are unacceptable too. In the past Toluna was doing better in almost every aspect. Somehow over time, its efficiency and trustworthiness has declined terribly.
2. Time estimated to complete surveys are inaccurate
If other survey platforms can provide much more accurate estimates of the time needed to complete each survey, I do not see why Toluna cannot, except if it chooses to scam its users.
3. Logged out right before completing survey
This is utterly ridiculous and distasteful. Complete waste of people's time.
And yet they get to reap the benefits, by being able to deliver the completed surveys to the companies and getting paid, whilst not having to pay a single cent to their users. Horrible ethics.
These are also not isolated cases. When people are complaining in masses, there must be something fishy going on.
4. Account suspended right before you earn the minimum points to cash out
A number of complaints on this too, where people get their accounts completely closed, for no apparent reason, just before they earn the minimum points required for cashing out.
Or their accounts get closed for reasons like fraudulent activities, for which Toluna is not able to support with any evidence.
---
Is Toluna Surveys Scam or Liegit?
Toluna borders on being a scam survey platform, considering their unethical doings. But because people still do get paid (or rather, underpaid) in general, so for now I would still call them a legitimate survey site. But stop wasting your time on them.

Recommendation
I certainly do not recommend Toluna Surveys.
If you have time to spare, it is much more worth your while to look into building up your own online business. If shown the right way to do it, it can even earn you the financial means to quit your full time job.
Surveys can never make you big money. Your own online business can, if you put the time and effort into it.
Learn how I am doing it, through the free starter members area, where you get 10 lessons and 2 websites absolutely free. Go take a look, it could change your life like how it has changed mine. Zero risk, since you do not even have to provide any credit card details…


And for reading all the way to the end of the post, I believe you have it in you to make this work. Here is your FREE PDF Guide: 4 Simple Steps to Making Money Online. Fill in your details to claim it:


If you have any concerns or questions regarding this Toluna review, do comment below, and we will start a conversation from there.
---