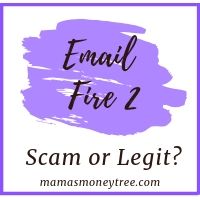 Here I will answer your question: Is Email Fire 2 scam? Will it really warm up your ice cold email list, and increase your conversion rates?
First of all, kudos to you for doing your research before buying into any product. No one will say anything bad about any product that they are trying to sell you. So here I do the work for you, sniffing out the scams, at the same time highlighting the great value and good quality ones.
With my honest and unbiased review, I hope to help you make informed choices that are the best for your personal situation, business model, etc.
In this article, I will provide an in-depth review of Email Fire 2, through the following sections:
---
Email Fire 2: Review Summary
Product: Email Fire 2
Creator: Kam Jennings
Product type: Email marketing
Price: $27 + upsells
Scam / Legit? : Legit
Recommended or not? : Not recommended
Email Fire 2 comprises 5 weeks' worth of email engagement content, all written for you. You just have to send these through your email autoresponder, and your cold leads will be converting at a higher rate than ever before.
The main and very serious issue with this done for you email marketing tool is duplicate emails received by your leads, from other affiliates trying to promote other digital products as well. Your authority would be severely shaken.
In the first place, why bother with converting cold leads at all? My traffic method focuses solely on ultra warm leads. Visitors that land on my website are all actively searching for answers related to my niche. My website content is the perfect match with what they are searching for, so they will take my recommendations, and convert at a high rate.
Adding value is the honest way to do any business. Seek to meet a real need, instead of creating an artificial demand in persuading people to buy stuff that they were not even actively seeking out. Check out the business model that I am using:

Read on for the detailed review of Email Fire 2, and why I do not recommend it.
---
What is Email Fire 2
Information presented in promotional video and sales page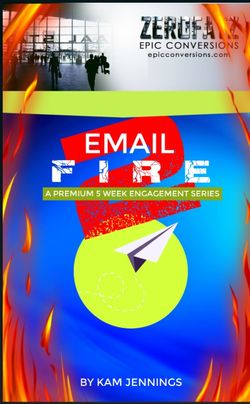 This claims to be an indoctrination email series, with 5 weeks' worth of email content, all written for you in 12,000 words. It serves to warm up your cold lists, so that people are much more ready to buy stuff that you sell or promote to them. This product is intended for people in the digital marketing niche.
Basically cold lists are non-targeted audience, obtained mainly from Solo ads or social media. Solo ads is the method of buying access to other people's email lists, and sending your campaigns through to them. They are cold because they were not looking for anything related to what you are offering.
Similarly, social media tends to generate cold leads too. Because people on social media mainly want to socialise, but sometimes they may click on ads randomly if those ads catch their attention, not because they were actively looking for what is being offered.
Email Fire 2 is full of interesting and thought provoking stories, to build rapport. They are packed with actionable content, to build your authority. Laced with engagement loops, you can test how interested your audience is in what you are saying. Lined with click through loops, you can measure how ready they are to buy from you.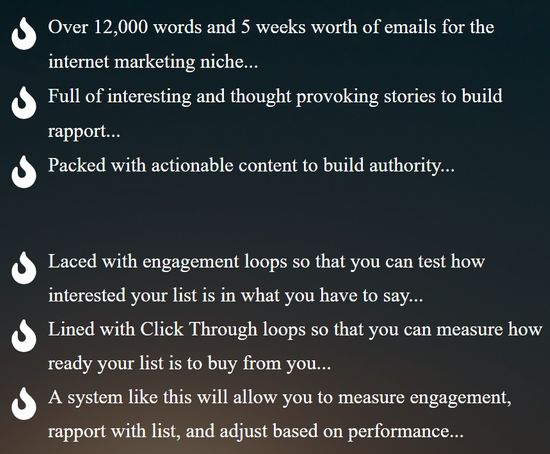 What Email Fire 2 really is
Firstly, Kam did make it clear that Email Fire 2 is meant for people involved in the digital marketing niche. So that means you could be creating digital products, or promoting other people's digital products.
Being in this niche has its down side: there are many scammy products all over the internet. They are mostly over hyped, and promise the moon but fail to deliver. This email indoctrination series would be pitched with the same tone as well, since its purpose is to sell. That can make the emails sound quite spammy.
So how effective it would be in getting cold leads to convert, I do have my reservations about that.
Moreover, if you are not careful in choosing good quality products to promote, then you can be pretty sure those who buy from you will never become repeat customers. So it means you have to keep spending money, doing paid ads, getting cold leads, and pushing out your marketing campaigns to them.
Personally, this is not the approach I would take to doing my online business.
There are millions of niches and sub niches that you can choose from, anything under the sun, to be the focus of your online business, as long as there are products and services in that niche that you can promote, to earn a good commission. Camping, fishing, children's toys, kitchen appliances, etc. The list is never ending.
You do not have to limit yourself to the digital marketing niche at all. Many people get into this niche because of the high commission rates that they get to earn, since the cost of producing digital products can be rather low. And once they get into it, in the face of money, they start to lose their integrity, choosing to simply promote any new product that is launched, riding on the hype and buzz, hoping that some unsuspecting newbies in the scene will fall for the get rich quick promises of those products.
Also, getting cold leads to buy the digital products just feels like very aggressive marketing to me. To make someone spend money buying something that he never had any intention of even seeking out for, is shoving it right into his face, and creating artificial demand. The way I do it in my online business is very different. I get hot leads. People who are actively searching for what I am promoting. Only then will the business be sustainable, I do not have to spend a single cent buying cold leads and getting them to convert.
I just have to focus on building up the content on my website, on my niche topic. When I gain authority in the eyes of the search engines, they will send free organic traffic to me. People looking for answers in topics related to my niche will see my website on page 1 of the search results, and land on my page.
When they respond to the products I recommend, by clicking through my affiliate links to reach the sales page of the companies selling those products, I earn a commission from those companies. My readers get their issues resolved by buying the products at no extra cost. It is a win-win situation for everyone, and my readers will be back for more because they find value in my content.
In this way, I get repeat customers, and I also keep getting new visitors driven to my site by the search engines. All warm leads, without me spending any money to buy traffic. This becomes a business that sustains itself, earning me a passive income while I shift my focus to build another website, another income stream.
I would not be where I am right now, knowing all that I know, without this awesome training platform that has hand held me all the way of my online journey, starting up my website from scratch. Check it out here:
Another serious issue with Email Fire 2 that I have to point out is this – duplicate email content. Since this product is launched, marketers with this email package will be pushing out their campaigns to all their cold leads. Can you imagine the harm done to your credibility and reputation if your leads were to receive the exact same copy of the email from other marketers?
With the exact interesting and thought provoking stories? That turn out to be not your own personal stories after all?
I think this point makes it quite obvious why you should not use this email indoctrination series in your marketing campaigns.
---
Pros of Email Fire 2
1. Real owner
Well, Kam Jennings is a real internet marketer, a real person. He has created several products, you can be assured they mostly do have some value.
2. You do get quality email content that you can learn from
Although I would not want to embarrass myself by using email content that has duplicates all over the internet, I believe there is learning value in how the copywriting is done in there, how to pitch a campaign to get more conversions. And then you can write your own email series based on the learning points that you picked up from here.
But then some may feel that this totally defeats the purpose of buying a done for you email series. So it's totally up to you how you see it.
Cons of Email Fire 2
1. Duplicate email content undermines your authority
This email package is supposed to build up your authority in the niche, and your rapport with your leads. But it may do the exact opposite, should your leads get a duplicate copy of those emails sent to them by another marketer, also trying to promote digital products to them.
2. Only works in the digital marketing niche
This product is very limited in this sense, as it is pitched towards digital marketing products only. Why even limit yourself, when in fact the sky is the limit when it comes to choosing your niche.
3. Why spend money on cold leads in the first place
If you run your business model using the free organic traffic method, all you get will be warm or super hot leads. You would not even have the problem of cold leads not converting in the first place.
4. Upsells
As with any product that is created mainly to make money for its owner, you will be faced with these upsells the moment you purchase the front end product, even before you get a chance to open up the documents to see how legitimate they are.
OTO stands for one-time offer, just another name for the upsells. Oh and the price of the front end product shown as $10.80 was only during the first few days of the launch. Now the price stands at $27.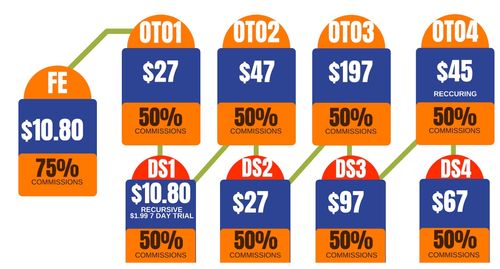 5. No refund policy
It is made very clear that this product has a strictly no refund policy, since this is a non training personal use package. Which to me is reasonable, otherwise people could have just bought the product just to copy the content in the email package, and then asked for a refund. So in this case, this no refund policy does make sense. But you do need to be aware of it before you make the purchase.
---
For the reason above, no matter how great quality and highly converting the indoctrination email series is, I simply cannot recommend it, even if you are in the niche of creating or promoting digital products.
To really build rapport, you have to be the one to write all the emails that you send to your lists. There is no short cut around it, there cannot be a done for you email series, because it simply causes your reputation and credibility to plummet straight down to zero, when they start receiving emails that are all photocopies of one another.
Moreover, this email engagement series only works for selling and promoting digital products. Unless you are the product creator, then you can set all out to create a high quality product that will really add value to the users. Otherwise if you are simply promoting other people's products as an affiliate, do be aware that there are too many scammy products floating around these days.
If you use the email marketing campaigns to push out whatever product that can earn you a good commission, without being picky about the products' quality, then I think there is no need to waste your time building rapport, because people will no longer trust you after the first instance of buying a product through your recommendation. They won't be hanging around too much.
Internet marketing and affiliate marketing are getting very competitive these days, with the low barrier to entry. To stand out among the rest, you need to put helping people as the top priority, instead of making money. Because your website visitors will be able to see through your intent, and they will know.
If you are genuine and sincere in helping people with their issues, you will have many returning visitors, who will interact with your website in an engaging way. Search engines will reward you by sending you even more traffic.
This way, you can build a sustainable income that ultimately becomes your passive income. This awesome training platform teaches the proper way of setting up your online business along the philosophy of adding value, and being honest and transparent in all that we do. This honest way of doing business has produced many highly successful affiliate marketers on this platform:

---