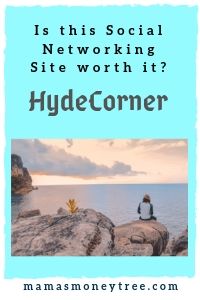 What is HydeCorner, this social network that allows you to earn while doing what you usually do on social media? Does it really pay out, or will it be a huge waste of your time?
Welcome to my HydeCorner review.
What is this new platform that attempts to set up an economy on a social networking platform? What do you have to do to earn, and what is the minimum threshold for cashing out? Do they actually pay out?
We will answer these and more, in this honest and in-depth HydeCorner review, as I walk you through some of the red flags I have seen, as well as my personal take on this.
Without further ado, let's dive right in now!
---
HydeCorner Review Summary
Product: HydeCorner
URL: https://www.hydecorner.com/welcome
Product type: social networking platform that allows you to earn
Price: free to join, with options to upgrade
Scam / Legit? : Legit (as far as I can tell)
Recommended or not? : NOT recommended
HydeCorner is a legitimate social network that allows you to earn as you post, like, dislike, and comment on there. It seems to pay out to members, but the earning potential is much too small for me to recommend this platform.
If you do not want to waste anymore time chasing after that tiny amount of earnings, check out my #1 recommendation to making money online:



Read on for the detailed review of HydeCorner, and why I do not recommend it.
---
What is HydeCorner
To find out what is HydeCorner, let's first take a look at its home page.


The concept is straightforward. It is a social network that pays you to post, comment, and like or dislike others' posts on their platform. It claims to share 80% of its ad revenue with its members.
The idea seems sound so far. Advertisers will pay HydeCorner to give exposure and awareness to their brands. The more people on the platform, the more the advertising companies will be willing to pay, and hence the more earnings shared with members.
I had to try it out to understand how it all works, so I signed up to explore its platform. The signing up process is smooth and simple, requiring just your name, email address, birthdate, password, and gender.

Inside HydeCorner
Here is how its dashboard looks like, feels very similar to Facebook.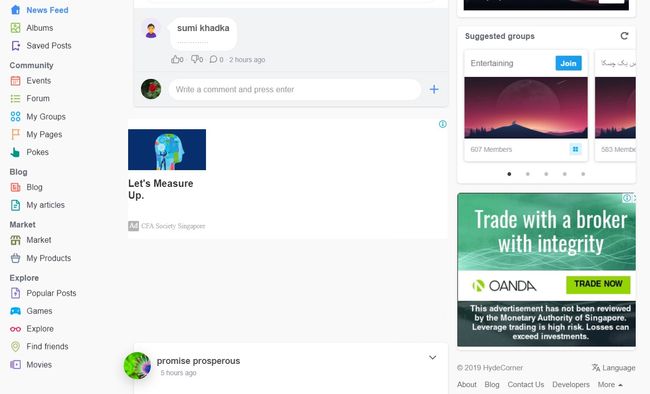 And yet it is totally different. To be frank, I do not see any social value on this platform, being a place where you do not know anybody on there, and everyone is posting, commenting, liking and disliking just to earn money.
The comments do not add much engagement to posts, they are simply there because they have to be there for the commenter to earn points.
Content of the posts are very random, often redundant stuff that have no relevance to me.
It feels fake, though the effort to make it into an interactive platform must be applauded. Still, I do not like it at all.
I feel that a social platform has to be kept clear of any monetary transactions, to be authentic. Otherwise, it totally defeats the purpose of the social platform.
It is clear there are advertisements on the platform, so HydeCorner is able to make money, which it can then share with members, if it stays true to its word. And I believe it does.

How to earn through the social activities in HydeCorner
Now, we take a look at how much you can earn through the various activities that you are supposed to engage in, on this platform.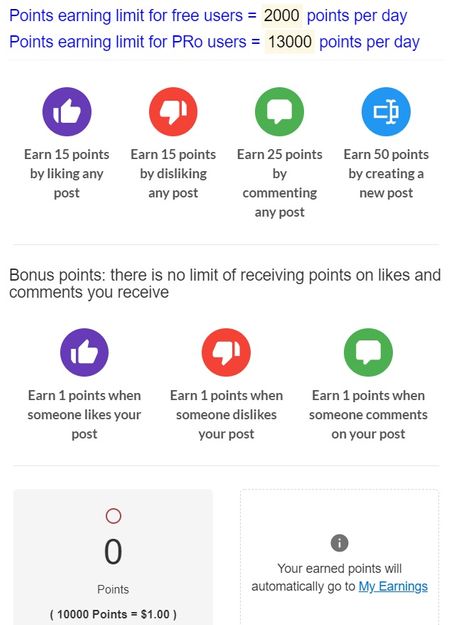 For every post, you earn 50 points. Every comment makes you 25 points, and each like or dislike gets you 15 points.
You can post, comment, like or dislike to accumulate up to 2,000 points a day, as a free member, and 13,000 points per day as a Pro user.
There is a limit though:



This is something I cannot wrap my head around. So are we limited to posting 5 posts per hour, or 2? They managed to get me utterly confused on an otherwise simple fact.
There is no limit on receiving likes, dislikes and comments on posts that you put up, each form of engagement earning you 1 point each.
It sounds pretty simple, but then I was in for a rude shock when I saw the conversion rate from points to cash: 10,000 points can be exchanged for $1.
So as a free member, each day your earning limit is 20 cents. Even as a Pro user, your earning limit per day is $1.30.
I cannot understand why anybody would want to spend all that time engaging on a meaningless platform that is not even authentic, just to earn that few cents a day. It should not be that difficult to find a much more rewarding platform to make some extra dollars.
Something noteworthy is that in your posts, any form of linking is not allowed, including linking to PTC (paid to click) or GPT (get paid to) sites, any websites or offers. It will get you banned.

Refer people to HydeCorner
When you refer people to join HydeCorner, you can earn up to $0.25 per referral, and up to $2 when a referral upgrades to any of their pro packages.
There is no other detail on what they mean by 'up to', and how they will go about calculating the exact referral earnings for you. This part I find lacking in important information.
Inactive referrals will not earn you anything. To be considered an active user, a person must have logged in to his or her HydeCorner account at least 10 times.
I guess this would mean you earn nothing even if you had referred many people to the platform, as long as they do not have at least 10 log in sessions.

Upgrade options
There are various pro packages to upgrade your membership to:


Prices range from $6 per week for the Star membership, to a one-time fee of $999 for VIP lifetime membership.
Upgrading your membership on any get-paid-to site is something I personally will never recommend anyone to do. The earning potential is not huge to begin with. Paying an upfront investment is risky, as you may not be able to recover it.

Cashing out in HydeCorner
The minimum threshold for cashing out is a whooping $50. This is extremely high, given the incredibly low earning potential on this platform.
Each day you are limited to earning 20 cents as a free member. It will take you 250 days of working to the limit each day, in order to cash out for the first time. That's more than 8 months!
I guess they are trying to make you go for the paid membership. With a higher daily earning of $1.30, it will take you just 38 days to earn and cash out that first $50. But don't forget the minimum paid membership is $6 per week, which works out to $30 for 5 weeks.
So effectively you are making only $20 after 38 days of consistently posting, commenting, and liking stuff on the platform. Again, how can this be worth your precious time?
When it comes to the payment options for HydeCorner, there are only two: Skrill or JazzCash. This is very limiting. The fact that it does not have PayPal as a payment option could mean that PayPal does not exactly trust this kind of platform.

How I make my online income
You know how I feel about HydeCorner – do not waste anymore of your time on it. This same time can be used to create something much bigger than those few cents.
I want to show you how I am making my online income. I do not trade my time for money to get paid instantly. Instead, the hard work I put in is to build up my online business until it grows into a passive income stream.
I am now working full time from home. I started from scratch with zero knowledge in this area. If I can do it, you can, too.
Here's a peek into my earnings on a recent day:



As you can see, more than $100 a day is very do-able. And this is not even at its maximum potential yet, I'm still growing this business every single day.
Check out this training platform that provides all the resources, tools, along with an entire community of aspiring as well as already successful online income earners. The best part is, you get to start for free:

---
Pros of HydeCorner
1. It does pay out
This must be the deciding factor, to tell you whether or not to give any platform a chance. There are many people who say they have been paid by HydeCorner, and I do believe that it is very likely possible, given the low earnings, surely they can afford to pay out to their members.
2. Very simple tasks
You can just find something simple to post, like an inspirational quote, or scenery picture, and without having to write any caption. There is no motivation to make it a really good one, since you do not know the people there, and everyone is just on HydeCorner to make a little pocket money.

Cons of HydeCorner
1. Earning potential is much too low
I have reviewed numerous get-paid-to sites, never have I seen such low paying rates before.
2. Minimum threshold for cashing out is too high
By the time you finally reach the $50 minimum threshold for cashing out, the cows would have come home and gone off to bed.
3. No meaning in the 'social' interactions on the platform
Just like relationships can be soured between friends and family when money enters the picture, the same goes here.
---
Is HydeCorner Scam or legit? 
HydeCorner is a legitimate platform for you to earn a very tiny amount of extra money.
It can never make you rich, just like these other platforms: Scarlet Clicks, InstaGC.com, and RewardingWays, to name just a few.
---
Recommendation
If you want to make some serious money online, I want to show you what I am doing, to make my online income, working full time from home.
This real deal does not promise instant results, but instead provides the knowledge and lifelong skills required to grow a successful online business. Check it out by clicking on the button below:



And for reading all the way to the end of the post, I believe you have it in you to make this work. Here is your FREE PDF Guide: 4 Simple Steps to Making Money Online. Fill in your details to claim it:


If you have any concerns or questions regarding this HydeCorner review, do comment below, and we will start a conversation from there.
---