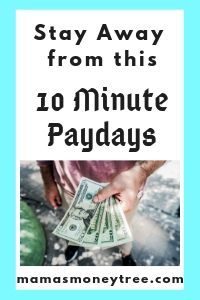 What is 10 Minute Paydays? Does it really make you $5,000 with just 10 minutes of work each day? What exact method does it teach you to accomplish that?
Welcome to my 10 Minute Paydays review.
If you have watched the sales video of this new product, you would have seen all the hype, and how they make it sound so easy to make money.
In this honest and in-depth review of 10 Minute Paydays, I am going to walk you through the exact model that they are teaching in the product, and show you all the red flags, so that you can make a better-informed decision for yourself, as to whether this is worth buying.
Without further ado, let's dive right in now!
---
10 Minute Paydays Review Summary
Product: 10 Minute Paydays
URL: http://10minutepaydays.co/
Creator: "Gregg Price"
Product type: using gigs like voice-over, online gaming, freelancing, selling stock photos, etc. to make money
Price: $9 + upsells
Scam / Legit? : I will leave it to you to decide for yourself, whether you see this as a scam or not.
Recommended or not? : NOT recommended
10 Minute Paydays is all hyped up about how easy it is to make $5K, working just 10 minutes a day. Its sales pitch is totally misleading, we all know money is not earned like that, with so little work.
It teaches you to earn to some random gigs like freelancing, online gaming, voice-over acting, etc. things that everyone already knows. Just as with anything, it takes consistent hard work, you need to put in the hours, to earn anything substantial from these gigs.
If you do not want to waste anymore time and money on hyped up products that will not deliver what they claim, check out my #1 recommendation to making money online:



Read on for the detailed review of 10 Minute Paydays, and why I do not recommend it.
---
What is 10 Minute Paydays
To find out what is 10 Minute Paydays, let us first take a look at its sales video and home page.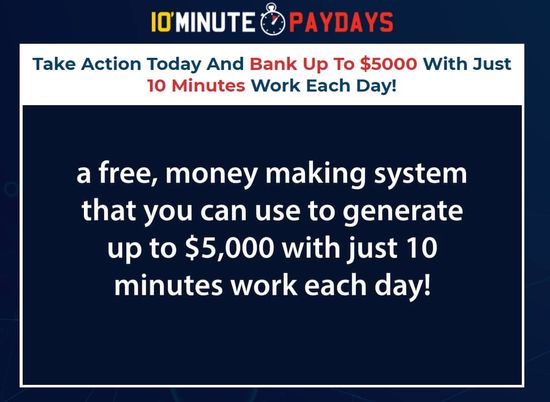 The entire video is all fluffed up with hype, claiming that they have a money making system that can earn you $5K by just working as little as 10 minutes a day.
Shrouded in secrecy, they do not tell you the exact method that will be covered in the product, because if they do, nobody will buy it.
All they give you are plenty of income claims, testimonials, etc. of people making money with their system. $157K in a month, accounts with more than a million dollars in them, it goes on and never seems to end.
Absolutely anyone can do this, you do not need any experience or expertise to start. To top it off, fake scarcity is thrown in, telling you this video will be taken down after enough people have signed up.
Now, let's get on to take a peek at what exactly lies inside 10 Minute Paydays.

The exact method taught in 10 Minute Paydays
Once inside the members' area, the first thing you will see is an upsell inside the VIP members' workshop. It is John Crestani's Super Affiliate System, which is a great product if you are an experienced internet marketer and have the excess cash to throw into paid advertising.
It is priced at a whooping $997.
Next you will see 4 methods that are taught in 10 Minute Paydays
Method 1: do online voice-over gigs
Method 2: sell stock photos
Method 3: make money by freelancing online
Method 4: make money with online gaming
Secret Method: how to do content marketing on social media
All these are taught in the form of PDF eBooks. They do try to provide some value in their training, but the content is mostly generic, stuff that you can find for free on the internet.
And you might have noticed that the methods are all random, nothing to do with one another. Look at the secret method for content marketing, that's relevant only for if you have a website or a blog that you want to promote through social media.
From what I can see, the entire training makes you Jack of all trades, master of none.
On its own, each method is a legit way to earn some money. But I really don't see how you can make $5K by just doing 10 minutes of online gaming each day. Or 10 minutes of voice-over acting.
It just doesn't work as get-rich-quick methods that 10 Minute Paydays is trying to sell to you.

Red flags in 10 Minute Paydays
Now that you have learnt what exactly is inside 10 Minute Paydays, let me point out some of the red flags in its sales materials.
The real owner does not show up
Who is Gregg Price? It's just a name that anybody can throw onto their product. He does not make a real appearance anywhere on the training materials or sales page.
He does not provide any social media accounts for people to see who he is exactly.
Fake testimonials
Look at this video testimonial in their sales video.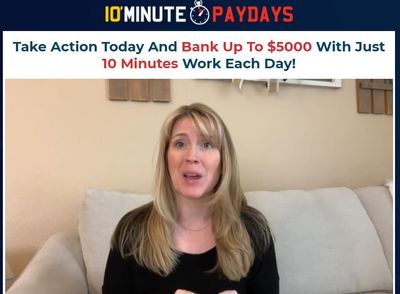 She is an actress from Fiverr, hired to provide this testimonial.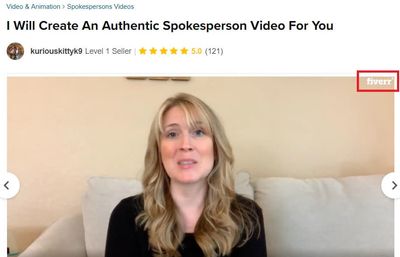 So it looks like there is no real person actually making money with what is taught in 10 Minute Paydays? Otherwise why would they have to hire people to give fake testimonials?
Income disclaimer
This must be the most bizarre thing about 10 Minute Paydays. Right at the bottom of their sales page, printed in tiny and faint font, you have this:



So no one should be expecting to make any money out of this, after they claim you can easily make $5K with 10 minutes of work each day? And showed you the bank accounts with a million dollars?
Email address is suspicious
By the looks of this, I suspect you will never be able to reach them when you try to get help or support.



It is bad when a company is not contactable to their customers.

The proper way to make money online
With the internet these days, opportunities abound. So do scams.
The good thing is, it is not too difficult to steer clear of products that are not good for you. When someone tells you it is easy to make money, you have to be highly suspicious of that person.
If it were so easy, everybody would be rich by now.
I guess everyone starts off wanting to make it rich fast and by doing very little. It's a very natural thing, that's just human nature. I wasn't spared of all the temptations on the internet myself.
But when I realised those empty promises are only going to make other people rich, and not me, I stopped looking for shiny objects.
I found a dull-looking object, but I knew in my heart that is the real deal. From then on, I have never looked back.
I am now working full time from home, growing my internet business, and making an online income. I started from scratch with zero knowledge in this area. If I can do it, you can, too.
Here's a peek into my earnings on a recent day:



As you can see, more than $100 a day is very do-able. And this is not even at its maximum potential yet, I'm still growing this business every single day.
Check out this training platform that provides all the resources, tools, along with an entire community of aspiring as well as already successful online income earners. The best part is, you get to start for free:
---
To round up this article, let me recap and summarise the pros and cons, before I finally make my conclusion.
Pros of 10 Minute Paydays
1. 60 day money back guarantee
This basic refund policy is in place, for people who are dissatisfied with the product.
2. You do get your training
You do get some PDF eBooks, in which the creator tries to provide some value. But you will not get a money making system that can earn you $5K with minimal work.

Cons of 10 Minute Paydays
1. Very generic training on unrelated topics
The eBooks are randomly put together, on methods that are not connected at all.
2. You will be sorely disappointed if you believe its hype
If you are buying this product hoping to learn how to make $5K right away, in your first month, then you will be very disappointed.
3. Upsells
Besides the $997 Super Affiliate System by John Crestani that they will try to get you to buy, there are further upsells in this product, making it obvious that 10 Minute Paydays is made to work for its creators, rather than for you.
Upsell 1: $197 – Double your profits
Upsell 2: $147 – Boost profits to 5x
---
Is 10 Minute Paydays Scam or legit? 
For me, 10 Minute Paydays sits on the borderline of whether I'd call something scam or legit, because it provides some ideas on how to make money online, with quite a bit of generic information.
But its sales tactic is all hype, with some deception (fake testimonials, owner not making an appearance, etc.).
It is similar to these other products I have reviewed, that will not live up to their promise: 30 Day Success Formula, Cash for Kids Club, and MVPBucks, to name just a few.
---
Recommendation
The thing about finding your way through all the noise and chaos on the internet is to find a proven method that works. Learn the ropes, implement your learning, and stick with it until you see results.
Here, I want to show you what has worked for me, that has given me the time and space flexibility to work from home full time.
This real deal does not promise instant results, but instead provides the knowledge and lifelong skills required to grow a successful online business, which is exactly what I have done. Check it out by clicking on the button below:



And for reading all the way to the end of the post, I believe you have it in you to make this work. Here is your FREE PDF Guide: 4 Simple Steps to Making Money Online. Fill in your details to claim it:


If you have any concerns or questions regarding this 10 Minute Paydays review, do comment below, and we will start a conversation from there.
---