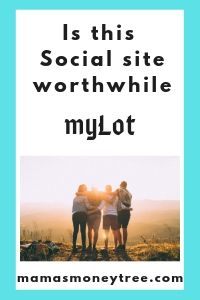 If you enjoy interacting with people and making friends, then you may want to learn how to make money with myLot, which is a social site that allows you to earn as people respond to you.
Welcome to my myLot review.
This unique platform is very different from your usual survey sites, or get-paid-to platforms, in the sense that there is a very strong social aspect to it.
In this article, I will provide an honest and in-depth review of myLot, so that you can better decide whether you want to spend time on there.
And should you decide it is worthwhile to earn some extra pocket money while you make new friends, read their stories and share your own, then make sure you follow my top 5 tips that will help to maximise your earnings.
Without further ado, let's dive right in now!
---
myLot Review Summary
Product: myLot
Product type: social site that allows you to earn
Price: free to join
Scam / Legit? : Legit
Recommended or not? : Recommended, if you enjoy socialising online, and wish to earn just a little extra cash while doing it.
myLot is much like a forum, where you can post a discussion, respond to others' posts, make new friends, all while earning a little extra. You make money only when people interact with your posts or comments. myLot earns through ad revenue, and that is how they can pay their members.
It's a fun and genuine platform, and I've provided some tips should you decide to try it out. Personally, I won't be using it because I find the earnings potential to be too small.
If you don't mind, let me show you something much bigger that you can build, using this time. Check out my #1 recommendation to making money online:


Read on for the detailed review of myLot, as well as the top 5 tips to earn with it.
---
What is myLot
To find out what is myLot, let us first take a look at its home page: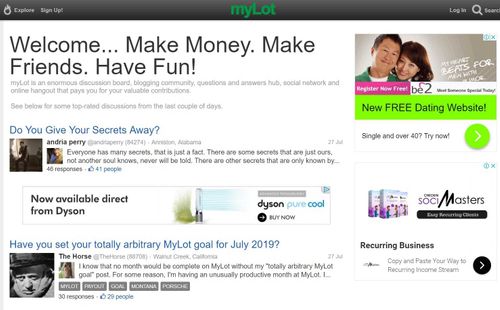 According to myLot itself, it is a huge discussion board, blogging community, Q&A hub, social network and online hangout that pays for your contributions.
As you can see, there are some obvious advertisements on there, and that is the main way through which myLot earns their revenue.
As a large community of members interact on the platform, myLot earns more, enough to share with its members, rewarding those who are active, and whose contributions matter.

How do you earn on myLot
It is not as simple as posting a discussion to make money. If your post is not engaging and interactive enough, such that people do not respond to it, then it is very likely that your earnings will be zero.
To earn, your posts and the comments that you write on other people's posts must get likes, and comments. The more people engage with what you have written, the greater potential to earn.

How much can you expect to earn
myLot pays its members according to an algorithm they implement, to measure how valuable your contributions are. Hence there is no fixed rate, but you can generally expect about 1 to 2 cents per comment or post that people interact with.

Another way to earn – completing offers
There are small tasks that you can complete to earn a little more cash, like completing surveys, clicking on a website, subscribing to a free trial of some product or program, etc.
No matter which offer you choose to do, make sure you read the terms carefully, to fully understand what you are signing up for.
For instance, if you take on a free trial, and have entered your credit card details, then make sure you cancel the subscription before the trial runs out, if you do not intend to actually pay for it.

How do you get paid on myLot
The only way to get paid is through PayPal. So if you do not have a PayPal account yet, you do need to get one, if you wish to use myLot to earn some extra cash, otherwise you will not be able to withdraw your earnings.
The minimum threshold for cashing out is $5.
Considering the small earning potential, and also depending on how much time you spend on the platform, how many friends and support you are able to garner in there, you may possibly be able to cash out every month.

Signing up with myLot
Getting started with myLot is very simple. You just need to sign up with your name, email address, password, and a username. Note that your username will stick with you permanently, so choose something that you won't think of changing.

Fill up your profile
After signing up, you will need to complete your profile, with a picture, and some information about yourself, so that people can get to know you better.
Afterall, this is a platform where you are encouraged to make friends.

What I like about myLot
The obvious stuff I like is that it is an established platform that has proven its legitimacy to its users, paying out on time where payment is due.
Apart from that, the first impression I got when I went onto this platform was how sincere and genuine the stories were. It felt like I was reading people's diaries, peeking into their lives.
The posts that are placed right at the top of the page are real: whether they are funny, poignant, angry, whatever… they are all real, and this is such a rare thing.
Hence I really respect the owners of the site for placing such emphasis on making friends, and making the interactions real. Short and meaningless comments like 'Thank you!' and 'I agree.' are frowned upon, as they are considered spamming.

What I do not like about myLot
Actually, this is just an observation: that some of the posts and the advertisements seem to mesh into one, making it very easy to click on the advertisements accidentally.
Look at this as an example: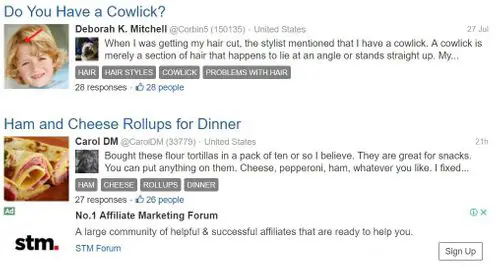 Do you see it? The second post actually has an advertisement right below it, but the demarcation is not clear.
This aside, there is only one thing I do not like about myLot, and that is its very low earnings. It used to have a referral program where the potential earnings are much higher than simply being active on the platform.
It's a shame that people can no longer earn through their referral program. But they did mention on their website that they may possibly bring it back in the future. So let's just wait and see.

Now, having read the most part of my review, if you think myLot is something you will enjoy, then you've got to read my top 5 tips, to maximise your opportunity in there.
On the other hand, if you think your time is better spent elsewhere, I tend to agree with you, and would like to show you how I spent my time working from home to grow my internet business, and make an online income.
I started from scratch with zero knowledge in this area. If I can do it, you can, too.
Here's a peek into my earnings on a recent day:



That's almost $200 in just one single day. It's nothing to boast about, though, as it's just a small fraction of its full potential. I just wanted to show you the possibilities.
Check out this training platform that provides all the resources, tools, along with an entire community of aspiring as well as already successful online income earners. The best part is, you get to start for free:
---
Top 5 Tips on how to make money with myLot
1. Fill out your profile mindfully
As you enter information about yourself, write it in such a way that it expresses your interests, hobbies, passion, etc. clearly, so that the right people will gravitate towards you, and hence you will get more interaction with whatever you post, in related topics.
Of course, you should let your character shine through your words, as being your unique self is the easiest way to be.

2. Use tags wisely
For each post that you write, you can tag them with keywords that describe the content of what you had written. Choose those tags wisely, as your posts may be more likely to show up to people who have used the same tags before.
Avoid choosing fanciful or out-of-this-world words for tags, otherwise you would find no match with those tags, then they do not serve their purpose.

3. Follow people with the same interests
By following people, they may possibly follow you back, as they are able to see who their followers are, if they want to. The more people you follow in the same niches or interests that you are looking into, the better it is for your performance on myLot.

4. Aim to make genuine friends on myLot
When you form your own circle of friends on the platform, make them count. Create genuine friendships, so that the interaction is real and authentic. Never spam people on myLot, as it will not get you anywhere.

5. Do not be stingy in responding to others' posts
Commenting and liking other people's posts generally do not get you any earnings directly, but it increases your level of activity, which will be tracked by the algorithm.
Nonetheless, you should always give of your likes and comments generously, as this is essentially a social platform, so responding to others' posts and comments will naturally spur people to do the same for you.
---
Is myLot Scam or legit? 
To end off this article, I want to reiterate that myLot is a perfectly legitimate social platform that does pay out to its members.
Some other great get-paid-to platforms that I have reviewed include:
Swagbucks
Inbox Dollars 
InstaGC
OfferNation
OneOpinion
PointsPrizes
PrizeRebel
RewardingWays
Survey Junkie
Toluna
Vindale Research
Though they provide great opportunities for you to earn on the go, or whenever you have some spare pockets of time, these are not going to replace your full time income anytime soon.
---
Recommendation
I want to share with you what I am doing, working full time from home, to make an online income.
This real deal does not promise instant results, but instead provides the knowledge and lifelong skills required to grow a successful online business, which is exactly what I have done. Check it out by clicking on the button below:


And for reading all the way to the end of the post, I believe you have it in you to make this work. Here is your FREE PDF Guide: 4 Simple Steps to Making Money Online. Fill in your details to claim it:


If you have any concerns or questions regarding this myLot review, do comment below, and we will start a conversation from there.
---