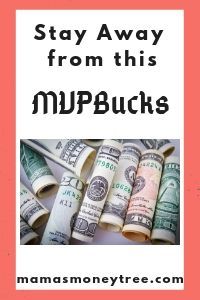 If you have seen people putting up their referral links all over the place, you must be wondering: is MVPBucks legit? Have you really stumbled on such a rare opportunity, or is it going to be a complete waste of your time?
Welcome to my MVPBucks review.
Do not believe people who are raving about this get-paid-to site, because they are simply trying to get more people to sign up using their referral links. They have no idea this is a huge scam.
Join me in this honest and in-depth review of MVPBucks.com, as I walk you through all the huge red flags, so that you can see for yourself why this website is going to do you more harm than good.
Without further ado, let's dive right in now!
---
MVPBucks Review Summary
Product: MVPBucks
URL: https://mvpbucks.com/
Creator: Unknown
Product type: Get-paid-to (GPT) site
Price: free to join
Scam / Legit? : SCAM
Recommended or not? : NOT recommended
MVPBucks is a scam site that exists just to collect people's contact details, so that they can be sold at a high price to third party advertisers. They lure people in by promising earnings that are out of this world, for doing surveys, completing tasks and referring others.
If you do not want to waste anymore time on scams, check out my #1 recommendation to making money online:



Read on for the detailed review of MVPBucks, and why I call it scam.
---
What is MVPBucks
To find out what is MVPBucks, let's first take a look at its home page.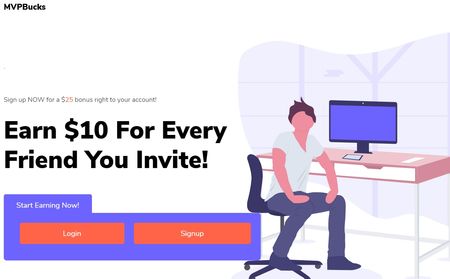 Apparently you will get $25 bonus into your account just by signing up. And when you refer friends onto the platform, you earn $10 per referral.
Sounds really good and enticing!
It gets better:
You earn $30 per survey completed, and also $30 per task! With no withdrawal limits! Doesn't it mean if I spend full time hours working on this get paid to (GPT) site, it can actually replace a regular 9 to 5 job?



Apparently it already has 120K members, and has paid out $500,000.
Now, let's take a look inside the member's area of MVPBucks.com.

Member's area of MVPBucks
I signed up with MVPBucks, just to show you what it looks like inside.
On the dashboard, you will see there is potential earning of $50 for creating a Youtube video to promote this GPT site. No wonder you see people raving about it on Youtube, and even on Snapchat, where they think they can earn $50 just with a shoutout on there.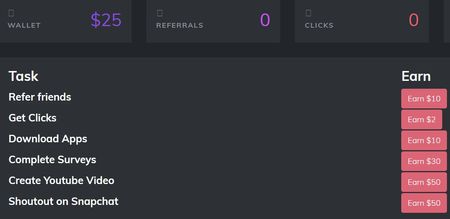 Now, let's look at the task wall.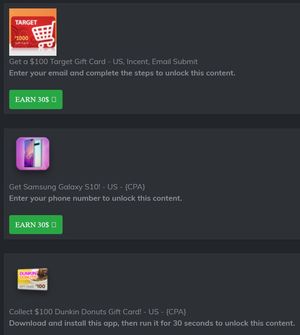 It all sounds so simple. Enter your email and complete some steps, enter your phone number, download and install an app and let it run for 30 seconds, etc. All these get you $30 each! Where else on earth can you find such easy money?
Well, when something sounds too good to be true, it probably is. Now, let me explain why this is a huge scam site.
The tasks do not seem legit at all, especially since the promised payout is so high. By providing your phone number, you are subjecting yourself to unsolicited phone calls by people trying to promote their stuff to you.
When you download the apps and let them run, you never know what it may be doing on your phone, it could be installing some malware or virus, it may be stealing your information, etc.
Do not try out these tasks, because MVPBucks seems too dubious.
There are many other red flags I want to point out to you.

Huge red flags of MVPBucks
They can't afford to pay you that kind of money
Where do they find the money to pay new members $25 each upon sign up? It is completely free to register as a member, so where does their revenue come from?
In fact, there are many legitimate get paid to (GPT) sites that work like MVPBucks, but they all pay way less than what MVPBucks.com claims to.
GPT sites like this get their earnings from ad revenue, where advertisers use their platform to increase brand exposure. They then share their ad earnings with their members.
Hence the amount they are able to pay will never be half as much as $10 per referral, $25 per signup bonus, $30 per survey, etc. Typically, legitimate GPT sites pay less than a dollar for each survey you complete, depending on the time required.
Fake youtube video testimonials
People who upload their video testimonials on Youtube are simply hoping to earn $50 out of completing this task. They have not actually gotten any payout from MVPBucks.
In fact, they never will, but they are either unaware of the scam, or just hopeful to try it out for its sake.
Fake payment proof
The payment proof you may see on Twitter are not real. Those are all dated even before MVPBucks.com was registered.


Take a look at their domain registration date, and you will understand what I mean.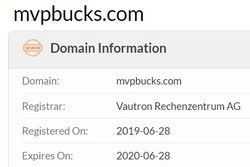 MVPBucks.com was only created in late June 2019. How is it possible for anyone to have gotten their payment in February 2019? It doesn't make sense, and this shows that they are just trying to deceive people into believing that the site does pay out.
Fake counters
Since the GPT site was only started on 28 June 2019, how is it possible for them to have garnered 120K members in such a short span of 3 weeks (at this time of writing)?
Those figures are from the counters on their home page.
Then on their payment proof page in the members' area, they have this:



This is even more absurd. $44 million paid out to over 300K members. It is up to you whether to believe them or not, but I do not.
There is no way to contact them
They do not provide any email address for you to contact them, or any form of support. This is an alarming red flag.
How could a platform that is supposedly dealing with so many payment transactions, with such a huge membership, not provide any way for anybody to get in touch with them?
This just tells me that something is very wrong with this site.
Owner of the platform is hiding
The owner of the website does not show up. To me, this says a lot about how honest and transparent a website or a company is.

MVPBucks will never pay out
They will never be able to pay you those amounts stated on their website. And they never intended to, right from the onset.
They use such high earning potential just to lure people into the lion's den. All they want is to collect your name, email address and other details.
They then sell this information to third party advertisers, for a high price, because they can show that their list consists of a targeted audience that is very interested in making money online.
That is precisely why they also want you to help them with the dirty job of pulling in more referrals into their program. The same with enticing you to create and upload Youtube videos, and shoutouts on Snapchat.

There are legitimate GPT sites that will pay you
These are just some of the great ones that I recommend, they are legitimate, and actually do pay out, at the same time providing various fun ways for you to earn some extra pocket money on their platform:
Swagbucks, PrizeRebel, Inbox Dollars, OfferNation, and Societi, to name just a few.
At the end of the day, you can't expect a full time, or even a part time income from any GPT site, despite spending a significant amount of time on it if you want to earn more than a few dollars.

The proper way to make money online
With the opportunities that abound on the internet these days, you really should not limit yourself to making just enough for your coin pouch. To me, that is a real waste of your precious time.
If you know where to look, you can spend the time building bigger things, that will eventually allow you to quit your regular job.
The trick is to first stop looking for the easy way out.
I guess everyone starts off wanting to make it rich fast. It's a very natural thing, that's just human nature. I wasn't spared of all the temptations on the internet myself.
But when I realised those empty promises are only going to make other people rich, and not me, I stopped looking for shiny objects.
I found a dull-looking object, but I knew in my heart that is the real deal. From then on, I have never looked back.
I found a proven method that has worked for countless online income earners before me. I took the training, implemented it, and kept going at it until I saw results.
I am now working full time from home, growing my internet business, and making an online income. I started from scratch with zero knowledge in this area. If I can do it, you can, too.
Here's a peek into my earnings on a recent day:



As you can see, more than $100 a day is very do-able. And this is not even at its maximum potential yet, I'm still growing this business every single day.
Check out this training platform that provides all the resources, tools, along with an entire community of aspiring as well as already successful online income earners. The best part is, you get to start for free:
---
To round up this article, let me recap and summarise the pros and cons, before I finally make my conclusion.
Pros of MVPBucks
Unfortunately, there is not a single pro about this MVPBucks.com website. It will do you more harm than good.

Cons of MVPBucks
1. Complete waste of your time
You will be wasting whatever time that you spend on the platform, doing surveys, completing tasks, and trying to refer people. They will never pay out to you.
2. Your information will be sold to third party advertisers
You will be receiving lots of spam mail in your inbox. Though a minor irritation, I think most people would rather not have to deal with such nonsense in their lives.
3. Family and friends may lose their trust in you
If you had referred family or friends onto the platform, their trust for you would possibly drop, once they discover that it is not a legitimate platform.
---
Is MVPBucks Scam or legit? 
MVPBucks is most definitely a scam. Stay away from it, and do not refer others to it.
---
Recommendation
If you want to make some serious money online, there is no short cut around some hard work. If it were so easy, everyone would be rich by now.
People who tell you they have an easy way out are just trying to scam you. So you've got to run in the opposite direction.
Let me show you now, a proven method that requires you to work towards your own success.
This real deal does not promise instant results, but instead provides the knowledge and lifelong skills required to grow a successful online business, which is exactly what I have done. Check it out by clicking on the button below:



And for reading all the way to the end of the post, I believe you have it in you to make this work. Here is your FREE PDF Guide: 4 Simple Steps to Making Money Online. Fill in your details to claim it:


If you have any concerns or questions regarding this MVPBucks review, do comment below, and we will start a conversation from there.
---