If you have seen people putting up their referral links, you might be wondering what is FastRewards.co that is claiming it's easy to make $300+ just by sharing your opinion.
Welcome to my Fast Rewards (website url is FastRewards.co) review.
Does this world's leading online survey aggregator really deliver thoroughly vetted paid survey companies to you? Or does it have its own hidden agenda that it will not tell you?
Join me in this honest and in-depth review of FastRewards.co, as I show you all the red flags, so that you can understand the real story behind all its hype in getting people to sign up.
Then you can make a better-informed decision about whether to get yourself involved on the platform or not.
Without further ado, let's dive right in now!
---
FastRewards.co Review Summary
Product: Fast Rewards
URL: https://fastrewards.co/
Creator: Unknown
Product type: Survey aggregator site
Price: free to join
Scam / Legit? : It is too new for me to tell right now, but I do not trust this platform.
Recommended or not? : NOT recommended
FastRewards.co is not the survey aggregator it makes itself out to be. Filled with misleading hype on its home page, it draws people in to sign up, fill in questionnaires, complete tasks, enter personal contact details everywhere, etc.
Its main objective is to get paid by the sponsors and advertising companies that it works with. It is very possible that the links that you get sent to are of a dubious nature, and whether members actually get paid by Fast Rewards or not, that remains to be seen.
If you do not want to waste anymore time on programs that mislead you with hype, check out my #1 recommendation to making money online:



Read on for the detailed review of FastRewards.co, and why I do not trust it.
---
What is FastRewards.co
To find out what is FastRewards.co, let us first take a look at its home page.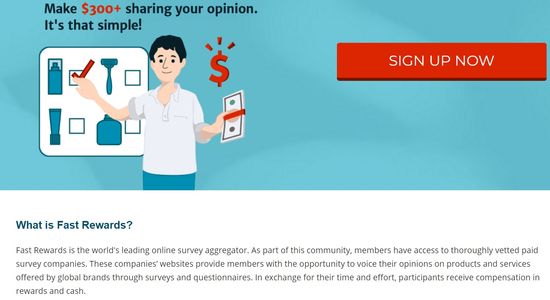 At least it is transparent about the fact that the platform is acting as a survey aggregator.
This means that they do not have actual surveys for you to complete on their website.
Basically they link you to supposedly legit survey platforms that have been vetted by them, and do pay out to members.
When you get onto those survey sites to do surveys, they will pay you, FastRewards.co will not be making any payment to you.

Question the existence of FastRewards.co
It is not difficult to find legitimate survey companies at all. There are hundreds, or maybe even thousands of them, all working with market research companies to get consumers' feedback on certain market trends or feedback on their clients' products and services.
On some of these survey sites, you even get numerous other ways to earn money, on top of doing surveys. They could range from completing small tasks, downloading and playing games, to taking up some free offers, and referring others onto their platforms.
Some established survey sites or GPT (get-paid-to) sites include
– Swagbucks
– InstaGC.com
– OfferNation
– RewardingWays
– PrizeRebel
– PointsPrizes.com
to name just a few.
They can be easily found on the internet, with just a simple search.
So I really do not see the point of FastRewards.co acting as a survey aggregator. Why would they provide this service for free? What's in it for them?
And from the members' point of view, what's the point of using FastRewards.co if they are not the ones paying out to you, but they simply link you out to legit survey sites, which you could easily have found by yourself in just a few seconds?
Here I will show you some red flags, before explaining how dubious sites similar to Fast Rewards work.
Red flags on FastRewards.co
Brand new site claims to be the world leader
At the time of this writing (23 July 2019), the site for FastRewards.co has not been fully developed yet, because it is a totally brand new site, with its domain newly registered on 16 July 2019. That's just one week ago.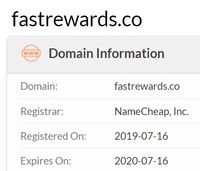 I don't have anything against brand new sites, everyone starts from somewhere. My site was brand new when I first started too.
But to claim that they are the world's leading online survey aggregator, I think it is quite far-fetched, for a platform that is just one week old. And it does not look like they have very long term plans, considering the domain is bought for only one year.
Hyped up potential earnings
On their homepage, they also make it sound like it is so simple to make $300+ just by sharing your opinions.
Though it sounds enticing, where do these high-paying surveys come from? If you have worked on survey sites that pay out, you will know that the typical rate for surveys are usually less than $1 each, depending on how long the survey is.
To make even $300 in one whole month of working on survey sites is almost impossible, unless you put in far more than full-time hours on it.
Then it becomes not worth it, doesn't it? If you have to commit to more than full-time hours just to earn $300, then I'd advise that you find something else to do, I'm sure there are many other things you can do that makes your time worth much more.
As a matter of fact, that's the nature of the survey and GPT industry that you'd have to accept, if you want to engage in these platforms.
The earnings are miserably low, because you'd be sharing the revenue of those survey sites, and they will determine how much they're willing to pay their members.
So to make it sound like you can earn $300+ easily, on the website of Fast Rewards, is pure hype, and very misleading. They just want more people to get onto their platform.
What is their motive, if members do not have to pay any fees to join?

How other sites similar to FastRewards.co work
At the time of this writing, there are no survey sites linked to yet, from FastRewards.co.
I'm not sure if it's because the site is still very new, and they're still working on all their links.
But I can tell you, based on my experience of having reviewed numerous survey aggregator sites like this, that you will be sent around answering questionnaire after questionnaire, with the reason of understanding your profile and preferences, so that they can show you the survey site that most suits your needs.
Eventually you will realise that you are sent round and round in circles, accomplishing nothing but filling out whatever questions and information they ask for.
You may end up giving your credit card details for a certain free subscription, or entering your phone number or home address for a contest, or downloading an app and running it just because they say it is something new and fun.
You may get spammed
If you provide your phone number on any questionnaire or form, you can expect to get unsolicited phone calls from people trying to promote stuff to you.
And spams in your email inbox can be pretty much guaranteed, once you sign up onto FastRewards.co with your email address.
Online security may be compromised
Since you do not know the companies or merchants that FastRewards.co work with, and it has not yet had track record of working with honest companies, there is a risk of landing on websites that are dangerous and dubious in nature.
For instance, your device could be infected with viruses or malware once you land on those suspicious sites.
I'm not saying FastRewards.co is definitely linking up with sites that are not legitimate, but I think the risk is high, from seeing how other platforms very similar to FastRewards.co have worked.
So my advice is to stay off FastRewards.co. You do not need them at all, you can find survey sites that actually do pay out, without requiring their help. There is no reason to put yourself at risk, since no payment is going to come from them.

Do you want to make some serious money online?
At the end of the day, survey sites and GPT sites are just too low-paying, no matter how legit and established they are.
It is not worth your precious time.
With the time you spend on these sites, you can actually build up something much bigger, that can eventually earn you a full time income.
But it is not going to be easy. In fact it takes hard work. But it works.
Let me give you a peek into my earnings on a recent day:



As you can see, more than $100 a day is very do-able. And this is not even at its maximum potential yet, I'm still growing this business every single day.
Check out this training platform that provides all the resources, tools, along with an entire community of aspiring as well as already successful online income earners. The best part is, you get to start for free:
---
To round up this article, let me recap and summarise the pros and cons, before I finally make my conclusion.
Pros of FastRewards.co
From what I can see, FastRewards.co is not going to add any value to you, since in this information age, you really do not need them if all you want is to find a legit survey site to work on.
So there is no point subjecting yourself to all the risks that can come with it by getting on their platform.

Cons of FastRewards.co
1. Security risk
There is a risk of getting infected with viruses or malware when you click on the links provided by FastRewards.co, since they have not yet established themselves as a trustworthy platform.
2. Risk of receiving spam
You email inbox will be spammed, that's for sure, as this will be one of the main ways that FastRewards.co make money off their site. They sell the contact information of their members to third party advertisers.
---
Is FastRewards.co Scam or legit? 
I am not able to confirm whether it is a legit online survey aggregator site as of now, since it is still too new. But I do not have a good feeling about it. So my advice is to stay off the site, you do not need it.
---
Recommendation
Ultimately it is your choice as to what you do with your time.
But I want to show you how big things can be built, if you choose to use your time in a more productive way than on surveys and GPT sites.
This real deal does not promise instant results, but instead provides the knowledge and lifelong skills required to grow a successful online business, which is exactly what I have done. Check it out by clicking on the button below:



And for reading all the way to the end of the post, I believe you have it in you to make this work. Here is your FREE PDF Guide: 4 Simple Steps to Making Money Online. Fill in your details to claim it:


If you have any concerns or questions regarding this FastRewards.co review, do comment below, and we will start a conversation from there.
---