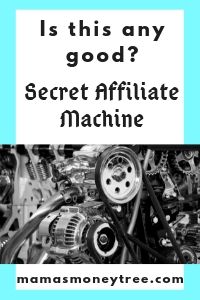 If you are wondering what is Secret Affiliate Machine, this is the right place. I am not promoting them, so I will be revealing all its pros and cons, including all that they do not want you to know about this affiliate marketing system.
Welcome to my Secret Affiliate Machine review.
How does this done for you marketing funnel generate passive income with very little effort on your part? Does it really work as it claims, or is it another waste of your time and money?
Join me in this honest and in-depth review of Secret Affiliate Machine, as I bring you behind the veil of hype, to uncover the real system that you will be getting if you buy into this product.
This will help you make a better-informed decision, by seeing things from balanced viewpoints.
Without further ado, let's dive right in now!
---
Secret Affiliate Machine Review Summary
Product: Secret Affiliate Machine
Creator: Jordan Mederich
Product type: affiliate marketing system
Price: free to join + lots of upsells
Scam / Legit? : Legit
Recommended or not? : NOT recommended, especially if you are not experienced with paid traffic
Secret Affiliate Machine is basically a product that sells itself, requiring paid tools like ClickFunnels, and teaching you to get paid traffic, by running Solo Ads.
This may work for experienced internet marketers, but I do not recommend it for beginners trying to make money online, especially with the hype surrounding it. You can possibly end up making losses, because of its heavy upfront investment, especially for paid traffic.
If you do not want to waste anymore time and money on products that are not created with you in mind, check out my #1 recommendation to making money online:



Read on for the detailed review of Secret Affiliate Machine, and why I do not recommend it.
---
What is Secret Affiliate Machine
To find out what is Secret Affiliate Machine, let us first take a look at its home page.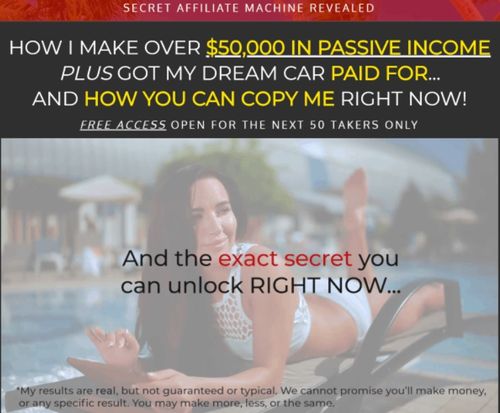 It reeks of hype all around. Make $4000 a month and drive your dream car just by working 30 minutes a day?
I really hope you do not believe this, because if you do, you will fall an easy prey to products that offer you shortcuts, the secrets to success, etc. You will likely keep looking for shiny objects, hopping from one product to another, frustrated that nothing ever seem to work.
I will be frank and upfront with you. There is no easy way to success, anywhere you go, and even more so on the internet, where there is practically zero barrier to entry.
That's not saying Secret Affiliate Machine does not work. I'm sure it does work for some people, and more likely than not, they are already established internet marketers, who know how to get targeted traffic to their offers.
You will understand why I say that, as we move on to look at what you will be getting inside Secret Affiliate Machine.
How exactly does Secret Affiliate Machine work
In gist, Secret Affiliate Machine is a done for you marketing funnel that allows you to generate passive income (supposedly) by promoting products and earning commissions.
It all sounds good. That is, before you get into the details.
Though free to join, there are lots of hidden costs within Secret Affiliate Machine, that you will need to buy into, without which the entire system will not work.
This is not made known to you in the sales video, and I do not appreciate this lack of transparency.
The product that you need to sign up for is Clickfunnels.
What is Clickfunnels
Clickfunnels is a top-notch, great quality sales funnel software that allows you to build sales pages, and landing pages, etc. so as to get potential customers to convert at the highest rate.
It is used by many top internet marketers, and even professionals in many other fields who have their own websites, and depend on these to get traffic to their businesses. Even huge companies make use of Clickfunnels.
Hence it is a completely legitimate and awesome product, except that it is priced on the high side. Its cheapest package costs $97 per month.
How does Clickfunnels fit into the picture with Secret Affiliate Machine?
After signing up for Clickfunnels, you will import your copy of Secret Affiliate Machine (this is where the 'done for you' comes in) onto Clickfunnels, and enter your affiliate links. This is what you will be promoting: Secret Affiliate Machine itself.
Then you are taught to buy traffic using Solo Ads.
The last thing you are supposed to do is just sit and wait for all those commissions to start rolling in.
As your customers buy Secret Affiliate Machine, you not only earn commissions from this product itself, as they subscribe to Clickfunnels, you make a handsome commission (about 40%) of that too, since your affiliate links are all in there, tracking all those sales that came through you.
They make it sound too simple. As an inexperienced marketer, you are more likely going to burn a large hole in your pocket, if you follow Secret Affiliate Machine's method to the T.

Paid traffic is risky
Solo ads is the method of paying someone to get your offers onto his or her email list. Paid traffic is never cheap. And without any experience with Solo Ads, you do not know where to find good quality traffic sources which will convert into buying customers.
What it means is that you could be paying up to thousands of dollars, and yet end up with poor quality traffic, such that you never even make a single sale.
Paying such a huge upfront investment with no guarantee of any returns is a bad idea, especially if you are just starting out, you want to start making money, not lose money.
Another issue I find with paid traffic is that these people do not know you at all. You barge into their lives, just showing up when they were not looking for anything in particular, would likely get you marked as spam, depending on what platform you are using to run your ads.

Why Secret Affiliate Machine will not work for you
Paid traffic is not for everyone
Paid traffic can work for experienced marketers, after they are earning a consistent income with their free traffic sources, and have some spare cash to spend.
Paid traffic, if done well, can scale up your business.
But for beginners, let's talk about getting the basics in place first, before we talk about scaling up.
You see, paid traffic requires a steep learning curve. The learning can only take place 'on the job', by launching advertising campaigns, analysing the results, tweaking some parameters, run again, analyse and test again, etc.
All these while you pay to implement the ads, and while you learn.
Thousands of dollars can go down the drain while you learn the ropes and gain the experience and confidence to be more proficient in paid traffic.
For Solo Ads specifically, the learning comes from trying out a traffic seller, and looking at your results to decide whether to stick with this seller, or to move on until you can find one that gives good-converting traffic.
Its existence is for the purpose of selling itself
Firstly, I do not like products that exist solely to promote themselves. Which is what this Secret Affiliate Machine is all about.
After buying it, you are taught to sell it.
With affiliate marketing, the sky is the limit when it comes to finding products or services to promote. Using Clickfunnels, you can promote almost everything. So why would you limit yourself to just one product?
Done for you is no good for you
What's more, I especially do not like anything that is 'done-for-you'. Businesses can never be one-size-fits-all. You have to build things up with your bare hands, only then will everything work to your advantage.
When it's done for you, it is made to work for the creator of the product. It will not work in your best interests.
After spending so much on Clickfunnels, all you had done is upload the done for you funnel for Secret Affiliate Machine. You had not gained any value out of it, as you still do not know how to use Clickfunnels to sell or promote anything outside of this Secret Affiliate Machine.
Having understood why Secret Affiliate Machine may not work for you, now I want to show you how I get free organic traffic to my affiliate marketing business.

Free organic traffic
The only traffic source that I find the most highly targeted is called organic traffic. This is traffic from search engines.
When people look for answers on the internet and you show up with a recommendation that can help solve their problems, don't you think these leads will trust you and take up your offers?
Organic traffic are also ready buyers, since they were researching into the final phase of their buying cycle, that is how their search for product-related keywords resulted in your blog posts showing up.
This technique simply means that you can choose to target whichever niche that you like, and are passionate about. And this is how affiliate marketing should be.
Of course nothing in this world is free. The price to pay for getting this free organic traffic, without pay a single cent, is actually time and hard work.
But the technique to get free organic traffic also sets the stage for building a rock solid foundation for your business, that is going to drive you passive income months or maybe years down the road.

I am now working full time from home, growing my internet business, and making an online income. I started from scratch with zero knowledge in this area. If I can do it, you can, too.
Here's a peek into my earnings on a recent day:



As you can see, more than $100 a day is very do-able. And this is not even at its maximum potential yet, I'm still growing this business every single day.
Check out this training platform that provides all the resources, tools, along with an entire community of aspiring as well as already successful online income earners. The best part is, you get to start for free:
---
To round up this article, let me recap and summarise the pros and cons, before I finally make my conclusion.
Pros of Secret Affiliate Machine
1. Legitimate methods, promoting legitimate products
Clickfunnels is a fantastic funnel builder. Using it to promote products that you are an affiliate of is an awesome idea too, provided you know the people selling the Solo Ads traffic, such that you know there will be engagement and ultimately conversions.

Cons of Secret Affiliate Machine
1. Only works in the internet marketing niche
As it is, Secret Affiliate Machine is only promoting itself. So if your niche is in some other area, then it would not be relevant.
In fact, if you are in any other business, Clickfunnels may possibly be something that will help you with your conversion rates, but you really do not need Secret Affiliate Machine.
2. Not minimum effort like what it is made to sound
Affiliate marketing is not a get rich quick scheme. Just working 30 minutes a week will get you nowhere. Do not believe those who tell you it's so easy, they do not have your welfare at heart.
3. Not for newbies and struggling marketers
Paid traffic is definitely not something I'd recommend to beginners in the internet marketing niche, or if you have not made money with free traffic yet.
It is more suitable for people with excess cash, and are ready to experiment with and learn some ads targeting, in order to scale up their business.
4. A product that promotes itself
Personally I do not like such products or programs that exist just to promote itself, and outside of this context, it delivers zero value.
I'd much prefer some tools or training that equips me with the skills and knowledge to promote anything I want.
5. Anything done for you is no good for you
I particularly do not like anything that is 'done for you', because you can be sure it is not made to cater to the individual needs and circumstances of different people.
The one it will work best for is the creator of the product.
Examples of some similar products I have reviewed include MVPBucks, Surveys2Cash, FastRewards.co, and Cash for Kids Club, to name just a few.
---
Is Secret Affiliate Machine Scam or legit? 
Secret Affiliate Machine is definitely a legitimate product, promoting itself as well as Clickfunnels. I do not recommend it, especially for beginners, because of its paid traffic method being too risky.
---
Recommendation
There are many ways to make money online, but taking the easy way out is not one of them.
When people tell you it's easy, and they give you a system such that you do not have to do any work, then you'd better run off in the opposite direction.
Nothing comes without hard work, especially in the online world.
What you have to do is to find a proven method that you like, learn the ropes, implement your learning, and keep going at it until you see results.
I want to show you the way I am doing it, so you can decide for yourself if this is something you may like.
This real deal does not promise instant results, but instead provides the knowledge and lifelong skills required to grow a successful online business, which is exactly what I have done. Check it out by clicking on the button below:



And for reading all the way to the end of the post, I believe you have it in you to make this work. Here is your FREE PDF Guide: 4 Simple Steps to Making Money Online. Fill in your details to claim it:


If you have any concerns or questions regarding this Secret Affiliate Machine review, do comment below, and we will start a conversation from there.
---