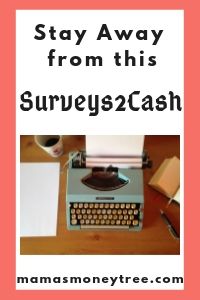 Recently I came across this survey aggregator site, and decided to set out to answer the question: What is Surveys2Cash, has it got earning potential, or is it going to do you more harm than good?
Welcome to my Surveys2Cash review.
I will be upfront that I do not like what this website entails. I do not think it is made with its users in mind. Rather, it seems to have its own interests as the top priority.
Join me in this honest and in-depth Surveys2Cash review, as I show you what it is all about, and point out all the red flags so that you can decide for yourself if this platform is worthwhile to spend your time on.
Without further ado, let's dive right in now!
---
Surveys2Cash Review Summary
Product: Surveys2Cash
URL: surveys2cash.com
Creator: Unknown
Product type: surveys aggregator site
Price: free to join
Scam / Legit? : Legit
Recommended or not? : NOT recommended
Surveys2Cash is at least upfront about it being a survey aggregator site, unlike some other platforms that pretend there are actual surveys on the sites for you to complete.
Rather than identifying the best survey sites for you to earn some money from, Surveys2Cash seems more interested in linking you up to its affiliates, to answer questions, provide your information over and over again, to different platforms, to click on ads, etc.
If you do not want to waste anymore time on platforms that do not add value to you, check out my #1 recommendation to making money online:



Read on for the detailed review of Surveys2Cash, and why I do not recommend it.
---
What is Surveys2Cash
To find out what is Surveys2Cash, let us first take a look at its website.



It is a surveys aggregator site
At least it is transparent about itself being a survey aggregator site. This means you should not expect to find any actual surveys that can be completed on its website, as it is not a survey platform.
Rather, it is supposed to put together all the good survey sites, so that you have them all at your fingertips, and can start earning by completing surveys on those websites.
Unfortunately, it seems to have deviated from this role, as you will get to see below.

Signing up to Surveys2Cash
To sign up to Surveys2Cash, you need to provide information like your date of birth, your home address, and phone number.



To me, that is excessive private information that they are trying to obtain. I have never felt comfortable giving these kind of details to people that I am not sure to be from legitimate organisations.
You see, there is no information about the people behind Surveys2Cash. So I cannot even determine whether they are trustworthy or not.
It gets even more interesting:
They say you stand to earn up to $100 on your first survey.
To me, this is just terribly misleading. There is no way anyone can make $100 just for completing one survey.
No matter for how small an amount, like even for $0.50, or $1, $2, they all fall under the same category of 'up to $100'. Nobody said you will make $100, that's just the maximum amount you can make.
I do not like this type of hype and marketing gimmick.

After signing up to Surveys2Cash
After signing up, you will be asked to complete some questionnaire, so that they can map out your profile or something like that.
This goes on for a few rounds of questions and more questions, sometimes providing your contact information again.
In the process, you also get to view lots of advertisements on their platform.
It is not difficult to see that they are trying to get the most out of you. Even though you do not have to pay them a single cent for their 'service', they are in fact not even fulfilling their duty as a survey aggregator site.
By channeling you to answer questions, provide contact details, view ads, they are in fact making money for themselves, through their ads revenue, selling of leads to third party advertisers, leads provided to their affiliated platforms, etc.
From your point of view, you are made to go round and round in circles, without making a single cent, and having accomplished nothing except to make them money.

Another Huge Red Flag in Surveys2Cash
Besides all the points mentioned above, this next thing I am going to show you is huge.
Their email contact for support is fake, it does not even exist.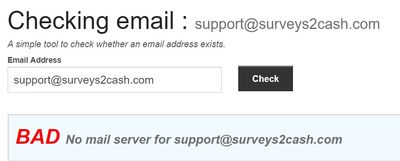 This is bad, isn't it? To me, the intent to deceive here is very strong.
If they do not have a valid email address, it just means they never wanted to stay in contact with you at all, right from the start. This is very telling about a website's trustworthiness.

Hop over to the legitimate survey sites directly
You do not need any surveys aggregator site at all. Because you do not need a long list of survey sites to engage in.
Even if surveys are your thing, you can't be trying to use every single survey platform. You've got to find just one or two that consists of activities which you will enjoy doing, and at the same time pay out a relatively high rate, such that it is worth your time.
Examples of great legit sites that do pay out on time include Swagbucks, InstaGC, Vindale Research, Inbox Dollars, and OfferNation, to name just a few. Many of these are also GPT (get paid to) sites, which include various other fun activities like playing games, downloading apps, taking free subscriptions, captcha data entry, referring people, etc.

The proper way to make money online
Though there are many legitimate survey sites out there, due to the nature of the industry, you can never expect even a part time income out of it, much less a full time one.
For this reason, I think survey sites are a very unproductive way to spend your precious time.
With the same time, you can actually do much bigger things. With the opportunities that abound on the internet these days, forget the little extra pocket money that you will be making with survey sites.
There are so many great ways to build a sustainable income online. I can show you how I did it, but this method takes time and hard work.
This has nothing to do with MLM, no need to create or own any products, no need to handle inventory, delivery, or dealing with customer complaints.
All the work can be done from the comforts of your home, on a laptop. You will be your own boss, reporting to no one.
There is no fixed company that you have to work with. You get your choice in the niche, picking whatever topic that you are passionate about, and building your business around it.
I am now working full time from home, growing my internet business, and making an online income. I started from scratch with zero knowledge in this area. If I can do it, you can, too.
Here's a peek into my earnings on a recent day:



As you can see, more than $100 a day is very do-able. And this is not even at its maximum potential yet, I'm still growing this business every single day.
Check out this training platform that provides all the resources, tools, along with an entire community of aspiring as well as already successful online income earners. The best part is, you get to start for free:
---
To round up this article, let me recap and summarise the pros and cons, before I finally make my conclusion.
Pros of Surveys2Cash
There is not a single pro I can think of for this product.

Cons of Surveys2Cash
1. There is no value to you
They do not really pull together some really legit and great surveys sites to recommend you to. They are more interested in making money for themselves.
2. You may get spammed
Your email inbox will get flooded with promotions and offers that you may not remember having opted in for, since there could have been so many companies whose questionnaires you went through and went ahead to provide your information, when you got onto Surveys2Cash.
3. The websites you land on may be dangerous
It is possible that some companies working with Surveys2Cash are not legitimate, hence landing on those websites could put you in danger of downloading malware, getting caught with a virus, etc.
---
Is Surveys2Cash Scam or legit? 
I can't call them scam, because they are transparent about being a surveys aggregator site.
But I definitely will not be recommending them to anyone. I feel that they will be a complete waste of your time.
---
Recommendation
Having understood how the sky is the limit when it comes to the online world, my advice is not to spend your time chasing after peanuts.
There are so much more bigger things you can accomplish.
But I have to warn you ahead of time: not everyone can do this, because it takes hard work.
This real deal does not promise instant results, but instead provides the knowledge and lifelong skills required to grow a successful online business, which is exactly what I have done. Check it out by clicking on the button below:



And for reading all the way to the end of the post, I believe you have it in you to make this work. Here is your FREE PDF Guide: 4 Simple Steps to Making Money Online. Fill in your details to claim it:


If you have any concerns or questions regarding this Surveys2Cash review, do comment below, and we will start a conversation from there.
---