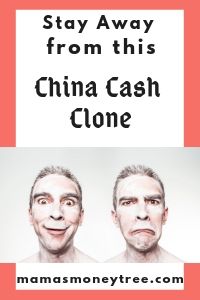 Welcome to my China Cash Clone review.
Wondering how legit this product is? How can you possibly earn $912,135 in 6 months with this? What is the exact method?
I will answer these questions and more, in my honest and in-depth review of China Cash Clone. I am in no way affiliated to this product, so you can be assured that I will not be promoting it to you.
In fact, I will suggest that you stay away from this.
Join me as I walk you through all the red flags in China Cash Clone, so that you can discover what they do not tell you about this program, and make a better-informed decision for yourself.

Without further ado, let's dive right in now!
---
China Cash Clone Review Summary
Product: China Cash Clone
URL: http://chinacashclone.com/
Creator: Daniel Barber
Product type: training on dropshipping with AliExpress
Price: $9 + upsells
Scam / Legit? : Borderline scam. They do deliver training, but it's low quality. Too many attempts to deceive and mislead in their sales materials.
Recommended or not? : NOT recommended
China Cash Clone is a series of short videos teaching you how to do dropshipping with AliExpress. Nothing wrong with the model taught, but the training is too generic, something that you can find on the internet for free, if you just do a search for it.
Dropshipping has its inherent issues, that I will cover in detail in this post.
What I especially do not like about China Cash Clone is its attempt to make the method seem so easy and newbie-friendly, working just a few minutes a day to bring in the big bucks. It is all hype and misleading sales pitch.
If you do not want to waste anymore time and money on products that are overhyped and will not deliver the earnings that they claim, check out my #1 recommendation to making money online.



Read on for the detailed review of China Cash Clone, and why I do not recommend it.
---
What is China Cash Clone
To find out what is China Cash Clone, let us first take a look at its sales page.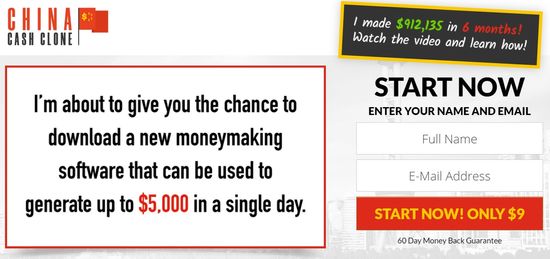 The sales video is all hype, with "Daniel Barber" describing how this is a little-known glitch on the internet that is going to make you a million dollars in just 6 months.
It is so easy, anyone can do it, as long as you have a computer and an internet connection. You do not need any prior experience or any kind of skills.
Basically the entire sales video is made up of such hype.
I'm not going to waste your time here. I will show you upfront – all the things that are wrong with this sales page.
Fake testimonials
The people in the sales video, all claiming how they have earned huge amounts of money within a short time of using China Cash Clone, are paid actors from Fiverr.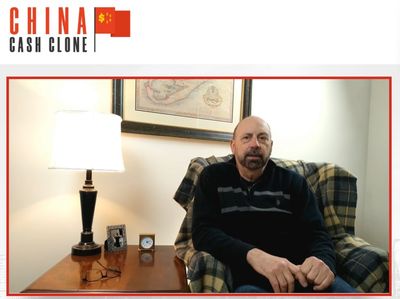 Here is this guy's profile on Fiverr: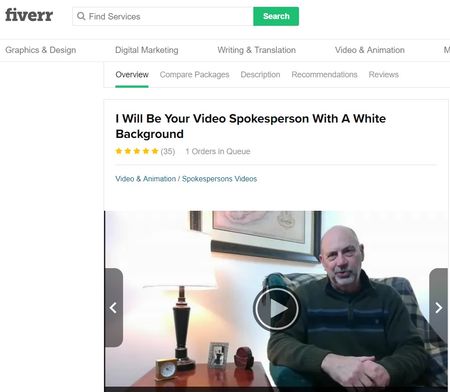 Products like these make my trust level for them plummet right down to zero. If there was anyone actually making money from China Cash Clone, why would they have to engage actors to give fake testimonials?
More fake stuff on China Cash Clone
Look at this, people claiming to have made more than a million dollars. Apparently they joined China Cash Clone as early as August 2018.



Now, take a look at this: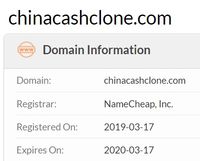 The domain for China Cash Clone was registered in March 2019. The story just does not line up well.
For a product that is barely 4 months old (at the time of this writing), if there are so many people claiming that they are making millions out of it, I think we have to be more wary of these hyped-up claims.
Who is "Daniel Barber"
The person behind the sales video has not made a proper appearance. If he is really so highly successful, and trying to help people get on this opportunity, why does he not provide his social media accounts so that others can network with him, and really get to know him?
Products whose creators are not willing to stand for and be responsible for, are the exact products that I will never trust.
Now, let's take a look at what exactly you will get inside of China Cash Clone, if you were to buy it.

Inside members' area of China Cash Clone
Once you're inside the members' area, you get to download a clone website that is an ecommerce site, with products from AliExpress that you can sell.
You also get 5 training videos, comprising of these subjects: setup, customisation, Woocommerce, AliExpress, and manage your orders.
A total of 10 minutes from these 5 training videos, that is all that you get, totally not worth the 9 bucks, if you ask me.
How can you possibly learn how to make a million dollars with these 10 minutes of video training? It's just not possible, this is not how running an online business works.
In fact, at this point, I dare say that China Cash Clone is not created with you in mind, to add value to you, to allow you to learn a business model so that you can succeed in it.
It is made to squeeze you dry. The other parts of the members' area are nothing but upsells, upsells, and even more upsells.

Upsells in China Cash Clone
In the VIP member workshop, you are encouraged to buy John Crestani's Super Affiliate System, which costs a whooping $997. I have done a detailed review of Super Affiliate System here, if you are interested to find out more about it.
And then in another section called VIP Upgraded Products, you are presented with Cash Clone X that costs $197, and 3 ready-made Profit Sources costing $147.
If you buy into any of these, you will then be asked to subscribe to Clickfunnels (which costs at least $97 per month), and an autoresponder like Aweber or Mailchimp (starting at $19 per month).
The creator of China Cash Clone will earn a recurring commission if you subscribe to those services, as you would have signed up using his affiliate links.
Do you see now, this is not just about the $9, the real money lies in all these hidden upsells that were never made known to you when you were purchasing China Cash Clone.
The dropshipping model
Now, say you decide to give China Cash Clone a try anyway, ignoring all those upsells and trying to make use of just the front end product, to try and set up your very own dropshipping business.

You need to be aware of some issues that are inherent of this business model, it is definitely not a get rich quick scheme.
What is dropshipping?
In dropshipping, you set up your own online store. When people make orders through your store, you then get a supplier, that you have linked up with (AliExpress in this cash of China Cash Clone), to deliver the product directly to the customer.
The beauty of this is that you do not need to stock up on any inventory, the products do not even have to pass through your hands. You make payment for the order only when the customer makes the purchase on your store and pays you.
You profit off the difference between your selling price and the price that you pay the supplier.
Startup cost is low, mainly for the monthly subscription of your ecommerce online store.
Profit margin is low
Because you are acting as the middleman, what you earn is simply the middleman profits, which cannot be that high.
On one hand, you have to price the products competitively, otherwise nobody will buy from your store. On the other hand, the bulk of the money has to go back to your supplier, as they are the ones producing the physical goods, as well as making the deliveries.
Deal with customer complaints
The sales transactions take place between you and your customers, through your online store. So if goods are damaged, or not delivered on time, or delivered wrongly, etc. you are the one facing the wrath of the customers.
Hence your business is highly dependent on the efficiency and performance of the suppliers, which you may not have total control over. This can lead to lots of frustration.
Where do you get traffic to your store
With an online store, it is not easy to find targeted traffic to land on there. Free social media traffic is just not targeted enough. Paid traffic may work, but your advertising cost can put you in the red if you are not experienced enough to know what you are doing.
Traffic is a big thing, it is the bloodline to any business. If you cannot get targeted potential customers who are ready to buy, your dropshipping business will not pick off, no matter how well you've got the other elements all sorted out.
With this understanding of how dropshipping works, I want to show you what I think is a better business model. You can read up more on dropshipping here.

The business model that I am using
What I am using to make my income online is called affiliate marketing.
To put the idea across simply: I promote some existing products, and when customers click through my affiliate links to make the purchase, I earn a commission.
The huge advantage of this model is that the sales transaction takes place between the supplier (or the retailer, the vendor, etc.) and the customer. So I do not have to handle any issue that arises due to product quality, delivery, etc.
I simply recommend a product to drive business to the company selling it.
It's a win-win-win situation.
The company pays me a commission only when a sale is made, so to them it is like advertising but with guaranteed returns.
To the customers, I am offering a recommendation of a great quality product that can help them solve certain problem that they are facing.
And to me, I earn a commission when the sales comes through.
The added bonus of affiliate marketing is that I am able to use a free organic traffic method, to get people searching for what I am promoting to land on my offers. In this way, my traffic is highly targeted, all ready to buy.
This allows me to work completely from home, without having to go out to look for customers, because the way I am doing it allows them to find me online.
I am now working full time from home, growing my affiliate marketing business, and making an online income. I started from scratch with zero knowledge in this area. If I can do it, you can, too.
Here's a peek into my earnings on a recent day:



As you can see, more than $100 a day is very do-able. And this is not even at its maximum potential yet, I'm still growing this business every single day.
Check out this training platform that provides all the resources, tools, along with an entire community of aspiring as well as already successful online income earners. The best part is, you get to start for free:
---
To round up this article, let me recap and summarise the pros and cons, before I finally make my conclusion.
Pros of China Cash Clone
1. You do get something, no matter the quality
Those videos of 10 minutes playtime, as well as a clone website that may not even be what you like, is what you get out of China Cash Clone.
2. 60 day money back guarantee
This basic refund policy is in place, for people who are dissatisfied with the product.

Cons of China Cash Clone
1. Dropshipping issues
If you intend to get involved in dropshipping, you have to be mindful of low profit margins, and having to deal with supplier's performance in the face of angry customers.
2. Not minimum effort like what it is made to sound
China Cash Clone is all hyped up, making you believe this is such an easy way to get rich.
3. Traffic
With your own online store, it is nearly impossible to get search traffic landing on it. So you will have to source for your own traffic, which can cost thousands of dollars if you want to get really targeted customers who are ready to buy.
Even then, if you are not well-versed in paid traffic, you may not get the returns from your investment. Paid traffic comes with some very real risk.
4. Upsells
The upsells in China Cash Clone tells me that "Daniel" only cares about his own pockets, and not whether his product is helping you in the best way possible.
---
Is China Cash Clone Scam or legit? 
I want to call it scam because of all its misleading claims and fake testimonials. "Daniel" himself is not even a real person. But because they provide 10 minutes of training, so I will leave it up to you to decide if it is a scam or not.
Other similar products that teach dropshipping and are equally overhyped include 100K Online Secret, My Ecom Club, Starting From Zero, and Broke Dishwasher, to name just a few.
---
Recommendation
If anyone tells you making money online is easy, you've got to run in the opposite direction, because if you listen to them, you're giving them the easy money.
The thing about succeeding in the online world is to find a proven method that works, learn the ropes, implement your learning, and stick with it until you see results.
I want to show you the method that has worked for me and countless internet marketers before me. Take a look, then decide for yourself if this is something that you would like to do.
This real deal does not promise instant results, but instead provides the knowledge and lifelong skills required to grow a successful online business, which is exactly what I have done. Check it out by clicking on the button below:



And for reading all the way to the end of the post, I believe you have it in you to make this work. Here is your FREE PDF Guide: 4 Simple Steps to Making Money Online. Fill in your details to claim it:


If you have any concerns or questions regarding this China Cash Clone review, do comment below, and we will start a conversation from there.
---