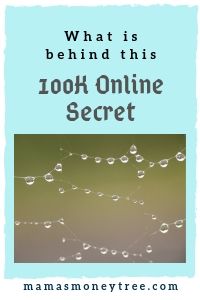 Wondering if the 100K Online Secret scam is real? Can there really be an easy way to make money from home that can make you $100K?
Welcome to my $100K Online Secret review.
The internet is so full of scams these days, you really can't be too careful.
You might be wondering:
Who is Lei Lei Secor? Did she really use this program to succeed? What exactly is the method that they will be teaching you? Why aren't they divulging more details about it?
We will answer these and much more, in my honest and in-depth 100K Online Secret review, where I unveil what lies beneath the mask of this product, and if you should invest your time and money in it.
Without further ado, let's dive right in now!
---
100K Online Secret Review Summary
Product: 100K Online Secret
URL: https://100konlinesecret.com
Creator: Teo Vee
Product type: sales funnel to My Ecom Club (read my review of My Ecom Club here)
Price: $97 + lots of upsells once you get in
Scam / Legit? : Legit
Recommended or not? : NOT recommended
100K Online Secret is nothing but an empty shell. It is a sales funnel that directs you to purchase a completely different product: My Ecom Club, without even knowing you're getting into that program until after you pay for it.
I find this kind of marketing tactic very distasteful. With the real program hidden behind a completely different name, you are deprived of a chance to do your own research on it, in order to make an informed decision.
My Ecom Club itself is a legitimate training on e-commerce, specifically dropshipping, though it is not a business model I will engage in.
If you do not want to waste anymore time and money on non-transparent products, check out my #1 recommendation to making money online:




Read on for the detailed review of 100K Online Secret, and why I do not recommend it.
---
What is 100K Online Secret
Let's find out what is $100K Online Secret by first taking a look at its sales page: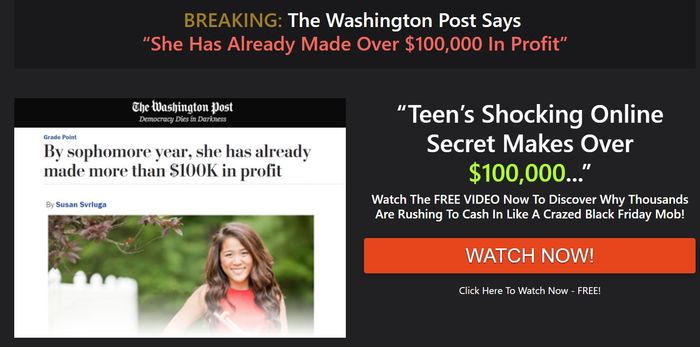 Who is this lady Lei Lei Secor, and what is the online secret that had her making $100K?
As it turns out, the lady is a real person who had actually been featured in The Washington Post. She made her income with e-commerce, the same business model as what you will be getting in 100K Online Secret, though she did not purchase this product at all.
So basically what the creator of 100K Online Secret is doing is to take somebody's success story, that has got nothing to do with what he is selling, except for being the same business model, to promote his own product.
Which is rather absurd. And misleading, to say the least.
The sales video is full of hype, having you believe that you had been missing out on such a big secret all this while, using scarcity tactic and the lure of a dream lifestyle to entice you to bite the bait.
Very little information about the money making method is revealed, except that you will own websites with your name on it, such that whenever someone lands on your site and makes a purchase, you will make money!
They managed to make it sound super exciting. But in fact they are just doing very hyped up sales gimmicks for setting up an online store, which of course you will earn when someone landing on your site purchases an item you are selling.


What exactly is 100K Online Secret
This is none other than a sales funnel to My Ecom Club. There is no product to 100K Online Secret itself.
But why would they do this?
People do this when they wish to hide the real identity of the product, so that potential customers cannot search it up, read all the reviews about it before making an informed decision to their purchase.
This is unfair to buyers, as they think it is a brand new product, clear of any negative feedback, since they can't seem to find anything negative about it anywhere.
If you hop over to read my detailed review of My Ecom Club, you will understand why Teo Vee does not want people to know 100K Online Secret is the marketing funnel for his e-commerce training program.




If you do not want to read that lengthy review, I have provided the gist of it here:


What is My Ecom Club
My Ecom Club teaches a legitimate make money online method: dropshipping, which is a type of e-commerce.
The training itself seems to cover a lot, because the training videos are quite long, but a lot of times it is Teo Vee going on and on about some general stuff related to the topic of the video, instead of giving very actionable steps for you to set up your own online store.
And that is another tactic, because the money is in the upsells.
In fact, if you hop over to the main website of My Ecom Club (https://myecomclub.com/ ), you get the training absolutely for free. The $97 is supposedly for coaching, which you may or may not get in reality, depending on your luck, whether you get a good quality coach or not.
Done for you e-commerce websites
They offer a service in one of their upsells, to create done-for-you e-commerce online stores, two of them, for a whooping $1997.
No wonder the training is not designed to make you self-sufficient, because if it does, then they would have no business for their upgrades.
If you do not take up this upsell, you would be stuck, not being able to unlock the rest of the more advanced training. Which defeats the whole purpose of buying into the training program.
Hence you will see lots of negative reviews about My Ecom Club.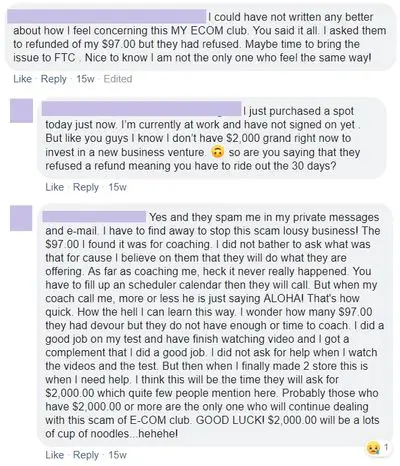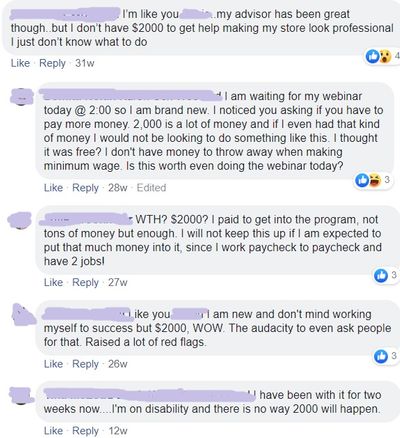 Issues inherent of the dropshipping model
Even if My Ecom Club has no cost and transparency issues associated with it, dropshipping is not for everyone.
In dropshipping, you basically contact suppliers, and negotiate to reach an agreement for a bulk purchase price of products that you want to sell in your online store. You then do market survey to decide on the pricing of those products. You profit off the difference between your selling and buying price.
When customers make a purchase, you send in your order to the supplier, who then delivers the product directly to the customer, without it having passed through your hands.
The sales transaction takes place between you and the customer. Hence any delay in delivery, damaged goods upon receiving, cancellation and refunds, etc. have to be handled by you. Whilst efficiency and reliability of suppliers are not within your control.
So it can be a frustrating business if you do not have a good supplier network.
Moreover, profit margins will be very low, since the supplier still takes the bulk off the price, and you cannot price your items in your store too high if you want to remain competitive in the market.
These are just some of the foreseeable problems that you would have to deal with, if you decide to do dropshipping.
Here are two great resources for your reference, which discuss the considerations as you are starting up your dropshipping business: Shopify article and Entrepreneur.com.


The best business model, in my opinion
Having seen the issues related to dropshipping, let me now show you the business model I am using, which I think is the best, simply because it is so neat and hassle-free. It is called affiliate marketing.
In affiliate marketing, I promote other people's products (companies and retailers). When customers make a purchase through my affiliate link, I earn a commission from the retailers.
The sales transaction does not involve me, it still takes place between customers and the retailers. I am simply earning by driving business to their virtual doorstep.
I do not deal with any delivery, customer complaints, refunds and cancellations, etc. I do not have to worry about negotiating the lowest-priced supplies, or pricing it correctly for selling.
Affiliate marketing has made countless successful online income earners. It is a proven method that works.
Check out this training platform that provides all the resources, tools, along with an entire community of aspiring as well as already successful affiliate marketers. The best part is, you get to start for free:


---
Pros of 100K Online Secret
1. Real owner
Teo Vee is a real person, at least that adds credibility to his product.
2. 30 day money back guarantee
This basic refund policy is in place, for people who are dissatisfied with the product.


Cons of 100K Online Secret
1. Not transparent about what they are selling
Ultimately, they are selling My Ecom Club. Not being transparent is a marketing tactic that I do not admire.
2. Too expensive
$97 is too expensive a product to pay, for which the owner does not provide any real and useful information on the sales page.
3. Dropshipping woes
Dropshipping has its own set of woes and obstacles to overcome, like finding a reliable supplier whose bulk purchase price makes the whole deal profitable for you, having to deal with the wrath of customers, making thin profits, etc.
4. Upsells
There is definitely the $1997 upsell in My Ecom Club. Once you buy in to that, further down the road, you will be pitched even more expensive products.
---
Is 100K Online Secret Scam or legit?
100K Online Secret is not a scam, since there is a legit product behind it, though I do not like this type of non-transparent sales tactic.
Other programs that are equally useless include Broke Dishwasher, Wolfpoints, and workmines.
---
Recommendation
I guess everyone starts off wanting to make it rich fast. It's a very natural thing, that's just human nature.
But when I realised those empty promises are only going to make other people rich, and not me, I stopped looking for shiny objects.
I found a dull-looking object, but I knew in my heart that is the real deal. From then on, I have never looked back. I am now working full time from home, growing my internet business, and making an online income. I started from scratch with zero knowledge in this area. If I can do it, you can, too.
This real deal does not promise instant results, but instead gives the knowledge and the lifelong skills required to grow a successful online business. Check it out by clicking on the button below:




And for reading all the way to the end of the post, I believe you have it in you to make this work. Here is your FREE PDF Guide: 4 Simple Steps to Making Money Online. Fill in your details to claim it:


If you have any concerns or questions regarding this 100K Online Secret review, do comment below, and we will start a conversation from there.
---