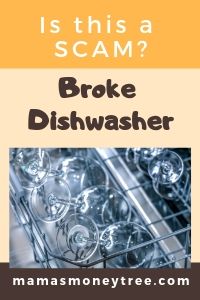 What is this crazy system that can make you $114,501 in just 90 days? Is this for real, or yet another avenue to throw your money to the scammers? We will uncover the truth in this Broke Dishwasher review scam analysis.
If you have received some promotional material about this product, and are here to check things out, let me first congratulate you for your due diligence. This prudence will keep your money safe, especially on the internet, with so many scams floating around these days.
You have landed at the right place in your research. I'll be upfront here. Broke Dishwasher is a scam, through and through.
In this honest, unbiased and in-depth review, we will take it apart, explore its inner mechanisms, and see how it works to scam you.
Follow me and we will dive right in.
---
Broke Dishwasher Review: Scam Alert
Product: Broke Dishwasher a.k.a. brokedishwasher.com
Creator: Teo Vee
Product type: sales funnel that leads to My Ecom Club
Price: $47
Scam / Legit? : SCAM
Recommended or not? : NOT Recommended
Broke Dishwasher is nothing more than a single page website, which works effectively as a sales funnel, that channels people to an entirely different product, which is called My Ecom Club.
My Ecom Club in itself is not a scam, it is a very high ticket training platform for eCommerce, for people looking to setting up their own online store, to do dropshipping.
The scam is in trying to lure people to purchase Broke Dishwasher with hype and promises of instant huge earnings, only for them to discover they had actually signed up for an eCommerce training, something they may not have any intention of taking on at all.
If you do not want to waste anymore time and money on scams, check out my #1 recommendation to making money online:




Read on for the detailed review of Broke Dishwasher, and why I do not recommend it.
---
What is Broke Dishwasher
Information presented in sales video and landing page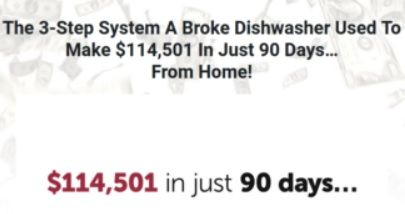 So Teo Vee tells of the story when he was a broke dishwasher. That's why the name of this product.
Without any special skills, or money for investment, he came to know about this 14 year old kid, who was making money with his simple website.
Teo Vee took that system, and began making money on the internet as well. He has now made it into a copy and paste system that you can use too, to make big bucks fast, with minimum effort, since it has been all done for you.
And of course it is none other than Broke Dishwasher.
What he does not tell you, is what lies behind this veil of the Broke Dishwasher. It is in fact an existing product of Teo Vee's, that he has been sneakily promoting using these kind of one page website, or landing pages, under different names.
All these funnels mislead people into believing that he has a system that can make money fast for them, without doing any work.


Why does Teo Vee do this
Using these completely dishonest sales gimmicks, Teo Vee is able to target the human weakness of craving instant gratification. Many people will fall for this kind of sales pitch, because it is just human nature. But of course we learn each time we fall for such scams.
You see, My Ecom Club, that Broke Diswasher funnels people into, is not a scam in itself. It has its own set of issues, though. Which I will get into later in the next section.
The thing is, if he tells people upfront that his method is in eCommerce, to help you build your online store, then his audience will shrink to a much smaller group, because many people may know it is not what they want to engage in.
But throw in facades like Broke Dishwasher, and he will be able to cast a much wider net. Who wouldn't like to make some fast cash on the internet, right?
Moreover, with the reputation of My Ecom Club being not a perfect one, people would be more hesitant to sign up if they knew its real identity.
Check out these complaints from BBB (Better Business Bureau):






Thus, hiding My Ecom Club behind party masks gives him a strong advantage of each time starting afresh with a brand new product, with no bad name that goes along with it, people won't be able to find negative reviews of these facades so easily, because they appear and then vanish from the face of the earth within a few weeks or months.
While on the back end, he does not have to keep creating actual new products, as everyone on those sales funnels is all channeled to the same My Ecom Club.


The scam as I see it
Another big part of the scam is that if you hit My Ecom Club's official website, you get to create a free account, through which you can actually go through their first 6 steps of video training, on the essentials of an dropshipping business.
I can verify that because I just went through the whole 6 steps of video training for free.
They also strongly encouraged me to hire a personal coach, at a fee of $37, which of course I did not take up.
At the end of the 6 steps training, they then tried to sell me the next phase, for a whooping $1997! That's to unlock more training, as well as to get two done-for-you online stores, filled up with products along with their descriptions, and so on.
Of course I simply exited from there, having lost not a single cent.
BUT those people who were funneled into My Ecom Club through these bogus sales pages were not so fortunate. They were 'tricked' into buying the product upfront, paying different prices for different sales funnels ($47 for this Broke Dishwasher, some other older sales funnels were priced at $97).
With that price paid, they then entered My Ecom Club, with a personal coach already in place, as well as the 6 steps of video training that I got totally for free.
So do you see where the scam is now?
And then on their FaceBook page, there is just so much confusion because people were not aware that they actually entered the program at different pricing. Some were talking about $47, others $37, and yet others $97.
To me, this is such a non-transparent and dishonest way to run a business.


The issues with My Ecom Club
Here is a detailed review of My Ecom Club, if you would like to go into that.
Steps 1 to 6 of their video training that I went through were not comprehensive at all to getting anyone started on an eCommerce business.
It is made to seem very content-filled, due to its duration of 40 minutes, or 50 minutes each video. But it's because Teo Vee is capable of going on and on about the subject at length, though in very generic terms. Nothing technical is covered, so I did not feel like I had gained anything from the training.
Also, nothing that you cannot find on the internet, which will ideally be delivered in much shorter time and hence not wasting your time, by the real experts who are committed to helping people succeed.
So I cannot imagine paying thousands of dollars to continue getting training like this. And my guess is, they are deliberately holding back on teaching you the skills, precisely because they want you to take up those done-for-you online stores.
I dislike anything that is done for me. Because it makes me feel very crippled, and not in control of what I want to do with my own online business.


Why I will not choose dropshipping as my business model
In the detailed review of My Ecom Club, I had gone in length about the dropshipping model. Here, I will just do a quick summary, since the main objective of this post is to review Broke Dishwasher, which we had busted as just a sales funnel to My Ecom Club.
In dropshipping, you source products from some suppliers, at a negotiated discounted price. When customers purchase stuff from your online store, you send their orders to your suppliers, who would have the items delivered directly to your customers.
The main problems inherent in the dropshipping model include low profit margin, because you need to keep your pricing competitive. And suppliers will definitely still take the bulk of the revenue, since they are the ones doing the hard work.
Secondly, you have to deal with any customer complaints in late deliveries, damaged goods, replacement or refund of goods, and also get back to your suppliers to handle those issues surfaced by your customers.
Finding traffic to your store will be another big headache, because the only way to get targeted traffic is through paid advertisements, which is a steep learning curve, and is something that you pay as you learn.
Because you will be testing out the advertising campaigns, making tweaks, testing again, and so on. Until you find the perfect group of audience who will respond to your online store with a high conversion rate. Before that happens, you could easily have thrown thousands of dollars down the drain.
So dropshipping is a model that only some people who are equipped with certain skill sets can succeed at. Like negotiation skills, knowledge of the market, experience with paid traffic, and so on.
To me, it is a risky business. So I have no intention to dabble in it.


How I make my online income
Now, I'm excited to share with you the method through which I am making money online. It is a model called affiliate marketing.
Simply put, I promote other people's products. When customers buy those products through my affiliate links, I earn a commission from the retailers or suppliers.
This is a neat and hassle free way to make money, because the sales transactions take place between the customers and the retailers directly. I come into the picture only because I drive business to them, so they reward me for it.
I do not have to handle any customer complaints or refunds, or deal with unreliable suppliers.
Moreover, the traffic method I use is a free one. I do not pay a single cent on advertisements. People look for me instead, simply because I have mastered the art of free traffic.
If this sounds good to you, do hop over to my other post where I explain this method in much more detail, then you can decide if it is something you want to try out too:


---
Pros of Broke Dishwasher
1. 30 day money back guarantee
This basic refund policy is in place, for people who are dissatisfied with the product.
I'm sorry to say this is the only plus point I can think of. If you really want to give My Ecom Club a go, at helping you set up your eCommerce store, then go straight to their official website instead, so you do not pay for silly products like this Broke Dishwasher.


Cons of Broke Dishwasher
1. It is an empty shell
Nothing exists behind Broke Dishwasher, as you are simple funneled to another product called My Ecom Club.
So do not waste anymore time and money on this scam.
2. Not minimum effort like what it is made to sound
eCommerce is not the easy way to make money online.
Nothing is, in fact.
So if you are not prepared for some hard work in your online journey, then my advice is to just stick with your 9-5 job, stop looking on the internet because you are just going to get scammed yet again.
---
Is Broke Dishwasher Scam or legit?
To answer this one final time: Broke Dishwasher is a scam, through and through.
It is as useless and time-wasting as many products I have reviewed, like 7 Minutes Daily Profits, Profit Raider, and WP Backlink Machine, to name just a few.
---
Recommendation
I absolutely do not recommend Broke Dishwasher.
My #1 recommended way to make money online is affiliate marketing, because it is just so neat and hassle free. It has allowed me the flexibility to work full time from home, choosing my own hours.
Under the broad umbrella of affiliate marketing, there are many ways to get traffic. Traffic is key to any business. Without traffic, there is no hope of ever making any money.
The traffic method I use is called free organic traffic. It is the best of its kind, because it is free, of course. And more importantly, it is highly targeted. The customers come looking for me, instead of me going to look for them.
They actively search for stuff that they are looking to buy, on search engines. And if my offers match up with what they are looking for, the search engines will present my offers to them. This kind of traffic is unstoppable, once you master it. It can even be built into a passive income stream.
I can show you exactly how this can be done. Click on the button below:




And for reading all the way to the end of the post, I believe you have it in you to make this work. Here is your FREE PDF Guide: 4 Simple Steps to Making Money Online. Fill in your details to claim it:



If you have any concerns or questions regarding this Broke Dishwasher review, do comment below, and we will start a conversation from there.
---