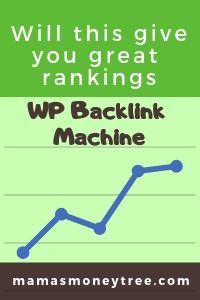 Welcome to my WP Backlink Machine v2 review.
What is this WordPress plugin that can help to rank your site higher? How does it work?
Will it do more harm than good, or will it really take away your frustration at not being able to rank on page 1 of search results?
Kudos to you for doing your due diligence before deciding whether to go ahead with any purchase.
Especially these days, with the amount of scams going around the internet, you really can't be too careful.

This is crazy:
In your research, you would have seen tons of raving reviews about this product. Those are by its affiliates, all jostling for a piece of the pie.
It gave me the urgency to write this post, as I want to warn people that using this product could potentially harm their websites in the long run.
Join me as I walk you through its claims, and examine the real impact it will have on all the hard work you put into building up your websites.
Without further ado, let's dive right in now!
---

WP Backlink Machine v2 Review Summary

Product: WP Backlink Machine version 2
URL: https://backlinkmachine.convertri.com/v2sales
Creator: Ankur Shukla
Product type: Backlinking automation software
Price: 14.95
Scam / Legit? : Legit
Recommended or not? : Not recommended
In this WP Backlink Machine v2 review, we explore why the thousands of backlinks, though may possibly improve your website ranking in the short term, can actually do irreversible harm to your online business in the long haul.
It is not worth it to use any black hat SEO techniques, unless you intend for your website to be around only for a few weeks or months, and you want to abandon it after your current marketing campaigns.
If you do not want to waste anymore time and money on useless products, check out my #1 recommendation to making money online:


Read on for the detailed review of WP Backlink Machine v2, and why I do not recommend it.
---

What is WP Backlink Machine version 2

Information presented in sales video and landing page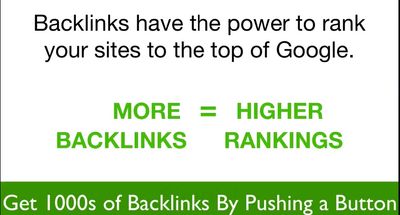 This WordPress plugin promises to get you thousands of backlinks on autopilot, that will help rank your website higher.
Backlinks are one of the most essential elements of SEO (search engine optimization) in trying to rank your sites.
But here's the kicker:
Building backlinks is also the hardest part of ranking your sites, if you have to use traditional methods of contacting hundreds of bloggers and site owners, requesting to do guest posts, and letting them link back to you.
It is a cumbersome and tiring process, but it has been proven that sites with more backlinks tend to have higher rankings.
WP Backlink Machine is the one-step automation to all your link building efforts.
Each time you publish a new blog post, WP Backlink Machine v2 can help you build backlinks to that post automatically, without you having to do anything!
With very little work, you could slide your way up to the top of Google!
It gets better:
WP Backlink Machine v2 is newbie-friendly, and can be installed on unlimited sites. Using it is as easy as 1-2-3.

Step 1:
Click the 'Get Backlinks' button next to the blog post that you want to build backlinks on.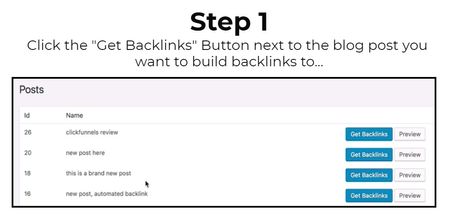 Step 2:
Enter the keywords you want to use for the backlinks, and select the number of backlinks you want to build.

Step 3:
Click the 'Get Backlinks' button and you are done!
Want to know the best part?
With this WP Backlink Machine version 2,
– the network of sites on which you can build your backlinks have doubled,
– you can select the category of sites so that your backlinks are targeted, and
– you can even automatically add unlimited internal links within your site.
This is for anyone who has a WordPress site that is not ranking high. It will save you hundreds of dollars to hire someone to do your SEO for you.
---

Why WP Backlink Machine v2 will not work for you

What are backlinks

First, let's take a look at what exactly are backlinks that the search engines give much emphasis to.
Backlinks are any hyperlinks on any web page that link back to your website. The more links that point back to your site, the better it is for you, as it shows that people are making references to your website.
It is true that high quality backlinks can help to rank your site higher in search engines.
Note, the word is 'high quality'.
What does it mean when we say a backlink is high quality?

High Quality Backlinks

They must be authentic, and are placed on those webpages with the purpose of adding value to the readers when they point back to your site.
Generally, the easier it is to build a backlink, the more worthless it is, in the eyes of the search engines.
For instance, you could go on somebody's website, read their blog, leave a comment, in which you reference back to your website. This can be done very easily. So backlinks in comments have very little value in impacting your website ranking.
On the other hand, say a blogger found your website to be very useful, and made a reference in his or her blog post.
It means the hyperlink was placed within the blog editor, which is only accessible to the blog owner. In this instance, the backlink would be seen as authentic. This is very valuable, and would give your website credibility a huge boost.
It is authentic and genuine backlinks like this that Google and the other search engines love.

What are bad backlinks

Underhand methods to try to beat the system of using backlinks to gain ranking, those are bad backlinks.
Some people also call it black hat SEO (search engine optimization). Because in the short term, it may help with your website SEO and ranking. But in the long run, you will have to pay the consequences.
Backlink automation is frowned upon by the search engines. Look at what some leading SEO experts like Neil Patel and Monitor Backlinks have to say about this.
My personal advice:
DO NOT use this WP Backlink Machine.
All the past effort you put into your website will go down the drain. Once the search engines become aware of your underground activities, your site will get banned, and you will never ever see a trace of it on any search engine results ever again.
It is so not worth it.

"But my site is not getting high rankings"

If it were so easy to get ranked, then everyone would be on page 1, which is not possible.
So what does it take to get the search engines to notice you?
First and foremost, search engines only want the stayers. They do not want to show a website to their users, only to have it abandoned the very next month.
So if your website is still relatively new, which means less than 6 months old, not getting great ranking is a normal occurrence.
It does not mean you are doing anything wrong.
The search engines just want to be sure that you are serious about your website before it has the confidence to present it to their users.
However, just hanging around and doing nothing but waiting for the 6 months mark will not get you anywhere too.
You have to be creating great content on your website consistently, which means at least a few quality blog posts every week.
As you build up authentic, genuine content on your site that serves to help people and add value to them, search engines will sense it, by the engagement of your website visitors.
Gradually, they will reward you with higher rankings.
And as more people get to see and know your website, they will create links that point back to your site.
That is how you get truly authentic backlinks, without you having to do anything about backlinking.
All these take time and effort, it is not easy, but it is worth it.
Because once you get the trust of the search engines, your rankings will soar, and you will get unstoppable free organic traffic landing on your site, which you can choose to monetize in numerous ways.
This is exactly what all the real internet marketing experts say.
Content is still king.
Do not listen to those who offer done for you systems, automation softwares, etc. that require zero work on your part, because it is not going to work that way.
The only thing it does is to fill the pockets of those product creators, because everyone will go for the easiest ways.
But those short cuts simply don't work.
I know creating authentic content is tough, but who cares how tough it gets, as long as it works!
My websites are my businesses. I will do whatever it takes to build them up, get them ranking, and get the most sought-after organic traffic.
You can do this too.
I want to show you this awesome training platform, which will teach you how to create content that ranks, including stuff like keyword research, on-page SEO, etc.
I simply followed the training, and that is how I established my websites as the authority in their respective niches, enough to gain high rankings.
Click on the button below to see this training platform:

---

Pros of WP Backlink Machine v2

1. Real owner
The product creator is a real person, known in the internet marketing niche.
The fact is that he is standing in front of his product, and that tells me there is at least some credibility and accountability towards it. He is willing to put his name and reputation to it.
2. 30 day money back guarantee
This basic refund policy is in place, for people who are dissatisfied with the product.

Cons of WP Backlink Machine v2

1. It can kill your website
I don't think you want to see this happen. Everyone treats their websites like their own babies. So please stay away from this backlink automation product.
2. Upsells
As if the front end product is not bad enough, they bombard you with pricey upsells the moment you make the purchase, even before you have a chance to try it out and see if it works for you or not.
Upsell 1: $27/month – Backlink Machine Pro
Upsell 2: $47 – SEO tools
Upsell 3: $37 – Developer License
Upsell 4: $67 – Agency
Upsell 5: $97 – Reseller License
---

Is WP Backlink Machine v2 Scam or legit?

I would say the WP Backlink Machine v2 is still a legitimate product, because it does do what it claims to do: create backlinks on autopilot.
But it will be useless for your online business, like many other products I have reviewed before, like Cash Magnets, Traffic Robot 2.0, and AZ Millionaire Method, to name just a few.
---

Recommendation

I absolutely do not recommend WP Backlink Machine v2, unless you do not mind your website disappearing from the face of this earth.
The way to get great rankings in the search engines is consistent work in creating content on your website, at the same time applying SEO skills like keyword research, on-page SEO, etc.
I kept on track with my website rankings only because I followed a training platform closely, implementing all that I learnt on there.
There is no hype about it.
It is all about hard work.
If effort is something you are willing to put in, in order to build up your very own passive income stream, then I want to show you the training platform. Click on the button below:


And for reading all the way to the end of the post, I believe you have it in you to make this work. Here is your FREE PDF Guide: 4 Simple Steps to Making Money Online. Fill in your details to claim it:


If you have any concerns or questions regarding this WP Backlink Machine v2 review, do comment below, and we will start a conversation from there.
---