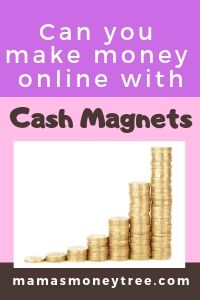 If you have received some promotional material about this newest product in your inbox, and are here to find out: is Cash Magnets scam, then you have landed at the right place.
What is this set and forget 24/7 passive income stream that comes with free traffic? Is this really the answer you have been searching high and low for?
Firstly, let me congratulate you for doing your due diligence in checking out stuff before deciding to purchase anything. It pays to be careful, especially with the amount of scams going around the internet these days.
In your research, you would have seen raving reviews about this product. Those are done by its affiliates, who make a living off riding on each wave of new product launch, regardless of how crappy a product is.
It's different here, because I am not promoting this product.
So you can be assured that my Cash Magnets review will be a completely honest and unbiased one.
Let's dive right into the depths of Cash Magnets, to find out what exactly it is, and how it works to make you money, or make money off you.
---
Cash Magnets Review Summary
Product: Cash Magnets
Creator: Brendan Mace and Jono Armstrong
Product type: training on passive income methods
Price: $12.95
Scam / Legit? : Legit
Recommended or not? : Not recommended
Cash magnets is simply some training on how to generate passive income. The modules include how to set up high converting funnels, product reviews, blogging, YouTube, Adsense, and traffic.
Though relevant, it gives strategies that, in my opinion, are not useful or targeted enough for the beginner. It is also not comprehensive enough.
If you do not want to waste anymore time and money on useless products, check out my #1 recommendation to making money online:




Read on for the detailed review of Cash Magnets, and why I do not recommend it.
---
What is Cash Magnets
Information presented in slaes video and landing page
Touted as 100% passive income that you only need to set up one time, it is beginner friendly, with no techy stuff or softwares. You get fast results, by spending only 20 minutes or less.
This method is new (really?), fast, and you won't have to spend a dime out of your pocket for traffic.
It is a no pressure style of earning affiliate money. After setting up your first cash magnet, you can scale it up as fast and as big as you want.
Get it all done in 3 simple steps:
Step 1: Set up your cash magnet in 10 to 30 minutes
Step 2: Add their secret sauce
Step 3: Watch your magnets pull in daily commissions
Want to know the best part?
You do not need an email list, a product, or any prior experience to start making a passive income. You can multiply your results while working less.
Here is what the training inside Cash Magnets will cover: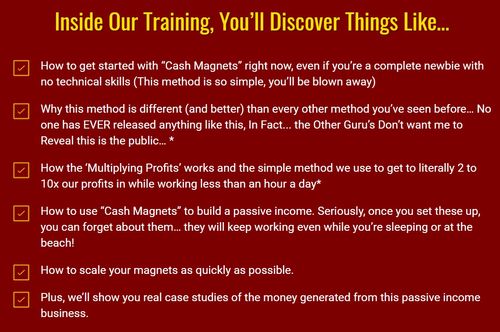 How vague can it get? Besides knowing that the methods they teach have to do with affiliate marketing, there is really no other information, except for all the hype, on which to make your purchasing decision.
So you see, Cash Magnets uses the marketing strategy of giving you all that you like to hear: fast results, huge earnings, with very little work. Thousands of people will buy into this because who doesn't want it?
I would love to get fast money by doing very little work too. But I know it doesn't work like that. After having done so many product reviews, I also know stuff that promises huge earnings in an instant actually do make tons of money for the product creators.


What Cash Magnets really is, and why it will not work for you
Cash Magnets is nothing more than a set of video training that teaches various strategies for doing affiliate marketing.
They include:
– how to set up your website, funnel, and high-converting landing pages
– how to write reviews that will convert people into buyers
– how you can make money with blogging
– make videos and rank them at the top of YouTube
– Adsense to rank at the top of Google
Too many strategies that would leave a beginner to internet marketing feeling overwhelmed and drained, even before they start.
They are mostly relevant topics, but I would suggest you tackle each one as you progress along in your internet marketing journey.
The very thing that any beginner should focus on is to set up a website, and create content on it. This will build a strong foundation for getting free organic traffic, which I will elaborate on later.
You see, in any business, whether online or brick and mortar, traffic is KEY. It does not matter how nicely done up your store front is, how professional the waiters in a restaurant are, if you do not get traffic, then there is no business, no sales, and no earnings.
Look at the training modules offered in this Cash Magnets product.
Funnels are great for converting your traffic into buyers. Writing product reviews are great to recommend stuff to your website visitors. Blogging gives you a large following, that you can nurture, so you can promote your affiliate offers to.
All these are of no use to you, if you do not know how to get traffic to your website.
YouTube videos can be your focus at a later stage, after your website gets established, then you would have no problem ranking any video that you create.
Adsense is the paid way of getting traffic.
So everything boils down to getting traffic to your website and your affiliate links. It is also the hardest thing to get, in any online business. I will elaborate in the next section.


The proper way to do affiliate marketing
What is affiliate marketing
First, let me explain affiliate marketing in very simple terms: you promote other people's products. And when your website visitors click through your affiliate links to purchase those products, you earn a commission.
This is a very neat and hassle-free way to make money online, because you do not have to own any products, worry about their storage and delivery, handle customer complaints and refund, etc.
You earn by simply driving customers to the virtual doorstep of those businesses.


How to get traffic
Traffic lies at the heart of any business. Without traffic to your affiliate offers, you will not make any sale, and so you get zero earnings.


Paid traffic
The traffic methods taught in Cash Magnets are paid traffic. That's how you have to do it if you want fast results. BUT, I absolutely do not recommend paid traffic if you are a beginner.
Examples of paid traffic include Adsense (on Google), FaceBook advertisements, YouTube advertisements, and so on. Basically on any platform you will find opportunities of paying to get traffic to your offers.
Paid traffic is for people with spare cash. Each platform takes a steep learning curve to master paid traffic. Because the target audience of each platform is different. Your potential customers have different behaviour on different platforms, as well as different demographic profiles, and so on.
Knowing one paid traffic source does not mean you can apply the same marketing campaigns, target audience, etc. on another platform.
Moreover, paid traffic is something whereby you pay as you learn. This is because the only way to learn is to do. Then you look at the results of the campaign, tweak some stuff, and do testing of the next campaigns, then adjust your parameters again.
So you could easily sink into a further debt of thousands of dollars before you make the first sale, if you are not careful, and are not absolutely sure about what you are doing.


Free traffic
If there is free traffic, of course anyone would go for this over paid traffic. So what's the catch here?
Well, free traffic from social media usually does not convert well, as people go on social media to relax after a day at work, catch up with friends and their stories, watch a funny video, etc.
They do not go on there wanting to buy stuff. So it would be one of the most difficult audience to sell to.
If you have a huge social media following in the name of your business, then it would be a totally different story. But this kind of following takes time to build up. You need to engage your fans on a daily basis, add value by answering questions whenever someone needs help in anything related to your niche.
Another type of free traffic, which is what I am using, is called free organic traffic. I get this traffic from search engines, when people searching for answers related to my niche see my website on page 1 of their search results.
Free organic traffic is the best kind of traffic because it is highly targeted, and people will convert at the highest rate into buyers. This is because they were actively searching for my offers, so they have strong buyers' intent.
And how do I get this free organic traffic? I can show you how exactly this is done, if you hop over to my other post by clicking on the link below:
---
Pros of Cash Magnets
1. Real owners
Brendan and Jono are real people, in fact they are very successful internet marketers. But it does not mean they will teach what is best for you. They will possibly sell you stuff that is the best for their pockets, but it may not help you succeed as a newbie in the internet marketing space.
2. 30 day money back guarantee
This basic refund policy is in place, for people who are dissatisfied with the product.
3. There is some value in the training
The content covered in the training is relevant, but it is for more advanced marketers who already have an established website, with great content, and has gained the trust of the search engines.
Only then will it help you to optimise your funnels, consider blogging as an influencer in the niche, do YouTube videos, maybe try some paid traffic in Adsense, and so on.


Cons of Cash Magnets
1. Traffic is key
This product does not teach you to get the best source of traffic: free organic traffic. Adsense and other paid traffic sources are going to burn a hole right through your pocket, as it will not be as easy as it seems. You may get your first sale fast, but the earnings will likely not be able to cover the cost of your advertising fees.
It takes time, effort, guts, and lots of reserve cash to master the art and science of paid traffic.
2. Not for beginners
If you use this Cash Magnets to start your make money online ventures, you will probably not get anywhere. Because the foundation of your online business has not yet been established: building up your website authority.
3. Product owners are serial launchers
Brendan and Jono are serial product launchers. Every few months, they would launch a new product. Think about it: if their products are really that fantastic, why do they have to keep creating new ones ever so often?
Really helpful products are there to stay for many years, and the creators will spend their time and energy building up on it, include more features and functions, helping their customers who are using it, create community platform for users to share experience and learn from one another, etc. This is exactly what is happening on this awesome training platform that I'm with.
4. Upsells
As with any other product that is created with the owners' pockets in mind, Cash Magnets is no exception. You will be bombarded with these pricey upsells once you purchase the front end product, even before you get a chance to find out if it really works for you or not.
Upsell 1: $37 – Done for you magnets
Upsell 2: $197 – High ticket magnets
Upsell 3: $97 – Advanced secrets
Upsell 4: $197 – Limitless traffic
Upsell 5: $97 – License rights
---
Is Cash Magnets Scam or legit?
My answer to: is Cash Magnets scam? Is NO, it is not a scam. You do get some training which is relevant to any internet marketer, except that it should not be your focus in the beginning stages of your online journey.
---
Recommendation
I do not recommend Cash Magnets. It is not made with the internet marketing beginner in mind, like so many other products that claim to be newbie friendly: Traffic Robot 2.0, AZ Millionaire Method, and xPress Funnels, to name just a few.
The way to make money online, that can be built into a real passive income stream, is to start with your foundation. You can't build a skyscraper on a shallow foundation meant for a one-storey house.
To build that deep foundation that has your online business firmly grounded, to be frank, it is not for everyone. That is why many people do not succeed on the internet. Because they fail to see this, and are simply searching for quick fixes to their money problems.
I can show you the way, but only if you want that badly to succeed. Click on the button below to hop over to my other post, which will open your eyes to the path that countless successful internet marketers have taken:




And for reading all the way to the end of the post, I believe you have it in you to make this work. Here is your FREE PDF Guide: 4 Simple Steps to Making Money Online. Fill in your details to claim it:



If you have any concerns or questions regarding this Cash Magnets review, do comment below, and we will start a conversation from there.
---