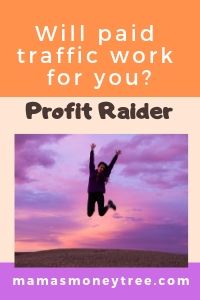 What is Profit Raider, claiming to be a proven method to make $193.79 per day with no technical skills or experience? Is this really the last product you will ever need, or is it yet another scam?
Kudos to you for your due diligence in checking out this product before deciding whether to go ahead with the purchase. You can't be too careful, especially with the amount of scams going around the internet these days.
This is crazy:
In your research, you would have come across many raving reviews about this Profit Raider. Those are all done by its affiliates, jostling for a piece of the pie. They earn their living by riding on the wave of each new product launch, fervently promoting it regardless of how crappy it is.
Here, you are in safe haven.
I'm not promoting this product, so you can be assured that my Profit Raider review will be a completely honest and unbiased one.
Now, let's dive right in to find out what method Profit Raider is teaching exactly, then you can make an informed decision for yourself.
---
Profit Raider Review Summary
Product: Profit Raider
URL: https://profitraider.net/special/
Creators: Samuel Cheema and Edwin Mik
Product type: using Bing Ads to drive traffic to sales funnels
Price: $12.95
Scam / Legit? : Legit
Recommended or not? : Not recommended
Profit Raider is basically some training videos that teaches you to set up sales funnels, and then using Bing Ads, email marketing, as well as FaceBook to drive traffic to your affiliate offers.
These are relevant and legitimate methods, but not the best. Sales materials are also overhyped. To make this work, it requires hard work, just like anything else on the internet, or in life for that matter.
If you are done wasting time and money on shiny objects, I want to show you the proper way to make money online. Here's my #1 recommendation:




Read on for the detailed review of Profit Raider, and why I do not recommend it.
---
What is Profit Raider
Let's first look at the information presented in its sales video and landing page to find out what is Profit Raider.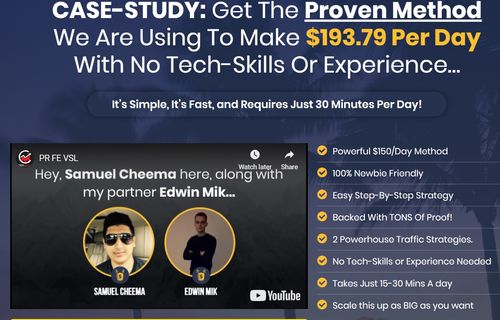 It is simple, fast, and requires just 30 minutes per day! The best part about this method is you do not need any technical skills or experience. People have made $4.7K in one month with this 100% newbie friendly method!
If you're tired of opening your accounts each day and seeing all the big fat zeros, and spending more on methods, softwares, and training than you are making from your online business, then Profit Raider is for you.
It literally changed Edwin Mik's life. And now it can change yours.
It puts together all the separate pieces of the puzzle, and gives you the complete system to making money online. This is what other courses and trainings are not able to provide, because they simply give it to you in bits and pieces.
With Profit Raider, making money online is easy! It is an A-Z system, meaning nothing is left out. And it has already helped many people who have never made any money online before.
There is step by step video training, case study, and a quick-start cheat sheet. You have never seen a more surefire method for making fast profits online.


And so it went. On and on about how fast and easy this is. But never actually revealing the method used.
To me, this simply tells me that the product owners are not interested in allowing you to make an informed decision. They give you everything you like to hear, so that you will part with your money. That's it, that's all they want, not to help you or add value to your online business.


What Profit Raider really is
I will now reveal what is inside their training and members' area.
The training videos include:
– choosing the right products to offer: choose those with recurring commissions
– setting up funnels: you are told to copy their funnels, of which a more complicated one requires creating a video.
– keyword research: using Bing keyword planner
– writing ad copy
– tracking, so you know what works and what doesn't
– setting up a Bing Ads campaign
– email marketing: send people on your email list to a review page, before your affiliate offer
– follow up emails
– how to structure your reviews
– affiliate promotions: send traffic to your bonus page before the actual affiliate offer
– free traffic method using FaceBook
– build your FaceBook list
Although it seems like a lot of content, in fact this is not a comprehensive training for a beginner.
It is structured in a way that you must already have some background knowledge about internet marketing. Otherwise how would you know you to set up a leads capture page for your funnel, or how to make a video, or how to use an email autoresponder to build an email list, and how to set up an email sequence?
All these are things that you can do as you advance in your journey as an internet marketer. It totally lacks the basic stuff to get you started.
If you follow through their training and implement it, chances are you will be in for a great disappointment. Because running ads obviously cost money.
Paying for advertisements to get traffic to your offers is never recommended for beginners. You can sink thousands of dollars in further debt before you can finally start to recoup your losses.
Paid traffic is a very steep learning curve that only you can learn for yourself, as you need to test out the platform, in order to figure out your customers' preferences, behaviour, demographic profile, and where to find them.
You learn while doing. This means you pay to learn: run your ads campaign, analyse the results, tweak some parameters, run another one hoping for better results, tweak again, test again, etc. until you finally understand the group of target audience on a particular platform.
This is called 100% newbie friendly? I have to totally disagree.
But I do know this Profit Raider is targeted at newbies, who have not yet grasped the amount of real work behind making money online.
Anything that comes easy, is out to get your money. Experienced internet marketers know this, and will never fall for this. That is precisely why this product is targeted at newbies.
Now:
If you are convinced that the easy way is no way to make money online, then I want to show you the path taken by countless successful internet marketers, which is also the exact path I am on now:
---
Pros of Profit Raider
1. Real owners
The product owners are real people, established in the internet marketing niche. That tells me there will be some level of credibility and accountability for this product.
2. 30 day money back guarantee
This basic refund policy is in place, for people who are dissatisfied with the product.
3. There is some value in the training
There is certainly something to learn from the training, though I will not advise you to implement it, unless you really know what you are doing with Bing Ads.


Cons of Profit Raider
1. Paid traffic
Paid traffic is a high risk business. If done right, it can get you targeted traffic that converts well into buyers, generating decent profits. But if you do not know what you are doing, things can go downhill pretty fast.
So I do not recommend it until you have some spare cash to throw down the drain.
2. Too much hype
You just need 30 minutes a day?
That can probably make you a simple meal, with this time. But to build an online business, you are setting yourself up for failure if you allocate just 30 minutes a day.
Making money online is never that easy. That is why so many people are disillusioned.
3. Upsells
As with any other product that is out to make your money, and then dig even deeper into your pocket, Profit Raider is no exception. Right after purchasing the front end product, you will be bombarded with pricey upsells, even before you had a chance to try it out and see if it works or not.
Upsell 1: $27 – Done for you pack and case studies
Upsell 2: $47 – Advanced tactics and strategies
Upsell 3: $197 – Limitless traffic for 365 days
Upsell 4: $97 – Reseller license
---
Is Profit Raider Scam or legit?
I see Profit Raider as a legitimate product, because it does provide training for one possible method to get traffic to your offers.
But personally, I will not buy this product because it is of no use to my online business, just like many other products I have reviewed: WP Backlink Machine, Cash Magnets, and Traffic Robot 2.0, to name just a few.
---
Recommendation
I do not recommend Profit Raider to any beginner trying out internet marketing.
Why go for paid traffic when you can have free traffic?
Paid traffic is for those who want fast results, but for beginners, many will end up making huge losses because they do not know what they are doing.
On the other hand, free traffic is hard work. It is a tedious process of consistently creating new content on your website. But it will pay off in a huge way when the search engines start to trust your site, enough to send hoards of unstoppable free organic traffic to your offers.
As you go for free organic traffic, you kill two birds with one stone. Not only are you working towards getting traffic to your offers, you are also building up your website authority and your brand's online presence in the niche, which will pay off in ways unimaginable.
It will also become a passive income stream.
If this kind of free traffic sounds good to you, let me show you exactly how it can be done. Click on the button below to hop over to my other post, where I detail this method at length:




And for reading all the way to the end of the post, I believe you have it in you to make this work. Here is your FREE PDF Guide: 4 Simple Steps to Making Money Online. Fill in your details to claim it:



If you have any concerns or questions regarding this Profit Raider review, do comment below, and we will start a conversation from there.
---