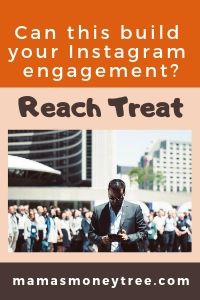 What is Reach Treat, this artificially intelligent software that will tap into the monster potential of Instagram? Is it yet another scam?
First of all, let me congratulate you for your due diligence, in checking things out before deciding on any purchase. This prudence is necessary in these times, where we have so many scams floating around on the internet. You really can't be too careful.
If you're using Instagram as one of the social media platforms for outreach, and for promoting your business, and are considering using Reach Treat as a tool to help manage your account, then you are at the right place.
I urge you to read through my entire review, before deciding for yourself if this product is for you.
Here, I will provide an honest, unbiased, and in-depth Reach Treat review, taking it apart to see how it works, as well as looking at whether it even fits legitimately, in the bigger scheme of things.
---
Reach Treat Review Summary
Product: Reach Treat
URL: https://reachtreat.io/new-fe/
Creators: Usama Waleed, Tom Yevsikov, and Firas M. Alameh
Product type: Instagram outreach tool
Price: $57 or $67
Scam / Legit? : Legit
Recommended or not? : Not recommended
Reach Treat is a software designed to beat the Instagram system, by automating your engagement with your audience in there, saving you tons of work and time. This is NOT the way to use Instagram. It can backfire, which is just a matter of time, and you will have to deal with the consequences, losing your Instagram account being one possibility.
If you do not want to waste anymore time and money on useless products, check out my #1 recommendation to making money online:




Read on for the detailed review of Reach Treat, and why I do not recommend it.
---
What is Reach Treat
To find out what is Reach Treat, let us first take a look at the information presented in its sales video and landing page.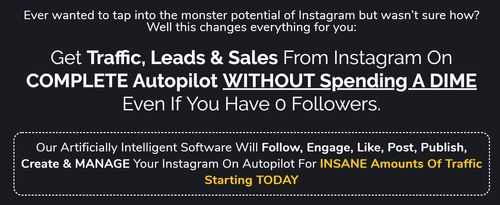 With this one click activation, this software works on your Instagram account like it's 25 social media managers working full time for you!
With massive targeted traffic, you will get leads and sales on complete autopilot, without spending a single dime, even if you have 0 followers!
It gets better:
Without you actually knowing or doing any social media, this advanced AI (artificial intelligence) software mimics real humans interacting on social media.
They then showed an account of their customer whose following grew from 0 to 15.2K, getting this customer daily free traffic, all done automatically.
So here's the kicker:
If you're not on Instagram, you're missing out on the biggest traffic goldmine, because 80% of users follow and engage with businesses on Instagram due to the smooth, non-salesy nature of it.
300 million Instagram stories are viewed each day.
So you can't continue ignoring Instagram and not tapping into it, it is the biggest mistake that will kill your business.
But there's a catch to this:
Instagram marketing is hard, repetitive, and competitive. You need to keep posting quality engaging stories and content, you also need to follow, like and comment. What cumbersome work!
Social media managers charge 5 figure to do this for you.
Alternatively, you can use Reach Treat! Which is equivalent to 25 social media managers working full time for you!
You can finally tap into targeted traffic, without work, without loopholes, and without spending a single dime.
I think we've had enough of its sales pitch. Let's jump right into the software, see how it works, and think about why it is no good for us.


How Reach Treat Works
Once in the members' area, this is the screen that you get: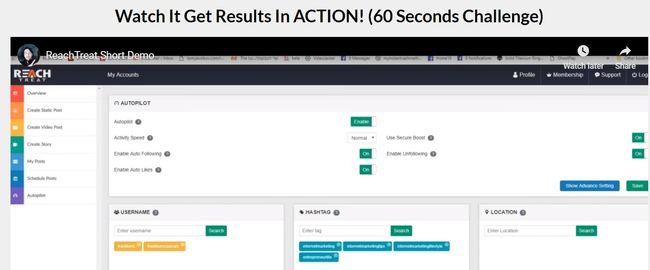 The heading of this demo video is so misleading. I thought there was going to be a 60 seconds challenge whereby you are going to see increase in the number of followers the moment you launch the software or something like that.
But no, it was in fact just Tom Yevsikov trying to explain how to use the software in 60 seconds, but of course he went more than 4 minutes. So I do not see the point of the heading at all. It just serves to mislead people.
Anyway, you can set the software to follow and unfollow on autopilot, you can also set auto likes. You can choose specific usernames to follow, hashtags, as well as location to zoom in on.
There is also the speeds setting for slow, normal, or fast, which works like that:



That's it, that's what the software does, basically.
I do not see any purpose in the other functions, like creating static post, video post, and story. Those require the same amount of work as you would do if you were to create those posts on Instagram directly. So I really cannot see the point here.
Here are the differences in the packages: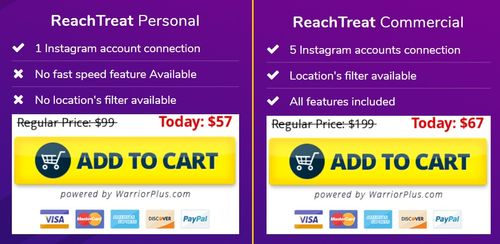 And before we move on to the next section, I want to show you this:




Seriously? Reach Treat is the fastest way to let you leave your job in 30 days? Wow. That's truly amazing!


Why Reach Treat is no good for you
The answer is very simple. If you are trying to use a platform to achieve something, then it is never wise to go against the system of the platform.
Products like Reach Treat are created to target on the human weakness of laziness, and not wanting to put in so much time and work. But softwares like that are going to do your business more harm than good.
Instagram is a truly great platform to grow your following, and have them on board your business, if you engage in authentic interactions, serving always to add value first.
Yes it takes time and hard work. But so does anything else that you want in life. Taking short cuts, and black hat tactics will simply backfire, sometimes doing irreversible damage to what you have taken pains to build up.
The logic is plain and simple. Ask any successful influencer on Instagram. If you can find one person who is a huge success, having a huge fan base who adores him or her, and who succeeded by implementing a software that goes around following and liking people's posts automatically, please let me know and I will take back my words.
Nobody succeeds like that.
Behind every success is all the untold stories of grit, perseverance, hours of sweat and blood put into the business, that we should strive to emulate.
Simply going around on Instagram to follow people and liking their posts will not get you very far, because anybody can do that. It has to be meaningful engagement that will get you noticed by other people, comments so that others can respond back, and being real, that can properly build up your following.
Mechanical actions without genuine engagement do not add value to your marketing efforts.
I am not sure how the programming is done in this software, whether Instagram will be able to detect this as bots going around their system. At best, Reach Treat does nothing but increase your following by a tiny amount. At worst, Instagram gets to know what you are doing, and bans your account.
Either way, it's not worth purchasing this product.


How to build engagement on Instagram
If you are serious about building engagement on Instagram, these are the few steps that you can take, as a start:
– Follow through with people who engage in your content. This is only basic respect, and it shows people that you value your audience, every single one of them.
– Watch your competitors closely to monitor trends, and keep up with the latest Instagram features, so that you do not miss out on stuff.
– Move your followers beyond the Instagram feed, through FaceBook. Since FaceBook acquired Instagram, the two platforms have been integrated to some extent. Moving followers to FaceBook also bring them closer to your point of sale, which is harder to achieve within Instagram.
For more ideas, check out this post by Social Media Examiner. Nowhere does this post mention anything about following many people and liking many posts.


How I build my traffic
I get my traffic without spending a single dime too. Better yet, I do not have to go on any social media platform looking for traffic. In fact, traffic comes looking for me.
Personally, I do not like to engage in social media. Firstly, it tends to distract me from productive stuff that I need to do on those platforms, because of news feeds, advertisements, funny stories or videos, and so on.
Secondly, I get frustrated with social media because my marketing efforts get drowned out in all the buzz of activities going on very quickly. If I miss a few days of work in there, the engagement can go right down.
This does not happen with my favourite traffic source. I may take a few days or weeks off, the same amount or even more traffic will still see my offers.
The traffic I get is the best kind of traffic, and it's called free organic traffic.
Simply by building up content on my website, I gain the recognition of the search engines as the authority in my niche. They accord me the trust, and send loads of search traffic to me.
Why do I say this kind of traffic is the best?
Besides being free, it is also highly targeted. When people search for answers related to my niche, they get shown the relevant posts from my website. And that is how they land on my site: because what they are looking for and what I am offering are the perfect match.
This organic traffic also has strong buyer intent, because I know to target keywords in my posts that give me traffic near the end of their research cycle, about to make their final decision and go ahead with the purchase.
Free organic traffic is not easy, but I have done it. So can you.
If this sounds good to you, check out the awesome training that taught me how to write content that ranks high in the search engines:


---
Pros of Reach Treat
1. Real owners
The product creators are real people, known in the internet marketing space. The fact that they are standing in front of their product tells us there is some level of credibility and accountability to it.
2. 30 day money back guarantee
This basic refund policy is in place, for people who are dissatisfied with the product.
3. You do get your software
You do get a software that can follow and unfollow, like posts, etc. on autopilot, even though I would strongly advise against using it on your Instagram account, unless that account is worthless to you.


Cons of Reach Treat
1. Just following and liking?
The automation simply involves following people and liking posts. This is not enough engagement at all, to establish yourself on Instagram.
Whatever platform you use, authentic and genuine engagement, with the aim to add value, is the KEY if you want to build relationships and gain people's trust. No software or robot can replace the human touch.
2. Not good to beat the system
It is never a wise thing to beat the system, or bite the hand that feeds you. Nothing good will ever come out of it. The creators of Reach Treat may say theirs is a secure system, and Instagram will not see it as spam, blah blah blah.
When it comes to my very own online business, I would err on the safe side, and I will not just take people's words for it, to use a software that can potentially cause more harm than good.
3. Upsells
As with any other product that is created solely to fill the pockets of its owners, Reach Treat is no exception. You will be bombarded by these pricey upsells, the moment you purchase the front end product, even before you get a chance to try it out and see if it works for you or not.
Upsell 1: $47 – Reach Treat Pro
Upsell 2: $37 – Powerful editing tool
Upsell 3: $97 pr $197 – Agency license + clients get training
A hot tip for you: at this time of writing, Reach Treat is facing a 9% refund rate. So I leave it to you to decide whether it is worth your time and money or not.
---
Is Reach Treat Scam or legit?
My answer is: Reach Treat is a legitimate software that can automatically follow and like on Instagram.
But to me, it is as useless as many other products I have reviewed, like Broke Dishwasher, My Ecom Club, and 7 Minutes Daily Profits, to name just a few.
---
Recommendation
I do not recommend Reach Treat.
If you are having problem getting traffic to your offers, my best recommendation is to work on getting free organic traffic.
Though it takes time and effort, it will be the most rewarding traffic source in the long run, because after the initial hard work, this traffic is going to be unstoppable.
Check out this awesome training platform with comprehensive, step by step lessons on how to get this kind of free organic traffic, and so much more.
They have a free starter area, where you can go in to check things out, take 10 lessons for free, as well as get 2 free websites. There's nothing to lose, as they do not even need your credit card details. Click on the button below to see it:




And for reading all the way to the end of the post, I believe you have it in you to make this work. Here is your FREE PDF Guide: 4 Simple Steps to Making Money Online. Fill in your details to claim it:



If you have any concerns or questions regarding this Reach Treat review, do comment below, and we will start a conversation from there.
---