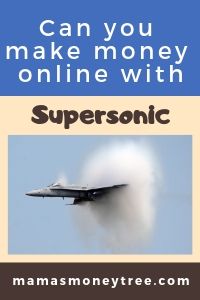 Steal what? 12 done for me campaigns that will make me $235 per day fast? Do you believe this? I'm not sure I do, too. Let's do this Supersonic review scam analysis, to see what's lurking behind these crazy claims.
So there is this newest product, launched this month April 2019 by Anthony Mancuso and Paul Nicholls, that claims to let you steal their automation software, and 100% done for you, proven to make money campaigns. Make easy money by just clicking your mouse a few times.
If it sounds too good to be true, it is. By the sound of it, I was pretty sure where it was leading us.
But of course to give it a fair, honest and unbiased review, we will still take a close look at what exactly is in this product that sounds so amazing. I have no association at all with Supersonic, as I am not promoting it.
Unlike all those raving reviews you see out there, those are done by its affiliates, all jostling for a piece of the pie by throwing in their own bonuses, hoping you would bite, and they would earn their affiliate commission.
Here on my website, it's safe haven, so you do not have to worry.
Now, let's dive right in and get on with the Supersonic review.
---
Supersonic Review Summary
Product: Supersonic
URL: https://getsupersonic.net/live
Creators: Anthony Mancuso and Paul Nicholls
Product type: sales funnels of 12 earlier products, and a WordPress plugin that imports all those sales pages onto your website
Price: $12.95
Scam / Legit? : Legit
Recommended or not? : Not recommended
Supersonic simply gives you the sales funnels for 12 earlier products by various vendors, put together so you can promote them and earn affiliate commissions. The software is a WordPress plugin, that allows you to import these sales pages onto your website, and start promoting those digital products.
As a beginner, if you do not have any traffic landing on those sales pages, you are not going to make a single cent, no matter how professional-looking those pages look. Supersonic is created to make money for its creators, not for you.
If you do not want to waste anymore time and money on useless products, check out my #1 recommendation to making money online.




Read on for the detailed review of Supersonic, and why I do not recommend it.
---
What is Supersonic
Information presented in sales video and landing page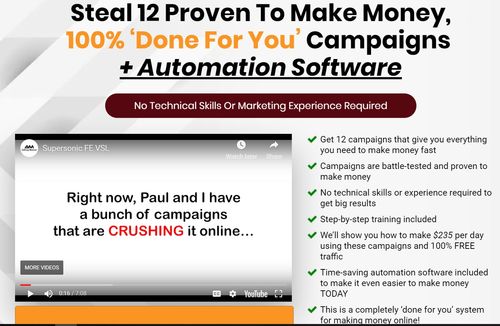 Basically the entire sales pitch revolves around giving you these 100% done for you campaigns that Anthony and Paul are using to bring in tons of sales. Now, you can start making money fast, even if you have no technical skills, or experience.
With just a few clicks, together with a time-saving automation software, you can make $2.7K from just one campaign, just like them!
Then, rinse and repeat for $235 per day in profits!
You see, their affiliate campaigns have been perfected over the years.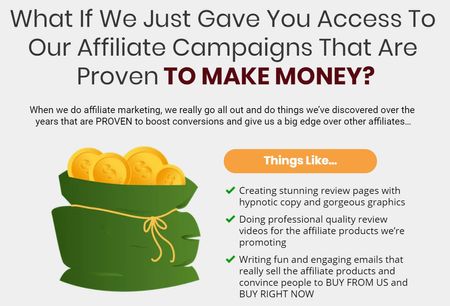 The things they have to do include creating stunning review pages for products they are promoting, professional review videos, and engaging emails that convince people to buy from them.
But here's the kicker:
These take lots of time and work to produce. For beginners, it will be a real struggle, and you may give up right at the start.
Enter Supersonic.
With this complete, done for you system, you can start making money today.
Want to know the best part?
"Everything inside is worth $5963, but you are getting it at a low price of $12.95"
Next, I will take Supersonic apart, and show you why you should not even be paying up this small sum of $12.95.


What Supersonic really is, and why it will not work for you
First and foremost, do not be taken in by the low price. It is a sales gimmick to lure people in, as they will think they do not lose too much even if this doesn't work.
Once you get inside, you will be sold some very pricey products, that they call one-time offers, very aggressively. Details are covered in a later section.
They know for a fact that people with their wallets outside their pockets are more easily persuaded to buy even more.
So do read through my entire review before you make your final purchasing decision.
Old products in the internet marketing niche
Here is a list of the 12 products for which you will be getting the sales pages, once you purchase Supersonic. I have also included the launch date of those products, so that you get a sensing of how old are these products that you will be promoting:
Blistering (August 2018)
Contenu (January 2019)
Fuego Multiplier (June 2018)
Proximity (January 2019)
EZ Passive Paydays (March 2018)
Supersonic (you will be promoting this current product as well)
El Bandito (July 2018)
Limitless (November 2017)
Compoundly (December 2018)
Golden Ticket (February 2019)
Flipadom (May 2018)
The Trinity (October 2018)
I have included a link for products that I have reviewed before.
Even though you do get some relatively new products, created in 2019, do bear in mind that digital products of this nature in the internet marketing niche fizzle out pretty quickly.
The reason is because they are not there to genuinely help people and add value to them. All these products exist to make money for the creators.
So as people start to use them and word gets around that they do not deliver the results they promised, the hype from the product launch is going to die away, and there would be no point in promoting it anymore.
That is why people in this niche keep having to create new products. And they will keep on doing it because stuff that promise people they can get rich quick will sell like hot cakes.
As long as there is demand, there will be supply. That is a sad fact of the internet marketing niche. But we know of course none of these work.
So if you purchase Supersonic, you will be promoting these exact products: things that promise the moon, but will never work.
It boils down to the individual's integrity. There are many people doing it, and making good money out of cheating poor, vulnerable chaps of their last dollar.
Before you decide, it is important for you to read the next section, about why this will not work for newbies.


Traffic is KEY
You can have the most stunning review pages and professional review videos. If no one sees them, you are not going to make a single dollar.
From where do you get traffic? The email campaigns that you will be getting for the products inside Supersonic, who are you going to send them to?
You could possibly buy Solo Ads, which allows you to send your marketing campaigns on other people's lists. Then when these people receive your emails, are they going to buy through your affiliate links directly? No.
Chances are, most people captivated by the email campaigns will go further to do their own research on the internet. Then who shows up? People like Anthony Mancuso, Paul Nicholls, they will end up making the commissions, only because they have established websites and YouTube channels that will show up on page 1 of search results.
Do you see how this is a vicious cycle? Beginners will never get anywhere, because these successful internet marketers are not showing you the proper way to succeed.
Why?
Because if they tell you the proper way to success, you may run away.
You see, these successful affiliate marketers spent years toiling in their online business, to get their websites and YouTube channels established. Because they work hard at each and every review for products that they are trying to promote.
As they add content each time to their website, it gains authority in the eyes of the search engines. The same goes for their YouTube channel, and as it gets established with all the review videos that they do, these videos show up in people's Google search results as well.
To get there is not easy. They would never tell you their real success story. Because they want people to believe they got there through some magic formula, something secret that only those with a flair for internet marketing can get it.
Then they can keep creating these done for you systems, telling you to buy them if you want to make money fast.


Testimonials
In the testimonials of Supersonic, you see names like Bill Hugall, Robin Palmer, Brendan Mace, etc. These are not people off the street who have found success with Supersonic.
You just have to do a simple search to realise they are very successful internet marketers. In fact, they are all in the same business of creating products that promise to make you money, hype it up, and promote it.
So when one of them creates something new, the rest ride on the wave sent out by each launch, to help promote it, boosting its sales for the creator, and they themselves gaining through the affiliate commissions.
They can do this today, only because of the years of hard work behind them, that are hidden from your view.
Can you be like them? YES.
In fact, once you learn what kind of work they put in to reach this level of success, you will be off to promoting stuff in niches that you are passionate about. You totally do not have to stick with the internet marketing niche.
Let me show you.


How I make money online
The fundamental to building a successful online business is to ground it with an established website. When you are able to do this, your business will take off, and you can bring it to places unimaginable.
This is because when you have an established website, search engines will give you free organic traffic. When people search for answers related to your niche, your website will be ranked on page 1 of their search results.
This is the most powerful way to get traffic, because it is free, it is targeted, and it can become a passive income stream.
Organic traffic is the most precious kind of traffic. What you offer and what people are searching for are the perfect match. That is how they find your website in the first place.
So if you gear your content towards keywords that will capture audience who are at the end of their research cycle, and ready to buy the product, you will seal the deal with your product review and recommendation.
All these and much much more, I learnt through an awesome training platform that I want to show you, only if you are prepared to do the hard work.
Stop going for the shiny objects, those are not real. You will know a real deal when you see one. Check out the link below:


---
Pros of Supersonic
1. Real owners
At least the owners are real people, willing to stand in front of their product, to be accountable for it.
2. 30 day money back guarantee
This basic refund policy is in place, for people who are dissatisfied with the product.
3. You do get your sales campaigns
If you purchase Supersonic, you do get those done for you sales campaigns for the 12 products, so if you already have some traffic or email list of your own, you can actually promote them.


Cons of Supersonic
1. Only works in the internet marketing niche
The internet marketing niche can be a polluted one, with many scams and useless products going around, because people like to go for done for you stuff so they do not have to do the work. They like systems that can start making them money on the very day, so you will get all kinds of trash products that claim to help people achieve that.
2. You would have missed the waves of those relatively older products
Products that were created in 2018, or even the beginning of 2019, are not selling anymore. Because complaints of users who are not making money with those products would be out.
Even if they still do sell, your traffic would likely end up buying from those established internet marketers, because their reviews are what they find during their research. Moreover, they are offering tons of extra bonuses that you do not have.
3. Traffic is key
As a beginner, if you do not have your own ready traffic sources, then it just doesn't make sense to purchase anything that's done for you. Until you learn how to get traffic, and decide which source of traffic works best for you, and focus your work on that traffic source, then doing up professional sales funnels would make more sense.
4. Upsells
As with any other product that is created with the sole objective of making money for its owners, Supersonic is no exception. You will be bombarded with these pricey upsells even before you get a chance to try out the front end product that you just bought. This goes to show just how much they care about you.
Upsell 1: $37/$27 – Traffic Explosion Pro/Lite
Upsell 2: $197 – Unlimited traffic
Upsell 3: $47/$37 – Done for you campaigns, the more money bundle Pro/Lite
Upsell 4: $397 – Super Affiliate Classroom
Upsell 5: $97/$47 – Reseller/Licence rights
Look at how crazy these prices are. And of course they will tell you that you won't be able to sell to anyone if there is no traffic landing on your sales pages. So to make it work, you have to buy these upsells to get traffic.
This is how they work. Bait you with a low ticket front end product, then try to sell you even more done for you systems for traffic, for more earnings, etc.
Do not fall for it.
Anything that's done for you is no good. Because it's made to work for the creator, not for you. It puts you at their mercy.
Get full control of your online journey, by picking up skills that will last you a lifetime of earning an online income.
---
Is Supersonic Scam or legit?
Through this Supersonic review scam analysis, I conclude that it is not really a scam, because they deliver a product that runs as it should.
---
Recommendation
I do not recommend Supersonic.
If you want to make some serious money online, you have to first work on establishing your website.
If you do not own a website, do not worry. The training platform that I am going to show you offers a FREE starter members area, where you get 2 websites absolutely for free, as well as 10 FREE lessons, so you can get to see for yourself the top-notch training that they provide.
This will equip you with the skills and knowledge to build up an online business properly, so that in time to come, you can even quit your full time job, which is what many members in there have done. Check it out, you really don't want to miss this:




And for reading all the way to the end of the post, I believe you have it in you to make this work. Here is your FREE PDF Guide: 4 Simple Steps to Making Money Online. Fill in your details to claim it:



If you have any concerns or questions regarding this Supersonic review, do comment below, and we will start a conversation from there.
---