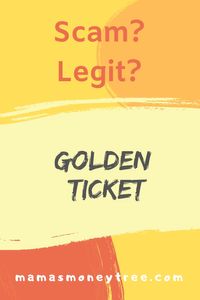 Congratulations for taking the time to check out my Golden Ticket review. Scam or not, we will find out soon.
These days, with so many scam products on the internet, you can't be too careful. So it is the right thing you are doing, checking things out before you decide to purchase it.
In your research, you must have come across many raving reviews about Golden Ticket. Those are in fact its affiliates, trying to get you to purchase through their links, by offering plenty of their own bonuses, all jostling for a piece of the pie.
You might be wondering:
It must be good, for so many people to be promoting it.
Well, sadly, that's not true. They're all in it for the money, most of them never use any of the products they review to make money, because they simply do not work. They make a living by promoting these products as they are launched, regardless of their quality.
Here, you can be assured of my honest and unbiased review, as I am not associated with this product in any way. In this article, I will provide an in-depth review of Golden Ticket, through the following sections:
---
Golden Ticket: Review Summary
Product: Golden Ticket
URL: https://goldenticket.live/
Creators: Anthony Mancuso, Paul Nicholls, and Shaun Baird
Product type: Training on affiliate marketing of Amazon products
Price: $8.97
Scam / Legit? : Legit
Recommended or not? : Not recommended
Made to sound like an elusive new method, Golden Ticket is all hyped up with promises of fast, big earnings with minimum work. When in fact it is nothing more than affiliate marketing of Amazon products, which is a legitimate way of making money but to see real results, you need to put in lots of hard work, it's definitely not a 'set and forget' passive income machine.
If you do not want to waste anymore time and money on useless products, check out my #1 recommendation to making money online:

Read on for the detailed review of Golden Ticket, and why I do not recommend it.
---
What is Golden Ticket
Information presented in sales video and landing page
What exactly is this underground method that banks 100% passive income in just under 30 minutes a day? Without any skills or experience required, no email lists required, no paid traffic, and it's even completely newbie friendly!

It gets better:
Unique twist on free traffic and monetisation that has never been shared before? Completely untapped 'set and forget' passive income machine that takes minutes to set up?
Want to know the best part?
At the end of the sales page, I still had no idea what this method is all about.
It's all hype: make the biggest and fastest earnings with minimum effort, all passive income.
Could it be that once people knew what the method was, they would never want to buy it anymore?
Do you think they even care about your well being, considering they expect you to buy something that you have no idea what it is even? All they do is shroud it in secrecy and false scarcity.
So I probed deeper to uncover all its secrets.
What Golden Ticket really is
What this product really is: training on making niche websites for doing affiliate marketing of Amazon products.
They teach you to set up your site once, put in your Amazon affiliate links, set and forget it, as it will start to bring in passive income.
Total BS.
And by the way, this is not any new and underground method. It is an above ground, traditional method that has made plenty of millionaires over the many years that people have used it. And it still works today.
Then why am I so upset?
It's the hype they create, misleading you into thinking this is some secret formula that will give you instant success. Which is so far from the truth.
Why Golden Ticket will not work for you?
Because it does not tell you the truth. It is only interested in making your money, without any regard for the frustration and feeling of failure you would get afterward, when you set things up according to what they teach, and yet do not see any result instantly.
What is affiliate marketing?
Affiliate marketing is a very legitimate way to make money online. You simply leverage on the millions of existing products in the market, by promoting them to people. When people click through your affiliate links to purchase the products, you earn a commission from the supplier or retailer, in this case Amazon.
Now: as with all businesses, online or offline, the biggest issue always lies in getting customers. In an online business, we call them traffic.
If you simply set up a website, place your affiliate links in there, and forget about it, nothing will happen. Because no one will visit your site. There has been no effort to get any traffic to your site.
The free traffic method taught in Golden Ticket is social media traffic. Which is difficult because social media traffic is usually not targeted.
People go on social media after work, to catch up with their friends' lives, watch some funny videos, read some tabloid news, anything but take out their wallet and prepare to buy stuff.
What is the best traffic source?
Those with the intention to buy go on search engines to look for reviews of the products they are looking at. So if your website shows up during those searches, and people land on your website, read your content and your recommendations, they are highly likely to convert and become buyers.
This is called free organic traffic. It is the best kind of traffic, firstly because it is free, of course. Secondly, and more importantly, this is highly targeted traffic, because your offer is the exact match for what they are looking for.
What's the bottom line?
Learn how to rank your website on page 1 of search results. and you will get unstoppable traffic coming to your offers.
When you build up authentic content that your readers interact closely with, the search engines give you the trust, and present your website to their users, as they want to give the best quality content to people searching for answers on the internet.
The trust that is established is there to stay for a long time, as long as you keep your website up to date, in maintenance mode, you will keep getting organic traffic.
This is how this method can become a passive income stream. Because when the website and hence your online business is able to sustain itself, then you can shift your focus to build another website, which will become yet another income stream.
This is possible only if you commit time and energy into your website. With a 'set and forget' mentality, you can forget about succeeding too. You will not get a single traffic, not to mention it becoming a passive income machine, without you doing a single thing.
What a joke these people can be, to try and make others believe they can sit there without doing anything and just get money pouring in.
How I make my online income
Affiliate marketing is the exact way that I am making money online, so I know how it works. The method is simply: keep creating content that will engage your readers. Because it is what the search engines want to see.
Simple does not mean it is easy. Boy, it's tough! You have to keep going at it, investing time and energy to make it work. But it can be so rewarding when you finally reap the success of your hard work.
And do not be daunted by having to set up a website. In fact, that's the easy part. These days, you do not have to know a single line of coding to create a beautiful and professional looking website.
And I know a platform where you can try it for free. You will get 2 free websites (including hosting and domain name), and 10 lessons on affiliate marketing, absolutely free.
And the best part?
The free lessons are so top-notch that you learn so much more than many expensive training programs elsewhere.
Here's the deal:
Read my detailed review of this platform, by clicking the link below, and decide for yourself if this is an opportunity you wouldn't want to miss:
---
Pros of Golden Ticket
1. Real owners
The owners are real people, known in the internet marketing niche. So at least there is a level of accountability, we hope, by putting their names to their product.
2. 30 day money back guarantee
This basic refund policy is in place, for people who are dissatisfied with the product.
3. You do get your training materials
Well, you do get something, even though it may not be worth much, since they have you believe this is actually a 'set and forget' passive income machine, so how much do you think they will teach in there?
Cons of Golden Ticket
1. Not minimum effort like what it is made to sound
You will be sorely disappointed because you will not get any results by following what they teach.
I will be very frank with you:
Anything that promises you instant earnings with zero work is out to make your money. Full stop. It banks on the human weakness of wanting instant gratification without having to put in any effort.
Lots of people will fall for it, because it is human nature.
Nobody will want to go for something that requires lots of time and hard work, but it is what I'm selling to you, only because I want the best for people who land on my page.
Ultimately, the choice is yours: the easy way out, or real success. They do not overlap.
2. Social media traffic is not the best
The traffic method taught in Golden Ticket, though free, is not the best, simply because it is not targeted traffic that is searching for products or services to buy.
3. Upsells
Like any other product that is created solely to make its owners money, once you purchase the front end product, even before you have a chance to try it out, you will be bombarded by upsells and more upsells, which are pricey and where the real money is.
These people know that they are not going to hear from you ever again, once you discover what a low quality product you have landed with. So before you can make that discovery, they have to dig deeper into your pockets.
They also know that people who had just bought something will be much more likely to continue buying some other stuff. And many of these upsells are one-click upsells, meaning you do not have to provide your credit card details, since it had just been entered during the purchase of the front end product.
Upsell 1: $27 – Done for you package
Upsell 2: $37 – Advanced Golden Ticket tactics, 5 times your profit
Upsell 3: $47 – Reseller rights reloaded
Upsell 4: $27 – Outsourcer Rolodex
---
I absolutely do not recommend Golden Ticket.
If you want to succeed online, and build up a passive income stream, it is not as far-fetched as you think.
The first step:
Do not waste anymore time and money looking for short cuts, easy ways to make money with minimum work. These will not get you anywhere.
The answer is here.
Take the trodden path. Let successful marketers show you the way. Follow in their footsteps, keep working at it and you will reach there.
I can show you the path they took, but I cannot help you walk the path. It is something that you have to do for yourself.
Are you up for it? Do you have what it takes to succeed online?
If so, click on the button below:

If you have any concerns or questions regarding this Golden Ticket review, do comment below, and we will start a conversation from there.
---