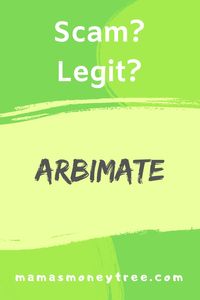 If you have received some promotional material in your inbox about this product, and are wondering what is ArbiMate, you are at the right place.
My review is different from many others that you see out there, as I am not promoting this product as its affiliate. All those raving reviews are from affiliates eagerly stuffing their extra bonuses right into your face, often times regardless of how relevant they are to the product, because they are jostling each other for a piece of the pie.
This is crazy:
They have not even attempted to use ArbiMate to make any money, because they earn their living through affiliate sales of product launches, so they always fiercely try to promote programs and softwares that they themselves will not use to make money.
In this honest and unbiased review of ArbiMate, I will dig right into the inside workings of this WordPress plugin, and present all the in-depth details about it through the following sections:
---
ArbiMate: Review Summary
Product: ArbiMate
URL: https://arbimate.in/
Creator: Cyril Jeet
Product type: Software that searches for retail arbitrage opportunities between Amazon and Walmart.
Price: $37
Scam / Legit? : Legit
Recommended or not? : Not recommended, unless you have experience with arbitrage retail, and know what it entails
Retail arbitrage is a legitimate ecommerce model. It comes with its own set of issues and potential problems, so it is not easy money. If selling big ticket items, warranty issues may complicate the transaction. Things out of your control, like damage during handling and delivery, may get you unhappy customers, who can possibly get you banned if they complain to Amazon.
Moreover, this business model is very time and effort intensive, since you have to handle every single order through Walmart yourself. That makes it not the best way to run an online business.
If you do not want to waste anymore time and money on products that do not work, check out my #1 recommendation to making money online:

Read on for the detailed review of ArbiMate, and why I do not recommend it.
---
What is Arbimate
To answer in very simple terms: what is ArbiMate? It is a WordPress plugin that partially automates your retail arbitrage process, by finding cheaper products on Walmart compared to Amazon, so you can price it competitively on Amazon as a seller, and reap the profit off the difference.
According to the sales page, you can create a passive income using the free traffic on Amazon. No need to pay for expensive ads, no inventory and no marketing. This can work for you, even if you have never sold anything online before.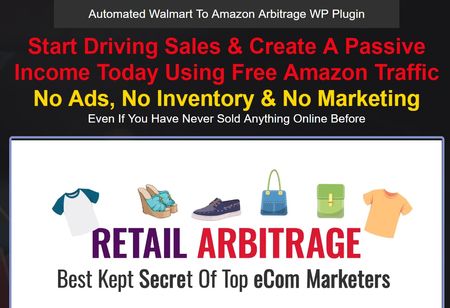 It gets better:
You do not have to worry about sourcing for products. No expensive subscription for Shopify (which is an ecommerce platform), no need for hosting, since you do not required any website for this to work.

Then they show you this video clip of a 28 year old who makes millions buying from Walmart and selling on Amazon.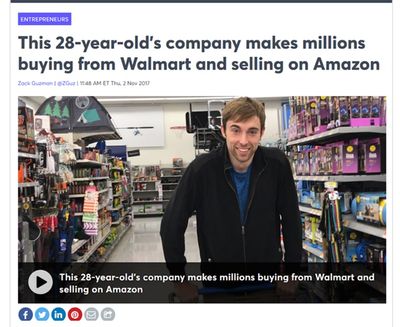 Since there are more buyers on Amazon than anywhere else, why not tap into the sales potential of the world's biggest marketplace?
Hundreds and thousands out of the millions of products sold on Amazon are also sold on Walmart, and at much cheaper prices. So the formula to get the most out of each sale, is to identify products with the largest profit margin.
Then all you need to do is to list your item at 1 cent lower than the current best price on Amazon, and you will get your sales!
When someone clicks on your offer on Amazon, you simply go onto Walmart's website, buy the item and ship it as a gift directly to the customer.
As you gain experience with retail arbitrage, you can even stock up on the items you know are in high demand, and ship them out yourself, as your business grows.
But here's the kicker:
It can be very difficult and time-consuming to find the most profitable arbitrages. You have to spend days and nights, along with lots of luck, in order to find some great deals for your arbitrage business.
This is where ArbiMate comes in!
It is your one-click fix for the only problem you will face in your arbitrage marketing: finding the most profitable items to sell. ArbiMate uses an intelligent algorithm created by a pro arbitrage marketer, to check any Walmart product for an arbitrage opportunity, using any keyword you want.
It scans entire categories for high margin arbitrages, and knows exactly what profit you can make out of them. You can then export all your arbitrages into a CSV format for further analysis.
I must say:
It really sounds good and promising so far. But as always, we should not simply take things at face value. Let's dwell deeper into this business model, and identify the potential issues that you can face with it.
Why ArbiMate may not work for you
Before going into the negatives, I must say the creator of this product, Cyril Jeet, is a really down to earth guy, who makes real softwares that work as they are meant to. I have reviewed some of his products before, like Traffic Jeet 4.
And I always find it refreshing that the sales pitch of Cyril is not all hype and empty promises. He presents his softwares in a matter-of-fact way, that gives you all the information you need about it, to decide whether it's for you or not.
There is practical use for his products, but what may not work for you is the way it is incorporated into the various business models, or those models themselves may have some inherent issues that make them not the ideal method to make money online.
You do need a website and hosting to run ArbiMate
Although it is true that you do not need a website to do your retail arbitrage using this model, but because the program itself is developed as a WordPress plugin, which only works on WordPress sites, so you do need to first get your WordPress website up, with hosting and domain name, in order to even activate this product to see what it is all about.
If you are already running your own website for your retail arbitrage business, then it's fine, you just have to install this ArbiMate as a plugin.
But if you do not have a running website and were not intending to set up one, because the sales page of ArbiMate says you do not need web hosting to run this business, then you may feel slightly cheated.
ArbiMate works only for Walmart and Amazon arbitrages
Considering there are so many retail outlets, wholesale suppliers, and other shopping platforms out there, to restrict yourself to finding cheaper deals on Walmart to sell on Amazon is rather limiting for your arbitrage business.
For instance, Costco, being a wholesaler, frequently has cheaper products than Walmart. Ebay, Target, and the outlets of branded goods themselves, all have very competitive pricing for the products they sell. As a retail arbitrage, if you limit yourself to Walmart arbitrages, you may be missing out on plenty of opportunities out there.
The profits reflected in ArbiMate may not be accurate
A quick scan of some of the recommended arbitrages in ArbiMate showed profit margins that are way too high. That is simply because they are showing the maximum profit, since there are people trying to sell those products at that high price on Amazon.
When in fact, what they should be showing is the minimum profit, since they teach you to price the item at 1 cent below the most competitive pricing on Amazon.
So in this aspect, I think the numbers tend to be too high and misleading, and not of any practical use.
Some inherent issues with retail arbitrage
Besides those drawbacks discussed above that pertain directly to the product ArbiMate, there are also some cons of retail arbitrage as a business model.
Warranty
For items with warranty, if they are not purchased directly from the supplier or an authorised dealer, the warranty would be void, even if they are sold as new, in their original packaging.
This means that your customers will not be able to fall back on the product's warranty, since they bought it through you, who is not an authorised dealer of the product.
If this was not made known clearly before the transaction was made, you may get an angry customer who will make his or her way to the complaints department of Amazon.
Or if you are transparent about this and write it clearly in the product description when you are selling it on Amazon, then it could mean you need to lower the price by a fair bit before any customers are willing to buy it from you.
Products tampered with
You know how it is with these big stores like Walmart and Target. For instance, in the toys department, you see kids playing with the brand new toys, sometimes still in their boxes. I do believe the stores have stringent processes to ensure the quality of their products before they are resealed into their packaging.
But we can't deny there can be carelessness and human errors, that lead to products that had been tampered with being shipped out to customers who made online purchases.
Imagine how mad your customers will be to receive something that had been damaged. You can be sure you will be hearing from Amazon. Or even have your Amazon seller account suspended, or banned. That won't be a happy occasion, as Amazon does not lift their bans easily.
Hidden costs – Delivery fees and Amazon fees
Your shipping fees, when you order the product from Walmart to be delivered to your customer directly, will lower your profit margin. Depending on how much it costs, the arbitrage sale may not be worthwhile for all the time and trouble that it takes out of you.
On top of that, Amazon charges a fee for every sale that you make ($0.99), as well as a certain percentage off your sale price.
These are running costs that have to be taken into account when you decide to go into this business.
Not a passive income stream
Every single sale requires work and time out of you, since you have to go onto Walmart's website to make the order, key in the address of your customer, and ensure the delivery process runs smoothly.
How about refunds? You will have to deal with those, too.
Since all these take active effort on your part to sustain the retail arbitrage business, I cannot understand why the sales page of ArbiMate can promote it as a passive income stream. It is definitely not.
How I make my online income
The business model I use to make my online income allows me to circumvent all these drawbacks of retail arbitrage. I do not have to actively look for arbitrage opportunities that will earn me a profit, because anything I promote will earn me a commission, as long as there is an affiliate program attached to it.
Yes, that was easy to guess, wasn't it?
It is called affiliate marketing.
It is neat and hassle-free. I do not have to handle any delivery or inventory, or deal with any customer complaints, simply because the transaction takes place between the customer and the retailer or supplier, directly.
I just bring customers to their doorstep (their websites, purchase pages, etc.), and get paid a commission for bringing them more business. I do not have to be bothered with the pricing of the products, or be worried that with fees and shipping costs, my profit margins may drop to zero.
The real beauty of it:
This business model can be built into a passive income stream, by virtue of how I drive FREE traffic to my offers.
Want to learn how exactly I do that? Click on the link below, which brings you to another post where I explain the method in much more detail.
---
Pros of ArbiMate
1. Real owner who is credible
Cyril Jeet Gupta is a real guy, known in the internet marketing niche. I find his products credible, because he does not try to sell it aggressively by promising it as a get rich quick scheme (like some of the products I have reviewed: Golden Ticket, ClickTraffic, and Bulletproof Profits, to name just a few), which will naturally appeal to the largest audience.
So the way I see it: he is not out to scam people and simply try to make money out of them, but presenting a product that may work for some, and he openly and clearly explains how it works exactly. So you get to make an informed decision about whether to buy it or not.
2. 30 day money back guarantee
This basic refund policy is in place, for people who are dissatisfied with the product.
3. The plugin does what it does
The plugin will do what it is meant to do: identify arbitrage opportunities between Walmart and Amazon, that will get you the most profitable deals.
Cons of Arbitrage
1. You do need a website to access this plugin
Though you do not need a website to run your retail arbitrage business, but if you want to use this plugin, you do need to have a WordPress website, with hosting.
2. Limited to Walmart opportunities
The world out there is so big, with profitable deals everywhere. You should not be limiting your own business to only Walmart offers.
3. Profit margins not accurately reflected
Reflecting the maximum profit is not practical, as you are definitely not going to make that profit. If you sell so high on Amazon, no one is going to buy from you.
4. Warranty issues, products tampered with
These are issues inherent of the business model that you need to deal with. Warranty is no more valid when customers buy the product through you, a third party, instead of from an authorised dealer. Though they should know this, but if they were ignorant and only found out later, it could lead to troublesome disputes.
Since the product never went through your hands, you can only rely on the credibility of the supplier, in this case Walmart, to send products that are in brand new condition.
5. Upsells
As with many other digital products, ArbiMate is lined with upsells, which are very expensive, much more so than the front end product.
Upsell 1: $97 – ArbiMate Pro upgrade, unlimited arbitrage searches, also find arbitrages from Target
Upsell 2: $47 – Arbitrage training, learn the ropes of arbitrage marketing
Upsell 3: $30/month – Daily arbitrages, best arbitrages delivered right to you, totally hands free.
Upsell 4: $47 – Instazon Pro, the best niches and product segments that you can find profitable arbitrages in.
---
I do not recommend ArbiMate, because it limits your business to Walmart, when there are so much more opportunities out there.
Personally, I find the way I'm making money online to be much more neat and hassle-free than retail arbitrage.
I do not have to deal with customer complaints or refunds, I do not have to painstakingly deal with the delivery of every sale that I make. I do not have to be bothered about the prices of the products.
Want to know the best part?
I can even build it into my passive income stream.
Check it out by clicking on the button below, where you will get to read all about my detailed explanation of this method that I'm using.

If you have any concerns or questions regarding this ArbiMate review, do comment below, and we will start a conversation from there.
---