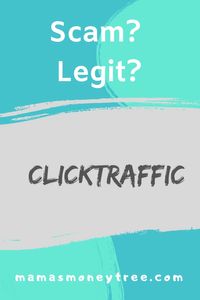 If you have received some promotional material in your inbox, and are checking out this product, asking yourself is ClickTraffic scam? Or can it really turn your last $5 into a full time passive income? Is there really such an incredible product that exists? Can it really be so easy?
You have landed at the right place, because I am not promoting ClickTraffic as an affiliate, unlike many of the raving reviews out there, jostling for a piece of the pie by offering lots of extra bonuses of their own, just so they can earn a commission when you buy ClickTraffic through their affiliate links.
Here, you can be assured of my honest and unbiased views, where I will take an objective look at the inner workings of the product, to see if it will deliver what it is proclaimed to.
In this article, I will provide an in-depth review of ClickTraffic, through the following sections:
---
ClickTraffic: Review Summary
Product: ClickTraffic
URL: http://clicktrafficlive.com/livenow-5/
Creator: Andrew Naser
Product type: Training and software that creates campaigns on autopilot, with CPA using FaceBook ads
Price: $24 (this was during product launch phase)
Scam / Legit? : Legit
Recommended or not? : Not recommended
ClickTraffic gives you training and a software that automates your marketing campaigns. With this method, you do not need a website or a product to start launching your offers and make a profit. To summarise my findings of my review of ClickTraffic: it will not work because you are not building your online business on a solid foundation, nobody will trust you enough to buy the products you recommend through the campaigns. You will be seen as spamming the platforms.
If you do not want to waste anymore time and money on useless products, check out my #1 recommendation for making money online:

Read on for the detailed review of ClickTraffic, and why I do not recommend it.
---
What is ClickTraffic
Information presented in sales video and landing page
So according to Andrew, this is a done for you system that automatically launches your marketing campaigns. You do not need a website, write tons of content, or any skills or experience to start earning money. He makes it easy peasy for you, by allowing you to duplicate his method that he has been using to generate his online wealth.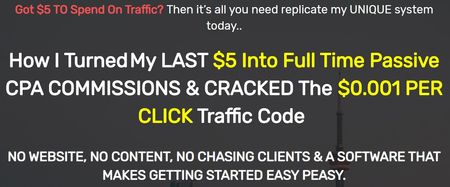 30 minutes a day is all you need for this completely unique method. The secret to ClickTraffic lies in using FaceBook ads to get your traffic, who will click on your offers, reach a landing page where they complete a certain action, and you get paid. This is called CPA (cost per action) marketing.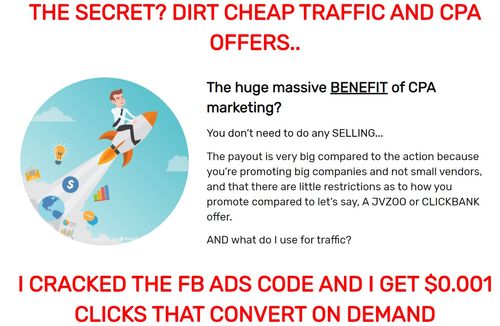 As Andrew later explains, FaceBook ads are normally very hard, because they are time-consuming and very expensive. With his automation, you get to skip all the trial and error, money lost on testing, research, moving parts and resources, time and effort spent on manually crafting out each campaign, and go directly to the money.
He made it into a copy and paste process, with the software that automates everything, and a manual that teaches you step by step how to use it.
One thing I find very refreshing and worth pointing out is this: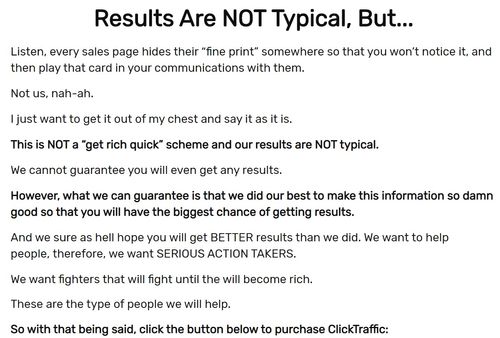 It's true that many scam products tend to hide their disclaimers in tiny prints, or in dark coloured words that blend in completely with the black background, while ClickTraffic is different. Andrew states it in boldprint, that his results are not typical, and they cannot guarantee you will even get any result.
Though I respect him for that, would you then want to spend your money buying this product which teaches you to spend even more money on advertising to get traffic to your offers? I will leave you with this thought, to decide for yourself if this is worth your time and money.
Why ClickTraffic will not work for you
CPA explained
Cost per action (CPA) marketing is a totally legitimate way to make money online. It pays higher than the usual ads that are cost per click (CPC), where you get a very tiny earning from every click that you send to the ads.
Since it requires people to complete a certain action in order for you to get paid, it is seen as lead generation for the product, in getting people one step further to purchasing it. That's why they are willing to pay you at a higher rate than simply clicking on the ads.
The actions can vary from filling out some information, in particular email address, to signing up for a trial, or getting a quote, and stuff like that. Basically it brings the potential customers one more step to making the final purchase, hence these leads are valuable. But of course your commission won't be over the top, since no sales has been generated yet.
All done for me? No, thanks.
Anything done for you is no good. It's like giving a man a fish instead of teaching him how to fish. Ok, maybe that's a bit far-fetched. But you get the idea.
You see, done for you systems do not give you any control. Andrew is so right that it takes a lot of hard work, trial and error, and money lost down the drain, if you want to do FaceBook advertising. But that is the proper way to do it if you really want to go for FaceBook ads. What does it mean when you bypass all the hard work?
First, you shortchange yourself in bypassing the opportunity to learn. If that is not important, then how about your audience? Everything done for you means that the target audience, their demographic profile, browsing preferences, etc. have been selected to suit the niche that Andrew works around, which will be the internet marketing niche. You do not get to choose whatever niche you like.
The thing with the internet marketing space is there are just too many worthless products making their rounds. All trying to scam unsuspecting beginners of their money. Would you want to serve up these offers to your audience, and serve them to the wolves? Imagine sending your audience to a landing page that looks shady and spammy, do you think they will trust you anymore?
And if your offers for various products in the make money niche keep going out to the same group of people, they keep seeing those promotions that promise to get them rich fast, either they get frustrated since they know none of these work, or they give it a try one time, get disillusioned, and never believe you anymore.
To do an online business properly, to be answerable to your audience and build up a group of loyal following who will help to spread the word about how authentic and genuine you are in helping them, there is no short cut.
In fact, FaceBook marketing should not be your focus, if you are just starting out. Because of the nature of social media, whatever efforts you put into it get drowned out by all the other buzz and activities pretty quickly. Unless you advertise, of course. But that takes money from you even before you start making any money.
Moreover, people go to FaceBook not to shop for stuff. They go there for socialising and catching up with their friends' lives, and for relaxing after a hard day at work.
The proper way to make money online
To create a sustainable online business, you need to ground it on a rock solid foundation. And the way to do this is to have your own website. Which is an online asset, on which you can build your own branding, build your content on it, promote your offers on it, and create an empire that no one can take away from you.
As you build it up, search engines start to see you as the authority in the niche, and this is when the fun begins. They will start to send you free organic traffic. People who are searching for stuff related to your niche will be shown your website ranked high on page 1 of their search results.
This kind of traffic is the most precious to come by because firstly they're free, of course. But what is more important is they are actively seeking out your content, your offers. That is how they landed on your website in the first place. Because your content is the perfect match for what they are looking for.
And do you think these people will convert into buyers? Yes, definitely! They will even come back as repeat customers, as long as you stay genuine and authentic in the products that you sell or recommend to your audience. They will be happy to subscribe to your email list, so that they can be updated of whatever new offers there are.
This is the way to build an online business. It is simple, but not many people are ready to do it because it takes time and effort to build up your content for the search engines to recognise you are the authority in the niche, and present your site to its users.
So simple does not equate to easy peasy.
But hard work by following a proven route will equate to success.
Do not take my word for it. I can show you real people with real results. Click on the link below and you will see what I mean:
---
Pros of ClickTraffic
1. Real owner
Andrew is a real person, successful in the internet marketing niche. I also like to think he has a great character because he is not making empty promises, and in fact telling you upfront that his results from this method are not typical. Which is attributable to the fact that he knows what he is doing, he is already established in the internet space with his own network and following. So it will not work if we simply take his black box system and try to run it for our own business.
2. Money back guarantee
I would be careful with this, because even though they say you can get your money back, and in fact twice the amount (I really wouldn't bank on that), it is NOT a 'no questions asked' type of refund. That can only mean it won't be that easy to get your money back, because they want you to spend even more time working on it with them, when in fact you could already know it is not for you.

3. You do get your software
Yeah it's something you do get after paying for it, and you can try it out to see if it can get you any solid results.
Cons of ClickTraffic
1. No control over done for you systems
You do not get to choose the niche that you want to work in. Why restrict yourself to the internet marketing niche when in fact, the sky is the limit?
2. No grounding of your online presence
To follow what this system teach, you will just be floating around on social media, in fact, just FaceBook in this case. Throwing out advertisements to your offer. There is no chance to build your brand, get people to trust you, do a real business. You're just spending money and hoping to get some returns.
With no established audience to start with, it is really hard to make this work. You have to compete with all the other people out there, all trying to strike it rich, all throwing out advertisements.
3. Paid traffic
Why pay for traffic, when you can get it for free? Paid traffic should be the last thing for a beginner to do for. Working around free traffic frees you of any financial burden, and at the same time sets you up for a solid foundation, because to get free traffic, you need to build authentic and great quality content. When your audience interact with the content, the search engines take notice, and send you even more free organic traffic. By then, it will be unstoppable.
4. Upsells
If you really purchase the front end product, even before you have a chance to try it out, to see if it is any good for you, you will be bombarded by expensive upsells, that claim to serve you even more done for you systems with better features, get you better traffic, and stuff like that.
This is the common feature across all products that are created with the main objective of making money for its owners, instead of adding value to the customers and taking care of their well being, giving them the space to try things out before trying to persuade them to buy more.
Upsell 1: $37 – 3 case studies and 20 done for you campaigns to upload right away.
Upsell 2: $27 – training to generate easy $50 to $100 per day.
Upsell 3: $197 – private coaching
Upsell 4: $197 – Whitelabel, full resale rights to their entire funnel.
---
I do not recommend ClickTraffic.
To set yourself up for some long term success, it pays to build a website, as that is an online property that you can call your own, on which you can build an entire empire, and bring it to whatever heights you wish, after you get the foundation right.
There is no done for you system that will work the best for you. Those are made to work for its creators. If you want something that works best for you, the only way is to build it up yourself. Yes, it takes time and effort, and maybe lots of trial and error, making mistakes, getting up and trying again.
But this is the way that people succeed. No successful internet marketer will ever tell you they depended on a certain done for you system to become a millionaire. Every one of them went through hard work, they all want success badly enough, and they have the grit and perseverance to last till they saw their first breakthrough.
I can show you the path they took. It is the path I am following now, and am seeing real results with it. It is not a get rich quick scheme. So if you are not prepared to work for it, then it's not for you.
But if you're up for some hard work and have the fortitude to delay gratification, then click on the button below and I will show you the method:

If you have any concerns or questions regarding this ClickTraffic review, do comment below, and we will start a conversation from there.
---