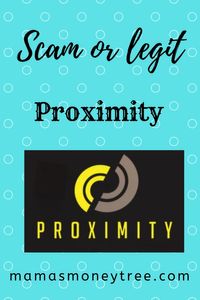 Do not believe what they say on websites offering Proximity review with bonuses, because those are their affiliates, simply trying to sell you this newest software, which promises instant profits with so little work. Do you believe such thing exists?
Finally a proven method for daily passive profits in just 15 minutes a day? See results in 24 hours? A set and forget profit system?
Too many red flags all over the place, it is easy to dissect this newest launch, take it apart and show you what exactly is on the inside. That is what I will be doing in this review: an honest and unbiased breakdown of Proximity, and why you should keep clear of it.
In this article, I will provide an in-depth review of Proximity, through the following sections:
---
Proximity: Review Summary
Product: Proximity
Creators: Anthony Mancuso and Paul Nicholls
Product type: WordPress plugin that allows people to search for local businesses
Price: $12.95
Scam / Legit? : Legit
Recommended or not? : Not recommended
Proximity is a WordPress plugin that allows your website visitors to search for local businesses, so you can earn a commission while sending them to those businesses. That's what it is, essentially. With training, of course. Made to sound like something you can start profiting with instantly, it is far from that.
You have to have your own website, for a start. Then you need traffic, which is made to sound like a non-issue, something you will get automatically once you use this software. It does not work like that. You still have to compete with other websites on the search engines, even though local searches may be slightly easier to rank, when your website is new and just starting out, don't expect any free organic traffic in the first few months, much less start profiting in 24 hours!
This method can work, but it is going to be a long process requiring lots of patience and hard work. What's more, the earnings are not going to be huge, and you are limited to work around the services provided by local businesses, which can be restrictive and boring.
If you are going to build up your own website, you might as well build it around your passion: be it your kids' health, or diving, or horse riding, or gaming, the sky is the limit. And learn the proper way to get free organic traffic from search engines, which you will eventually be able to monetise, by recommending great products which you can earn a commission off the sales of.
This is exactly how I have built up my online income, I started my website from scratch, with zero knowledge. See how it can be done here:

Read on for the detailed review of Proximity, and why I do not recommend it.
---
What is Proximity
Information presented in promotional video and sales page
Look at all the hype, all too familiar to me, it instantly reeks of a get rich quick scheme that targets at newbies and struggling internet marketers:
"…completely beginner friendly… no skills or experience required… never before seen method… banks consistent passive profits… see results in 24 hours… no need for paid ads or email list or any ongoing maintenance…set it up once, and bank ongoing profits… stacks of proof of results from complete beginners…"
It's all here, the recipe for picking out newbies or people who have not found any success making money on the internet. A done for you software, that runs on autopilot after you set it up, you don't even have to work for it, and profits will just keep rolling in.
Isn't that fantastic? I would love it too, who wouldn't?
With this easiest shortcut ever, it is infinitely scalable, so you can expect a growth of over 200% per year. Wow!
And 100% free traffic source! More wow!
So what is this weird but simple monetisation method they are going on about? Something that only local businesses and SEO specialists have been using… what exactly is that?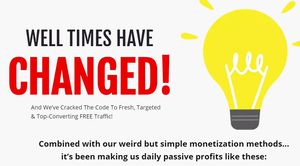 A fully automated software that diverts targeted traffic, all ready to buy, onto your own monetised pages, before you direct them to local businesses, and make a profit for yourself, without ever lifting a finger!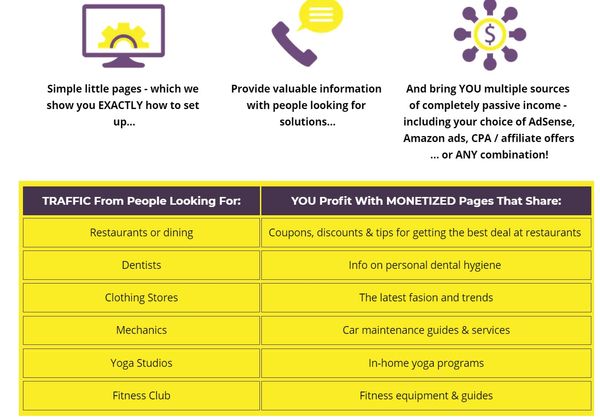 The 3 steps to take are really simple!
Watch their video guides to copy their winning methods.
Plug in the automated software onto your website, and have it up and running in an hour or less.
Enjoy free traffic and passive profits.
Easy! I can do that, who can't?
What is unique about Proximity: zero competition and completely passive income. This is the power of '1st in line' profits, because no one is doing it, so you get your unfair share of profits before anyone else!
But why is no one doing it? Could it be because it is so far-fetched that there is no way anyone can profit from it at all? It is just not workable, that's why no one is doing it…
What Proximity really is
You first need your own website
First, you need your own website for this product to work. This is not made known to you anywhere on the sales page at all. But you will know it soon enough, AFTER you make the purchase, you would realise that it is actually a plugin that goes with your WordPress website.
There is nothing wrong with requiring a website, in fact, it is the proper way to start an online business, having a website is like owning an online property, without which you would just be floating around the internet, unable to establish your brand and followers.
What is wrong is Proximity has omitted stating this fact on its sales page and video.
How the plugin works
As you can see on the screen below, once you install the plugin onto your website, you get to key in the settings. By this time, you should have already done your research, and chosen a niche, say dentists, or plumbers, or electricians, and so on. And you should have also found a pay-per-call network that you can monetise from, as you earn a commission when your website visitors call those numbers that are part of the network.
All these take up time and lots of effort, even before you start using the software!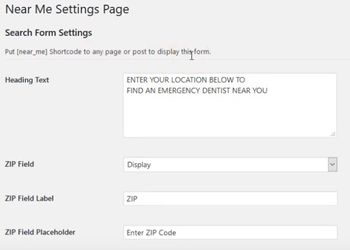 Now, let's take a closer look at inside the plugin setup page below. Notice that the search results are already fixed. You are the one entering the phone number for your visitors to call, because that is the exact number from the pay-per-call network that you will earn a commission from.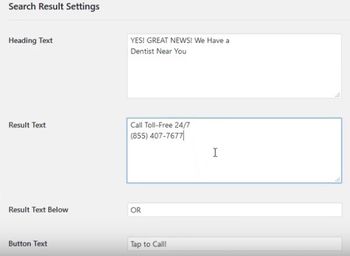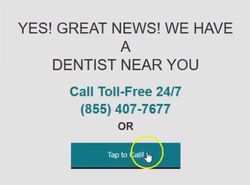 Which means it doesn't matter what physical area they are at, they all get the same search result, the same phone number to call!
So please, just make sure this number is something closely relevant to what your visitors are looking for, otherwise they will see your website as a complete scam! As an idea, it could be a directory phone service, such that the person on the other end of the line is able to direct your website visitor to a local dentist in his or her region.
So you get how this works? You are actually 'hijacking' the people searching for certain services in their area using search engines, adding one more step to their search process, and profiting from it.
It may sound well and good, but this method actually earns you peanuts. The commission you get from pay-per-call networks is too little to be worth all your time and effort in trying to make it work. It is the same kind of rates you get from Adsense advertisements, where you are paid when people click on the advertisements placed on your website.
They really can't pay you much, because there is no actual sales yet. To earn from this kind of advertising and exposure fees, you need a really massive amount of traffic.
So how does the software get you traffic? They promised instant earnings, didn't they?
Where does your traffic come from?
No, the software isn't going to get you any traffic. It plays zero role in getting you traffic. You have to go and get traffic yourself.
The 100% free traffic they mention on the sales page is free organic traffic from search engines. This is seriously the best kind of traffic, as people are actively searching for what you are offering, so with the perfect match, you can be sure at least some of them will make the call, and get you your commission!
But why would search engines even place your website at any highly ranked position of the search results? The local businesses themselves, like the local dentists, would have their own established websites, which search engines would send the people directly to. They would have a list of local dentists to choose from on the search results page, there is no reason for search engines to offer up your brand new website, with no content, no authority, since they do not trust your site at all.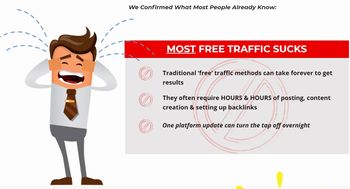 There is simply no shortcut around free organic traffic. Everybody wants this kind of traffic, because it is the most highly targeted, and it is free! So you want the trust of the search engines, you got to earn it.
It is what I am doing with my websites actually. They are fully established, having gained the trust of the search engines, because I keep creating great content on it, stuff that the search engines know people would love, so they will send traffic to my site, by ranking me high, on the first page of search results.
There is no software that can help you do this. There is no shortcut like what Proximity would try to have you believe.
You want to succeed online, you have got to work for it. If you refuse to accept this fact, and keep going around looking for the easy way to fast cash, you will never succeed because there is just NO easy way to make money online.
Training in Proximity
I have to give credit to the training videos in Proximity, because they do teach mostly correct stuff, though it's still scanty and not comprehensive enough. Here is what is covered in their training modules:
Module 1: Google search terms, choosing your niche
Module 2: Installing WordPress and setting up your website
Module 3: On-page optimisation, social media traffic
Module 4: How to monetise – pay per call networks, Adsense, affiliate offers
Niche selection
Convinced now that having your own website is the way to go? If so, then I want to show you that the sky is the limit. You do not have to restrict yourself to the services industry by using the method taught in Proximity. With your own website, you have the freedom to choose any niche that you like.
Once you have decided, look for affiliate programs for products and services related to your niche. You will find thousands of them. So many companies want to work with affiliates because they get free advertising, so they would willingly pay their affiliates a commission when you drive sales to their business.
Then you take your pick, choose a great product to recommend, of excellent quality so that your website visitors will be happy with their purchase, you gain their trust, and a loyal following.
When you follow this proper method, with adding value to your website visitors as the focus, the earnings will come alongside it. This is how I have built my online income, the proper, sustainable way so that it eventually becomes a passive income stream. Check out the exact details to build your business from scratch:
---
Pros of Proximity
1. Real owners
Yes, the owners are real people, with real faces, willing to take accountability for their product. Got to give them credit for that.
2. 30 day money back guarantee
This basic refund policy is in place, for people who are dissatisfied with the product.
3. There is some value in the training
There is definitely some value in their training, though it is not the best, for sure.
Cons of Proximity
1. Only works in the service industry
It has to be a service industry provided by local businesses that people are actively searching for. In this sense, you are pretty much limited, unless you have a passion for plumbing services, say. Then you could build a website with information related to this niche.
2. Not minimum effort like what it is made to sound
This is my greatest dislike for the sales materials of Proximity, all hyped up, promising the moon, but you will never ever get instant results from this method, or any method for that matter.
Time and effort is needed to research and decide on the niche that you want to focus on, find a pay-per-call network that will work for you, apply for the affiliate links, register for a hosting for your website, register for a domain name, set up your WordPress website, install the plugin and set it up, and then spend months and months on building up your website content so that it gains authority in the search engines.
Only then will you start to see the first trickle of profits coming in. Earn within 24 hours? Who are they trying to BS.
3. Earnings are meager
After all the effort, the main monetisation using this plugin, which is earning commission off pay-per-call networks, is going to earn you peanuts. It's just like setting up a website and having Adsense as the only profit generating revenue. You will be lucky to get more than a dollar in a month, until your website traffic as been ramped up as it gets established.
Even people with a great following on their websites, those influencers in their own niche, do not rely solely on advertisement earnings.
The training in Proximity does include a bit of affiliate marketing, which is the method that many successful internet marketers are using, but because the core of Proximity is about finding certain services near the user, you can't just link them to a product that they are asked to purchase, there would be a mismatch. They have to be linked to some services directory, hence the very low earning potential for you, the website owner.
4. Upsells
Like any other product that lures newbies in with the promise of fast and big earnings, Proximity expects to dig even deeper into your pocket for promises of faster and bigger earnings. So if you buy into these, the product creators will be the ones to profit fast and big.
Upsell 1: $37 – Proximity done for you
Upsell 2: $47 – Case Studies pack + 3x your profits training + outsource for faster results
Upsell 3: $97 – license / reseller rights
Upsell 4: $397 – Super affiliate classroom
See how a person's greed can never be satisfied?
Proximity Review with bonuses – what's wrong with these?
As you do your research, you will see people all over the internet doing Proximity review with bonuses of their own, extra ones that they claim will add value to your front end product that you purchase.
Those are not real reviews, they are simply regurgitating what had been stated on the sales materials of Proximity, and trying to shove some irrelevant or useless bonuses, in a bid to get you to purchase the product through their affiliate links! They just want to earn off you as you make the purchase, that's why the jostling to have you buy from them and not the guy on the other YouTube video or website.
These affiliates themselves have never made a single cent using the product Proximity, and yet they are shamelessly singing praises of it and trying to sell it so aggressively. So now you see the dark side of the internet marketing niche.
---
I do not recommend Proximity because it is too hyped up. I do not like products that make empty promises just to make money for its owners. They are no different from these other hyped up products that I have reviewed before: Profit Robot, Traffic Multiplier, and Bulletproof Commissions, just to name a few.
If you want to make some serious money online, learn the proper way: add real value to your website visitors, that is the foundation for a long term sustainable business. Create tons of great content on your website, so that search engines trust you enough to give you authority and ranking. That is when you will truly get unstoppable free organic traffic that will convert and earn you a sustainable, full time income.
See how I am doing it:

---