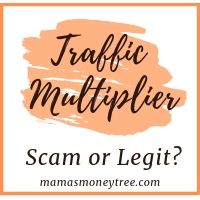 Heard about this newest product in town, and wondering: Is Traffic Multiplier a scam?
You're at the right place! Here we reveal it all – what you need to know, including what they don't want you to know. You can be assured this will be an honest and unbiased review, since I do not have any association with it.
So can this really generate traffic, leads and sales in 60 seconds? What does it even mean by 100% free tools? Is it really an automated profit system that can bank you 3+ figure daily profits?
We will answer all these questions and more in this article, where I will provide an in-depth review of Traffic Multiplier, through the following sections:
---
Traffic Multiplier: Review Summary
Product: Traffic Multiplier
Creator: Glynn Kosky and Leigh Kosky
Product type: traffic tools
Price: $22.95
Scam / Legit? : Legit
Recommended or not? : Not recommended
Newly launched on 9th of January 2019, Traffic Multiplier is a system which gives you some free tools like a page builder, push notification functions, and an email autoresponder which is free for only the first 30 days of subscription.
It is a legit product, but not recommended because the quality is not fantastic, and beginners really should not be distracted by these tools, which can come in after you start making some money online.
Without any of these tools, I succeeded in earning my online income, simply by focusing on what is needed to get me free organic traffic from search engines. Here's how I did it, check it out…

Read on for the detailed review of Traffic Multiplier, and why I do not recommend it.
---
What is Traffic Multiplier
Information presented in promotional video and landing page
As with any product I review, I started off with an open mind…
Traffic Multiplier is a 3-in-1 Traffic Triple Threat that turns any campaign into multiple profits. It is a hassle-free affiliate system without requiring any paid tools or services. You can apply this in any niche, with zero experience and technical skills required. It allows you to build two highly profitable lists in one, with free traffic.
The main problem, according to the sales page, that 95% of beginners struggle with is the cost of the tools needed to make a system work. They include:
email autoresponder to collect leads and send emails,
push notification software to send browser notifications, and
page building software to create landing pages.
Added up, these services can cost hundreds each month. Which usually tend to eat its fair share into whatever profits you may reap. Many marketers claim that they make thousands online, forgetting to account for the costs of the tools that went into making the system work.
That is why Traffic Multiplier is different.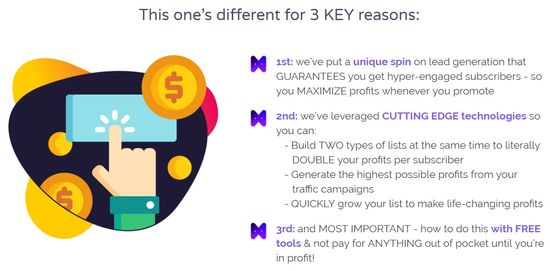 It allows you to build an online business from scratch, using only free tools, a goldmine that they had just uncovered:
100% free page builder that out-performs even the high-priced alternatives
3 separate push notification softwares, each with zero cost options to build your lists
a powerful email autoresponder that doesn't cost a dime to use for the first 30 days.
With all the income statements shown on the sales page, you are guaranteed of how well these tools work to generate profits instantly! (Yeah, right…who is able to verify that those income is actually made as a result of using these tools??)
With this system, you are shown step by step methods for making profits from scratch, without even knowing a single thing about marketing online (is that why they think people are so gullible to buy into their product, because they know nothing?)
Then at this point, as I was still scrolling through the sales page, I saw the face of Brendan Mace, giving his testimonial for the product. Straightaway, my impression for Traffic Multiplier plummeted. I have reviewed this guy's products before, all overhyped and will not deliver their promises of the moon.
Then comes all the bonuses, which I personally find irritating, because they are a big distraction from the main purpose of the original product. You may think, why, bonuses are great! They come for free! Well, yes… but if they are needed to make the system work at its best, then they should all be part of the package, and not marketed as 'bonuses' to distract you and make you feel like you are getting more than your money's worth.
More often than not, the bonuses thrown in with the original product are just some useless stuff.
Bonus 1: private VIP FB support group
Bonus 2: Quick start checklist
Bonus 3: Live Master training with Mister X (an unnamed marketer who has been crushing it with this exact system)
So, you can see for yourself how useful they are. If a product is that great, it should be created to run on its own, with the necessary stuff all packaged within.
What Traffic Multiplier really is
Obscure product owners
The first thing that strikes me, after reading through the entire sales page and viewing their promotional video, is that there is totally no mention of the creators of this product – Glynn Kosky and Leigh Kosky. It is easy to dig out this information, though. It just makes me uneasy that this simple detail is not made known to their potential customers, it gives the feeling that they are trying to hide something.
Basically, it is just…
Some plugins that allow you to build some push notification buttons, so you can build your push notification list. As a fact, you will not be able to generate a lengthy list out of this, as most people, including myself, will click on the 'disallow' button when they see this push notification option. So this is really not required to run a successful online business.
An email autoresponder that is free only for the first 30 days, so you can build your email list, and send your promotional materials to this list. There is only one instance throughout the sales page that makes it clear it is free ONLY for 30 days. Everywhere else on the sales page as well as in the promotional video, they give the impression it is completely free.
Page builder, for you to build your sales pages.
You don't need a website for Traffic Multiplier to work? Not true!
On the sales page, they say you do not need a website. So totally untrue!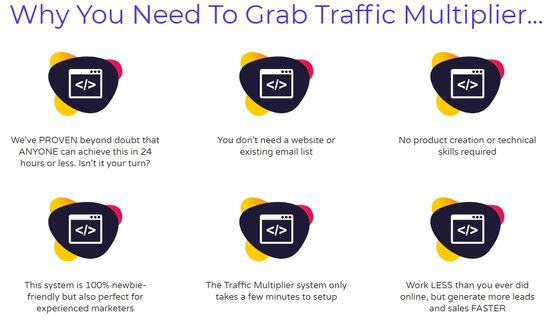 The first thing to do when you get your Traffic Multiplier is to download some plugins onto your website! How on earth could they say you do not need a website? Then the product that you just paid with your hard-earned money for would be totally useless!
So you see, they are missing out on so many important steps here. Setting up a website requires you to get a hosting service for your site, choose and buy a domain name, and set it up with your preferred themes and such, before it can be up and running.
This is just so unethical, trying to trick their customers by making everything seem so easy… just a few minutes to set it up, and you get to monetise your leads instantly. Wow.
Copy their proven traffic method? Which one?
They claim to have a traffic method that gets you laser-targeted leads. Erm, excuse me, which one is it?
All they have are very general and superficial training about free traffic and paid traffic. Which is what everyone knows, it's all over the internet for free, with much more worthy information from the real experts, rather than this low quality training.
95% of beginners struggle with high monthly cost?
The entire aim of creating this product is supposedly to help struggling beginners who are paying high monthly fees for tools like email autoresponder, page builder, and push notification.
To tell you frankly, I had none of these when I first started out building my online business, and I could get free traffic that converted well. As a beginner, you totally have no need for these paid tools. Only after you generate some income, and you decide you want to scale up, then it may be worthwhile considering a small investment on some of these peripherals.
When first starting out, I simply focused on building up the content on my website, so search engines see me as the authority in my niche. When people search for answers related to my niche area, my website ranks high in the search results, so they land on my site, interact with my content, trust me enough, and buy my recommended products.
I didn't have an email autoresponder until my website is well established in the search engines. Even then, I found a couple of good ones, that are completely free. Zero monthly subscription. Of course the features are limited, but it works perfectly fine for me.
Page builder? Nope, I do not have one, even until today. Free WordPress themes are more than enough to serve my needs, they are easy to use, and look professional and beautiful. I may get a page builder in the future, but it is really a want rather than a need.
Push notification? Nope, haven't needed them at all either. It can get overwhelming and irritating for my fans and readers. Email marketing works just fine for me, even then, I prefer to take the more subtle approach and give my readers their much needed space, rather than bombarding them with lots of marketing campaigns.
'for entertainment only'
Oh… and the biggest joke about this product is found somewhere right at the bottom of the sales page, in the disclaimer section. Take a look.

So we all agree that their content is to be considered 'for entertainment purposes only'? I have never seen this in any of the products I have reviewed. They must be so self aware that they are a joke, to make all those empty promises about what Traffic Multiplier can do?
So why should anyone trust that this product can help their online business in any way, when we are told to take all of the content on the sales page just for a good laugh? Oh my goodness… I'm so speechless.
---
Pros of Traffic Multiplier
1. 30 day money back guarantee
At least this basic refund policy is in place, for people who are dissatisfied with the product.
2. Well, you do get your software and training
No matter the quality, you do get stuff that you can download and try to work them into your own website, as well as some training videos.
Cons of Traffic Multiplier
1. What is promised on sales page does not translate into actual product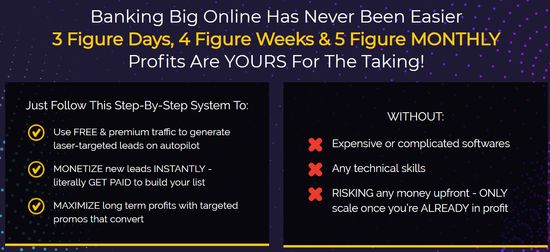 Instant monetisation as promised on the sales page? No, can't find this addressed anywhere in the product. Just the regular building of lists does not make this system earn you any money instantly. The promises are just too unreal.
No website required, is simply not true. Having a website or not, makes a big difference in one's business model. And this will be exposed once you start using Traffic Multiplier, that you really do need a website. So why the need for such a big lie? I simply cannot understand this part.
Copy proven traffic method, is another promise that is not delivered in the actual product. There is no traffic method that is featured here. It's just equal air time given to all the good old methods that everyone already knows.
2. Obscure owners
Why is there a need to hide? I cannot understand. I consider this a legit product, since you do get your free tools and training, it's not like they take the money and run off without giving any product in return.
3. Newbies really do not need these tools
Email autoresponders can come in when you get a substantial amount of traffic, otherwise you will be spending time on the marketing campaigns for a small number of readers, time which could have been better spent building up your content, which is the most important thing that any beginner should focus on.
Even when it's time to get an autoresponder, there are some good ones around that are completely free.
Page builders are, again, something that you may consider after you start earning some money, to beautify your landing pages and make them look even more professional than what you already have.
Push notification tool really does not add much value to an online business, in my opinion.
4. Upsells
As with any product aimed at making money for the creators, you can be sure to get hit with upsells once you purchase the front end product, even before you have a chance to try it out.
Downsells are the discounted price offered to you, once you try to click away from the upsells. And do take note that upsells are usually non-refundable, unlike the front end product. So always proceed carefully, do not click on the wrong buttons.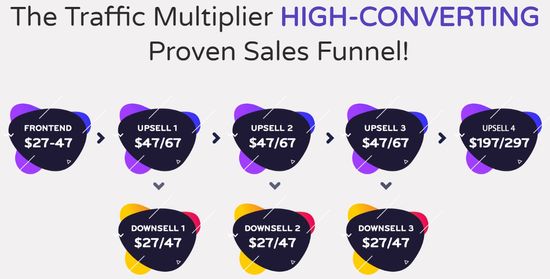 ---
I do not recommend Traffic Multiplier, because you really do not need these to get your online business going.
I have successfully built up my websites and am earning a side income online, from home, all thanks to this platform where I learnt everything I know today about internet marketing.
From setting up a website to getting free organic traffic from search engines, they provide step by step training to ultimately earn an income online, the proper way. With a free starter membership, you already get 2 websites and 10 lessons, all at zero risk, because you do not even need to provide your credit card details!
Give it a chance, this has changed my life, it could change yours too…

---