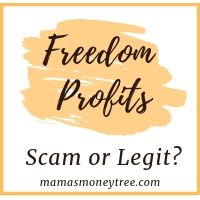 Let me guess, you must be just like me, intrigued to know exactly what is Freedom Profits, that can help a college dropout go from $15K in debt to earning a consistent 6 figure profits? With zero budget and zero risk? Is this even possible?
You can too, make full time dollars, in as little as an hour a day! Thanks to this simple system and underground software, you can scale it to a game-changing income without lifting a finger!
With no association whatsoever to this product,, you can be assured that my review will be totally honest and unbiased. So let's dig into it right now…
In this article, I will provide an in-depth review of Freedom Profits, through the following sections:
---
Freedom Profits: Review Summary
Product: Freedom Profits
Creators: Mosh Bari, Jason Fulton and Abdullah Ashraf
Product type: Freelancing tool and training
Price: $12.95
Scam / Legit? : Legit
Recommended or not? : Not recommended
Freedom Profits is a training guide to freelancing. It comes with a software that pulls out companies' emails from Yellow Pages.
Freelancing is a good old traditional way to make money while having the freedom to work from home or anywhere, and having the choice of what timing of the day you want to work, and how much you want to work.
It is a great way to make money, but you are still trading time for money. The less time you spend working, the less you earn. It's as simple as that.
It is a totally different make money concept from passive income. With a passive income channel, you put in the work now, and you will still get income rolling in months and years down the road, as a result of your effort now. So instead of trading your time for a one time payment, you are trading your time for future income that will sustain itself, and free up your time to do what you love, or to create yet another passive income stream.
Want to see how this can be done? Check out my #1 recommendation to making money online:

Read on for the detailed review of Freedom Profits, and why I do not recommend it.
---
What is Freedom Profits
To find out what is Freedom Profits, let's first try to shed some light by taking a look at their sales page and promotional video.
Right away, I get bombarded by lots of unrealistic income claims, with minimum effort, the usual tactic that targets at the human weakness of falling for instant gratification.
easiest way to make life-changing online profits fast, without ever risking a penny!
100% beginner-friendly
zero experience or skills needed
copy and paste this proven method, and get paid upfront every time
job-quitting income in 3 days from now
forget about paying for traffic, ads, or expensive tools
automation software to explode your results in the shortest possible time
scale it to a game-changing income without lifting a finger
Wow, I must say, all these claims are huge, and certainly make the product seem very attractive! But is there really such easy money in this world?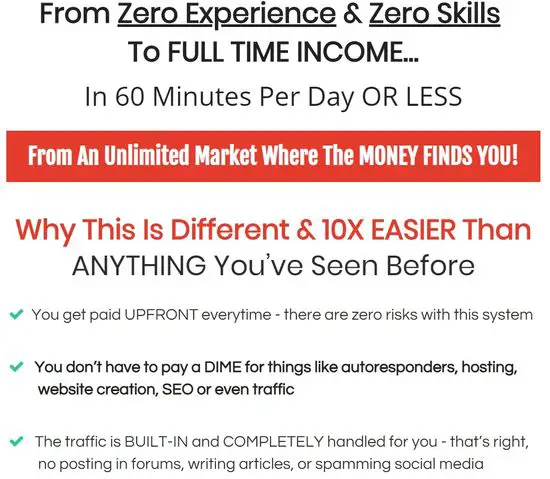 There're a lot more of these claims throughout the sales page, but nothing that lets on about the method, what strategy exactly are they proposing that will let you earn this job-quitting income, simply by working an hour a day.
So without any idea what this is all about, they expect you to just dump in your hard-earned money to buy the product. That seems rather unfair to their customers, doesn't it? You do not get to make an informed decision, but are simply lured in by big, empty promises.
What Freedom Profits really is
Now let's probe beyond the facade of 6 figure income with just one hour a day, to see what this product really is about.
Freelancing, that's what it is. It is not some secret method that is going to explode your earnings, it is just good old traditional freelancing!
Don't get me wrong, I have nothing against freelancing, in fact I am doing it myself, as one of my income sources. Freelancing is a great way to earn an income while having the freedom to work anywhere and anytime I want, without being tied down to a regular job.
But no matter what, you are still trading your time for money. And come on, there is NO WAY you can earn a 5 or 6 figure income simply by freelancing for 1 hour a day, who are they trying to fool?
Copy and paste their proven method? No skills or experience required? Again, more BS. Freelancing requires skills that companies value, that is why they are outsourcing it to you, to get the job done. If anyone without any skills or experience can do it, then why don't the companies just do it themselves and save the money? It's precisely a specific skill set that they are looking for, that is how freelancers are able to market themselves.
So I can safely conclude that all the content on the Freedom Profits sales page is there to bait you into buying the product, not to help you make an informed choice. The product works for the creators, not for you. It really goes to show just how little they care for their customers. It doesn't matter that you will feel cheated after finding out what is inside, the money has gone into their pockets, that's all that matters.
The software
The underground software basically just pulls out companies' emails from Yellow Pages, so you can supposedly contact them to offer your services.
This doesn't work, because they are not even needing your services. You will be wasting your time. You are better off without this software. Just get registered on the freelancing platforms, you will stand a much better chance of being engaged.
The training
In the training videos, they cover topics like identifying your skills and services that you can offer, signing up to various platforms, mass exposure, testing your skills, expanding your portfolio, and perfecting your proposal.
I would say these are of reasonable quality, the training and the tips taught in there are relevant in helping a beginner freelancer.
But in this internet age, you actually just have to do a search, and you will be able to find lots of great quality materials to help you out as you are starting out as a freelancer. You do not have to pay for any training course.
Bonuses 
Bonuses in digital products tend to distract more than add value. Look at the bonuses offered in Freedom Profits:
Bonus 1: Weekly live streams and updates
Bonus 2: VIP FaceBook community and coaching
Bonus 3: Templates, profiles and additional cash opportunities
Exactly how useful are these for your freelancing career, I really cannot comprehend.
My advice for a beginner freelancer
With my personal experience freelancing for writing jobs, here are some advice and tips that I can give:
Sign yourself with all the common freelancing platforms that you can find: Upwork, People Per Hour, Guru, Freelancer, etc.
Start small. If you ask for a very high fee, no one would ever engage you, considering you are just starting out and have zero experience. Lower your rates so that you land your very first job. When you are starting out, the purpose is not to earn money, but to build up your reputation as well as your portfolio.
You need to upload a decent profile picture onto all the freelancing platforms that you are on. Without a face, or with your furry pet as the profile picture, the trust cannot even begin to be built.
Portfolio: you may have nothing to show because no one has engaged you for any job yet. Still try your best to find some relevant work of your own, done as a hobby perhaps, or in college, that you can upload and showcase. Otherwise without a single piece of work to show, there is really no basis for any employer to want to engage you. For example, you would put up a report written by you previously for whatever purpose, in applying for a writing job. Or just do up a simple website, if you are applying to be a web designer.
Proposal: even before looking at your portfolio, proposal is the first point of contact that you have with the potential employer. First impression is too important for you to be sending a standard template as a proposal. Make sure you personalise it, write something which shows you have visited the company's website to learn about their profile, ask questions to clarify the job scope if it is not clear enough, highlight the edge you have over other applicants. Some employers, to make sure applicants read their job description till the end, they want you to include a password in your proposal, like 'rabbit' or whatever, just to proof you have read it all. So look out for these things.
Once you get a job offer, put your heart and soul into it, make sure you over-deliver so that the employer will give you full rating for your feedback. Do not weigh effort against monetary returns, especially when you are just starting out. Otherwise you will never go far.
Whatever job offer you land, try to negotiate with the employer to see if there is room for a long term agreement, within the platform of course. This way, you will keep having jobs without having to apply for them. This will in a way sustain your income, but the main reason is to build up your portfolio and trustworthiness in the field.
Once a job is done, remind the employer to give feedback for your service. This is very important.
You will know it when you have established yourself in the freelancing platform: people approach you on their own, or your applications seem to be getting a higher and higher success rate. You get the sensing of where you stand, now you can increase your rates accordingly, and earn your way to a full time income!
Passive income: better value for your time
As we all know, a freelancing job is still a job where you trade your time for money. The day you stop working, your income stops as well.
A much better way to use your time is actually to engage in something that can earn you a passive income down the road, which continues to earn you money even if you stop working on it.
The thing is, passive income takes time and effort to build up. While you are building it up, you may be earning too little for a living. So what many people do is to take on a freelancing job, while at the same time work on building up their passive income stream.
See how I have built my passive income here:
---
Pros of Freedom Profits
1. Real owners
Well, at least the owners of Freedom Profits are real people, we know who they are, and they are not trying to hide behind the screens.
2. 30 day money back guarantee
This basic refund policy is in place, for people who are dissatisfied with the product.
3. There is still some value in the training
Although you do not need to purchase a training course to start freelancing, great tips and advice can be found everywhere on the internet, I have to admit that the training does have its value, there is relevance, it is not just some junk. You will likely find the information useful.
Cons of Freedom Profits
1. Underground software is of no use
This is just something that pulls the emails of companies from Yellow Pages, so that it is more convenient for you to contact them. I seriously think it reduces your productivity if you even start using it.
2. Sound freelancing advice can be found for free on the internet
Rather than buying this product, you might as well spend a bit of time searching for the blogs or websites of established freelancers. I learnt a lot from there. Expert advice, shared by genuinely helpful people who are aplenty, who are also very different from those who try all means and tactics to make you part with your hard-earned money.
3. Upsells
Another very typical feature of products that try to rip you off. Once you purchase the front end product, you will be presented with all the upsells, before you even get a chance to try out the product, to see if it delivers whatever it claims or not.
Upsells are usually non-refundable, unlike the front end product. So please be careful. It is advisable to spend some time using the front end product first, decide on its worthiness, before thinking whether you should get the upsells.
Do not be pressurised into believing that without these upsells, the front end product will not be optimised for performance. Then you should be questioning why are the creators giving you a substandard product in the first place.
These are the upsells of Freedom Profits:
Upsell 1: $37 – Done for you Freedom Profits Systems
Upsell 2: $197 – Freedom Profits Guaranteed Success
Upsell 3: $47 – Freedom Profits Secret Strategy
Upsell 4: $77 – Set this up on Autopilot
Upsell 5: $97 – License rights
---
I will not recommend you to purchase Freedom Profits.
A freelancing job is a good way to earn some income, while having the freedom to build up your passive income that will keep the earnings coming in even after you stop working on it. With passive income, you can then use the time to build up other income streams, or simply take a break and spend time with loved ones.
The way to build a sustainable passive income is to have your own website. Do not be intimidated by this idea, I was exactly in this position not long ago, knowing nothing about website building and making money online.
I followed an awesome training platform that has since changed my life. It taught me the concepts of earning an income online, the proper way, that will lead to passive income down the road.
By building my own website, I own an online asset. Whatever I build upon it stays there, no one can take it away as it belongs to me, until the day I pass it down to the next generation.
As I build up the content on the website, my single storey asset becomes two stories, then three, and so on, until it eventually becomes a skyscraper. Because all the work just accumulates. You do not start from zero on a new day, neither does it go away when you take a short break. When you come back, you continue your efforts where you left off.
See how this whole online business model works:

---