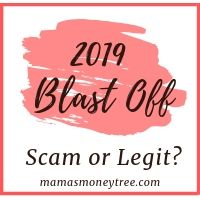 I am sure you do not want to be scammed of your hard-earned money first thing in the new year. That is why you are here to find out what is 2019 Blast Off, is it an effective method that can earn you $130 per day, or is it going to be yet another scam?
Kudos to you for doing your own research and not taking everything at face value, especially nowadays when it seems that worthless products are everywhere, just out to scam people of their money!
Let me assure you that I have no association with this product, so the honest review I am providing here is totally unbiased.
In this article, I will provide an in-depth review of 2019 Blast Off, through the following sections:
---
2019 Blast Off: Review Summary
Product: 2019 Blast Off 
Creators: Bill Hugall and Simple Spencer
Product type: Affiliate marketing sales funnel and training
Price: $7.99
Scam / Legit? : Legit
Recommended or not? : Not recommended
2019 Blast Off is basically some training videos that teach you to use Solo ads to funnel people onto your landing page where you promote a product. When people click on your affiliate link to buy the product, you earn a commission.
This is affiliate marketing, it is nothing new. This method taught in 2019 Blast Off is not the best way to do it, because you need to pay for traffic that may not be highly converting.
I am earning my side income through affiliate marketing as well, but I do it the proper way, which generates tons of free organic traffic to my website. Everything I learnt from scratch about setting up a website, choosing my preferred niche, creating content that will make search engines see me as the authority in the field, so they will send traffic to my site, I learnt through this amazing platform:

Read on for the detailed review of 2019 Blast Off, and why I do not recommend it.
---
What is 2019 Blast Off
To know exactly what is 2019 Blast Off, we take a look at their sales page and promotional video.
Very newly launched on 13th of January 2019, Bill claims that this is a business model that has been working for the past 10 years, and is going to work for the next 10 years. Except that they also wrote this is a method that no one else is doing. Hmmm… I really wonder who would believe this.
It is supposed to get you high quality targeted traffic, that will start you profiting in 24 to 48 hrs, to make 2019 your most profitable year online.
After reading the sales page and watching the video, I still didn't have a clue what the entire product is about. I do not like such sales tactics. This tells me they are using secrecy to cloak the product, and to pique your curiosity, at the same time promising speedy profits, targeting at the human weakness of going for instant gratification.
Take a look at this, which is supposed to tell you what is inside this system: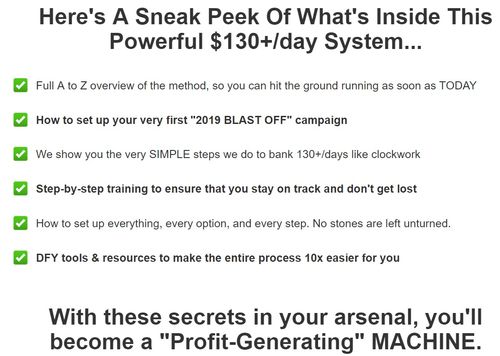 After reading it, are you any closer to understanding this product? The method they use to help you succeed, do you have any idea?
It is not fair to you, the consumer, to not have an inkling on what you are going to purchase. How do you even make an informed decision? What if the earnings are all empty promises? Do you really trust them?
No products or videos required, no list, no website, no technical skills required. Endless traffic, and 100% newbie friendly. This is such a standard script. I have seen and reviewed many products, all scripted like this, none of them has ever delivered anything remotely close to what they promise.
These are all aimed at people hoping to get rich quick. The only ones who will really get rich are the creators of these products themselves. Anyone with some experience in internet marketing will know to stay far away, because none of these will ever work.
What about the testimonials?
Well, these people I know too well, Mark Barrett, Art Flair, Eric Cagi, …. I have reviewed their products before, all equally hyped up and not delivering what they promised.
They are in this business together, targeting new launches at newbies every month or so, because when word gets around that their last products do not work, they will be out of business. So they are always ready and armed with yet another powerful system that makes you speedy profits, no experience needed!
This same group of people will always appear in the testimonials section when their friends launch any new product. They will be supporting each other to push the products up onto the pedestal, like it is some highly sought after secret method that has finally been revealed.
What about the raving reviews that are all over the internet?
Those are not from genuine users who have benefited from 2019 Blast Off. They are in fact affiliates, jostling to take a bite off the pie. That is why they are giving out their own bonuses, in a bid to entice you to buy the product through their affiliate links, so they get to earn a commission!
So of course they have to make it sound like this is the best product of the century!
Now you see the bigger picture of this internet marketing segment?
What 2019 Blast Off really is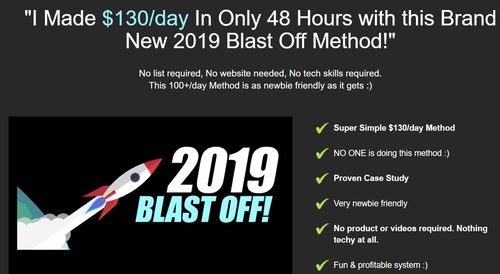 What it really is and exactly how it works, finally all revealed here for you to see:
Use Solo Ads to send traffic onto your landing page, where you are promoting some product. When people click on your affiliate link to buy the product, you earn a commission.
This is good old affiliate marketing. Nothing new. Nothing secret about it. Everyone is doing it, and yet they are shameless enough to say no one is using this method.
And Solo ads is definitely not the best way to do affiliate marketing, in my opinion. With Solo ads, it means you buy the access to somebody's email list, and have them email your promotional materials to them. So in the email, you will place the link to your landing page.
This method is no good because the traffic is not targeted. So even though you may be sending thousands of emails, the number who eventually end up buying the product through your affiliate link may be very small.
The proper way to do affiliate marketing
I am earning my side income through affiliate marketing, and I do not have to pay a single cent for my traffic. Because the search engines will send free organic traffic to me. Traffic sent by search engines are highly converting, because I provide the answers to what they are looking for. That is precisely why search engines saw the match in the first place.
See how I built up my affiliate marketing income from scratch:
---
Pros of 2019 Blast Off
1. Real owners
Well, if I really must find some good points about this product, then this is one of them. Though they do not have credibility in creating good products, at least they show themselves, and do not hide behind the screens like some people do.
2. 30 day money back guarantee
This basic refund policy is in place, for people who are dissatisfied with the product.
3. You do get your training materials
Regardless of its quality, you do get your training videos, and learn about the Solo ads method. That is all I have to say about the pros of this product.
Cons of 2019 Blast Off
1. You don't need this product to learn the method taught
Solo ads is one of the traffic methods to do affiliate marketing. You can learn this for free in many places, you just need a little effort to search for the best resources.
Even though 2019 Blast Off is sold at quite a reasonable price, I still think this $7.99 can be better spent, rather than thrown down the drain like that. How about giving it to the homeless guy down the street? It will be much more appreciated.
2. Not for newbies
Solo ads traffic method is not for newbies, as you need to know your email list sources well, if you want to get really targeted traffic from your Solo ads campaigns.
There are many free traffic methods, the most recommended one being organic traffic from search engines, as it is the most targeted and will convert at the highest rates. As you aim for free organic traffic, you are also building up your online asset, as you flood your website with content that matters to your audience. All these will be here to stay for many years to come, you won't have to go chasing after paid traffic.
3. Overhyped product
This is like many hyped up products, promising the moon, only to let you down. If you were a complete newbie, even with paid traffic (in fact, especially so), it is impossible to start earning in 24 to 48 hours, like what is claimed on the 2019 Blast Off sales page.
Even experienced internet marketers need time to get it right, if they have not done Solo ads before.
So the expectations are not real, the product is not marketed with you in mind, but solely to make money for the creators, they just want to push the product out to as many newbies who will fall for the bait as possible.
4. Upsells
As with any product meant to squeeze you dry, take a look at their upsells, also called OTOs (one time offers). The downsells are actually when you click away from the upsell on buttons that say something like 'No, thanks', then you are offered the same extra, at a discounted price right away.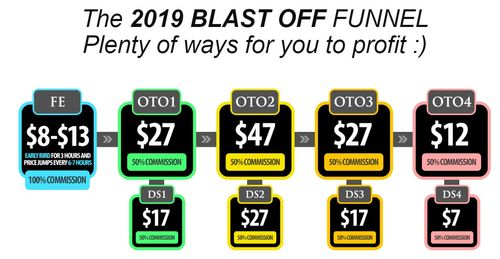 OTO1: Super simple $300/day method that can be used side by side with the front end product (Oh, now you say… why wasn't the front end product made to earn to $300/day then, instead of just $130/day? Why the holding back?)
OTO2: Full resale rights
OTO3: How to bank insane 5-figure days
OTO4: Buyers list building method
These upsells will be presented to you the moment you purchase their upfront product, even before you have a chance to see what the product is all about. It will seem like without these upsells, you may not get the front end product performing at its potential.
So you see, it's constant pushing of the product into your face, and once you buy it, you get even more hardselling, trying to get you to buy even more stuff from them. Oh and in case you have not thought about this, upsells are usually non-refundable, unlike the front end product. So please proceed with care.
---
I do not recommend 2019 Blast Off, simply because the Solo ads traffic method to affiliate marketing is a paid method, not suitable for beginners in the internet marketing niche.
Focus on free organic traffic, because at the same time it is going to help you build up the value of your online asset – your website. With free traffic that is highly targeted because they come from the search engines, you are going to see great conversion rates.
As you start earning, you can then decide to use some of your profits to dabble in paid traffic, which is a steep learning curve in itself. It takes time and money to master any paid traffic, which by then you will be able to afford, once your free organic traffic starts earning you a consistent monthly income.
See how I have learnt all about affiliate marketing and free organic traffic from this training platform which is free for starter members.
When I began looking for ways to earn an income online, I knew nothing about website building, how to get traffic to my site, and how to earn through affiliate marketing. Through this platform, I have now mastered the art of free organic traffic, and am enjoying the freedom of working from home, being my own boss, and being there for my family.
I want to share this with you, because everyone can succeed online, if shown the proper way to go about it.

---