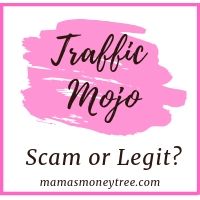 If you have landed here, you have probably heard of this latest product launched on the 12th of January 2019, and are thinking: is Traffic Mojo a scam? Can it be what you have been searching for, to give the traffic to your website a boost?
You are definitely at the right place. Here, without any association with Traffic Mojo, you can be assured we give the most objective and unbiased review of it.
A breakthrough software that creates viral memes to generate free traffic that will explode your affiliate commissions? Find the most popular social content to attract massive free traffic? What exactly is Traffic Mojo all about, and what does it do?
In this article, I will provide an in-depth review of Traffic Mojo, through the following sections:
---
Traffic Mojo: Review Summary
Product: Traffic Mojo 
Creators: Dan Ashendorf and Yves Kouyo
Product type: Traffic tool
Price: $27
Scam / Legit? : Legit
Recommended or not? : Not recommended
Traffic Mojo is a cloud-based software that searches for most shared content and images on social media platforms, creates memes out of them, so that you can share them on your social media to generate tons of free traffic, which will explode your earnings.
Knowing how online traffic works, I do not recommend Traffic Mojo, because it will not deliver. It focuses on the superficial things like memes and GIFs, which are great for social media sharing, but do not lead to targeted traffic that will convert into buyers of your products.
To trust your website enough to buy from you, your website visitors have to see you as the authority in the field. Solid content is what matters, GIFs and memes are for after-work entertainment.
Check out this platform in the red button below, which has taught me how to build up my website so that search engines rank it high in search results, sending loads of free organic traffic to me. This traffic is targeted and converts well, because I provide the exact answers they are searching for.

Read on for the detailed review of Traffic Mojo, and why I do not recommend it.
---
What is Traffic Mojo
Information presented in promotional video and landing page
Traffic Mojo is a system that sends you free targeted traffic, which is primed to buy your products. It does that by first finding out what already generates that traffic, then siphons it for your own purpose, to get you streams of free traffic.
This cloud-based software finds the most viral and most-shared content and GIFs on the world's largest social media platforms, whatever trending content that is getting massive traffic. It then takes those images, and converts them into red hot traffic using their Meme Factory.
It comes with an extensive library of quotes and images, that will pull audience like bees to honey (erm… I think bees make honey, they are pulled to nectar).
With 3.03 billion active social media users, social media is the largest driver of traffic on the planet. Memes and GIFs get shared like nothing else. So those who know how to work social media traffic get leads and sales like nobody else. They get engaged traffic that is ready to buy.
Traffic Mojo is for affiliate marketers, eCommerce store owners, bloggers, YouTube video marketers, social media managers, and anyone looking for more traffic. It works with all kinds of content: Instagram, paid ads, YouTube, FB posts, blogs, and online stores. And it is compatible with all browsers.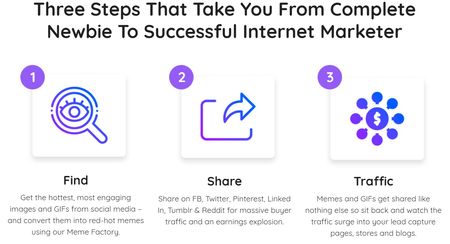 These are the 3 simple steps by Traffic Mojo, that will take you from being a complete newbie to a successful internet marketer:
Find the most viral images and GIFs from social media, and convert them into memes using their Meme Factory.
Share them on your social media.
Sit back and enjoy your buyers traffic and earnings explosion.
What you will get when you buy Traffic Mojo:
Find trending content on Instagram, Twitter, Pinterest, Imgur and Giphy (how about FaceBook and YouTube? Why are these popular social media platforms not covered?)
Post / schedule campaigns on FB, Twitter, Pinterest, Linked In, Reddit, and Tumblr.
30 campaigns per month, up and running in 10 minutes.
Campaign tracking to monitor your performance
Pixabay integration
Create engaging quotes and memes with built-in designer
One-click sharing of campaign on social media
Add custom messages and hashtag to campaigns
Library of over 5000 quotes and images
And these are the bonuses that come along with it:
Live training – secrets to a six figure affiliate marketing business, from a super affiliate.
Sales page magic – software that creates sales pages for your products.
Funnel Master – to generate sales.
Social Media Detonator – learn how to develop your website so it has the best social media apps.
Viralicity – learn the elements you need to create a viral campaign.
What Traffic Mojo really is, and why will it not work for you
Creators, testimonials…
First, I want to point out that the creators of Traffic Mojo are known for making hyped up products. If a product is really that good, you just have to stick with that one and keep promoting it and selling it to people, and it will sell because it is good.
If a product is no good, then you have to keep producing different products because word gets around that the last product does not live up to expectations after all, so sales will decline after the initial hype and excitement during its launch, when no one knew better.
Moreover, if you look at the testimonials on the sales page of Traffic Mojo, those so called top marketers are actually all friends with the creators, all chipping in to give testimonials whenever someone from the group launches any new product. I know because I recognise them straightaway, having reviewed many of their products, all of which I never recommended.
They are all in the same business, churning out new products every month or so, in a bid to rip off unsuspecting newbies. with their well-pitched marketing tactics.
Great reviews all over the internet
As you do your research about Traffic Mojo, you will also find lots of raving reviews about it, all over the internet. You will see a pattern: they all offer extra bonuses of their own, on top of what is offered by the creators of the products, in an attempt to entice you to buy the product through their links.
Those are their affiliate links. They are affiliates of Traffic Mojo, and will earn a substantial commission out of it when anyone buys it through their affiliate links.
That is why they are singing praises of it, even though I'm quite sure none of them benefited from Traffic Mojo at all. I hope this has helped open your eyes to this internet marketing world.
The problem with Traffic Mojo
The main issue with this product is that it focuses on superficial stuff like memes and GIFs. Yes, it may get you traffic. So what if you get hundreds of thousands of views, and tens of thousands of shares. Are they going to convert like crazy, such that you get a huge explosion in your earnings?
The main problem with social media traffic is that it is not ready to buy. Unless you already have a social media presence, and have your own loyal following, or a fan base. Then whatever you say or recommend would be taken as the golden edict.
If you are not a social media influencer, social media is actually not easy to work with at all. Views and likes do not lead to sales. Shared viral content does not mean you get primed traffic that is ready to buy.
This is because most people go on social media for recreation, during their lunch break, or after dinner at home. Sharing funny or clever stuff increases social interaction, and is a basic human need. But it simply does not make people start buying, because they were not looking to buy anything in the first place.
The sales page of Traffic Mojo also claims that those who don't use social media traffic struggle with expensive paid ads, with a low return on investment, and low sales.
How totally WRONG is that?
Newbies in the internet marketing world, or beginners who are looking to make some money online may believe that statement. Let me tell you now, what gives the most targeted form of traffic that will have a very high conversion rate.
It is called organic traffic, and it is totally free. It comes from search engines. When people look for something to buy, or search for answers to their problems, search engines send them to sites that are able to provide what they are looking for.
So the focus of any online business should be to build up on their content, with the genuine aim to help people in the niche area. This will make your website become the authority in the field, and you get massive traffic sent to you for free, from search engines.
Once you build it up, it is yours to stay. You will still be getting traffic years down the road. This way is a sustainable method to making money online, and this is how passive income can be generated. Learn how it can be done here:
---
Pros of Traffic Mojo
1. Real owners
Yes the owners are real, we know who they are, we know they are real people. Though they do not have a lot of credibility in producing great stuff, but at least they are not hiding behind the screens.
2. 30 day money back guarantee
This basic refund policy is in place, for people who are dissatisfied with the product.
3. You do get your Meme Factory
No matter the usefulness of Traffic Mojo in exploding your income, you do get access to a program that can search for viral contents, build your own memes, and schedule it for sharing on some social media platforms. Maybe you get some surge in traffic, but I can't say the same for conversion of the traffic into buyers.
Its Cons
1. It works on superficial stuff
Memes and GIFs, to me, are superficial stuff, great for helping one relax after a rough day at work, but not for if you are trying to establish yourself as an authority in the field. Unless the field is the entertainment industry.
2. Social media traffic is not targeted
Since you are expecting your memes and GIFs to be shared all over the place, the traffic that you get is definitely not going to be targeted enough to buy your products or take up your recommendations. This is the main issue with this product, which means it doesn't serve its purpose of increasing your business profits at all.
3. There is actually not much value in this product
Besides not serving its intended purpose, even if you just want to have some fun creating your own memes, there are many softwares and apps which you can use for free.
The materials offered in the bonuses section of Traffic Mojo, can also be found for free, once you know who are the established and successful internet marketers whose business models are the same ones you use. You can easily find their blogs, and start learning about creating high converting sales pages, funnels, and campaigns.
4. Upsells
As with any product aimed to squeeze the last bit out of you, Traffic Mojo has upsells that will be presented to you, once you purchase the upfront product. If it is really that good, why do you need endless upsells that are marketed to you as making the original product work better? Why are they holding back on these features in the first place when selling the original product?
Upsell 1: $47 – unlimited campaigns, 25K+ images and quotes, scheduling for Google+ and Linked In, recurring campaigns, etc.
Upsell 2: $67 – Mojo Club, 1000 done for you images every month
Upsell 3: $67 or $97, depending on the reselling package that you take.
Upsell 4: $97 – 12 weeks of group coaching
5. Two different pricing
Something I really do not like about Traffic Mojo, is the two pricing on their sales page.
$25 for lite, $27 for premium.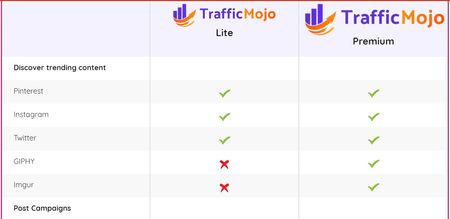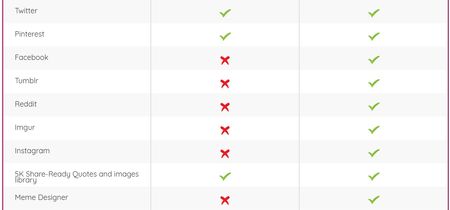 The lite version excludes so many of the features promoted fervently on the sales page, like much more limited social media platforms on which searches for viral content are performed, and scheduled for sharing.
The most ridiculous thing is the lite version does not have the Meme Factory! Isn't that what Traffic Mojo is mainly built around? To search for viral content, use those viral images to make your own memes, and share them around?
With a mere difference of $2, no one will be going for the lite version since it does not even include the Meme Factory. So why make the differentiated pricing in the first place? This is something that bothers me.
---
So, I do not recommend Traffic Mojo.
Targeted traffic comes from people who are actively searching for things, on search engines. They know what they are looking for, whether it's a birthday gift for a nephew, or the best smoothie blender. Or they may be looking for ways to relieve their arthritis pain, or the best vegan diet program.
These are the people who are primed and ready to purchase.
So based on their search terms, they choose some of the websites on pages 1 to 2 of the search results. If they land on your website, which seems to provide very relevant and expert information on what they are looking for, then they may take your recommended products, or they may bookmark your site and come back to interact more with it in the near future.
So how do we get our websites to rank high in search engines? By producing enough quality content to make the search engines see us as the authority in the niche area, we will get great rankings.
In this way, you get free, targeted organic traffic. This is the way to go, in any online business. And it is exactly what I am doing now, to earn my side income from home.
Everything that I know today about making money online the proper way, I learnt it through this amazing training platform and community, which taught me to build my online business from scratch.
From setting up a website in a few simple steps, and finding the niche area that I am passionate about, to building up content to get free organic traffic, and monetising it through affiliate marketing, I learnt it from here:

---