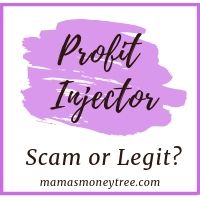 These questions must be spinning in your head right now: What is Profit Injector, and how exactly does it work to earn you your next paycheck? This article reveals everything about Profit Injector, including stuff that you are not meant to know.
Newly launched on 7th of January 2019, it promises the moon, with very little work required on your part. How is it even possible to get gigantic YouTube profits without ever uploading a video?
Too good to be true? High chances of it… Let's dig into Profit Injector and see for ourselves if it is a real deal, or yet another scam.
In this article, I will provide an in-depth review of Profit Injector, through the following sections:
---
Profit Injector: Review Summary
Product: Profit Injector
Creator: Jamie Lewis
Product type: YouTube advertising of your affiliate links
Price: $47 + upsells
Scam / Legit? : Legit
Recommended or not? : Not recommended
Profit Injector is basically a system that performs a search on YouTube channels for vacant lots where you can park your affiliate link in the description below the video, for free! Through targeted viewers' clicks, when they purchase the product through your link, you get your affiliate commission.
This method supposedly drives free targeted traffic to your affiliate links, without you having to produce any videos of your own. You are simply latching on to other people's videos on YouTube, and just watching the commissions roll in.
It sounds good, and is quite a novel idea. Why has nobody thought of this before? Because it simply doesn't work. Just think, who in the right mind would give away money-making opportunities for free? Why don't they keep it for themselves? People making videos that go viral, you can be sure they would be monetising it for themselves, there's absolutely no reason for them to throw it away.
If you don't want to waste anymore time on useless products, check out my #1 recommendation below, to see how I am making money online, the legitimate way:

Read on for the detailed review of Profit Injector, and why I do not recommend it.
---
What is Profit Injector
If you watch their promotional video to find out what is Profit Injector, it first shows Jamie Lewis trying to sell you the product, amidst a whole pile of cash. I'm not sure about you, but that didn't go down well with me. Instantly, it tells me this is all hyped up, a very common gimmick used to target the human weakness for easy money.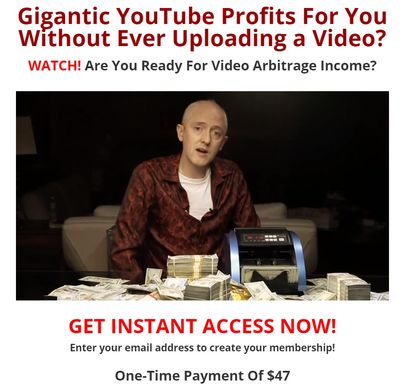 He goes on to say that this video is going to be published only for a limited period, for reasons of confidentiality. This is yet another gimmick, to create fake scarcity. If it is such a great product and everyone is clambering to buy it, do you think they will say no to the money?
Next comes the mandatory income claims: he made $16K in his first month doing this! Well, he can say whatever he likes, there is just no way that we can be sure his success is really based on this method.
Video arbitrage is what Profit Injector is about: placing your own affiliate links in free video ads, and making money from someone else's YouTube video. without you having to create a single video of your own.
His system, or engine as he calls it, will do a search for you, once you are logged in and have keyed in your niche area. It will find you targeted videos that match your niche, where you can place your affiliate links for free, and they will convert with high rates. This is because your promotion is right for the video.
In other words, you benefit from a viral video's traffic, for free, because people will click on your affiliate link, and if they buy the product in your link, you make a commission. This is such easy money, people are doing all the work, you do nothing but count the money rolling in.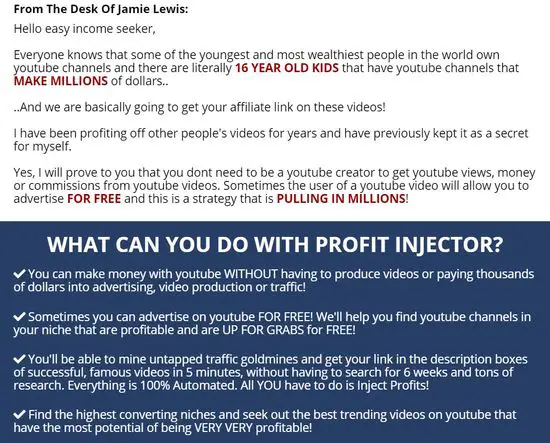 Jamie spent $17K out of his own pocket to develop this system, so you can be sure it works! He has made tons of money using this system, as you can see from how he constantly puts a stack of notes into his counting machine and lets it run, throughout the video he is doing this. This part really irks me to the point that I cringe the moment I see him reach for yet another stack of cash!
How Profit Injector really works
Ok, despite how negative I sounded, I have to admit there is a slight chance that this may work, provided the engine is really powerful in searching for relevant and targeted videos that will cater to your specified niche.
But it is not zero effort from your part like what it is made to sound.
What you need to do, after the engine finds the videos with free advertising space, is that you need to approach the owner of the YouTube video, and propose to him or her your affiliate link that you would like to place in the description of the video.
Then you have to negotiate a payment terms with the video owner, where he or she will get a certain amount off the commissions that you earn. So effectively you are sharing your commission, and this works like a pay per click ad, except that you pay only when you make real earnings, if the owner of the video can actually accept that.
If the owner of the video insists on an upfront payment, regardless of how much sales you make, then it may not be so risk-free for you afterall. Or even a pay per click form of payment, may not be good for you, if the conversion rates are really low.
At the end of the day, you do have to pay, it is not totally free advertising.
Will Profit Injector work for anyone at all?
Very basic common sense will tell you that there is no such thing as a free lunch in this world. If a video has any targeted traffic, you can be sure the creator would be more ready than you to monetise it for himself or herself, by placing his or her own affiliate links in there. Why would they be satisfied with sharing the profits, when they can get the affiliate links for themselves and get 100% of the commission?
Ok even if the engine can really find some YouTube video that has not been monetised by the owner, it is more likely than not that the video is not targeted at any specific audience, so the creator probably uploaded it just for fun. Then you won't be getting much traffic to your link that will convert and actually purchase the product in your affiliate link.
So in any case, this Profit Injector is not the explosive income earner that it is made out to be. There may be some earnings, but ultimately it may not be worth the time that you spend in negotiating the deal, not counting other negotiations that may not have gone through.
But… affiliate marketing does work
Yes, affiliate marketing is a very legitimate and lucrative way to earn an income online. But you have to first steer your mindset away from easy money.
To attain success in anything that we do, it requires hard work. There is no short cut around this. If you can accept this idea, then I can show you my #1 recommendation, which is exactly how I'm earning a happy side income right now, while being at home full time for my kids.
This is the training platform that I am with, which has taught me everything I know today about affiliate marketing, from zero knowledge about making money online, to where I am now, building my online business into a full time income, all from the comforts of home.
It has a free starter membership, where you get 10 lessons and 2 websites, absolutely for free, no credit card details required. Are you game enough to give it a try and change your life from this day onward?
---
Pros of Profit Injector
1. Real owner who is successful as an internet marketer
We do have to give credit to Jamie Lewis, for being a success in this niche that he is teaching. The training videos and PDFs that come along with this product will add some value to you, especially as a beginner, since you will be learning from an expert in this field.
2. 60 day money back guarantee
This basic refund policy is in place, for people who are dissatisfied with the product.
3. You get to choose your own niche
The Profit Injector does not limit you to promoting digital products like many crappy programs do. So you get to choose your own niche, which is great because you can use this method in whatever niche that you are already working on, whether it's health, travel, or any hobby.
4. You may possibly make some earnings, but they are not likely to be huge
If there are huge earnings to be made, you can be sure the owner of the video would have jumped at it, there would be no chance for you. So if the video is not currently being monetised, then there is a high chance that you will not earn much from it.
Its Cons
1. You do not own the YouTube video
This is the major drawback of using Profit Injector. You invest a lot of time in finding a good video that you can place your affiliate link in, but once the owner decides to take yours down and put in his own, there it goes, all the effort down the drain. You do not own the video, so you have absolutely no control over it.
2. Not minimum effort like what it is made to sound
Negotiations take time and energy. It is not as simple as it seems. And there is nothing to hold the video owner's word for it, unless you are going to write out an agreement, which takes even more resources. Depending on your luck, you may have a smooth encounter with people of integrity, or you may experience the lesson of a lifetime with the most difficult person ever.
3. Upsells
As with any product in the internet marketing niche that aims more to make money for the owner than to help its customers, you will be presented with expensive upsells right after you purchase the upfront product.
You will be pressured into buying them, as they will improve the performance of using the original product in earning you profits. That's the way these things are.
So for Profit Injector, here are the upsells:
Upsell 1: $197 training class
Upsell 2: $97 training class for 6 months
Upsell 3: $297 Profit Injector business in a box
---
I do not recommend Profit Injector to anyone, because of its major drawback that you are tagging on to other people's online property.
To make your time and effort worth it, you should be working on your own online asset.
I am also using affiliate marketing to earn my side income. But the way I am doing it, I can be assured that all the energy I pour into the business today is building it up, it does not go to waste, because I own it. From the foundation, I build it up one level each time, until it becomes a skyscraper.
Anytime that I stop work, whatever I have built up stays there, waiting for me to return to working on it. Nobody can take it away from me, because I own it. Take a look at how I built up my online asset from scratch, with zero technical know-how. If a dinosaur like me can do it, I believe anyone can:

---