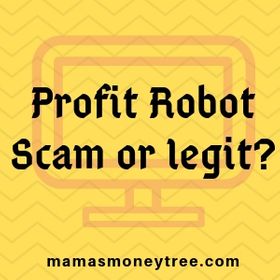 I was intrigued by this product, there was so much hype about it in the internet marketing world. So I set out to find out what is Profit Robot, just like what you are doing right now.
It is a very newly launched product, born on November 30, 2018.
At first glance, it looks like something I'm all too familiar with, but to give it a fair review, I still have to take a closer look.
And here in this article, I will go through what I uncovered about Profit Robot, through the following sections:
---
Profit Robot Review Summary
Product: Profit Robot
Creator: Art Flair and Pallab Ghosal
Product type: Sales funnels and traffic generation training
Price: $47 (discounted price at launch was $12.97)
Scam / Legit? : Legit, as you do get your sales funnels and traffic generation training
Recommended or not? : Not recommended
Profit Robot is a very typical all-done-for-you product, targeted at beginners to internet marketing, with hyped up promotional video and sales landing page to make earning money online seem so easy and effortless.
It is not recommended because it may get you some initial sales when the product is new, but what you are selling to your customers through the sales funnels are not good quality stuff.
As reviews of those products get out there, nobody is going to fall for the sales funnels. So your earnings through Profit Robot are going to die off after the initial boom. And you would have earned for yourself a bad reputation as well.
If you are tired of wasting your time and money on useless products, check out my #1 recommendation to make money online the proper way:

Read on for my in-depth review of Profit Robot.
---
What is Profit Robot – its claims vs the truth
When watching the promotional video to check out what is Profit Robot, the first thing that struck me was the claim of being able to make $444.80 per day with this product. And that's with just 20 minutes of work everyday.
This is achievable because 95% of the work has been done for you, you just have to send traffic to the sales funnels, and your profits become automated. Wow.
What actually happens is, you will be earning commissions as your traffic buys the products in the sales funnels. And this is called affiliate marketing. Which is legit and can earn you a good income, but definitely not by using this model in Profit Robot.
The first red flag: high earnings with very little work.
Their sales funnels are said to be tried and tested, and proven to convert. The sales landing page of Profit Robot also claims that the automated process practically FORCES your traffic to buy offers from you.
I really didn't like the sound of that. See how the focus is on earning money, without giving any value to your traffic? The ethics of this approach is entirely opposite from how I would like to run my online business.
Anyway throughout the entire sales pitch, this idea keeps being drummed into the viewer's head: that everything is automated, all you have to do is sit back and see your earnings pour in without promoting anything.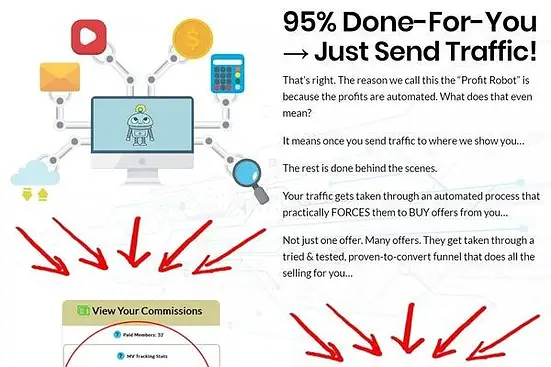 What's more, it is so newbie-friendly, you don't need a website or an email list, you don't need to create any product, and best of all, zero experience required. Anyone can do this, because it does not require many of the things that other money-making methods do.
It simply does not work like that 
To make money online, the Profit Robot method simply does not work. When the product is new, it may generate lots of curiosity, so people may buy in when there are lots of promotional campaigns going on.
By the way, as you try to do further research on Profit Robot, you will see lots of positive reviews around. Those are its affiliates, who earn a commission when people buy Profit Robot through their affiliate links. That is why they are fervently promoting it, throwing in their own bonuses and stuff.
So what are in the sales funnels that your traffic are 'forced' to buy? They are digital products in the internet marketing niche, very similar to Profit Robot but named differently, also promising lots of earnings with very little effort, as well as training that claims to help you succeed. That is how these money making schemes work.
And do you think your traffic is going to be happy with the products after buying them? Products that make empty promises and do not deliver up to expectations?
Where is your traffic going to come from?
If you don't have a website, and you don't have an email list, who are you going to send to your sales funnels? Your friends and family on FaceBook? Groups that you join on FaceBook? This is exactly one of the traffic sources covered by the Profit Robot training: FaceBook posts. And also other social media traffic.
After you get these free traffic coming in, you can supposedly scale up using paid traffic.
So are you going to do this day-in, day-out? Post, pin, tweet and Insta every single day, looking for traffic to send to your sales funnels? Isn't that a lot of work and very time-consuming? And are you sure you want to spam on every social media platform? Haven't you seen enough of how irritating it can be?
More importantly, social media traffic is usually not targeted at all. For instance, if you were in a make money group, there would be more people trying to offer their make money schemes than those trying to look for make money offers.
And social media postings get hidden by all the buzz and newer postings very quickly. So the traffic generation methods taught in the Profit Robot training is really not going to make it.
And if you have not established a brand or name for yourself, no one on social media would trust you enough to buy from you.
In fact, the best and most targeted kind of traffic is free too, and it is from search engines, called organic traffic.
When people go on search engines to find a solution to their problem, websites that are trusted by the search engines, and are the authority in the niche, are given page 1 rankings, so people can click on them and find their answers.
To succeed on the internet, this is what you must have: a website on which you can establish your brand, build a loyal following of readers who trust you because you are genuine in solving their problems and helping them. Then search engines will send massive amounts of free traffic to you, and you get to earn naturally, by promoting the best products that can help your visitors.
That is the way to succeed, and that is how I have done it, and that is how you have found this page. Don't panic, if you don't know how to build a website.
When you have a 'storefront' on the internet, which is your own website, people who find value in it will keep going back, and you would have built up your brand and following. Your happy visitors will be the ones to help you promote on social media, you do not have to do this marketing yourself.
The training provided by Profit Robot
Here are the 12 training modules in Profit Robot that try to teach you about driving traffic to your sales funnels.
Module 1: Introduction to Profit Robot (it basically explains the 2 done-for-you funnels)
Module 2: Why this is so powerful – part 1 (all the hype again)
Module 3: Why this is so powerful – part 2 (with more focus on what the funnels can do for you)
Module 4: Turn your FB posts into free clickable ads (a.k.a. spam)
Module 5: How to get buyer traffic for free – part 1
Module 6: How to get buyer traffic for free – part 2
Module 7: Get free social media traffic
Module 8: Scale up get more traffic (this is for paid traffic)
Module 9: Siphon traffic like a pro
Module 10: Get even more traffic
Module 11: More about hight quality traffic
Module 12: Summing up
The total duration of these training videos add up to a whooping 22 minutes.
If it were this siimple to get traffic, wouldn't everyone be rich by now? Do you think sitting through a 22 minutes video training will get you sales instantly, what it takes successful internet marketers months or even years to build up?
Social media is not simple to master at all, for any online business. Nobody starts off becoming an influencer instantly. These platforms are great for socialising, for catching up with friends. But to work them into an online business, it takes an experienced pro who has already established himself or herself with a website, that would be first and foremost for any online business.
To start a business, you have to work at it, create content that will help people in your niche, so search engines will give your website high rankings. When people look for answers to problems they encounter, through the search engines, they get directed to your site.
If they find the answers they are looking for, they spend time reading your articles, interacting with your site, and search engines get this feedback, they will send more people to you. That is how you get free organic traffic.
And that is how you establish yourself in your chosen niche, know your customers through the interaction they have with your website, nurture the relationship with them through email marketing. Only then will you know the ins and outs of using social media to grow your traffic.
The training platform I went through to learn affiliate marketing the proper way has 50 core training lessons that allow me to put the training into practise, in a step by step, check off as you do type of format.
The first 10 lessons are free to start. Even in the free section, I already learnt much more than what I did with any other resources combined.
And the great thing is it works! I know because my websites are ranking, all I did was follow what is taught in the training, and I can make money online in any niche area that I choose. I am not limited to promoting low quality digital products and courses.
---
The pros of Profit Robot
1. 30-day money back guarantee
At least this very basic refund policy is in place, for dissatisfied customers.
2. Legit materials
You do get your sales funnels and training materials. But how useful they are in earning you an online income that is sustainable, is really what you have to question.
Cons
1. Who are the owners
I do not want to say too much here, but just want to point out that you just have to do a simple search of the owners of Profit Robot, and you will get to see what kind of products they are known to create.
2. Count down timer is fake
It creates a false sense of urgency, encouraging more people to buy the product before they could think twice or do more research about it. This is a typical gimmick used by many internet marketing products.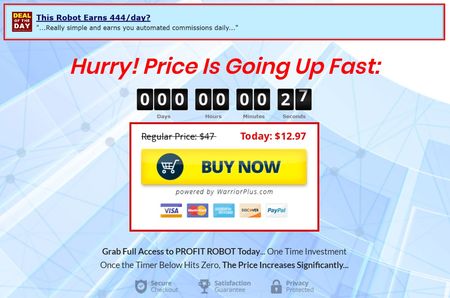 3. Fast cash, big bucks with no effort
Another typical one, targeted at the human nature of instant gratification. Who does not want to earn fast and earn lots, without having to do any work? I would love that too, but I know there is no such thing as a free lunch in this world.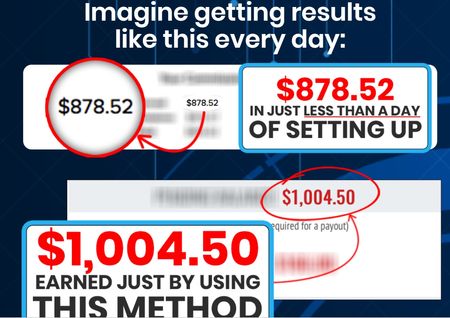 4. Upsells
I don't know about you, but I hate upsells. I always feel cheated when told that I have to spend more in order to streamline the original product, make it work better, blah blah blah.
Look at the upsells in Profit Robot:
Upsell 1: 10x Profits Case Studies Pack – $27
Upsell 2: Done-for-you Platinum Pack – $37
Upsell 3: Unlimited Traffic Pack – $197
Upsell 4: Reseller's License – $97
Upsell 5: Mastermind + 3 coaching calls – $97
5. Affiliate marketing just does not work this way
To earn any money online, there is no way automated machines are going to get you anywhere. Those who buy from you are real people, you need to let them see how authentic you are in trying to help them, before anyone will trust you enough to believe your recommendations.
And would you believe those products in the sales funnels yourself? Until you can show yourself that you can earn a decent and sustainable income by using Profit Robot? Or are you going to just blindly promote unknown products to your customers?
---
Scam or legit?
I would not call Profit Robot a scam, because it does deliver the sales funnels and training materials to you. If you do not care much about your reputation, you can also go ahead to use it to promote products that you have not tried out for yourself, and try to make some money out of it.
---
Recommendation
Now that you have seen what is Profit Robot, I certainly would not recommend it, because I know how to tell good and bad products apart.
Affiliate marketing is about building up your website to help others, so that you rank well in search engines and get massive traffic which is free and organic. It is not about having some done-for-you funnels, and spamming on social media to get people to buy whatever the funnels are promoting, it just doesn't work this way.
See the awesome stuff taught in the training platform below. Just take a look inside the free member section, and go through the 10 lessons there. You would have set up your own website in some simple steps, and learnt how to start populating it with great content that can rank well.
This is how you can earn money online the proper way, which is going to make you a sustainable passive income in the years to come.

---