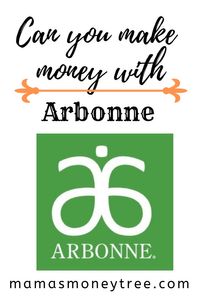 If you landed on this page, you must be checking out Arbonne pyramid selling scheme because someone is trying to sell you the business opportunity. Or somebody is promoting some Arbonne products to you, so you are researching on how legitimate and safe they are.
You are at the right place. I am not associated with Arbonne in any way, so you can be assured that my review will be an honest and unbiased one. On the other hand, I had one foot step into an MLM (multilevel marketing) company before, and saw enough pretty quickly to step right out. So I will give you an insider view of how companies like Arbonne work.
In this article, I will provide an in-depth review of Arbonne, through the following sections:
---
Arbonne: Review Summary
Product: Arbonne
Creator: Petter Morck
Product type: MLM (multilevel marketing) company in the personal care, beauty and nutrition niches
Price: $79 registration fee, $30/year (2nd year onwards) + monthly minimum order requirement.
Scam / Legit? : Legit
Recommended or not? : Not recommended
Arbonne is a legitimate MLM company, manufacturing great products in the health and beauty market, with great focus on using only the safest and best ingredients. I believe their products are top quality. But so are the prices, they're tops too.
No matter how fantastic the products are, the main problem with any MLM company (including these that I have reviewed: Amway, Forever Living, Jeunesse) lies in the core of their business model, which just does not work out for the vast majority of their distributors. 90% do not make money with Arbonne.
Instead of working your butt off to support other people's luxurious lifestyle, why not use the time and energy to build up your own online business? Something you are really passionate about, be it sewing, fishing, parenting, or even traveling, something that you really love, instead of pushing health and beauty products into people's faces when they really do not need those expensive stuff.
Check out this platform that has allowed me to build up an online income, through my very own business, allowing me the flexibility of working anytime and anywhere I want. I can even build it further into a passive income. See how it can be done by clicking on the button below:

Read on for the detailed review of Arbonne, and why I do not recommend it.
---
What is Arbonne
A brief history of Arbonne
Petter Morck founded Arbonne in 1975, producing beauty, personal care and health products, setting the vision for being a 'green' company, using only beneficial ingredients.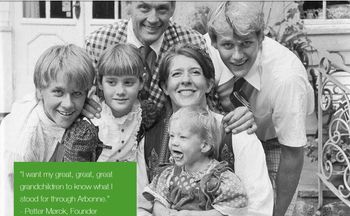 With the focus on manufacturing only pure, safe and beneficial products, along with his prior experience working in a direct sales company, he along with some chemists brought Arbonne to great heights, running on the business model of an MLM (multilevel marketing) scheme.
With current annual sales in the range of $500 million, Arbonne is quite an old name, past its glory days, but still hanging in there mainly because its products are good.
Arbonne Products
In the nutrition department, they boast of phytonutrients using botanical extracts in their products, with key ingredients being pea protein, milk thistle, red clover, and green tea. Products include:
daily health supplements
targeted health supplements
weight management supplements
sports nutrition products
In the skincare department, they have a whole range of value packs, all using botanical ingredients known for specific beneficial properties. Renewal serum, neck cream, toner, facial cleanser, eye cream, sunscreen, moisturiser, cellular renewal mask, etc. You name it, they have it.
In the bath and body department, there is an entire spectrum of baby care, aromatherapy, spa and personal care products for head to toe. Ingredients are safe and natural.
In the makeup department, products are made to nourish and protect your face, eyes, and lips.
As you can see by now, Arbonne has you spoilt for choices with their broad range of health and beauty products. I have no qualms about their product quality, even though over the years, there were at least 6 instances of product recalls, all due to bacterial levels exceeding what was acceptable. I guess it's because ingredients are all natural, hence they are more susceptible to bacterial growth.  At least they keep to their promise of not using any harsh or harmful ingredients.
How do you make money with Arbonne?
So let's move on to take a look at the business opportunity with Arbonne. Of course in order to qualify for any earnings, you must first become their distributor. Then you can possibly earn through retail commission, when people buy their products through you, or recruitment commission, to earn bonuses and other commission when people join as distributor under you, also called your downline.
How to join Arbonne as distributor
First, to start earning, you got to pay your way in, as with all other MLM companies. The registration fee is a steep $79, which includes some training materials, and does not include any products. For subsequent years, it is $30 per year of subscription fee.
On top of that, you have to meet your minimum monthly order requirement (150QV worth of purchases, based on their point system), in order to stay in the business and earn from team commissions and bonuses. This monthly recurring expense can burn a huge hole right through your pockets, as you are expected to keep buying the products even if you are not earning a single cent out of this business opportunity.
That is why so many people end up losing huge amounts of money when they try out MLMs. This is one aspect of MLMs that I dislike the most, this monthly recurring expense to purchase their products. You could be forking out thousands of dollars before you realise this isn't going to work for you.
Arbonne Compensation Plan
These are the 4 ways through which you can earn a commission with Arbonne:
Client commissions: these are paid to you on personal products sales, also called retail commission. The rate is 35% of the suggested retail price for regular clients, or 15% when a preferred client makes a purchase at a discounted price.
Overrides: commissions paid to you on the product sales volume of your team.
Mercedes-Benz cash bonus: only available to Vice Presidents based on their team's product sales volume.
Cash bonuses: available at each level based on personal or team product sales.
Something weird I noticed about their compensation plan based on this diagram below. Apparently, you can only make a commission out of your DIRECT downlines, and not THEIR downlines, when you are just starting out in the company. This means you are not able to reap the full benefits of being part of an MLM entity, until you move up the ranks. I have never seen this before in any other MLM companies that I have reviewed. I think this poses a very unfair disadvantage to new distributors.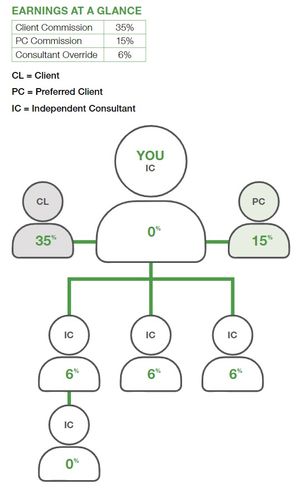 This plan is only for the entry level distributors, what they call Independent Consultants. Once you get promoted and move up through the ranks, the compensation plan, bonuses, etc. will be different. That is the thing with MLMs – complicated compensation plan. Something that I have never been able to understand, or rather I choose not to waste my time figuring out all the details of the plan.
Because one thing is for sure. MLM compensation plans are ALL made to work in favour of the company's founders and the elite few at the top who were roped in to join the company at the right time, at its infancy stage. Only those people get to make the most out of the incentive structure.
The problem with the MLM business model
This is how all MLMs work: they manufacture good quality products, with some research and scientific backing, using ingredients specifically chosen to perform well, and benefit the customers. Then they make these as the selling points, and jack up the price of their products sky high, much more than the cost to manufacture them.
Nobody is going to buy their products, because of the exorbitant price. Except those who are incentivised – their distributors. Under the incentive structure, their so-called compensation plan, distributors have to meet the minimum monthly order requirements, in order to stay in the business and benefit from any commissions.
So instead of a real demand for their products from the free market, artificial demand is created by pulling in more and more distributors into the scheme. These are actually the victims of the scheme, who are supporting the entire financial weight of the company, supporting the extravagant lifestyle of those few at the top.
It is also precisely why people who try to talk you into joining an MLM company never place too much emphasis on selling you the 'great' product, because those are one-off commissions. And you are not going to buy those expensive stuff for life, unless you join them as a distributor, then you would allow them to keep earning recurring commissions and bonuses since you form their downline team. Hence you will hear a lot more about their 'business opportunity', rather than the products.
So now, do you see the bigger picture of how MLMs work, and why more than 90% of distributors do not make money?
Arbonne Pyramid selling – how true is it?
Since we are discussing the business model, it's timely to answer the question posed in the title of this article: Why are we hearing about Arbonne pyramid selling as its business model? Isn't that illegal?
Yes, a pyramid scheme is illegal, because it is based solely on recruitment of people into a company that is an empty shell, with no real products to base their business on. MLMs are different in the sense that there are real, solid products, and the business opportunity still does centre around those products. Sometimes it is just a thin line between a pyramid scheme and an MLM scheme.
Between 2017 to March 2018, a lawsuit was filed against Arbonne alleging that they were operating an illegal pyramid scheme, but this case was eventually dismissed. So that is where all these rumours came about.
Now it is clear, Arbonne is running a legitimate MLM scheme, as its products are a solid foundation of its business.
But still, it will not work for you
The nature of the incentive structure will never work for you as a regular distributor, it is made to be that way by the founders of the MLM scheme. So let's forget it, unless you are really so motivated and energised by having to hardsell expensive beauty products (along with the business opportunity, of course) to family and friends everyday, without ever realising that people are actually shunning you.
This is a fact, MLMs have built up a bad reputation more than good, precisely because it doesn't work for majority of the people who have tried.
A totally fair and transparent reward structure is one that pays you a commission solely based on the amount of products you sell for the company, which in turn should be based on real market demand, with a pricing that is competitive, reasonable and affordable such that the masses have access to it. Then the company is making profits in volume of sales, and there is real value added to their customers.
So many products in the free market are like that: of excellent quality, and priced reasonably such that the company can still make good profits due to its large sales volume. That is how things should run. Don't be disillusioned by what the MLM companies would try to have you believe.
In fact, this open, transparent business model is how I am running my own online business: I look for great products that will genuinely help people in certain areas of their lives, it can be anything, like health issues, or hobbies, a niche that I have a passion for or vested interest in. Then through my website, I send visitors to buy these products, through my affiliate links.
When my website visitors take up my recommendation and actually buy those products, the company rewards me for driving customers to them, by paying me a commission. I am free to choose which products, which companies I want to recommend on my website, there can even be multiple companies that I work with. So I will make sure I recommend the best, so that my visitors really benefit from it, and will return for more.
This is called affiliate marketing. It is a win-win-win situation, for my website visitors who get their issues resolved at no extra cost, for companies that get more sales, and for me who earn a commission.
This is a fantastic way to make money, because I am genuinely helping others, and I never have to feel bad about exploiting my friends and family by roping them into an MLM scheme for my own monetary gains.
Check out how you, too, can start earning this way:
---
Pros of Arbonne
1. Real owners, legitimate MLM company
Arbonne is a real organisation, with real people, real leaders running a legitimate business. With the hundreds of millions of dollars that it is generating each year, and more than 40 years of history behind it, you can be quite sure they are responsible towards their customers and distributors.
2. Products are of great quality
Their products must be of great quality for them to have lasted and thrived this long.
3. Evergreen niche
The health and beauty niche is something that will never go out of trend, so it's a safe one, though it seems to be getting rather saturated these days.
Cons of Arbonne
1. Heavy financial burden to join and stay in the game
The registration fee, yearly subscription fee, and monthly minimum order requirement are all imposed on you, to earn the right to start recruiting even more people to pay all these fees to them. You are paying them to bring in more business for them, and yet given the impression that you are being rewarded. When in fact, the meager commission they reward you can never offset your spendings, until you have enough downlines formed under your team, and you get to move up the ranks.
I think this is worse than a regular job where you are being employed, because at least that gets you your fixed monthly salary, you're simply trading your time for money. While in an MLM scheme, you are feeding the company out of your own pocket.
2. Accumulation of products bought each month
So with the monthly minimum order requirement, you start to stock up those nutritional supplements, personal care products, and makeup products at home, which are not used up faster than the monthly influx of products.
So what do distributors do with these? That is when you may start to see people selling off these stuff cheaply on buy and sell platforms, so as to minimise their losses, as they have been 'coerced' to buy expensive things that they don't really need.
How does this even add value to these people's lives?
3. Focus on recruitment rather than retail
The huge efforts in recruitment in any MLM scheme are real, just as in Arbonne. When your sponsors or upline are coaching you, there is usually hardly any mention of earning a retail commission. They will more likely be asking you to invite your family and friends to attend their presentations or house parties, in a bid to recruit them as well.
See this article for a detailed description of what you can typically expect to go through in an MLM recruitment drive.
When a company survives on artificial demand for its products, with its distributors holding the fort, it can easily crumble, if one day many distributors suddenly find that they cannot afford to carry on fulfilling their monthly orders anymore, and start pulling out of the scheme, then the whole entity can just collapse like that.
We have seen it happen before, big MLM companies just caving in upon itself.
4. Exorbitant price
An important feature of MLM schemes, I think I do not have to explain this point any further. This is the start of all evil within the MLM system.
5. Health benefits not verified by authority
Arbonne has its own team of researchers and scientists, which is a good thing, of course. But it could also mean a conflict of interest. How trustworthy are the health claims of the nutritional supplements and beauty products, we can never truly know. Because the authorities are not going to verify any health claims by these commercial entities.
6. Majority of distributors lose money
Take a look at the table below, showing the income statement of their distributors in 2017.

The bottom two lines make up 90% of their active distributors. The independent consultants made an average ANNUAL earning of $788, while the district managers made $3450 in the whole year! And these are only earnings, not profits. You still need to discount their monthly spendings, that is why it works out to be an obvious loss for them.
Also, bear in mind they are only looking at the figures for active distributors. So there are the inactive ones who are also not earning anything, and instead making losses month after month!
---
I do not recommend Arbonne, or any MLM company, for that matter.
What I do strongly recommend is a fair and transparent reward system, when you help a company promote its products. Reward simply based on a percentage of sales that you send to the company. And if the product is of good quality and affordable price, then it will survive in the free market, with a real demand, and not some artificial demand.
In this recommended way of running a business, no one is made to buy anything that they do not have a real need for. I do not have to sell any product or opportunity to any friends or family members. People whom I am promoting the product to will thank me, because I offer them the perfect match to what they are searching for.
I do not have to do face to face sales, hold house parties or any of the traditional methods of recruitment and doing sales. I have the time and space flexibility, I can work from anywhere I want, I just need my computer.
Learn how to start your own online business doing affiliate marketing. I did it from scratch with zero knowledge of setting up websites and internet marketing, so can you.

---