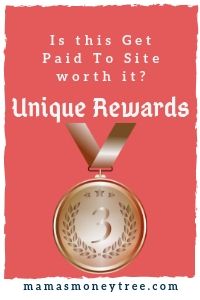 You may be wondering what is Unique Rewards. Is this reward site legitimate, does it pay out on time, and how much can you expect to earn from it?
Welcome to my Unique Rewards review. Its website is http://www.uniquerewards.com
There have been so many get-paid-to sites springing up on the internet, you can't be doing all of them. Instead of jumping right in to the first thing that you see, it is wise to check out some reviews, and choose just one or two platforms that will make your precious time most worthwhile.
In my honest and in-depth UniqueRewards.com review, I will walk you through the ways to earn on the platform, the cash out methods, members' reviews, and much more.
Without further ado, let's dive right in now!
---
Unique Rewards Review Summary
Product: Unique Rewards
URL: http://www.uniquerewards.com
Product type: get-paid-to site
Price: free to join
Scam / Legit? : Legit
Recommended or not? : Not recommended
Unique Rewards is a legitimate get-paid-to site that does pay its members, though there has been recent complaints of its PayPal cash out option not working, and members being encouraged to cash out through BitCoins instead.
There are many activities that you can engage in to earn a little money, some get you average earnings compared to other get-paid-to sites, while others like watching videos pay miserably low.
If you are interested to learn how to create something much bigger with your spare time, check out my #1 recommendation to making money online:




Read on for the detailed review of Unique Rewards, and why I do not recommend it.
---
What is Unique Rewards
To find out what is Unique Rewards, let's first take a look at its homepage.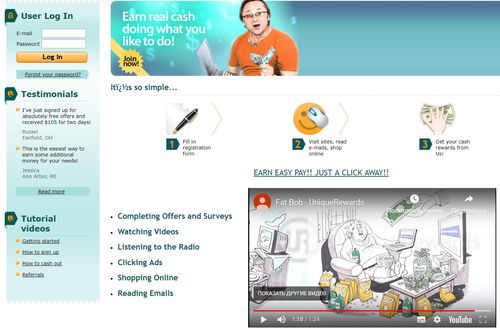 What struck me was the video about fat Bob, a lazy, ill-disciplined man who could survive and thrive at the couch of his dreams, earning money simply by using Unique Rewards.
Personally I did not like the message that this was sending across: that one can actually thrive using this get-paid-to site. I doubt anyone would believe it, so what's the point of making this video then?
Well anyway, that's just something that you do not get to see on other reward sites.


Signing up to Unique Rewards
Signing up is easy and a breeze, by just entering some of your basic particulars.
Currently, UniqueRewards.com is only available to people in these countries: the USA, UK, and Canada. This is pretty limited, though it may not be a bad thing, as it means that if you are not staying in any of these countries, you have one less distraction in your search for the best get-paid-to site.
Why do I say that? You will find out in a while.


Ways to make money on Unique Rewards
This is a rather busy and interesting site, with various opportunities to make your earnings.
Completing surveys
This section is rather typical of any other survey sites or get-paid-to sites, where you usually have to go through a pre-qualification before you actually start taking the survey. This reduces the chances of you being disqualified halfway or nearing the end of the actual survey, hence having wasted lots more of your time.
The potential earnings here are average among all the other get-paid-to sites I have reviewed. It depends on the length of the survey, the market research company, and so on.
Similar to doing any online survey, you have to be prepared that not all surveys can make you money. In this industry, it is inevitable that you will suddenly get kicked out of a survey because giving your answer to some question made the system recognise that you shouldn't have been taking the survey in the first place, due to demographics that do not match up, no experience with the products before, or some other reasons.


Watching videos
This may sound like your 'dream job', but nope. Earnings in this section are hideously low, you really shouldn't be wasting your time watching videos on the platform of UniqueRewards.com.
Take a look at this:




For about 10 to 12 minutes each of videos, you make $0.01. Wouldn't that mean 17 hours of video watching just to make $1? Didn't Fat Bob survive and thrive on this? How on earth?


Completing Offers
There are numerous companies that latch on Unique Rewards to present their offers to members. It all depends on whether those offers meet your needs, or they seem interesting enough to you to check them out, visit those companies' websites, take certain action, subscribe to some stuff, and so on.
Some offer free trials in exchange for Unique Rewards earnings. But if you need to enter your credit card details, do remember to cancel your subscription before the first payment, if you do not intend to get the paid subscription. You do not want to get surprises in your credit card bills.


Clicking on ads
This feature is slightly different from completing offers, in the sense that you get paid simply by clicking on the ads, without having to take any other actions like keying in your information or subscribing to something.
But of course the earning potential can be expected to be extremely low, for such an easy task. Still 1 cent can be quite an insult, isn't it?
And you would have to wait 30 seconds before you can click on the next ad. To me, this can be quite a distractor, if you constantly have to remember to click on ads after every 30 seconds, just to earn $0.01 for each.


Shopping online
As with any cashback offers, Unique Rewards offers rebates when you shop online at the participating stores. You have to connect to the stores from UniqueRewards.com website.


Referring people to Unique Rewards
By referring others to join the platform through your referral link, you stand to earn $1 when they complete their first task, another $5 once they cash out their first $20, and 10% off their earnings, for life.
Even though this can be a tiny source of passive income, with the meagre earnings potential on this site, I doubt that many referrals will actually bother to spend enough time on it to accumulate $20 for their first cash out.
There are so many get-paid-to sites that pay much better, you should just choose one or two of these sites, and focus on getting tasks done on just these selected few. Some great ones include Swagbucks, Societi, and PrizeRebel.


Unique Rewards Gold membership
This is something unique about Unique Rewards: all members get their membership automatically upgraded to Gold level, once you make $20 for the first time, and cash it out. It is completely free.
Being a Gold member increases your earnings, whether it is for tasks, or cashback rates. However, no information is provided about how much these would be increased.


How to cash out with Unique Rewards
Once you hit the minimum cash out threshold of $20, you can request to be paid, by PayPal or by check.
This is a rather high amount, considering how much they pay per task like clicking on ads and watching videos.
Many people may not have the patience to sit through all these, so I do not think this is a very good earning opportunity. You time can surely be spent on much better things, even if it's playing with your pet or doing some gardening.
To make matters worse, there have been numerous complaints about the Unique Rewards payment process in these recent months.
Complaints about Unique Rewards
Apparently, when you try to cash out once you accumulate $20 in earnings, they will tell you PayPal is not available at this time, and to request for payment by check, the threshold amount is $50!
Alternatively they could pay you in BitCoins. (Who would want that?)
I see many such similar complaints, from the later part of 2018 onwards.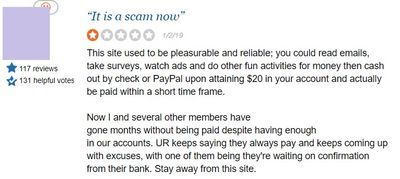 Unique Rewards has had quite an alright reputation, until recent months when members can't seem to get paid with PayPal. Plus the low earning potential, these factors make me not recommend this get-paid-to site.


Want to make some serious money online?
Even the best survey sites and get-paid-to platforms will never make you a part time income, much less a full time one. If you are doing it just to have some fun and destress, by all means go ahead, but for your own sake, choose a better paying one.
However, if you have some chunks of a few hours on hand each day, why not consider creating something much bigger out of it? Something that can actually allow you to quit your 9 to 5 job some time down the road?
I am now working full time from home, growing my internet business, and making an online income. I started from scratch with zero knowledge in this area. If I can do it, you can, too.
Check out this training platform that provides all the resources, tools, along with an entire community of aspiring as well as already successful online income earners. The best part is, you get to start for free:


---
Pros of Unique Rewards
1. Gold membership sounds very attractive
Maybe the strategy is to depress the earnings so that they can motivate new members to work towards their gold membership, in order to get higher and more reasonable earnings?
I will not know for sure. But if it is true, then I think it can backfire, as the low potential earnings will turn people away right from the start.
2. Good track record in payment until recently
It is strange that so many more people are facing cashing out issues recently, when there has been no problem all this while.


Cons of Unique Rewards
1. Promotional video is misleading
The story about Fat Bob is so misleading, giving people the impression that one can make a living simply by doing things on UniqueRewards.com.
2. Low earnings potential
$0.01 for clicking ads, $0.01 for watch a video, I think it's really too pathetic.
---
Is Unique Rewards Scam or legit?
Unique Rewards has gone downhill compared to the past, but not enough for me to label it as a scam, yet. Let's hope they sort out their payment issues, so that they can get their happy customers back.
---
Recommendation
If you have some time to spare, a few hours each day, I would really recommend building something that can become a passive income stream.
It is what has allowed me to not miss my kids' growing up years, while making an online income from home, freeing me of the need to commute, working around my own schedule.
This is definitely not a get-rich-quick scheme, neither does it require you to sell anything face to face, it is not MLM, and you do not have to recruit anyone.
So what is it exactly?
This real deal does not promise instant results, but instead gives the knowledge and the lifelong skills required to grow a successful online business, which is exactly what I have done. Check it out by clicking on the button below:




And for reading all the way to the end of the post, I believe you have it in you to make this work. Here is your FREE PDF Guide: 4 Simple Steps to Making Money Online. Fill in your details to claim it:



If you have any concerns or questions regarding this Unique Rewards review, do comment below, and we will start a conversation from there.
---