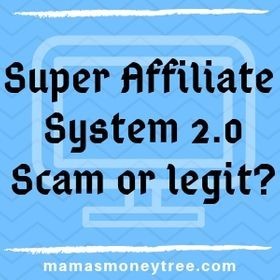 If you found this post, you're probably looking for an honest review of Super Affiliate System 2.0, to find out if it is scam or something legit. Well, you certainly are in the right place, because I'm going to show you, for Super Affiliate System 2.0,
---
Super Affiliate System 2.0 Review Summary
Product: Super Affiliate System 2.0
Creator: John Crestani
Product type: Affiliate marketing training, with a focus on paid ads
Price: $997
Scam / Legit? : Legit
Recommended or not? : NOT recommended unless you are very rich, or you are a very experienced affiliate marketer
John Crestani is a respected and very successful internet marketer, his advice is very much sought after. The training taught in Super Affiliate System 2.0 is valuable if you are going in the way of paid ads, but it is definitely not worth $997. So many other successful marketers out there are giving genuine and valuable advice for free, or at a much more affordable price.
This is not the only big sum you are forking out if you go for Super Affiliate System 2.0. Because the focus is on paid ads, you are going to spend a lot more after going through the course, on all your campaigns, when you can actually get free organic traffic from SEO (search engine optimisation)!
So this is definitely NOT something I would recommend, especially if you are just starting out building up your website for passive income, and getting the hang of affiliate marketing, you certainly don't want to be throwing in money for ads at this stage.

Read on if you want the in-depth review of Super Affiliate System 2.0, what exactly it is and how it works, along with its pros and cons.
---
What is Super Affiliate System 2.0
Basically it is a super high ticket affiliate marketing course, priced ridiculously at $997. Doesn't it appall you, just the price alone? Your reaction is normal, it's a basic survival instinct. So listen to what your head is telling you.
You will see many raving reviews about this product, primarily because those people are on their affiliate program. So keep your eyes wide open as you research about anything, don't take everything at face value.
The training spans over 6 weeks, and mainly centres around paid traffic affiliate marketing:
FaceBook ads
Google ads
Native ads
YouTube ads
Ad swipes
Targeting data
Copywriting
Over 50 hours of video will bring you through these advanced paid traffic methods, which ends off with how to scale your campaign efforts, ways of outsourcing, and automation.
You get access to a community of people who have signed up to this training program, as well as weekly webinars by John himself.
All is well and good, except for the price.
Check out this other platform instead, which is also my #1 recommendation:
–> Free for starter members, and with great training on getting free organic traffic, along with an awesome community! <–
---
Beneath the surface
There are lots of hidden costs as you progress along in the training of Super Affiliate System. There are tools you require, as you put the stuff taught in the training into practice. But John has not developed any of the tools himself to support his community of affiliate marketers. Instead, he puts in his own affiliate links to the external vendors, to try and get even more out of his dealings with you.
A few examples of the affiliate links are to Bluehost and ClickFunnels. Of course there is nothing wrong with including his own affiliate links, but the overwhelming feeling I get is of him just trying to monetise as much as he can from his customers.
I don't get the vibes of 'help others first, and earnings will come along' that many successful marketers are strongly advocating.
---
Pros
1. Learning from the pro himself
John is the paid traffic pro, he is highly successful as an internet marketer, and has lots of insights and tips to offer.
2. In-depth training
He is also genuine in making the Super Affiliate System useful for anyone who is considering using paid ads to drive traffic to their business. The training offered is in-depth, and valuable for people who have lots of experience with affiliate marketing. When you are earning a decent income from affiliate marketing, it shows that you have figured out your niche and your customers' needs, behaviour, spending patterns, etc. And you may be ready to scale up your business, through paid ads.
---
Cons
1. Too expensive
The price tag is definitely way too high. With the vast internet, lots of great advice on affiliate marketing can be found freely, or at a much lower price, by equally successful internet marketers.
2. Hidden costs
Like mentioned earlier, there are lots of hidden costs if you want to make Super Affiliate System really applicable to your business. For instance, to purchase ClickFunnels, it costs $97 a month!
3. Not for beginner
As you can see from the high price tag and hidden costs, this is not for you if you are just starting out on your affiliate marketing ventures, and are not making any real money yet.
Without much experience, don't expect Super Affiliate System to work for you by simply sinking in the money. Do not be blinded by greed, and fall for John's hard selling tactics, and unrealistic claims.
Because to implement paid ads successfully, you need to know your niche and your customers really well, where your customers are, how to find them, etc. Otherwise the campaigns you run will simply get you leads that ultimately do not convert, then you will just be throwing money down the drain.
Instead, for every beginner, I would strongly recommend you go for free organic traffic, as there is zero cost to that, there is huge potential for massive volume of traffic generated from an organic source, and is a sustainable long-term strategy to running any business.

---
Scam or legit?
Super Affiliate System 2.0 is not a scam.
It is a legit training and community platform, provided by one of the big influencers in the field of affiliate marketing using paid ads to drive traffic. But it is a high ticket item, intended for affiliate marketers who are already earning well in their niche, which proves that they know their business and customers well enough, and are looking at sinking in some advertising cost to expand their business.
---
Recommendation
If you are a beginner to affiliate marketing, I do not recommend that you take up Super Affiliate System 2.0, as you need lots of time and experience to work your way through your niche, in order to become the expert.
Start small, but this is the sure way to getting you free traffic – by writing your content to rank high in the search engines.
Many of the posts on my own health website is ranking on the first page of Google. I learnt everything I know today about SEO (search engine optimisation) on this platform which is free for starter members.

---
Please follow and like us: