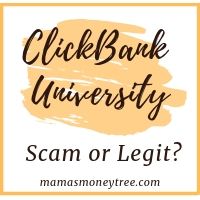 If you have landed on this page, you are probably looking to find out more about ClickBank University, which is being promoted to you right after you joined as a ClickBank member? You're in the right place, this is where we will answer your question: Is ClickBank University scam or legit?
ClickBank is a very established platform, founded in 1998. It is an affiliate network, serving to connect digital content creators to affiliate marketers, who then promote the products to consumers and earn a commission out of it.
What then, is ClickBank University? Put very simply, it is a training course that teaches people how to create their own digital products to promote on ClickBank, and teaches its affiliates how to promote ClickBank products.
Now that you are a ClickBank member, is it worth investing quite a substantial sum of your money to learn more about creating digital products, and promoting them? Or is the training so superficial that you already know most of the stuff, or can the information be readily found for free all over the internet?
What hidden costs are there to this course, and what else are they not telling you?
In this article, I will provide an in-depth review of ClickBank University, through the following sections:
---
ClickBank University: Review Summary
Product: ClickBank University
Creator: founded by Matt Hulett, Adam Horwitz and Justin Atlan in 2013
Product type: a training course on digital content creation, and affiliate marketing of the products
Price: $47/month + $594 upsells
Scam / Legit? : Legit
Recommended or not? : Recommended
ClickBank University is a comprehensive course when it comes to teaching you to create your own digital products to sell. Not many people are knowledgeable in this area, so this is a valuable skill that could set you on the path of a digital products developer.
On the other hand, the other part of their training, on affiliate marketing, which teaches you how to promote products to earn a commission out of it, is too specific, as it caters only to ClickBank products. There are lots of great resources out there on affiliate marketing, which allows you to promote in whichever niche of your choice, so you do not limit yourself to ClickBank products.
If you are looking to earn through affiliate marketing, the best platform is this:

Read on for my detailed review of ClickBank University, and what to look out for if you're going ahead to purchase it.
---
ClickBank University Review – what exactly will I get out of it?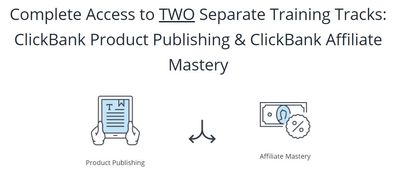 12 Week Publisher Track
ClickBank is undoubtedly one of the biggest marketplace to sell digital products. If you think you have a knack for creating digital products, this is what you should sign up for. The greatest value that you will get out of ClickBank University is its 12-week Publisher Track.
The topics included in this comprehensive training are:
brainstorming and researching on what niche to zoom into, and what products to create
how to create a customer avatar
how to create a digital product
how to create a landing page or squeeze page
how to create a sales funnel
how to drive traffic to your landing page
how to get affiliates to promote your product
how to scale up your business, and more…
Creating digital products requires skills and the right resources, which are covered in detail, in a step by step format, in ClickBank University. These are imparted through video training and PDF files.
8 Week Affiliate Track
In this part of the program, you will be taught how to promote ClickBank products in order to earn a commission as an affiliate.
The down side I can see of this training is that the skills taught are very limited to promoting ClickBank products. Affiliate marketing is actually a big big world out there, where the sky is the limit.
You can choose your preferred niche, instead of being restricted to digital products, which may not exactly be your area of interest. You may have background knowledge in pharmacy, yoga, knitting, taking care of the disabled, etc. You get the idea, anything under the sun goes.
To create a sustainable business, you have to choose a niche that you are passionate about, so that it drives you to achieve your financial goals, as well as to help others with the knowledge and expertise that you have in the chosen niche.
I can show you the step by step method to live your dream, earn through your passion or your hobbies:
Bi-weekly expert classes
Once every two weeks, people who have succeeded on the business models taught in ClickBank University will be invited to share their experience with newbies, and to inspire and motivate you.
Special Curated add-on trainings
Specific strategies are targeted like video marketing, copywriting, or FaceBook marketing.
ClickBank Toolkit (upsell)
This is marketed as one of the bonuses that you will get, but it is actually a hidden upsell, whose price is revealed to you only after you purchase the upfront version of ClickBank University.
These are the additional resources you need to run a successful online business, like website domain, social media tools, email service provider, etc.
After paying for this upsell, what you get are actually ClickBank University's affiliate links to these necessary resources, so that they can earn their commission as you purchase these tools.
It's perfectly fine to lead you to their own affiliate links, I just don't like that they are making you pay an additional cost to reveal these tools and resources.
Exclusive ClickBank Community
This is a private FaceBook group for like-minded people to support and inspire one another along their journeys. Which is a great thing, as long as there is constantly active engagement.
ClickBank Builder (another upsell)
This is another pricey upsell, but at least you won't be misguided into thinking that it comes along with the upfront version of ClickBank University.
ClickBank Builder is a useful drag and drop tool, that allows you to create beautiful and professional-looking landing pages and websites. The thing is, it costs a whooping $594.
I'd hate to see you part with so much money, because this is simply a website builder that can be found everywhere, at much more affordable prices. There are many webpage builders out there, done by experienced developers, offered at competitive pricing because the industry is really that competitive. So do not think that this builder tool offered by ClickBank University is something exclusive.
The issue here that I need to surface is this: the website building training within ClickBank University centers around ClickBank Builder. So if you do not purchase it, that makes it much harder for you to follow the training. Do take this into consideration before you get the upfront version of ClickBank University.
Moreover, using ClickBank Builder 'forces' your website to be hosted at ClickBank. That is how they smartly earn another income stream. In the future, should you decide to move your website to another external hosting, you may have to deal with the complexities of the process.
---
Pros of ClickBank University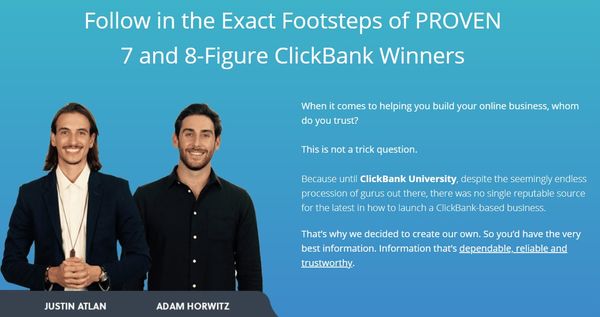 1. ClickBank is an established and reputable network
ClickBank has been around for many years, connecting digital product creators and their affiliates to consumers. So you can be assured they know the internet marketing world well, including what is trending, consumer behaviour patterns, what works and what doesn't, and so on.
Since ClickBank University is created by ClickBank, I am quite sure it can be trusted as a quality product that works, because only when it does work, will they get the most out of it.
When product creators make stuff that can sell on ClickBank, the marketplace gets busy, and their business will thrive.
2. The digital product creation course has great value
Digital products are generally low cost in production, with huge potential for profits, especially if you can market your product to the masses. It can take you to places far and away, if you know how to make it work for you. So it is definitely the way to go, for many more years, if this is something that excites you.
3. 30 day money back guarantee
This basic refund policy is in place, for people who are dissatisfied with the product. I always look out for this, as it tells me how confident the company is with its own product.
Cons of ClickBank University
1. Training on affiliate marketing is too limited
If you are looking into earning through affiliate marketing, then the training provided in ClickBank University is much too narrow. Of course you can still promote ClickBank products, but you must also open your eyes to the world out there.
The best training to affiliate marketing is totally free to start, and can be found here:

2. Some training is locked
As you progress through the training in ClickBank University, whether on the affiliate track or product creator track, you will discover that some of the training is locked, until a later date. The reason given is that they do not encourage you to skip steps.
But of course people will start speculating that the real reason is to postpone the completion of your training beyond the 30 day money back guarantee date.
If you are moving really well in your training, you can always send an email to them requesting to unlock the rest of the training.
3. Upsells
The major upsell that I am not comfortable with is the ClickBank Builder, which is priced over the top, at $594!
After having purchased the upfront ClickBank University, you will feel pressured to get the ClickBank Builder, without which you will not be able to follow a substantial part of the training. So it's good that you know it now, then this can be taken into consideration as you ponder whether to go ahead with the upfront purchase or not.
The website hosting lock-in is another sneaky trick, which is not made known to you at all prior to the purchase. Using their ClickBank Builder mandates that your website be hosted with ClickBank.
---
So are you ready or not? Get your ClickBank University here:

However, if your preference is to earn as an affiliate marketer, by promoting other people's products, without the hassle of creating your own, then I will recommend this affiliate marketing course that is free to start. Try it out risk-free, before deciding if it is really what you need:

---
Disclaimer: ClickBank University does not own or operate this website and is not responsible for its contents. It is owned by Mama's Money Tree, an independent marketing affiliate.