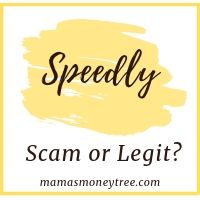 What is Speedly? This must be the question burning right through your head right now.
You have come to the right place, this is where I take new product launches apart, look at the insides and break the code of how they really work. So you can decide for yourself if it is a scam or a legitimate money making opportunity.
Speedly was just launched on December 28 of 2018, just before the close of the year. It claims to make you $298.50 per day online, with free traffic and a 5-minute hack that doubles your profits!
It's great that your alarm bells are ringing, and you are scouring through the internet to sniff out the truth.
In this article, I will provide an in-depth review of Speedly, through the following sections:
---
Speedly: Review Summary
Product: Speedly
Creator: Art Flair and Pallab Ghosal
Product type: affiliate marketing training
Price: $12.97
Scam / Legit? : Legit only because you do get the training materials
Recommended or not? : Not recommended
Speedly is basically some training materials for affiliate marketing, teaching you to get traffic through paid ads. The quality of these materials are sub-standard, not in your best interest, and tends to skim through things. And it is packaged as something that starts you earning hundreds a day in 5 minutes, with very little work, which is just not possible.
Affiliate marketing is something very legitimate, with which many people have seen huge success. This is how I am earning my side income too.
Check out this platform for my #1 recommendation if you would like to learn the proper way to do affiliate marketing:

Read on for the detailed review of Speedly, and why I do not recommend it.
---
What is Speedly
Exactly what is Speedly? Here we take it apart, and show you what is beneath all the hype of the dressed-up marketing materials.
Information presented in promotional video and landing page
The reason it is called Speedly is because you are going to get all the money-making traffic fast, and then you will double it in 5 minutes. Once you get that started, you will be shown what 97% of marketers forget to do.
The emphasis on the 5 minutes process that doubles your traffic is thrown all over the promotional page. You don't need any experience or skills to use this and make it work.
Throughout the video and landing page, there is no clue as to what the method is. Just all hype, promising fast and easy results, with little effort. That sure sounds tempting. Then, to pique your curiosity, they do not reveal what it is all about (because if they do, everyone can see it's so crappy that no one would buy it?).
So it looks like I have to get myself into the members' area, to get the insider's view.
What Speedly really is
First, something about the creators of Speedly. Art Flair and Pallab Ghosal are well known in the internet marketing world, because every month or so, they would launch a new product.
Their products are very typical, always hyped up, promising the moon and the stars, assuring you will earn tons of money fast with some easy method, no experience or skills required.
These are always targeted at newbies in the internet marketing scene, who have not seen enough to know better yet. Experienced marketers would know the claims are all BS.
But then, you will always find the top marketers giving their testimonies to the products. That is because these 'serial product launchers' are all friends with each other. They support one another whenever someone launches a new product, and sometimes they even become affiliates to promote their friends' products, to earn a commission out of it.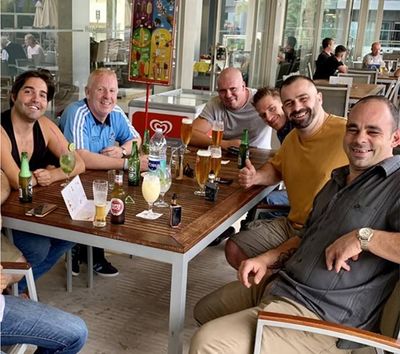 See how the 'top marketers' are actually friends who engage in the same business of churning out new digital products that promise the skies.
At the same time, as you do your research on the product, you will find lots of positive reviews on it too. Do not be tricked into thinking that those people have actually benefited from the product, because they are actually all affiliates, trying to get their share of the cake. So you will see them offering their own bonuses if you buy through their links, because they are all competing for sales.
Now that you have some background on the creators, let's move on to the product itself.
What exactly is inside Speedly
Once you get inside Speedly, you are taught to make a FaceBook video ad. This ad sends people to your blog (oh, haven't they told you that you need a website for this, you mean they actually skipped this part?), on which you review certain products, with your affiliate links included.
When your readers click through your links to land on the sales page of the product and go on to buy it, you earn a commission.
This is called affiliate marketing. It is nothing new, it is no secret. Tons of people are doing it, and are making money with it, myself included. The difference: I don't do it through FaceBook ads, because you have to pay, AND you have to master the social media in order to get massive traffic from there, which takes lots of experience in it.
As a newbie, dabbling with paid traffic usually burns a hole right through your pocket.
I get my free organic traffic through search engine optimisation (SEO), want to learn how I do it? Click on the link below:
So all the hype by Speedly, about doubling your traffic in 5 minutes? Where does it come from? Seriously, I still do not know where on earth that came from. All I know is, it definitely takes more than 5 minutes to increase your traffic by any means, even if you are talking about paid traffic.
Setting up your own website, writing reviews, learning about SEO and getting all your posts optimised, obtaining approval from product owners to be their affiliates, etc. All these take time and hard work. Totally unlike the effortless way that you can earn money as described in the marketing materials of Speedly.
If you're willing to put in the time and hard work, you will make that money roll in. If you are just looking for the fast way out, then be prepared to get scammed by these slick marketers who know the human weakness, and who have the heart to rip off unsuspecting newbies.
Now let's take a look at the members' area in detail:
Speedly training modules
There are 16 training videos in all:
Introduction: so here, you finally start to understand what is going on. You need to make a video, set up a website, and get approved to be an affiliate for the products you would like to promote.
What you need: a FaceBook fan page, and a blog to write your reviews on.
Set up part 1: how to set up a FaceBook fan page
Building your fan base for free: invite your FaceBook friends to build up your fan base. (Well, this is not something I would do personally, as I'm not comfortable with mixing my personal life with my business.)
Set up part 2: how to set up your own website and blog, starting with registering for hosting and a domain name. (the information here is not very convincing, as Pallab himself does not have complete experience with it)
Set up part 3: select and install themes for your website.
Set up part 4: select and install plugins. Until here, that is all you are taught about setting up your website and blog. Which means there are so much details missing, like your menus, widgets, site security, about me page, privacy policy, etc.

Check out this link

where you can learn all these and more, for free.
Double your traffic part 1: why you should use FB video re targeting ads.
Double your traffic part 2: how to import your existing email list onto FaceBook (not even relevant if you don't have a list yet)
Double your traffic part 3: use good lighting and sound to create your video.
Setting up your traffic magnet: how to set up your ad campaign in FaceBook.
More on traffic: how you can use an image instead of a video in the ad campaign, for those who do not like to appear in the video
Outsourcing: how to use Fiverr to outsource your video.
High converting offers: get approval as an affiliate for products on Warrior+plus.
Starting from scratch: paid method to build up your email list from scratch. Be warned that this will cost you almost $1 per click, and without a targeted list, people are not going to convert, so it's easily money washed down the drain.
$22K in 60 days Case Study: this case study is based on another product, which I have reviewed here: Profit Robot (another one that is not recommended).
So this is what you get from Speedly.
Oh, and how about the one thing that 97% of marketers forget to do? – setting up your own blog.
Oh my gosh, I almost fainted. Since when did all the marketers become so forgetful? Looking at the number of blogs and websites springing up every single day, I really don't think only 3% of marketers remember to set up their own blog.
I still cannot believe this, how absurd can it get…
---
Pros of Speedly
1. Real owners
These are real people, with faces and last names, so we know they are not hiding behind the screen selling some fraudulent product. People in the internet marketing world know them, so I guess there has to be some minimum level of credibility and accountability.
2. 30 day money back guarantee
This basic refund policy is in place, for people who are dissatisfied with the product. That makes it safer to try out the product, and see if it can really deliver what it promised. But do take note that any upsells usually do not come with the money back guarantee.
3. You do get the training materials
It may not be the best training you can get on affiliate marketing, but I can see some effort in trying to put together some stuff that matter.
Its Cons
1. All hyped up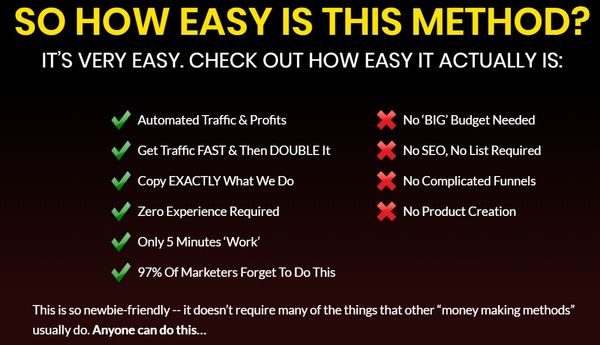 As you can see by now, Speedly is all hyped up. Double your traffic in 5 minutes? Just sit back and watch as the money rolls in? Never.
No matter how experienced a marketer, it takes hard work and knowing your way about the internet marketing world to increase your traffic. Doubling your traffic can be done, but there is no magic formula that gets you there instantly.
2. Training materials not comprehensive enough
There is nothing new about the method taught in Speedly. Affiliate marketing works, it is a tested and proven method. But the training materials are not detailed and comprehensive enough.
Much better resources can be found all over the internet, often for free.
The best one that I want to recommend is here:

3. Focus on paid traffic
The traffic method taught in Speedly is by paying for FaceBook ads. It may work for experienced marketers who know their customers profile, where to find them, which keywords to use, etc. But for a beginner, you will just be wasting your hard-earned money.
All the traffic I get is free organic traffic, which the search engines will send to me because they trust my website, which has been given time and lots of sweat put into it to gain authority.

4. Upsells
As with any product that solely serves the monetary gains of the creators, Speedly has pricey upsells, or OTOs (one time offer), as they call it:
Upsell 1: $27 – case studies and advanced training
Upsell 2: $37 – done for you platinum pack
Upsell 3: $197 – unlimited traffic package (but… but.. isn't the upfront Speedly product supposed to double your traffic in 5 minutes, and aren't you supposed to scale up from there? Why are they asking people to pay another $197 for something that the upfront product is intended to do?)
Upsell 4: $47 or $97, depending on the reseller's license package that you choose, to call this product your own, and re-market it to earn 100% of the profits.
Upsell 5: $97 or $197, depending on the Mastermind Coaching package that you choose.
---
But I would not recommend Speedly to anyone, simply because there are many other much better resources out there to get you started on affiliate marketing.
This platform is the best that I have encountered. It is from this that I learnt all about affiliate marketing from zero knowledge. Including setting up my own website, choosing the niche area that my blog would center around, and creating content in a way that leads to free organic traffic from the search engines.
It is free to start, take a look inside and see if it works for you, you have nothing to lose:

---