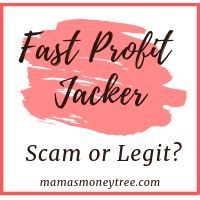 If you have heard of the Fast Profit Jacker scam, and you are here to sniff things out, then you are at the right place.
How can a product possibly work to earn you a 3 digit income in one minute, and scaled to a 6 digit income in one hour? I was open-minded at the start of its promotional video, like how I position myself with all products I review, until I reached this part. The 6 digit income in one hour really busted it for me.
Now, let's dive straight in to take it apart, see how things work inside Fast Profit Jacker, and analyse if it is going to be your money spinner, or just another scam.
In this article, I will provide an in-depth review of Fast Profit Jacker, through the following sections:
---
Fast Profit Jacker: Review Summary
Product: Fast Profit Jacker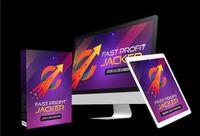 Creators: Jason Fulton and Mosh Bari
Product type: Cloud-based software
Price: $22.30
Scam / Legit? : Legit, only because you do get their software
Recommended or not? : Not recommended
Fast Profit Jacker is a cloud-based software that claims to help you identify companies with websites that need sprucing up, in terms of their security certificates, search engine optimisation and stuff. When you offer your services to these companies, to help them improve on their websites, you get paid by them.
Supposedly, you do not need any experience or technical know-how, because the software will do all the work for you.
I do not recommend Fast Profit Jacker because it does not live up to its promises, and is all hyped up about how little work you need to do, to start earning lots of money.
If you do not want to waste anymore of your time on useless products, and just want to focus on learning the proper way to make money online, check out my #1 recommendation:

Read on for the detailed review of Fast Profit Jacker, and why I do not recommend it.
---
What is Fast Profit Jacker
Information presented in promotional video and landing page
Fast Profit Jacker is a new software that makes it faster and easier than ever to have your own recurring revenue business. Without experience, upfront costs, or any risk, you can get results in as little as 1 hour! Then rinse and repeat as often as you want, for this is repeatable and scalable, just use the software to find more clients, or offer more services of your own.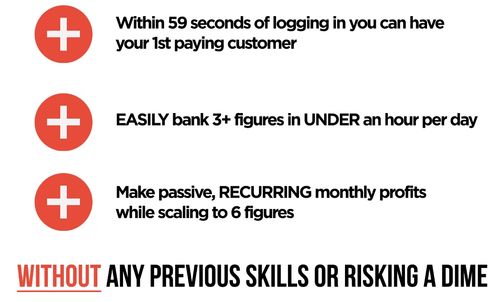 Picture having a constantly updated source of local businesses, online companies and independent marketers that desperately need help. With this software, you will know exactly how to contact them, without getting on the phone or meeting them in person. And you will be paid top dollar by providing or outsourcing simple services to them.
Instead of struggling for traffic, risking your money on advertisements, trying to build your list, creating products and tons of content, then waiting and hoping for results, why not just skip straight to the cash? You will earn passive recurring profits from regular customers. And outsource everything for hands-free profit with just a few clicks of your mouse.
What Fast Profit Jacker really is
First, a bit about the creators of Fast Profit Jacker. Jason Fulton and Mosh Bari are well known in the internet marketing world to push out a new product every month or so. It is always done with lots of hype and empty promises.
They create so many products, because none are working, people will see through them pretty quickly, and by the time negative reviews get out, they are armed with the next new product, ready to launch it, targeting at unsuspecting newbies who can't see through the game yet.
As with many products in the internet marketing niche, you will find many people singing praises of Fast Profit Jacker as you try to do your research. These people are all affiliates of the product, who get to earn a commission when you buy it through their links. That is why the strong competition through giving you numerous bonuses if you purchase through them.
So with this little bit of background, you should guess where we're heading.
Now to the product itself. 
Fast Profit Jacker is a cloud based software that identifies businesses online, that are not optimising SEO (search engine optimisation), through parameters like detecting the presence of their SSL (secure sockets layer) certificate. Mobile optimisation and social media exposure are also analysed through the software.
It then allows you to take action to contact those websites to offer your services that can improve their website's performance. There are email templates that you can use to promote your services to those companies.
That is basically what the entire product of Fast Profit Jacker is about.
Why Fast Profit Jacker will not work
In other words, Fast Profit Jacker is asking you, as a complete beginner, to help others' improve on their websites. And you are so going to make a 6 digit income out of this.
Do newbies even know what SEO entails? Yes, you can pick these things up, but it takes time. If you have never owned a website before, you wouldn't be able to know the ins and outs of mobile optimisation, SEO optimisation, etc.
Or if you are going to outsource this service which is also suggested by the promotional materials of Fast Profit Jacker, then your profit is definitely going to be reduced by a lot. Earning a middleman's income, how does that amount to a lifestyle income of a 6 digit figure?
How about the website's social media exposure? To improve on any site's social presence, it takes time and lots of work. How is this even called passive income? How is providing a service categorised as passive income?
Is a plumbing job then passive income too, because I have ready clients, I do not even have to look for them, they are all my regular clients who keep me busy and fully occupied earning money.
One other point which features a lot in the promotion of Fast Profit Jacker is that there is no need for you to make phone calls or meet with your clients to close a deal. You do not even have to step out of your house.
Do you think it is realistic, that with just an email promoting your service, any company is going to trust you, engage you and pay you hundreds for knowing whatever you know as a newbie to internet marketing? Emails like that always tend to appear spammy. I have never trusted them myself.
How do you provide a service without close communication with the company to discuss their website's weaknesses and needs, meeting up to implement the changes you recommend, and obtaining feedback on subsequent website performance?
The way I see it, Fast Profit Jacker is much too hyped up in its promotion materials, throwing in whatever ideas that appeal to people in general: passive recurring income, no phone calls or meetings, just sending emails from home, and you get fast cash and big bucks.
The only people who are going to earn anything are the creators of this product. From the way they promote it, it is obvious they couldn't care less about you making money.
To learn the proper way of making money online, which is what I am doing now, check out the link below:
---
Pros of Fast Profit Jacker
1. Real owners
Well, regardless of their reputation, the creators of this product are real people, we know who they are. So we hope there is at least some accountability.
2. Money back guarantee
Most products I have reviewed, no matter how crappy, at least have a basic refund policy in place, for people who are dissatisfied with it.
Look at the money back guarantee provided by Fast Profit Jacker, and tell me how shameless it is.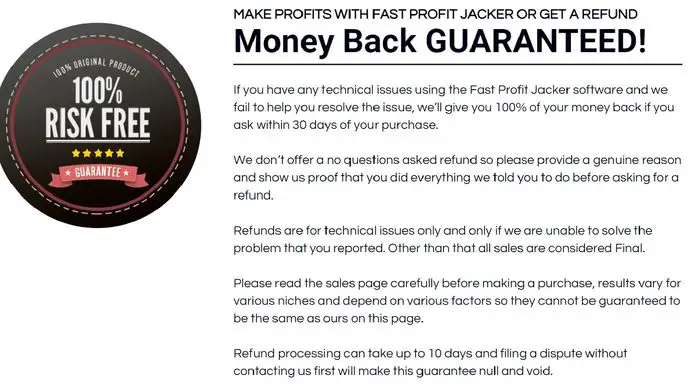 See how the heading and the content are disconnected. Make profits with Fast Profit Jacker or get a refund. Then in the body, "We don't offer a no questions asked refund…" and "Refunds are for technical issue only…. Other than that all sales are final."
Would you buy this product?
I'm sorry that even something that should be a 'pro' has turned out to be a 'con' instead.
3. You do get your software
Well, yeah… you do get something, which is the software. But as to how well it works, I won't be finding out soon. I'm not willing to let these guys earn my hard-earned money.
Its Cons
1. Overhyped sales page
Too much hype, amounting to untruths, in my opinion. Calling a service industry a passive recurring income is really too far-fetched. Sometimes you really wonder how people can simply ditch their integrity in the face of money.
2. You have to know your way about the service industry
The service industry is rewarding, but it is never easy. To even clinch a deal, you have to identify a prospective client, go through rounds of negotiations to work out the scope of work and agree on your fees. Then you provide your service to them, assuming you are the expert in the area. Even if you are going to outsource, you need to know the industry, to find the best people, as your reputation is at stake.
3. Not minimum effort like what it is made to sound
Zero phone calls, zero meeting with clients. Once you get this software going, skip straight to the cash, your passive recurring income will start rolling in. Come on, who are you kidding?
4. Upsells
As with any product that serves not to help you but to help the creators earn money, Fast Profit Jackers has its own layers of upsells:
Upsell 1: $47 – Ultimate Edition, helps you find unlimited leads from Yellow Pages and Google Maps.
Upsell 2: $97 – triple your earnings by offering a fully fledged SEO business to your clients.
Upsell 3: $197 – a complete professional website for your clients.
Upsell 4: $77 – developer rights, another software that does for the all the rinse and repeats.
Upsell 5: $97 – license rights, to rename the software as your own and sell it to make 100% of the profits.
---
I do not recommend Fast Profit Jacker, because you totally do not need this if your calling is to be a website developer and help companies improve on their website performance.
If you are looking for ways to make money online, let me show you the proper, ethical way to do it. This is something that I am doing to earn my side income…

---