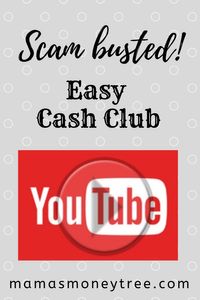 Wondering if the Easy Cash Club scam is real? Can you really make $379 per day without doing any work? How is it even possible?
If something sounds too good to be true, it most likely is. Kudos to you for doing your own research on Easy Cash Club, without simply taking everything at face value.
Check out my honest and unbiased review of Easy Cash Club, which reveals all the red flags about this newest product that promises the moon.
In this article, I will provide an in-depth review of this product, through the following sections:
---
Easy Cash Club: Review Summary
Product: Easy Cash Club
Creator: "Steve"
Product type: Software that converts text into video
Price: $17
Scam / Legit? : Scam
Recommended or not? : Not recommended
Easy Cash Club is a software that converts written text into a video using a human-sounding computer generated voice-over. With pictures you insert, the end product is a basic video that you can upload onto your own YouTube channel.
This is not going to work because no one is going to trust the content in the video if you do not make an authentic appearance in some form or another. You need to build up your fan base and followers before you can start making any money from advertisements placed in your video. It takes years to build up a YouTube channel, you will not be making money instantly like what is promised.
There is no short cut, no secret software that works instantly, if you want to make serious money online. Look around at the successful online marketers. Every single one toiled behind the scene for years, before they reach where they are today.
I can show you the way, because I am following their exact footsteps now, making my online income and enjoying the freedom and flexibility I have while working from home. Check it out:

Read on for the detailed review of Easy Cash Club, and why I do not recommend it.
---
What is Easy Cash Club
Information presented in promotional video and sales page
It is a secret software that can start earning you money in minutes. The creator himself is making $3000 a day while holidaying in Bahamas. It is so simple to use, even a 72 year old grandmother can use it to start earning instantly. You do not need any experience or computer skills, you can use it even if you do not know the difference between FaceBook and Google!
With limited copies of licenses left, you must be one of the chosen few to see this presentation. View the presentation until the end to get your free software.
This system piggy-backs on the free traffic of the 2nd largest search engine in the world: YouTube. When you upload a video and it gets 100,000 views, be prepared to earn $3000 to $5000 per video! That is including the affiliate links that you put at the bottom of the video in its description, if people click on those links to buy the products they are linked to, you earn commission too!
But "Steve" himself knows it is not easy, it will take many hours to shoot the video footage, do the voice recording, video editing, special effects, etc. and that is still not counting in the expensive equipment like camera, lighting, microphone, video editing software, and so on.

So he came up with this ingenious solution: a software that can do all these for you! How cool is that?
"Steve" used to be a computer programmer, specialising in the AI (artificial intelligence) field. So he is the expert in making a human-sounding voice generated by the computer, over any presentation or pictures in a video. Basically it's a voice over that is computer generated.
So you just pick any topic, provide the written text or audio, insert some pictures where you want to be placed in the video sequencing, and you will get a video, all nicely done up for you. Without you doing any work!
According to "Steve", the video does not have to be very fancy to make money. It just has to be about a popular topic, so that many people will search for it and view it. Then you place your affiliate links at the bottom of the video, for some products related to the video, so that you get even more earnings when some people click on those links to buy the products.
You will also need a Google Adsense account, as that is mainly how you will make money, through advertisements of vendors and retailers placed alongside your video.
That's it! Just pay "Steve" a goodwill token sum to get your free software!
What Easy Cash Club really is
It is utter rubbish, that's what it is. Sorry that I am so harsh with my words, but products in the internet marketing space are really getting atrocious and out of hand these days.
Make a goodwill payment to get your free software?! I have not seen anything else marketed like this. From the start, this "Steve" guy promises viewers his free software, then at the end asks for a goodwill payment. If this is not low down, I don't know what is. Why can't he be upfront and honest about it and state the price openly instead of lying about it being free?
Who is "Steve", we are not even sure. A person who does not even show his face on a product that he created, he is just telling people that he's going to run off anytime.
He made everything sound so easy. Just make videos in the laziest way ever, upload onto YouTube, and earn $3K to $5K instantly? Seriously? Such a low quality video would get you 100,000 views? With no following, no fan base, the moment you upload your video, 100,000 people would rush to view it? Wow this must be a crazy world, where everyone is a millionaire!
What is the world coming to
You know, first there are softwares that can pluck off the spoken word from YouTube videos (I think this is called stealing) and convert it into text, into a nicely done blog post. So that you can generate tons of unique content on your website, and get the search engines to give you the trust and authority!
Now there is this software that does the exact opposite! Take written text (which is hinted that you can take off any website) and convert it into a video!
What I can say is, people trying desperately to make money for themselves are getting more creative these days, and at the same time also shedding all their morals and integrity.
I can only shake my head, and get back to my business of exposing them and helping you see why it won't work.
Traffic
People who are successful on YouTube have spent years creating great content that people like. They help people and add value to certain aspects of their lives. So these viewers become their subscribers and followers on their YouTube channel.
As they build up their fan base, they get to earn more from the advertisements that are placed alongside their videos. They may even be approached by companies to sponsor certain content, if they are willing to partner them.
YouTube will also pay their video creators by placing ads right before the video is showed. This happens only when you have more than 1000 subscribers, and more than 4000 annual viewing hours. When you are just starting off your own YouTube channel, there is no way of earning any advertisement fee from YouTube itself.
When people do a search on the search engines, videos on established channels and with good viewership get shown on the top of the search results page. So they get more free organic traffic, some of whom subscribe to their channel, and the effect snowballs.
This happens only when you are authentic about delivering great stuff to your audience, not just some random crappy voice over of some pictures and expect it to become a viral video on YouTube.
So yes, there are people who are very successful on YouTube, and are making lots of money. But what others do not see is the sweat and tears that went into building up their success that we see today. They toiled for years prior to make all these work for them.
You want to make money online?
Learn this proper way instead. If you are like me, camera shy, and do not like to appear in videos, and do not know the technology enough to make your own video, then I recommend building up your own website. It may sound daunting at first, but I did it from scratch, with zero prior knowledge and technical skills. If I can do it, so can anyone.
With your own website, it is your online property, no one can take it away from you. With YouTube videos, you are simply parking your work on their platform. If one day YouTube disappears for whatever reason, there goes all the hard work trying to build up your own following on your channel.
With my websites, I am now making my online income, working from home in the mornings everyday, and spending my afternoons with my kids. I do not own or create any products, no inventory or delivery to handle, no customer complaints to deal with. It is a hassle-free way to make money online, and I am simply following the footsteps of many successful internet marketers who are making thousands and more each month.
Check it out:
---
Pros of Easy Cash Club
1. 30 day money back guarantee
Frankly, this is the only plus I can think of, only because this product is sold on ClickBank, an established network that you can trust, which offers money back guarantee for most digital products. But the thing is, I did not see this guarantee anywhere on the sales page of Easy Cash Club, so I won't be surprised if people face difficulties when trying to get a refund.
Cons of Easy Cash Club
1. Dubious owner
I do not trust any product that does not have a real owner to be accountable for.
2. No such thing as making money instantly with zero work
It just won't work, the method that they are trying to sell you here. It cannot get much more crappy than this, seriously.
3. Upsells
As though anyone would find any use for the front end product, they offer further upsells, which are extremely pricey. But of course they will try to push it into your face the moment you buy the front end product, even before you have a chance to try it out to see if it actually works or not.

Upsell 1: $97
Upsell 2: $77
Upsell 3: $47
Never ever buy into this kind of upsell, until you are sure that the original front end product is something that you like, and those add-ons may add value to you.
---
I absolutely do not recommend Easy Cash Club.
The proper way to make money online is to add value to your audience, be authentic and sincere, so that people trust you and connect with you. Through your very own website, in a niche of your own choice (it can be anything you are passionate about), build up content so that search engines see you as the authority in the niche.
Then when people search for answers related to your niche, your website will get ranked high in the search results. This is how you can get tons of free organic traffic sent to your website. The products and services you recommend are the exact match to what your readers are looking for. So they click on your affiliate links to buy the products, and you earn a commission from the companies selling them.
It is a neat way to make money online, which can be built into a passive income stream, because there is no stopping the free organic traffic once you get the absolute trust of the search engines. See how I built mine up from scratch:

---