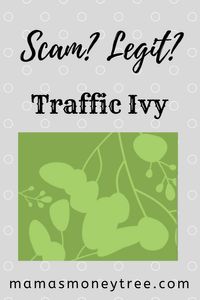 Hearing all the hype and wondering: Is Traffic Ivy scam? Don't worry, you are not alone. I was intrigued by this traffic tool too, that is why I bought it to check it out, so that I can do this review.
I am not associated with Traffic Ivy in any way, so you can be assured that I am providing an honest and unbiased review, from personal experience of using it, with lots of insider information.
Can it really drive laser targeted traffic to your site, and have your content go viral with multiple people sharing it on their multiple social media accounts?
In this article, I will provide an in-depth review of Traffic Ivy, through the following sections:
---
Traffic Ivy: Review Summary
Product: Traffic Ivy
Creator: Cindy Donovan
Product type: Traffic tool, social media marketing
Price: $9.97
Scam / Legit? : Legit
Recommended or not? : Not recommended
Traffic Ivy is a platform that allows your website to increase its presence and visibility in various social media platforms. It works on a point system. With the front end product that you purchase, you are allocated some points, which you will use to request other users on the platform to share your content via various channels like linking to their blog, or through their social media accounts.
The main issue with this product is the platform consists mostly of people whose websites are in the infancy stage of being established on the various social media platforms. So you are not going to get shares that will make your content go viral, as those are small websites, just starting out on their social media marketing efforts like yours.
So you may get a boost in the number of shares and views, but the traffic you get is not targeted, and not likely to convert.
The most targeted form of traffic is free, you do not have to purchase any product to get it. It comes from your own hard work, building up content on your website. Stick with it long enough, and search engines will start to take notice of your site, and reward you by driving tons of free organic traffic to it.
See how I'm getting unstoppable free organic traffic, by applying what I learnt from this awesome training platform:

Read on for the detailed review of Traffic Ivy, and why I do not recommend it.
---
What is Traffic Ivy
Information presented in promotional video and sales page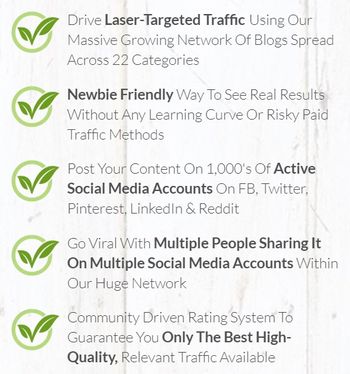 So it promises to deliver laser-targeted traffic with their massive network of blogs, which are of the best high quality ones. (But anybody can join this platform, as long as they pay for the product, so I'm not sure how they guarantee all blogs are of high quality. I would say, most are new blogs, in the beginning stages.)
It is a newbie-friendly way to see real results without any learning curve. (Yes, it is a fact that social media traffic requires steep learning curves, with different curves for different social media platforms. So people can only master one platform at a time, that is how complicated it can be. But it doesn't mean you shouldn't climb the learning curve, if you intend to run your online business for the long term, then you have to be committed to lifelong learning, instead of taking the easy way out.)
Post your content on thousands of active social media accounts, on FaceBook, Twitter, Pinterest, LinkedIn, and Reddit. (This is misleading. Each time you use your points to get your content posted on other people's accounts, maybe 10 to 20 sounds like a more reasonable number, depending on how many points you decide to use each time. You do not actually get your posts up on thousands of accounts, that is more like the total number of users in the system.)
Go viral with their huge network. (I don't think so, considering all the other users are just like you, just starting out and hoping to grow their social media traffic.)
Next, let's take a look at what is inside the members' area of Traffic Ivy
Insider's view
This shows my dashboard. So basically I just need to use my points to get my content shared, and when I run out of points, I connect my own social media accounts to share others' content, and that will earn me more points.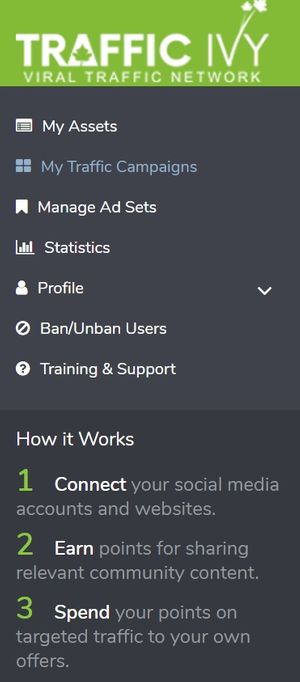 I can set up my traffic campaigns, based on whether I want people to share an article on their website, or to post something on their social media platform that links back to my website.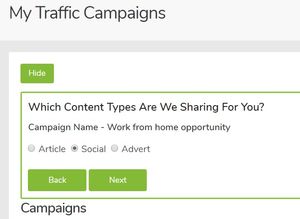 These are the available social platforms on which my content can be shared.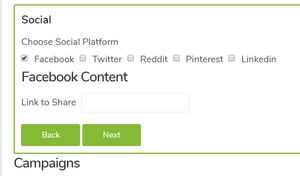 The concept is a simple one of social media sharing, within this Traffic Ivy community.
The one thing I do like about Traffic Ivy is that it is a genuine system that encourages real sharing by real people. But there are some flaws in the system, which I will be pointing out in the next section. There is also the very fundamental issue that social media traffic is not likely to be targeted traffic. No matter the number of shares and likes, if nobody buys anything from you, this traffic tool does not serve your needs, unless you set up a blog solely to get traffic without the intention of monetising it.
Why Traffic Ivy will not work for you
Let me first point out the flaws in the system:
1. FaceBook does not allow affiliate links in posts
When you set up a FaceBook campaign in Traffic Ivy, you enter the url that you want the post to link back to. It is fine if you are linking back to some post or page on your website. But if you unknowingly put in your affiliate link to some product, and people who choose to post this content unknowingly post it up on their FaceBook account, they can get banned, simply because FaceBook does not like affiliate links to be thrown all over the place.
This is a serious issue, but there are no rules within Traffic Ivy that address it.
2. Duplicate content on websites
When you set up a campaign for people to post an article onto their websites, what they post (the content provided by you) will become duplicate content, because there will be a few people posting this same content, depending on how many points you decided to use for this campaign.
So in the process of posting your campaign, people get penalised by search engines for duplicate content on their websites. Which doesn't make sense.
3. You can only link your personal FaceBook page to Traffic Ivy, not your business page
This can pose a privacy issue for people who are trying to separate their personal life from their business on FaceBook, as this restriction in the system means you can only post other users' content through your personal page. Then your friends may wonder the intent of the post, where it is coming from, why are you posting such content which is so unlike you, etc.
So until Traffic Ivy can get around these issues and have them sorted out, I would say there is actually some risk to your online business in this sharing platform.
Traffic Ivy is made for people looking to grow their traffic
The person who shares your content and posts in Traffic Ivy is very likely not interested in what you have to offer at all. He or she is more likely to want to start earning money from their websites, just like you. And they are posting and sharing just to earn more points, so that they can share more of their own content.
If they are in a different niche from you, their followers on their social media accounts will likely not be interested in your offers too. So that leads you to nowhere, after spending all those precious time dabbling in this system.
Social media traffic is not targeted traffic
When you are first trying to get traffic to your website, social media should never be the first thing you consider. The reason is simple: people go on social media to interact and socialise, to relax and past time after a tough day at work. They usually just scroll through feeds, view some videos, comment on friends' posts, click on some random stuff here and there.
Social media traffic is not actively searching for what you are offering.
So for any beginner trying to get traffic to your website, I would say social media is a big distraction. It takes a lot of your time and focus away from proper business building, just because you hope to see the number of shares and likes keep increasing. And it doesn't pay off at all, simply because the numbers do not reflect conversion rates.
What traffic converts the best, then?
What, then? You may ask.
The answer is simple. Traffic that is actively searching for what you are offering. That would be the perfect match.
But where to find them? You don't need to find them, the search engines will do the matching for you. They will send people looking for answers within your niche to your website, if they trust you enough and see you as the authority in the niche.
So what you should be doing is to build up on the trust by search engines, by building up content on your site. A robust site that is a wealth of information in your chosen niche will be what search engines want to serve up to their users. In this way, you get traffic that is ready to convert, because you are recommending the best ways to solve their exact problems.
This kind of laser-targeted traffic from search engines is called organic traffic, and it is totally free!
While you build up great content on your site, you are also establishing a strong foundation for your own business. This time and energy investment is going to pay off in the long run, because free organic traffic is unstoppable, once you have gained the trust of the search engines.
This is also how you are actually building up a passive income stream. It is the best way to run any online business, because it frees up your time, in the future, to travel or do whatever you like, or even start building yet another source of passive income. See how I do it here:
---
Pros of Traffic Ivy
1. Real owner
Cindy Donovan is a successful internet marketer, who is an influencer in her own way, with an established brand and following. She is genuine in setting up this platform for people to share their content and boost traffic to their websites. The idea is fantastic, but the implementation is not.
2. 30 day money back guarantee
This basic refund policy is in place, for people who are dissatisfied with the product.
3. The platform does promote sharing
Based on a points system, Traffic Ivy is sincere in promoting sharing among its users. There is no attempt to make you pay more money out of your pocket if you want more sharing. So you just spend an upfront amount, and you can go on using this system for the rest of your life (as long as it is still up there in the cloud) by earning points to get your content shared. This is something I really appreciate about this product.
Cons of Traffic Ivy
1. Its users are all looking to grow their traffic
If everyone is just beginning their blogging journey and hoping to grow their traffic through Traffic Ivy, the number of subsequent shares you get through members' social media accounts will not be viral. If their posts can go viral, they won't be here in Traffic Ivy.
2. Flaws in the system can put your business at risk
Duplicate content of an article that you ask to be posted on people's blogs will be detected by the search engines, penalising all who posted that content.
If there are affiliate links in the FaceBook posts being sent around, people's FaceBook accounts will get banned.
These issues within Traffic Ivy need to be addressed, otherwise it is not worth it to risk your entire business just to get a few more likes and shares.
3. Social media traffic should not be the focus when you are just starting out
Social media traffic is not targeted. For any newbie, my advice is always the same: go for free organic traffic, as they convert at the highest rate, so you start earning with zero cost, while at the same time building up a strong foundation for your business.
When you have earned some profits and are ready to scale up, you can then use some of your earnings to invest in paid traffic through social media platforms. Because free social media traffic is too scattered and not targeted at all.
4. Upsells
These are the upsells that come along with Traffic Ivy, something that I do not like, and they are absolutely pricey:
Upsell 1: $27 per month to $397 per year, depending on the Traffic Ivy Pro package that you take
Upsell 2: $97 Traffic Ivy kickstart bundle
Upsell 3: $297 Traffic Ivy Reseller
---
I do not recommend Traffic Ivy, because when you are starting out your online business, the focus should be on building up content, so that you gain the trust of the search engines, which will reward you with free organic traffic that is able to sustain itself.
Social media traffic does not convert well, as your website visitors are not people who are actively searching for what you have to offer, unlike organic traffic.
The proper way to build an online income is through search engines traffic, and not other things like social media which will distract you and take away much of your precious time. When you have built up a sufficient income, and are thinking of scaling up, you can then invest in paid traffic, which takes time and a good budget to master. But once you master paid traffic, you can take your business anywhere, the sky is the limit.
So one step at a time, take a look at the platform that helped me get started on my passive income from scratch, from zero knowledge of even setting up my own website. Yes, it is that newbie friendly. And it's absolutely free to start, you get 2 free websites and 10 lessons, because they want you to experience how awesome the training and the community is. Check it out…

---