Impressed by the idea of pulling makeup off your face simply by using polyester and water? Thinking of being a distributor for The Original MakeUp Eraser MLM?
Welcome to my MakeUp Eraser review.
I love anything natural and chemical-free. We really do not need to put more contaminants on ourselves. Hence I truly embrace the concept behind this product.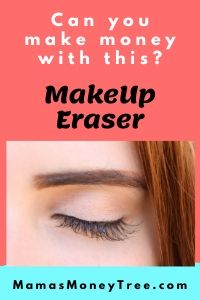 But will you be able to earn a side income with the MakeUp Eraser business opportunity? What are the potential pitfalls you may encounter in trying to promote this company to the people around you?
Join me in this honest and in-depth review of The Original MakeUp Eraser, as I walk you through its products and compensation plan.

Without further ado, let's dive right in now!
---
The Original MakeUp Eraser Review Summary

Product: The Original MakeUp Eraser
URL: https://makeuperaser.com/
Creator: Elexsis McCarthy
Product type: MLM (multilevel marketing) company selling makeup eraser cloth
Price: $50
Scam / Legit? : Legit
Recommended or not? : Not recommended
The Original MakeUp Eraser has raving reviews mostly, so I believe its quality is of a high standard. Along with its other benefits, its flagship product should not be difficult to sell (especially if you know how to leverage on free internet traffic).
However, there are some limitations that you would want to consider before signing up as their distributor. Firstly, you are competing with retail stores, since they have a wholesale program for retailers to participate in.
Secondly, since the cloth is made to last, you won't expect to see the same customer until a few years down the road. Lastly, their compensation plan is not made available publicly on their website, unlike other MLM companies.
---
---

What is The Original MakeUp Eraser

A brief background

The Original MakeUp Eraser was founded in 2013 by Elexsis McCarthy, who had, for five years prior to that, been removing makeup just with water and a bathrobe.
She went on to patent a blend of antibacterial polyester that is designed to remove makeup from the skin effectively.
And the rest is history.
What struck me about Elexsis' story is that her company is formed out of a genuine desire to bring about a product that will improve and add value to people's lives.
This is very unlike many MLMs, whereby their founders' unsaid intent goes along the line of making the big bucks with the compensation plan that is created solely to work for them. Second to that, they then find some product, fluff it up, to front the business.
So I would say we are off to a great start here with MakeUp Eraser.

MakeUp Eraser Product Line

MakeUp Eraser mainly sells their makeup removing cloth, in various colors and designs.
Made up of millions of tiny hair-like fibers, which are much thinner than human hair, when wet, it works to suction out all the makeup, dirt and oil out of each individual pore.



It is very different from microfiber cloths, which tend to be abrasive on the skin.
To be frank, I'd be very tempted to buy one for myself, if not for the fact that I am working at home full time, with no need to step out of the house. And my life revolves around the kids, so there's really no time or need for using makeup.
But I'm absolutely in love with the concept that this is so eco-friendly. It is supposedly durable, and can take machine wash, hand wash, and even dryer.
It lasts 3 to 5 years, and can even remove waterproof mascara, eyeliner, foundation, lipstick, and more.
Oh boy, why do I sound like I am promoting MakeUp Eraser?
I'm not its distributor, I'm just someone who gets super excited when anyone offers clean and green solutions instead of piling up on the unnecessary chemicals.

MakeUp Eraser Product Quality and Feedback

Now, let's take a look at what users have to say about the MakeUp Eraser cloth.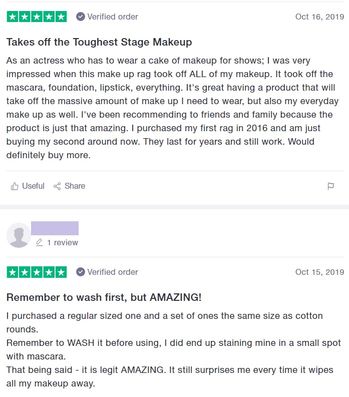 They are mostly positive reviews like those above.
On TrustPilot, which is an independent site for people to leave their reviews about companies, 88% of reviews on MakeUp Eraser are given the highest rating of excellent.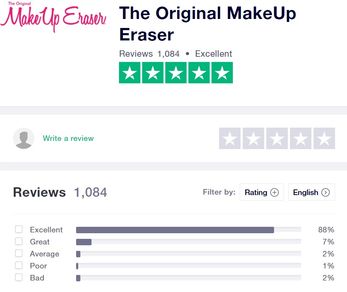 There are bound to be some negative ones, though. But I would say they are in the minority. Some users complain about the cloth being harsh on their sensitive skin.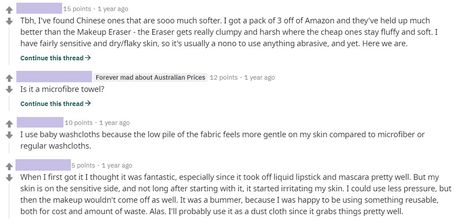 ---
---

MakeUp Eraser Business Opportunity

How to become a MakeUp Eraser Distributor

Their starter kit costs $50, and consists of some MakeUp Eraser cloths and a makeup bag, among some other stuff.
You can choose to use some of these as demo sets when you are promoting the products to people, or you can sell them to try and make your money back.
To me, what is more important is the replicate website that you will be getting.
Let me elaborate more on this in the next section on retail commission.

How to make money with MakeUp Eraser

As with any other MLM opportunity, the two main ways to make money with MakeUp Eraser are through retail and recruitment.

Retail commission
You make retail commission when you sell MakeUp Eraser products at retail price, either to people around you, or through the replicate website provided by the company.
With everyone on the internet these days, if you do not bring your business online, you are just doing yourself a huge disfavor.
Especially since the MakeUp Eraser cloths are made to last for years, you will need to find a continuous stream of new customers who would buy the products from you, in order for the business to be sustainable.
MakeUp Eraser's replicate website is crucial as it is from which you will earn your retail commissions, when people make their orders through it.
The thing is, you've got to know how to find targeted traffic to land on your replicate website.
The most precious form of internet traffic is from the search engines, because firstly it is free, and secondly this traffic is searching for the exact stuff that you are offering. So you really want to show up to these people with strong buyers' intent.
The replicate website will not make the cut in this case, because search engines hate duplicates. If each distributor has one replicate website, you can imagine how many copies of this there are floating around on the internet.
Hence the key is to have your own website, from which you will link to your replicate website.
Learn how to get your own website ranking in the search engines, and you will get an unstoppable flow of visitors landing on it, ready to buy the exact stuff that you are promoting.
Check this out to see what I'm talking about:

---

Recruitment commission
Without information on the official MakeUp Eraser website to go by, what I was able to gather is that its residual commissions only go 2 to 3 levels deep.
What it means is that people whom you personally recruited into the company falls under your Level 1. You will make a commission when they make sales or their own purchases.
When these referrals bring in their own referrals, those form your level 2. And so on.
As you go down the levels, the commissions you earn get less.
Without other details, it would seem like MakeUp Eraser's compensation plan does not give too much emphasis to recruiting, which is a great thing.
I would say it has solid products that sell well, and hence that is the focus of their business – retail.
This is refreshing to me, because in most of my reviews of MLM companies, the focus on recruiting is way too strong. Examples include Jeunesse, Avon, Amway, Mary Kay, and doTerra, to name just a few.

Why MakeUp Eraser may or may not work for you

One point worth mentioning is that MakeUp Eraser products are available in retail stores, with Sephora being one of the major stores that carries it.
While the compensation plan of MakeUp Eraser does seem to include commissions when you are able to bring in stores or other vendors who purchase in bulk, I do not think it is easy to earn through this channel, unless you have a wide network and know enough small business owners in the beauty and makeup niche.
You can be sure the bigger companies will work with MakeUp Eraser directly, should they decide to carry their items.
Hence retail stores are more likely to become your competition, rather than be your partners.
I respect any MLM company that puts retail first, as it is a much fairer way to compensate its distributors, especially those who are just starting out.
But in the case of MakeUp Eraser, there are other obstacles in the way – competition from stores (not just physical stores, but also their online stores as well), and the fact that you do not get customers coming back for more products on a regular basis.
---
---

To round up this article, let me recap and summarize the pros and cons, before I finally make my conclusion.

Pros of MakeUp Eraser

1. Established company
For a company carrying such a small range of products, and running a simple compensation plan to have survived and thrived for 6 to 7 years now (at the time of this writing), it says a lot about how customers take to their products.

2. Focus on retail
Only MLM companies with solid products will encourage their distributors to earn through retail more than through recruiting. I admire the integrity of the leaders of this company in this respect.

Cons of MakeUp Eraser

1. Need a constant stream of new retail customers
Since you won't see any customer until 3 to 5 years from their last purchase (unless they are buying MakeUp Eraser as gifts), you will need to find a consistent traffic source that is highly interested in what you are selling.
Having the products sold in retail stores really does not help with your sales, even though some people will say it's good for distributors as it raises brand awareness of the products, so people are more receptive when you try to promote it to them.
I guess there are always two sides to a coin.

2. There are many cheap alternatives appearing in the market
On the giant shopping platforms, it is easy to find very much cheaper makeup removing cloths, that work on the same idea as MakeUp Eraser's products, though usually made of normal microfiber material.
But people are saying those work just as well for them, without the hype and patented design associated with them, they pay a much lower price.

3. Elusive compensation plan
In all fairness, the detailed compensation plan of any MLM company should be made available to the general public, so that people can make their own informed decisions, on their own free will and not under any kind of influence.
So I am rather disappointed by the fact that MakeUp Eraser is not transparent about this basic piece of important information.
---

Is MakeUp Eraser Scam or legit? 

MakeUp Eraser is definitely NOT a scam. It is a great business that is driven to bring a clean, green and affordable solution to the realm of makeup removal.
If you intend to go for it, check out:


If you think MakeUp Eraser is not for you, may I humbly invite you to check this out:


It is what has allowed me to work full time from home, running an online business that has nothing to do with MLMs.
No matter what your decision is, I hope this article has helped by putting things into perspective.
---

And for reading all the way to the end of the post, I believe you have it in you to make this work. Here is your FREE PDF Guide: 4 Simple Steps to Making Money Online. Fill in your details to claim it:


If you have any concerns or questions regarding this MakeUp Eraser review, do comment below, and we will start a conversation from there.
---