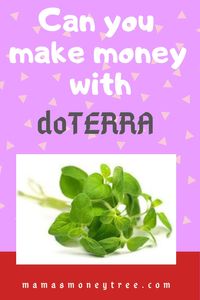 Been recently introduced to the amazing benefits of some natural oils, and checking out if the doTERRA essential oils scam is real, before deciding whether to join as its distributor?
Firstly, kudos to you for doing your due diligence in researching on the business opportunity, especially when it comes to anything that requires an investment of time and money.
Rest assured that I am not promoting doTERRA, having no association with it. I will be giving my honest opinion about all aspects of the company, from products to compensation plan.
You might be wondering:
Will you make money with doTERRA? Can it make you a happy side income? We will answer these, and more, through solid numbers that do not lie.

My in-depth review of doTERRA will be covered through the following sections:
---

doTERRA: Review Summary

Product: doTERRA
Founders: David Sterling and Emily Wright
Product type: Health and wellness products containing essential oils, sold through MLM scheme
Price: $35 registration fee, 100 monthly PV to maintain
Scam / Legit? : Legit
Recommended or not? : Not recommended
doTERRA is an MLM (multilevel marketing) company that manufactures products in the health and wellness niche that contain essential oils. The market has huge potential, as the vast majority of the population is just starting to learn about the benefits of essential oils.
There is great support for its distributors, not just through product education, but also with highly professional conferences, marketing materials, and stuff like that.
If you are already with doTERRA and have trouble getting customers to buy products, as well as find leads to join and build up your team, you may want to check this out:


Still, I personally do not recommend doTERRA's business opportunity because an MLM is an MLM, created to make money for its founders and top executives. It can take years of hard work before you start profiting from the venture.
If you have not stepped foot into doTERRA, you may want to check out my #1 recommendation to making money from home:

Read on for the detailed review of doTERRA, and why I do not recommend it.
---

What is doTERRA

doTERRA was formed in 2008, by a team of executives from another essential oils MLM company: Young Living.
Since they know the ins and outs of an MLM scheme, and the key ingredients for success, it's no coincidence that they brought the company from zero to a $1 billion enterprise in less than 10 years.
I must say this is VERY impressive.
With 2,000 employees and more than 3 million "Wellness Advocates" (which is what they call their distributors), who buy the products and sell them to their friends and family in a network marketing program, doTERRA is in a rapidly growing market that doesn't look like it's letting up anytime soon.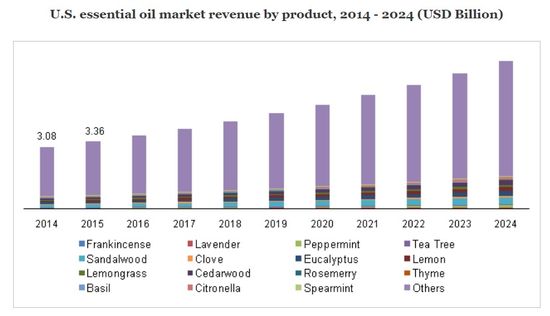 With its headquarters based in Pleasant Grove, Utah, and with many other offices all over the world, doTERRA is always expanding their product line, to serve the varied needs of consumers in the health and wellness, personal care, and even home care departments.

What are essential oils?
First, let's try to understand essential oils in very simple terms.
Essential oils are the natural oils extracted from plants through a distillation process. They are highly concentrated and potent.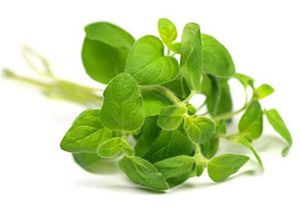 The roots, stems, bark, leaves, and flowers could be put through this extraction process, to obtain the essence of the plant with its characteristic aroma, as well as healing properties.
There is no official system for certifying that an essential oil is of therapeutic grade. So any company that stamps this term on their oils is using it only for marketing purposes, hoping that consumers can give them their confidence.
The term 'pure', slapped onto the oils, is again not governed by any authoritative body.
These are some stuff that any consumer intending to buy essential oils should be aware of, otherwise the sense of assurance may be misled by the marketing stunts of the companies.

Benefits of essential oils
Personally, I do strongly believe in going all natural when it comes to health.
Nature, in its amazing abundance, is enough to heal our ailments, if only we give our bodies the best chance, in terms of nutrition, exercise, getting enough sleep, etc.
So I fully embrace the idea that the phytochemicals found in plants have profound effects on us, which includes our mood, mental clarity, and energy.
My favorite is lavender, as it calms my mood instantly. It is my go-to whenever I feel anxious and stressed. I have also seen the incredible benefits of essential oils-infused creams on my kids' severe eczema, as the anti-inflammatory effects sooth the itch and allow them more restful nights.
But I do not believe essential oils have to be expensive to be of great quality. I guess that's for another part of the story, as you read on to the business opportunity section of this review.

doTERRA's Product Line

One big plus point of the company is its pursuit of excellence in delivering top quality products to its customers. Besides the essential oils themselves, they cater to very wide needs:
Essential oils – besides the single oils (63 of them), they have their own proprietary blends, for calming or cheering up your mood, to aid digestion, for balance, for disinfection, etc. The list is a long one.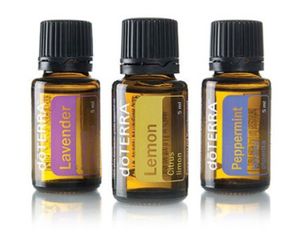 doTERRA On Guard products – hand wash, laundry detergent, toothpaste, mouthwash, sanitising mist, etc.

doTERRA Breathe products – oils, respiratory drops, and vapour sticks.

doTERRA Deep Blue products – oils and creams for rubbing and massage.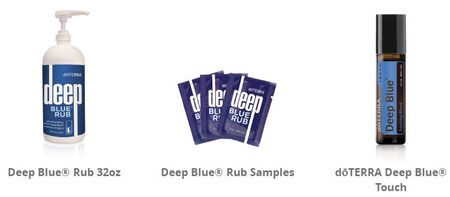 doTERRA DigestZen products – supplements to help with detox and aid digestion.

Personal care products – skincare, hair care, and spa.

Supplements – for children, women, daily vitality, etc.

Weight management – shakes, gel, metabolic gum, etc.

Diffusers – 4 designs to choose from, for diffusing the oils.



As you can see from the wide variety of essential oils based products, doTERRA is all set to conquer the market, trashing its competitors along the way.
But that is not to say its journey is without obstacles.

Trouble with FDA

In 2014, it got into a slight bit of trouble with the U.S. Food and Drug Administration (FDA), for making outrageous and unproven medical claims of their essential oils.
doTERRA sprung into action to educate its distributors about which terms are not to be used loosely, and tightened its marketing protocol to ensure it does not get into further trouble.

doTERRA's own product certification
It gets better:
In a bid to get itself certified, in a market where there is no authoritative body to say whose products are superior, doTERRA formed its own testing process and its trademark: CPTG which stand for Certified Pure Therapeutic Grade.
Quoted from its website:
Without an accepted standard for essential oil quality, doTERRA created its own testing process, calling it CPTG Certified Pure Therapeutic Grade®. The CPTG process certifies that there are no added fillers, synthetic ingredients, or harmful contaminants in their essential oils that would reduce their efficacy. doTERRA even goes a step further, putting all their products and the packaging through a battery of tests to ensure a long and effective shelf-life. This protocol ensures potency, purity, and consistency batch to batch.
Bear in mind this is still not FDA approved. But it is at least some effort to try and guarantee the top quality of its essential oils.
So, product and quality wise, I have no qualms that doTERRA strives for the best. But can we say the same of its business opportunity, in giving its distributors their fair share of earnings? We will explore this in the next section.
---
---

doTERRA Essential Oils Scam
– Business Opportunity

Why do some people call doTERRA essential oils scam, despite its obvious efforts to produce the best quality products?
The bottom line is:
If I can find equally exceptional oils at a much lower price affordable to the masses, then doTERRA is priced over the top, and there will bound to be people who call scam.
Why don't they simply price it at a marketable rate then?
This is how they have to do it, if they are running an MLM business, and that is the ugly truth of all MLMs that I will try to explain now.

How to become a doTERRA Wellness Advocate?

First, you pay $35 registration fee to become their Wellness Advocate, which is just the beautified term for distributor. This fee is pretty reasonable.
Then, you have to make a minimum monthly purchase of $100, in order to qualify for commissions. Even though it still does not look so bad, not everyone can afford this.
And this $100 per month adds up pretty quickly. Without you realizing it, you may get an entire storeroom full of essential oils and the other products.
This is because unless you can find customers who are willing to try out doTERRA and have yet to attach themselves to any distributor, and trust you enough to buy from you, otherwise you would likely have to top it up with your personal purchases, in order to hit the 100 PV monthly requirement, to stay qualified for commissions and bonuses.

How do I make money with doTERRA

As with any MLM company, there are two main ways to make money with doTERRA:
Retail commission: When you sell products to customers outside of the doTERRA network, you make a 25% commission off your sales. This sounds promising, but it is really not easy to sell their expensive products!

Recruitment commission: This is the avenue through which you will be encouraged to make money from the business opportunity – recruit more people under you, to form your downline. When they recruit people under them, or when they make purchases, you make commissions and bonuses too.
This is a very simplified version of how you can earn. The details (found here) are overly complex, my brain cannot take it. Basically MLMs like to make their compensation plan so complicated that no one is able to see through it.
As a fact, only the founders and top executives pocket the vast majority of the company's earnings.
The other distributors are simply paying out of their pockets, to support the extravagant lifestyle of those living their dream. I did not make this up, as you will get to see later.
This is despite the fact that doTERRA pays out their "Fast Start Bonus", whereby Wellness Advocates get to make a 20% commission on any orders placed by people whom they newly recruit, for the first 60 days after they sign up.

Why doTERRA will not work for you

It all boils down to the high pricing they set for their products. This means there is no real demand for the products in the open market.
That's where the MLM scheme very cleverly brings in artificial demand: by incentivizing people to buy their products, and keep buying at that, through their reward structure.
In a genius way, this reward structure is meant to work only for the founders and the few top executives who were roped in during the formation of the company.
Very little goes back to the regular distributors, if any at all.
In fact, the monthly minimum PV of 100 that every distributor has to meet, in order to qualify for commissions, is what supports the entire giant of the MLM.
Effectively, it makes you the customer.
So instead of being a business opportunity for you to make an income, it has become a financial burden, where you are tied down to this monthly purchase (since it will be difficult to sell the products to retail customers), and reluctant to cut the losses, as you will still hold on to the hope of recouping them as you build your team.
Which opportunity will require you to keep paying the company when in fact you are doing free advertising for them, promoting their products and business to people around you? Working so hard for them but still having to pay them?
MLMs will never make sense to me, and I think they should be banned. This is my very personal opinion, of course.

The proper way to make money from home

If you are attracted to MLMs because of the time and space flexibility, since you can choose how much you want to work, from where, and when to work, then you may be also interested in how I am making my online income.
In fact, when you engage in promoting doTERRA, your working hours are not good for your family, as you will be meeting and talking to people outside of their work hours, trying to get them to buy the products, or join your team. This means you work at night and on weekends.
And it is not true that flexible working hours can earn you a part time income. If you do not put your heart and soul into building up your team, there is no way you can climb the ranks to reach a level that allows you to even start recouping your 'losses'.
Instead of working so hard for a company that does not reward you fairly until you have built out a huge team that actively promotes its business, why not carve out a business for yourself?
It is not as daunting as it sounds, because I'm not talking about a brick and mortar business that requires tens of thousands in initial capital.
I'm talking about an online business, that allows you to work from home, work anytime you want, work even while you're on holiday!
The best thing:
No pushing of expensive products into the faces of family and friends, no bugging them to join your team, no throwing a hundred bucks each month for expensive products that you can't sell and that you usually will not buy for yourself, no more facing of rejection from people who try to shun you.
This business model that I'm using is neat and hassle-free. I do not have to deal with any inventory, neither do I have to worry about products not selling.
I simply leverage on the millions of existing products in the market, and choose those that I like, to promote. By bringing customers to the (virtual) doorstep of the retailers, I earn a commission. It's as simple as that.
I do not have to limit myself to promoting for just one company. The reward system is fair: earn commission based on the amount of sales you generate for the retailer or supplier. In fact, they recognise that you are doing free advertising for them, and appreciate you for that.
I do not have to pay to play the game. I do not have to pay the companies any registration fee.
If this sounds good to you, hop over to my other post, where I explain the exact method in much greater detail, and you can decide for yourself if it will work for you. Click on the button below:
---

Pros of doTERRA

1. Rapidly expanding market
Essential oils is in a relatively new market, where science is starting to show more research in its benefits, and people are gradually becoming more aware of it.
Moreover, with the new generation's embrace of natural and holistic therapies for health conditions, a larger fraction of the population is ready to accept incorporating essential oils into their daily lives.

2. Strong professional support for distributors
The leaders of doTERRA exhibit professionalism in the way they hold conferences for their distributors and prospects, aiming to educate on the benefits of the essential oils, which is a refreshing move from the cult-like culture that is so typical of many MLM companies.

Cons of doTERRA

1. Price is too high
This is the start of all the trouble, making the products exclusive to its members, or distributors, since it is too pricey for the general public to afford.
If you think about it, where does this $1 billion revenue come from? Who is buying the products?
Yeah, you guessed it.

2. Focus on recruitment is strong
When the focus on recruitment is strong, it simply means that the company is deriving its profits from its recruitment scheme. That is the only reason why they keep pushing their distributors to get people to sign up under them.

3. They do not have their own farms
Compared to their direct competitor, Young Living, doTERRA stands to be disadvantaged in this aspect. Not having their own farms means they source the essential oils from external suppliers, though they still create their own blends, by mixing the oils.
So there is one more pair of hands in the pot.
Not just that, quality of the raw materials may be harder to control. Though I'm sure they do carry out stringent checks and stuff.

4. Vast majority of distributors do not make any money
Here is the part you have been waiting for, where the numbers say it all.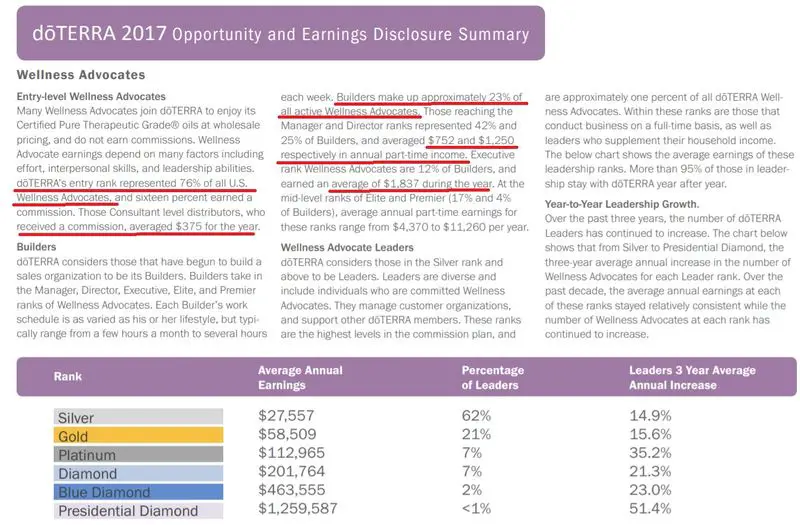 At first glance, it looks promising, that 62% are actually earning an annual income of more than $27K! On closer scrutiny, that table is only for the leaders, which make up 1% of their total distributors.
So let's take a look at the earnings of the remaining 99% of distributors.
As you can see, underlined in red, 76% of distributors make $375 in the whole year. That's not even enough to cover the monthly purchases, is it?
23% of distributors are called Builders. That leaves the remaining 1% as leaders.
Out of the Builders, about 80% make much less than $1.9K in the year. Take away the monthly purchases, that's not even enough for the bills and housing rental, much less living out their dream lifestyle.
So you see, no matter how promising it looks, an MLM never changes its spots. The core of the business exploits its distributors.

5. Family and friends will start to shun you
You will sense that relationships start to suffer, when there is a hidden agenda in your interactions with family and friends.
Yes, the products are effective, and have amazing benefits, but they can easily get the same quality at much lower prices, made by honest companies whose marketing edge is their competitive pricing.
So there's no reason for them to empty their wallets for something that they are not even actively searching for.

Is doTERRA Scam or Legit?

I see doTERRA as a completely legitimate MLM company that wants to abide by the law, and provides the best resources for its distributors to promote their products.
---

An Alternative

I do not recommend doTERRA, or any MLM company for that matter. Ultimately, they are created not to work for their distributors, but for their founders, just like Nu Skin, Tupperware, and New U Life, to name just a few.
If you want to make some serious money by working from home, I recommend this other business model, where all your effort goes into building up your own online business.
You get to keep all your earnings, instead of being vulnerable to the incentive structure created by others that will not work in your best interests.
The entry barrier is low, and these days, with all the advancement in technology, it takes just a few minutes to set things up, have your own website up and running, and start working on it.
You do not have to know a single line of coding. I know of a training platform where any newbie can get started to set up their own website.
Hop over to my review post of this awesome platform to check it out, by clicking on the button below:


If you have any concerns or questions regarding this doTERRA review, do comment below, and we will start a conversation from there.
---