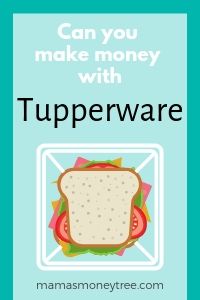 Is Tupperware pyramid scheme, or is it a legitimate MLM (multilevel marketing) company that you can still profit with?
Is the market already saturated, or will there be an endless stream of customers because of how great their products are?
Here, I will give a detailed evaluation of their product types and quality, as well as analyze their business opportunity, to see if it's worth your time and money to become a Tupperware distributor (or consultant, as they call it).
Even if it looks all well on the surface, a little digging around into their income statement will probably help you decide if this can be a good supplement for your regular 9 to 5 job.
My honest and in-depth review of Tupperware will be covered through the following sections:

A brief background of Tupperware
Tupperware's technology
Product line
How to become a Tupperware consultant
How to make money with Tupperware
How Tupperware is different from other MLMs
Pros and cons of Tupperware
An alternative
Without further ado, let's dive right in now!
---

Tupperware: Review Summary

Product: Tupperware
Creator: Earl Tupper
Product type: Food storage containers, sold through MLM (multilevel marketing) scheme
Price: $99 to join as consultant, $250 sales every 4 months to remain qualified to earn commissions
Scam / Legit? : Legit
Recommended or not? : Recommended, if you know how to tap on internet traffic for your Tupperware business
With a brand name that every household knows and trusts, I believe there is a constant demand for Tupperware products.
In terms of business opportunity, its retail commission is good (at 25%), though the market is quite saturated with all its consultants.
With this focus on retail sales of their products, rather than on recruitment, I believe there is a good chance for you to work up a profit, despite its income statement showing that only a tiny percentage of its distributors are making a substantial income out of it.

---

What is Tupperware

Tupperware is a very established and well known brand across the globe, with its 2017 revenue at a whooping $2.2 billion.
Its product quality is top-notch, with a lifetime guarantee. Though highly priced as with any product sold through an MLM scheme, people generally do accept this brand as a safe and reliable food storage manufacturer.

A brief background of Tupperware

Earl Tupper, a chemist, founded Tupperware in 1946, when he created lightweight, break-proof plastic containers.
Brownie Wise received a set of Tupperware containers from a friend and, recognising the innovation in them, began to host home parties so she could demonstrate to people how they worked.
She was later invited to become Tupperware's Vice President. Under her leadership, the company was taken to great heights through the MLM (multilevel marketing) scheme.

Tupperware's technology

Tupperware's plastic is made by heating polyethylene into its liquid state, then transferring it into a mold, with very stringent control of pressure during the molding process.
This has led to the lightweight, non toxic, odourless and unbreakable plastic that we know today.
Together with sealing lids that keep food fresh and prevent leakage or spillage, it has transformed the way people store food and liquids.
Personally, I use a lot of Tupperware containers at home, and even the water bottles that my kids bring to school are this very brand. Tupperware has been a part of my daily life since I was a kid – my lunch boxes, the containers that keep leftover food in the refrigerator, etc.
No, I'm not selling this, don't worry. I'm just a happy user who is very satisfied with the convenience and food safety that it has brought to my daily life.
The point I want to make is that I believe there is a continuous demand for Tupperware products, as each new generation move out to live on their own, set up their families, and so on.

Tupperware's Product Line

Where do we start… There are so many products created by Tupperware. They can be categorised into these main uses:
Cook ware: these are for baking, cooking, microwave cooking, and ovenware, etc.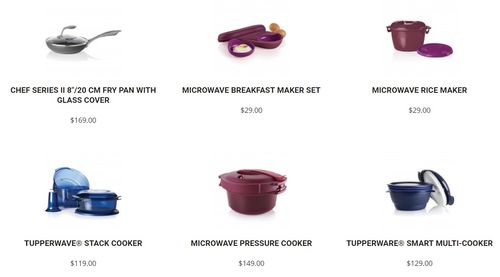 Kids: lunch sets, tumblers, sandwich keepers, and even toys.
On the go: thermal jars, water bottles, tumblers, snack cups, lunch boxes, etc.
Prepare: accessories for food preparation like peelers, ice cream scoops, whisks, serving spoons, food slicers, etc.
Serve: Plates, bowls, wine accessories set, pitchers, etc.
Store: containers, freezer storage sets, ice trays, modular containers that allow stacking, etc.
You can be sure the vast range of products will be able to serve all your storage and some cooking needs.

Tupperware's Warranty

To show the confidence in the quality of their products, Tupperware offers lifetime guarantee for chipping, cracking, breaking, or peeling under normal non-commercial use of their products.
This says a lot about the company, and that is why people have not stopped buying from them all these 70 over years!
---
---

Tupperware Pyramid Scheme? Or not…

I can tell you upfront, Tupperware pyramid scheme, it is NOT. In fact, this is a legitimate MLM scheme that all other MLM companies should emulate.
Ok, I think I'm getting ahead of myself.
Let's start from the beginning:

How to become a Tupperware Consultant

To start, you simply pay $99, which actually gives you $350 worth of Tupperware products and business tools. You can choose to use those products for yourself, or sell them to your customers.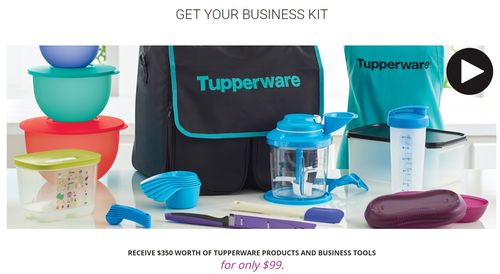 To remain in the business, you simply have to make $250 worth of product sales every 4 months. These can be from retail to your customers, or your personal purchase.

How to make money with Tupperware

Just as with any other MLM company, there are two main ways to earn with Tupperware:

1. Retail commission
As a Tupperware consultant, you will earn 25% commission off any retail sales that you make. This is a very high rate, in comparison with other MLM companies.
What is unique about Tupperware is there is a real market demand for its products, so making retail sales should not be too difficult.
At the same time, you get a 25% off your own purchases, since you are buying at the wholesaler price.
The thing is, with the whole world going online for their shopping needs, you can't rely on traditional selling methods anymore, like hosting Tupperware parties for your warm market, or setting up a stall at some fair or mall.
If you do not leverage on the internet to reach out to people who are actively searching for the best food storage containers and lunchboxes, you are doing a disservice to yourself.


2. Recruitment commission
The compensation plan for Tupperware is convoluted, just as with any other MLM companies.
Not that I would study it in any detail, since when it comes to recruitment commissions and bonuses, MLMs love to make their incentive structure complicated beyond me.
It doesn't matter to me anyway. The gist of it is: the higher your rank in the business, the more residual commissions and bonuses you make.

Why most MLMs do not work for their distributors
For any typical MLM company, it all starts with exorbitant pricing of their products, which makes them not marketable to the masses.
Its distributors are made to meet minimum monthly sales (topped up with personal purchases in many instances), which creates an artificial demand for the products. In fact, distributors inevitably become customers!
And because the products don't sell, the company would push their distributors to focus on recruiting more people into their teams, proclaiming that the money is in the recruiting.
But recruitment commission gets you negligible income if you are in the lower ranks. So most people end up making losses, because they are working their butts off to pay for the luxurious lifestyle of the founders and those few people at the top ranks.

Tupperware is different

Having reviewed so many MLM programs, it is refreshing to see one whose products do have a real market demand.
And if you work at it, I think it is reasonable to expect yourself to be able to meet those minimum sales requirements of $250 every 4 months, in order to stay in the Tupperware business.
If you aren't, then after 4 months and $250, it should be quite clear that it's time to get yourself out of the business, without too much loss.
So in my opinion, this business opportunity is worth a try, if you are looking to supplement your regular income, or if you are a stay-at-home parent looking to make a part time income.
The beauty about Tupperware is their focus on retailing their products, rather than on recruitment. So you do not have to bug your family and friends to join as a consultant, in order for you to profit from it. Otherwise they may start to shun you, which is one big issue that all other MLM companies have, since they urge their distributors to go all out to recruit.
One down side, though, is the traditional methods taught to their distributors – sell the products to your warm market (family and friends), and hold house parties.
These are outdated, and very limiting in terms of the number of customers whom you can reach out to. Without innovating, it is difficult to achieve a sales volume that can sustain this business opportunity.
In this internet age, you will need to pick up some high income skills, to give your Tupperware business the best chance:


In fact, the source for my personal Tupperware products is this middle-aged lady, who regularly sets up a make-shift stall, by renting a little space, in a shopping mall.
This is how she expands her reach, which is quite effective to a certain extent. She would also give out her business card, so whenever we wish to make any purchases, we would simply contact her to enquire when she would set up stall. But of course renting the space is an added cost to her business.
Despite these advantages of Tupperware, most distributors (97% of them) do not make anything beyond $500 per year (I have their income disclosure to show for it later).
So even though it sounds like a good potential here, the numbers still point to the same conclusion that I had for all other MLM opportunities: the earnings are too little for the amount of work that you would be putting in.
If you are a person who believes in hard work, I have a much better way to make money from home, that I want to show you.

How I make my online income from home

Well firstly I must say I am not the outgoing sociable person who gets energized from lots of interaction with people.
Especially when it comes to selling, I just can't bring myself to do it, knowing my family and friends will either oblige for the sake of our relationship, or will reject me outright, to which I would feel lousy too.
And that is what I value most about this way through which I am earning my online income:
I do not have to do any face to face selling, trying to push expensive products to people who are not even looking for them.
With my current online business, my offer reaches those people who are actively searching for it.
And what's even better is that I am not limited to promoting products from just one company. I can promote whatever number of products I wish, from any number of companies, all at the same time, because there is zero entrance fee.
You see, the thing about MLMs is that you are paying to promote the company's products. Which does not make sense to me, so I will never condone the MLM business model.
The way that my own business runs is like this: I promote for whichever companies I choose (without paying a single cent to anyone). When I drive sales to those companies, they pay me a commission off the sales.
Fair and square, and very transparent.
And because it runs on the internet, I am not even selling to my warm market like family and friends. I sell to people actively searching for the products, because as I build up my online presence, the search engines send free traffic to my offers.
This traffic is happy because they get great product recommendations that resolve certain issues they are facing.
So I am adding value to my customers, instead of forcing something down their throat.
There is too much that I want to say about this business model that I am using. If you are interested to learn more about how I make money online, click on the button below to read all about it on my other post:

---

Pros of Tupperware

1. Established brand that many households use
The market is there, with a real demand. So it should not be too difficult to make some sales as a Tupperware consultant, though the volume may not be large enough to earn you a full time income.

2. Focus on retail, rather than recruitment
This is something very rare in the world of MLMs. More often than not, distributors are asked to recruit, recruit, and recruit.
Not for Tupperware, since their products can sell in the real world.
This makes the renumeration to its consultants much fairer since they get to earn a fixed percentage of 25%.

Cons of Tupperware

1. Elusive compensation plan
Not that I would understand it even if they put it up. But for people who are really interested in their business opportunity, this information is not readily available to them from Tupperware's website.
This poses an obstacle when potential consultants are trying to make an informed decision before actually signing up.

2. Traditional methods for selling their products
In these days of high technology and information age, Tupperware still relies on old methods of selling their products: home parties and warm market.

3. Very few people make any substantial income from it
Take a look at their 2016 income disclosure for its distributors: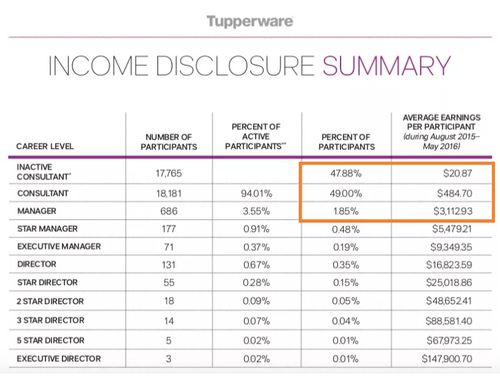 Nearly half of their distributors are inactive, the other half making less than $500 a year. These add up to almost 97% of all their distributors.
Even those in the manager rank earn only $3K in the year! How is this even enough for a part time income?
Statistics do not lie. I guess it has to do with saturation of the market. And Tupperware products are made to last a lifetime. So the volume of sales may be rather hard to scale up.

Final Words

Tupperware is definitely a solid MLM company, with great products and a focus on retail sales. Even then, evidence shows that the potential for earnings is quite miserable.
With traditional selling methods, you will not make a lot of money with this, just like many of the other MLM companies I have reviewed, to name just a few: Hempworx, Mary Kay, and New U Life.
But I believe you can possibly make this work a lot better, if you know how to use attraction marketing to find highly targeted free organic traffic, made up of ready buyers on the internet.


If you have already tried out Tupperware and it hasn't worked for you, allow me to humbly share with you my recommended way to make money from home, while having the flexibility to spend more time with family.
This method is to set up your own website, on which you can promote other people's products, and earn a commission through it.
This is called affiliate marketing, and it is a neat and hassle-free method.
You do not have to own any products, neither do you have to do any face to face selling.
There is no upfront cost to pay any company for promoting for them, and in fact, they recognise it as free advertising. The more sales we drive to them, the more we earn.
And driving sales is straightforward, though it takes hard work.
This is definitely not a get rich quick scheme, but it is worth investing your time and energy in, because you are building up your own online business, something that you can call your own.
By building up content on the website, the search engines will start to see you as the authority in the niche. When people search for stuff related to your niche, your website will get high ranking, appearing on page 1 of their search results.
So they will click to land on your website, and convert into buyers, since what you offer and what they are actively searching for is a perfect match.
I have seen the power of free organic traffic sent by the search engines. It is unstoppable.
To learn the exact details of how this works, click on the button below to see my other post, as there is so much I want to show you…


And for reading all the way to the end of the post, I believe you have it in you to make this work. Here is your FREE PDF Guide: 4 Simple Steps to Making Money Online. Fill in your details to claim it:


If you have any concerns or questions regarding this Tupperware review, do comment below, and we will start a conversation from there.
---