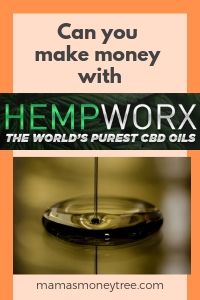 Hempworx appears to be a rising star, as it partakes in an uptrending industry, selling CBD oils, a therapy which has seen much publicity in its amazing benefits in recent years. So how does the question even arise: is Hempworx a scam?
In fact there seems to be some controversies surrounding the company, especially when it comes to customer service, real product reviews by customers, as well as its business opportunity, despite its products being touted as one of the highest quality in the industry in terms of purity.
So is Hempworx worth your time and money? Are their expensive CBD oils going to relieve your pains and other ailments? Is their business opportunity going to be life-changing for you and your family, or is it actually a pyramid scheme in disguise?
We will explore all these and more in detail, as I provide my honest and unbiased view of Hempworx, its products and its business model, through the following sections:
---
Hempworx: Review Summary
Product: Hempworx
Creators: Josh and Jenna Zwagil
Product type: CBD oils, sold through MLM (multilevel marketing), also called network marketing
Price: $20 activation fee + product package (ranging from $69 to $599)
Scam / Legit? : Legit
Recommended or not? : Not recommended
Hempworx is an MLM company that sells hemp-based products, from CBD creams for aches and CBD oils for pets to herbal drops and hemp infused coffee. It takes pains to ensure its products are of the highest quality, but fails badly in customer service. Priced exorbitantly, its products do not get real market demand, but rely heavily on its distributors' purchases of the packages when they sign up. Hence the focus of the business opportunity is on recruitment of new distributors, rather than marketing the products. To me, this is not a good business model.
See how I am earning my online income, without any recruiting or face to face selling.

Read on for the detailed review of Hempworx, and why I do not recommend it.
---
What is Hempworx
Some background on CBD oil
With the legalisation of hemp-based products in the U.S. and many other countries around the world, more people are seeing the beneficial effects of this amazing plant.
There are two natural compounds in the hemp plant that can sometimes get mixed up: cannabidiol (CBD) and tetrahydrocannabinol (THC).
Both compounds interact with the body's endocannabinoid system, but they have very different effects. THC is the main psychoactive compound found in marijuana, that give the high sensation. Marijuana is a variety of the cannabis plant, which has a higher concentration of THC.
Hemp is another variety of the cannabis plant, with a much lower THC concentration, and hence it can be safely harvested for the benefits derived from the CBD compound, which can have an effect on the body's pain response, immune function, stress, and sleep, just to name a few.
I do not have any personal experience with CBD oil, as it is illegal in my country. But I have seen it work wonders on many different types of health issues, as I am in a few FaceBook groups for the sake of my kids' health. Having seen so many success stories, not of any brand in particular, but of CBD oil in general, I do believe in the healing effects of the hemp plant, if extracted properly such that its beneficial properties are preserved.
Now some background on Hempworx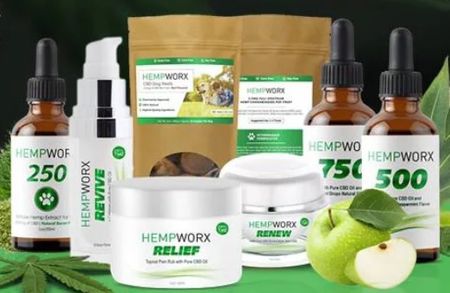 Hempworx is a very new company, founded in 2014 by Josh and Jenna Zwagil. It specialises in making hemp-based products, with raw materials from Pilot Research Hemp Farms in Kentucky. This is telling about their quest for the highest quality in what they create, as many people believe the nutrient rich soil in Kentucky as well as its climate produces the finest hemp.
On top of sourcing for the best raw materials, Hempworx uses low temperature CO2 extraction method in processing its hemp, which means no heat or harmful solvents were used, which guarantees a pure and potent product.
They engage in rigorous lab testing and verification methods, in addition to being 100% non-GMO and organic.
Hempworx Product Line
CBD oil herbal drops
The main items in their product line are the CBD oil herbal drops, meant to be placed under the tongue with a dropper, hold for 60 seconds, before ingesting it.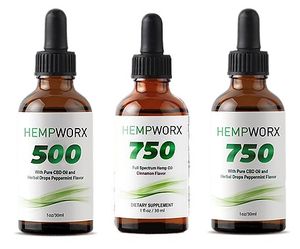 Here is the labeling for the herbal drops.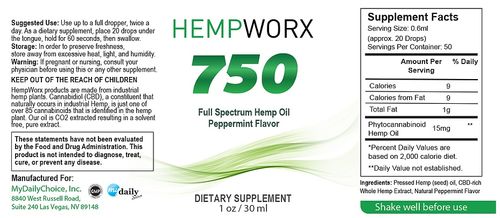 The ingredients list for their CBD oil herbal drops is short, which means it is pure: CBD oil and peppermint extract (this is just to enhance its flavour). That's it. No unnecessary fillers or any other additives. Got to give them credit for this.
Each bottle of the CBD oil comes in 500 mg (costs $69), or 750 mg (costs $89). Pricing is sky high, in my opinion.
CBD Topical Cream
There are 3 types of topical cream, all priced at $69 each.
Renew – this is an anti-aging cream made from apple stem cells, jojoba seed, and of course CBD oil. Claimed to reduce wrinkles and fine lines, inhibit oil production, and heal eczema, among other benefits.
Revive – also anti-aging, but infused with collagen.
Relief – this is an icy muscle rub, to relief muscle pain, joint soreness, rheumatoid arthritis, and fibromyalgia.
CBD oil and treats for pets
This is a 250 mg bottle of CBD oil (costs $69) specifically made for pets. Beef-flavoured CBD infused dog treats are also sold at $69 per bag.
Hemp infused coffee
A box of 30 sachets of Arabica coffee, with 5 mg of hemp-derived CBD in each sachet – costs $69 per box.
You can see very clearly by now, pricing is the most off-putting thing about Hempworx products. No matter how fantastic the quality is, how much research and lab testing they carry out, this kind of pricing kills off any potential customers from the real market instantly.
Moreover, if you try to buy anything from their website, you will be put through an inconvenient process of having to sign up an account with them. Why?
This, together with the pricing, all point towards the company's focus on recruitment, rather than subjecting their products to real market demand, as we will explore in the next section about their business opportunity.
If you do not want to be exploited in an MLM scheme, check out my #1 make money online platform now, by clicking on the link right below:
---
Hempworx Business Opportunity
Coincidentally (or not), the owners of Hempworx are also the owners of My Daily Choice, which is a different entity set up to promote Hempworx products along with some other brands and product lines that Josh and Jenna may pick up along the way. The business model used is MLM (multilevel marketing).
So you may find Hempworx distributors selling other stuff too, like some nutritional spray products that they are carrying now. Which may be confusing for some people who do not understand the whole structure behind Hempworx and My Daily Choice.
Also, from the Hempworx website, when you click on the button to join as their affiliate (or distributor), you get sent to My Daily Choice website, on which it says 'Welcome to Hempworx Official's site', when you have obviously just been routed away from the official Hempworx's site. Talk about a complicated world out there.

With Hempworx, you're called an affiliate. But it's totally different from how real affiliate marketing works. The 'affiliate' in Hempworx is no different from what is more commonly known as 'distributor' in any MLM scheme.
How to become a Hempworx affiliate
To sign up as a Hempworx affiliate, you pay $20 as an activation fee, and then select from one of the three product packages:
Builder Pack – $69
Director Pack – $199
Executive Pack – $599
Of course they will make the more expensive packages more worthwhile, so that there will still be some people who choose to purchase the higher end ones, in order to get more products.
There is another way you can 'join' the company: as a preferred customer. Then you do not have to pay the $20 activation fee, but you have to take on a monthly order subscription (what they call monthly autoship) in order to remain in the business and benefit from it.
Under this 'preferred customer' scheme, you get 1 product for free, for every 3 persons that you refer to buy a product each.
How to make money through Hempworx
Just like any other MLM company, Hempworx makes their compensation plan very complicated, with many different possible ways to earn, many types of bonuses and commissions, many conditions and qualifiers, many ranks, etc. that I prefer not to spend my time and brain cells on.
In gist, this is how it all works, summarised into 2 main points:
You make money off retail commission when people buy Hempworx products through you. The more you sell, the more you make. The biggest problem? How do you sell the products when the pricing is sky high?
You make money when you refer more 'affiliates' to join Hempworx, forming your downline, and part of your team. This is the way that all MLM companies will push their distributors to go for, dangling huge carrots at the top ranks, to encourage their distributors to aggressively build their teams.
Why Hempworx may or may not work for you
Hempworx is a relatively new company, so their market may not be saturated yet. To make it big in any MLM company, you have to join them at the early stages, when the number of distributors is still growing, when your friends and family have not yet been approached by other distributors, or when people who can benefit from their products have not been marketed to yet.
If you think you are in such a situation, and you are a natural sales person, then it may be something you want to give a go at. You must be self-driven, really have a passion for the product, can talk your way through an impressive sales pitch, and have no fear facing lots of rejection. No guarantee of success, though, considering only a very small percentage of distributors in any MLM company can earn a full time income out of it.
Take a look at this review of income statements for direct sales companies (which are MLM companies):

If you are like me, who feel very uncomfortable pushing a pricey product that people have no real need for, then MLM is not for you. Personally, I will never find it in me to recruit family and friends into an MLM scheme. Because it feels like I am exploiting my relationship with them for my own financial gains.
And since I know the success rate of being an MLM distributor is extremely small, I also won't want to put up advertisements or social media posts for the cold market, to rope in people I do not know. To me, it's still unethical, because these are people who really need the money for their day to day living, and yet I'm showing them a 'business opportunity' in which the success rates are so low, just so I can climb up the ranks.
I can't do it.
But I can make an online income without exploiting anyone. In fact, I earn while I help and add value to people's lives. Want to see how it can be done? Click on the blue button below to find out:

Why I do not recommend any MLM to anyone
How an MLM company primarily works is this: it jacks up the prices of its products. So there can be no real market demand, since the prices are exorbitant. Then they create an incentive structure for people to buy their products – pay this fee, buy that starter kit, or subscribe to this monthly purchase, so that you get access to become a distributor.
And that is also precisely why MLM companies hardly ever focus on teaching their distributors to market their products. It is always about recruiting, recruiting, and more recruiting. The more distributors they have under them, the more the company grows. MLM companies rely on those purchases made by their distributors! They are exploiting the exact people who are marketing and advertising their company for free.
All these hidden behind the facade and promise of luxury land, free of any financial burden, freedom to spend time with family, travel the world, work from home, etc.
It just doesn't come true for more than 95% of distributors, who are feeding the extravagant lifestyle of those few at the top of the ranks.
Related: This article on creditcards.com talks about how to deal with debts from an MLM.
---
Despite how good all the other numbers look, it doesn't take a lot of analysis to conclude that more than 99% of its affiliates are earning less than $100 a month! That's literally close to nothing!
Now do you see why my stand against MLM companies is so firm? Don't tell me about the fast cars and big mansions, the great leadership and coaching, the marketable products that will save the world, when no one is making any money besides the top 1% in the company.
If you are looking to make some money online, and ultimately replace your day job (this is possible if you are willing to work hard for it), I do not recommend any MLM company (including these that I have reviewed before, just to name a few: Jeunesse, Herbalife, and Forever Living).
What I recommend is how I am earning my online income now: the real affiliate marketing.
I do not have to recruit people into my team, I do not have to do any face to face selling. And most importantly, all the hard work I put in is for myself, my online business, and not to feed someone else's luxury lifestyle.
I promote great products that are already in existence in the market, and earn a commission when people buy them through my affiliate links. The more sales I bring to the companies, the more I earn. I am not limited to one company. I am free to choose whichever company, and whatever number of companies that I want to promote, as long as they have an affiliate program that I can access.
I do not have to exploit family and friends, or anyone for that matter, for my own financial gains.
In fact, I add value, by offering answers and solutions to what people are looking for. Instead of insisting that they need some overpriced product that they were not even actively searching.
Want to learn how I am running this online business? Click on the button below:

---