You must be here, checking out exactly what is Bank Ramp, because you just received some promotional material about it in your inbox, or you read about it somewhere on the internet.
Congratulations for doing your own research and not taking things at face value, especially when there are so many scams out there in the online world these days.
This is crazy:
You will see tons of raving reviews about this product. By people who have never used it to make any money. Because that is not how they make their money online.
Instead, these affiliates make a living by wildly promoting any newly launched digital product, regardless of their quality. When you take up their offers and buy through their affiliate links, they earn a commission.
Yes, it's a crazy world out there.
You might be wondering:
How about this particular page you have landed on right now? Don't worry, I am not promoting this product, as I only choose the best stuff that will add value to my readers.
Here, you can be assured of my honest and unbiased in-depth review of Bank Ramp, through the following sections:
---
Bank Ramp: Review Summary
Product: Bank Ramp
URL: https://www.bankramp.com/o/c/special.php?hop=0
Creator: Jamie Lewis
Product type: Ecommerce, via dropshipping method (using Shopify, Amazon and eBay)
Price: $37
Scam / Legit? : Legit
Recommended or not? : Not recommended
Bank Ramp is basically some training on doing ecommerce through dropshipping, using Shopify to set up your online storefront, and working with Amazon and eBay to get your deals. It is a completely legitimate business model, but not the get rich quick scheme that Jamie would have you believe.
The inherent problems of dropshipping include low profit margin for the effort and time spent, having to deal with any issues that crop up with product delivery, as well as customer complaints and refunds.
That is why I chose another business model instead of dropshipping. Check out my #1 recommendation to making money online:

Read on for the detailed review of Bank Ramp, and why I do not recommend it.
---
What is Bank Ramp
To find out exactly what is Bank Ramp and how it works, let us first take a look at its sales video and landing page.
It is made to sound like an extremely easy money-making method. Takes just 15 minutes to set up, activate, and BOOM! – results.
That's Jamie Lewis and all his hype, which I have seen enough of in all his other products I have reviewed before, including Profit365, Wealthy Agency, and Profit Injector, to name just a few.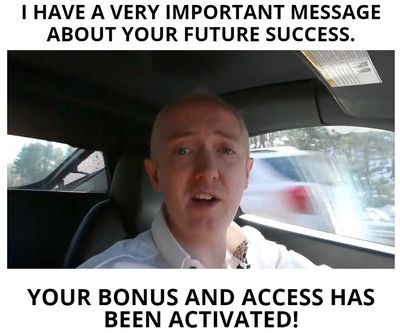 And here, they show one of their students making $2.81K, easily, right after implementing the training.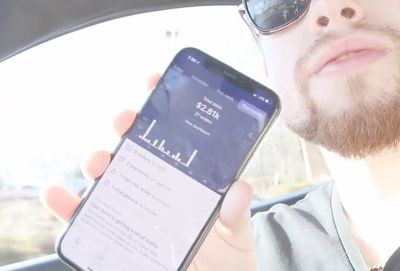 And I just had to laugh when he called himself the CEO and founder of Bank Ramp.
That would make me CEO, President, founder, CFO and Marketing Director of Mama's Money Tree! Not bad…
Well, it's obvious this guy needs a constant boost to his ego, seeing how he markets his products in all the sales videos he's made.
Ok, I know it's out of the point. It just irks me.
Then he drives his Ferrari to the dollar store, buys an item for $1, and supposedly sells it for $100, using the method he will be teaching you in Bank Ramp – a creative arbitrage on eBay.
Maybe he takes the whole world for fools. I don't know.
And he continues… after lots of testing and optimisation (which is the exact same script for all his other products), this product cannot fail you. Anybody can make money with this. 24/7. It's the single thing that everybody wants to get their hands on right now.
After seeing all the castles in the sky, let's get back to reality, and dig right into Bank Ramp, to see why it will not work as it is made out to be.
What Bank Ramp really is, and why it will not work for you
It is nothing new, nothing so hot that everyone is trying to get their hands on. It's none other than dropshipping, which is one way of doing ecommerce.
What is dropshipping
In dropshipping, you set up your online storefront, on which you choose items to sell. When people come to your store and make a purchase, you pass the order to your supplier whom you are working with, and this supplier will then make the delivery directly to your customer.
The advantages of this business model is that you do not need to keep any inventory. But that's about the only advantage.
There are many inherent issues that will arise due to the nature of this way of doing business.
First, you need to know the market of the products that you choose to sell, and find a supplier who is willing to agree on a lower price, possibly something equivalent to a wholesale price.
Then your selling price cannot be too high, otherwise nobody would buy from you. Which means there is a cap to what you are able to earn, and the profit margin can be very low, for all the time and effort that you put in.
Because you are the middleman: the sales transaction takes place between you and the customer; the agreement for supplying the goods is between you and the supplier. It becomes a big hassle, because you are answerable to your customers, and yet you do not have absolute control over your supply.
When there are customer complaints about stuff like late delivery, or non delivery, or even damaged goods, or whatever other issues, it all comes back to you. You will have to sort things out with the supplier. And sometimes you get caught in the middle. No, I should say many times.
Not forgetting refunds. For whatever reason, if your customer chooses to return the products, again, you have to deal with it.
With dropshipping, it can never become your passive income, simply because there is ongoing work that needs to be done. Orders from your online store has to be sent to your supplier. You have to keep up to date with items to include in your store, their selling price, etc. All these on top of the complaints and refunds that can give you a real headache.
So dropshipping is not for everyone.
I, for one, am not good with handling conflicts between people, so I know this business model is not for me.
And don't tell me about buying stuff from the dollar store to sell on the online store for $100. That's really ridiculous, and an insult to the viewers of his sales video.
Inside Bank Ramp, he will also teach you to buy stuff cheaply from garage sales, and sell them on platforms like Amazon and eBay, or your Shopify store, to make a profit. Or find cheap deals on eBay, and sell on Amazon. No matter which way, it is not going to be as easy as it sounds.
Firstly, good things do not come cheap. That's a very basic principle in life. When you get too good a deal, the quality of the product then becomes questionable. And yet you're selling it for a high price on your Shopify store or other platforms.
If anybody actually buys it (I doubt so, because they can see for themselves that it is priced way too high), then you better gear up for some complaints and a request for refund, after they receive the product and discovers its low quality.
Is Jamie Lewis trustworthy
He is a successful internet marketer, and a brilliant one, there's no doubt about that. He sees opportunities where not many people can, and seizes them. He has a genius mind at marketing, and has a glib tongue. He has mastered the art of persuasion, and is fully using it to his advantage.
And how does he become so rich? By selling digital products that promise to make money for people, when in fact the only person to make money is none other than him.
How about those income claims of their students who used Bank Ramp?
I do not doubt the validity of those income claims.
But bear in mind there are high costs associated with dropshipping, the main cost coming from the cost of the product which you have to pay to the supplier.
You only earn the difference between your selling price and the cost price.
So they can be showing a very high revenue, but nobody knows the cost of the products that their students were selling. Maybe the profit works out to be only a few dollars?
Not forgetting other operating costs: Shopify subscription, which can range from $29/month to $299/month, depending on the features you are going for. Then there are advertising fees to get traffic to your online store, otherwise nobody will even show up at your store.
For newbies, the advertising cost to find paid traffic can skyrocket, because it takes time to master the art of paid advertising, no matter which platform you choose to leverage on.
You can incur thousands of dollars before you start to make the first sale, because traffic that lands on your store may not actually buy anything, it depends on whether your products are a good match to what they are looking for.
So in fact, you could actually be making losses in your dropshipping business. There is a real risk involved, especially if you use paid traffic.
Do you see now, why I do not recommend dropshipping as a business model? Unless you have a very good deal that gives you an edge. For instance, you know of a reliable supplier who is able to reduce their selling price to you, such that your profit margins far outweigh the other financial burden you have to take on.
Or you already know paid advertising so well that you are confident of getting a high return on investment. Things like that, that give you an unfair advantage over others.
Otherwise, you may want to look at the business model that I am currently using to earn my online income.
How I make my online income
Compared to dropshipping, the method I am using is neat and hassle-free.
I do not enter into any transaction with the shoppers, I also do not have to make any agreement on the pricing with the suppliers. I simply bring customers to the (virtual) doorstep of the retailers or suppliers, and earn a commission simply by bringing them business.
It's that simple.
I do not have to process any orders, or ensure the delivery of the goods, or deal with any customer complaints or refunds.
I promote products that I choose to, and when people take up my recommendation to purchase them, I get a percentage of the sales, at no extra cost to the customers.
Want to know the best part?
My traffic is free. I do not have to pay a single cent to get my offers across to people. In fact, they come looking for me. In droves.
This method makes the traffic unstoppable, and this is exactly how a passive income can be built, because after putting in some hard work, the business is able to sustain itself.
It is no magic. I can show you exactly how it works. Click on the link below:
---
Pros of Bank Ramp
1. Real owner
Yes, Jamie Lewis is a real person, so he should be accountable for his own creation and all the claims that he made about it.
2. 60 day money back guarantee
This basic refund policy is in place, for people who are dissatisfied with the product.
3. There is some value in the training
The training will definitely add value by showing you how to do dropshipping via Shopify. And you will get to learn some tricks along the way. So it's not all that bad.
Cons of Bank Ramp
1. Comes with dropshipping woes
The business model of dropshipping is not something I personally like, because of the sales transaction with the customer. Even if you are sourcing your products through dollar stores and garage sales, your profit margins can possibly be higher, but then it simply translates into potential quality issues.
When you get unhappy customers, you can be sure the word will spread, and the reputation of your online store will be at stake.
With dropshipping, a hidden operating cost is the monthly subscription for Shopify, which can definitely put a strain on your finances, and is a real risk.
2. Not minimum effort like what it is made to sound
Dropshipping takes lots of time and ongoing work, to source for cheap products, and keep yourself updated of market trends in the prices, as well as processing of each order, delivery of the products to the customers, and handling complaints and refunds.
Once you stop doing these, your business comes to a standstill. So there is no way to build it into a passive income stream.
3. Paid traffic
With an online store, the only way to get traffic is through advertising. Free traffic from social media will not work, because they are not targeted, and have no buying intent.
But even if you pay for traffic, that does not guarantee you will get targeted traffic. It depends on the traffic source, the platform you are advertising on, how well you know your customers, their behavioural pattern, where to find them, etc.
4. Upsells
Products created to make money for its owners will have upsells that are promoted aggressively after you buy the front end product. With Bank Ramp, they are pricey!
Upsell 1: $189 – Elite high converting campaigns
Upsell 2: $239 – Unlimited Bank Ramp reinforcement classes
---
I do not recommend Bank Ramp.
The way I make my online income circumvents all the potential pitfalls of dropshipping.
The best thing is, I get my traffic totally for free, which can be built up into a passive income stream. There is great potential for this business model simply because of this fact.
After putting in the hard work, it becomes sustainable on its own, with minimum maintenance. I can then turn my attention to building a second passive income stream, or simply use the time to do what I love – travel, spend time with family, work on my hobbies, etc.
I can show you how the method works, but not everyone is able to do this, because it requires time and effort.
I'm telling you this upfront, not to drive you away, but to temper your expectations.
Making money online has never been easy, and that is why many people fall prey to get rich quick schemes, because they are not patient to delay gratification, and not willing to put in the hard work.
If you have read all the way until here, I believe there is something in you, and you have what it takes.
Here's the deal:
Check out my other post by clicking on the button below, and decide for yourself if you're willing to take the path that I will be showing you. You do not want to miss this chance to make the difference to your life.

If you have any concerns or questions regarding this Bank Ramp review, do comment below, and we will start a conversation from there.
---