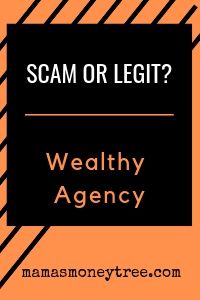 Wondering is Wealthy Agency scam real? How is this newest product launched in end January 2019 supposed to make you $100K a month?
I was as curious as you are, and I'm glad you are here to check things out for yourself, and not simply take things at their face value. I have no association at all with Wealthy Agency, so you can be assured that I will be honest and unbiased in everything I say about it.
What kind of agency is this? What kind of business model is he promoting to you through the product? Will it really work for you, or does it only work for him to earn your money?
In this article, I will provide an in-depth review of Wealthy Agency, through the following sections:
---
Wealthy Agency: Review Summary
Product: Wealthy Agency
Creator: Jamie Lewis
Product type: Training on providing an agency service
Price: $29
Scam / Legit? : Legit
Recommended or not? : Not recommended
Wealthy Agency provides training on agency service, where you act as the middleman between companies requiring certain services, and freelancers providing those services. Examples are translation, writing, website design, acting gigs, voice-over gigs, etc.
It is a legitimate and workable business model, but it is not going to get you rich quick like what it is marketed to be, in its sales video. It is a real business that you have to build up from scratch, with fierce competition from huge agencies that are already in the market. You have to handle whatever disputes and complaints between the two parties involved. There is also a hidden cost of paid advertising on various platforms covered in the training, that is not mentioned at all in the sales video, so this part is very misleading.
Wealthy Agency can possibly work, or it can make you lose tons of money, depending on how well you know the industry, whether you can work paid ads to your advantage, otherwise you will simply be throwing money down the drain.
Check out the way that I am making my online income: no need to pay for traffic, I get my traffic totally free. No need to deal with any complaints or disputes over quality of products or scope of services. It's a neat and hassle-free way to make money online:

Read on for the detailed review of Wealthy Agency, and why I do not recommend it.
---
What is Wealthy Agency
Information presented in sales video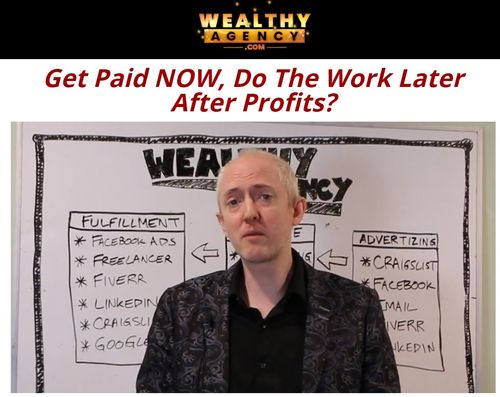 The strong message in the sales video is a life of being debt-free and indulgence in luxury, with your own private chefs and butlers, looking after the mansion that you will be owning after you make use of the method taught in Wealthy Agency.
It is unlike the loads of BS in crappy affiliate marketing programs, whereby you just have to press a button to start earning. By now, you are supposed to sense that this product is different from the rest.
Because this will give you the fastest and ethical way to make tons of money by being paid first, and the virtual service comes later. It gives you the ability to launch your very own powerful online business that can make $100K a month!
The only downside Jamie Lewis can think of to this program is that you will be earning too much money that you have to open multiple bank accounts, in order to manage them properly.
Ever since he started using this method, 90% of his income was generated from it alone. It has been kept a secret all these while, because his friends and family will not be happy that it gets out. After meticulous testing and optimisation, Jamie has finally decided to launch this product, to help you benefit from it and live the life of luxury he knows.
There is no product to create, neither is this an MLM business. It is simply about posting ads for some virtual services, to copy his results. Just activate the Wealthy Agency system, and you can get going, to start the money rolling in.
Throughout the video, Jamie shows lots of income statements, as proof that he just made so much at 9am that morning, this and that…
The truth about Wealthy Agency
Who is Jamie Lewis
Before we dig into the product, let's take a look at who Jamie Lewis is. He is no expert in the fields in which the products he has been launching are related. Possibly he is the expert in launching products that are all hype about making you tons of money, but the only person who is earning turns out to be no other than himself.
He is no expert in setting up agency services. The successful agency services we all know: Freelancer, People Per Hour, Guru, Fiverr, etc. in the freelancing sector. And of course your local agencies that you know of, in your own region. Those are the successful ones, not Jamie Lewis.
Look at what he just launched on 7th January 2019: Profit Injector, which is about finding and placing your affiliate links on other people's YouTube videos, a product that I reviewed and did not recommend. And this Wealthy Agency is launched at the end of the same month. There were various different products launched prior to these.
If he were using a successful money making method and is trying to teach people that right way to earn money, why are his products in totally different niches, all using completely different business models? It takes years and years to build up success in any one business model, because you learn, you try, fail, and get up, learn more and move on, before real success finally comes your way.
There is no way he can master all those different models in a matter of days or months, to earn $100K a month. He is simply selling a smoke screen, giving you glimpses and hope of a luxurious lifestyle, sometimes using a money counting machine to count his stacks and stacks of notes in the sales video.
He could be making tons of money, but it's by selling those smoke screens, not by using any of the methods he is promoting. So do not fall for it, as I wouldn't want to see you part with your hard-earned money to buy just a common business model that is already in existence, but made out to be some secret.
How Wealthy Agency really works
The business model in Wealthy Agency is nothing new. You set up an agency providing a service. A virtual service in this case, so that you do not have to own a physical storefront, but simply use paid ads to link up companies requiring the service to freelancers who are able to provide the service.
It is a legitimate and workable business, but take a look at how many big agencies there are already in the market. And how do they succeed? Even if you do not own a physical storefront, you need a virtual storefront – a website, in order to establish yourself in the market. Otherwise there is no way for companies and freelancers to find you, except for the occasional random ads that they may get to see if they are lucky.
Fierce competition, as this is not a new industry
Even then, why would companies or freelancers choose to respond to your ads, over the established agency networks? If I were a company, requiring people to write articles for my website, I simply sign up on Fiverr or Freelancer, as those are the bustling platforms where people who are looking to provide the service have gathered. So I can take my pick from the thousands of freelancers, choosing the most highly qualified and affordable one.
Established agency networks also have the advantage of being able to handle payment terms fairly, ensuring companies deposit an amount into their account within the platform, before freelancers start work, so as to protect freelancers from companies who run away and refuse to pay after obtaining their products or services.
So if you are just starting out an agency service, would you be able to set up this kind of system? Without your own website, how are the payments going to be processed, both from the companies and to the freelancers? These are the issues you need to sort out before you actually start an agency service.
Middleman problems to deal with
Since you are linking up companies to freelancers, you act as the middleman, with the typical middleman problems to deal with.
If there are several freelancers who apply to the job, you need some expertise in the field, to be able to choose the most suitable candidate. Otherwise the quality of the product may be sub-par. And then you would have to deal with the wrath of the company paying for the service.
If the company does not spell out the scope of work clearly enough, and turns out dissatisfied with the end product, and requires amendments or revision to it, then the freelancer may interpret it as an addition or variation to the original scope of work, and charge a higher rate than originally agreed. So disputes may arise, and you are sandwiched in between.
Not to mention the hair-pulling frustration you will experience, and the amount of time spent handling these problematic issues.
Low profit margins
As the middleman, you get the middleman earnings, because the bulk of the payment should rightfully go to the freelancer who is providing the service. And with such stiff competition, there is no way you can charge a high price in a bid to increase your profit margin, otherwise you will be out of business before you even start.
Charge low, and your earnings may not even be enough to cover your advertising cost. Either way, you lose. This is just not an easy business model to work in these days, in the saturated market. Unless you can see an opportunity in some emerging sector where agency services are required.
Paid ads is a huge hidden cost
Paid ads is not something that anyone can just put in some funds and expect good returns, or any respond at all. Paid ads is an art to master, in the marketing world. The initial learning curve is steep and expensive. If you do not know this, then my advice is to steer clear of any paid ads, and hence this Wealthy Agency product.
Unless you are very rich and have funds to sink into, otherwise when starting any business, you should always go for free traffic. Find free ways to get customers. Start making money, after which you have some financial resources to use to dabble in paid ads. Even then, be prepared to lose thousands of dollars before you learn where to target to find your customers, to start making returns on your investment.
If you use paid ads, it will be very difficult to compete with the big players, as they have an established website, trusted reputation, people have heard of them and know where to find them. Freelancers looking for jobs are already signed up there too. So these networks are getting their customers for free, while you as a startup has to burn  a hole in your pocket to get a trickle of leads who may not ultimately use your service.
There is a much better way to make money online
I am earning my online income by making use of free traffic. I do not have to pay a single cent to get customers. I do not have to deal with complaints or any issues arising between people supplying the products or services, and people buying them, because the transaction is between them, without involving me.
Check out the details of how this business model works, by clicking on the link below:
---
Pros of Wealthy Agency
1. Real owner
Jamie Lewis is a real person, known in the internet marketing world. The fact that he is willing to put his face to the product shows that he is accountable for it, and should be given some credit.
2. 60 day money back guarantee
This basic refund policy is in place, for people who are dissatisfied with the product.
3. There is some value in the training
At least it is a legitimate business model, and there is something that you can get out of the training, even though it is not recommended that you really dive into it.
Cons of Wealthy Agency
1. Saturated market with stiff competition
This is not the time to do a start up in an agency service providing virtual services like writing, design, acting gigs, etc. because the established agencies operating their own websites are in the trusted and well-known privileged group that companies and freelancers will turn to. It's almost impossible to compete with them.
2. Not minimum effort like what it is made to sound
With this business model, if you are ever going to make any money, it will take lots and lots of money, time, patience, and hard work. You will most likely end up having to set up your own website, which again takes time to establish itself in the internet world. You have to know what to do, in order to get the search engines to send people to your site, over the other big agencies.
3. Middleman issues
This part is the most troublesome, because it deals with people, your rapport with them, how you convince one party to accept the other's terms and proposals, which side to stand on, etc. Your reputation also depends on how you manage these conflicts, as word will get around, and your business will be at stake. Social skills are of utmost importance when dealing with disputes like these.
4. High cost for paid ads
Paid ads are not for the faint-hearted. Neither are they for newbies just starting out and without any funds to tap into. It is a very risky venture, to start off with paid ads without knowing anything about it, and just live on blind hope that it will pay off.
5. Upsells
Right after you purchase Wealthy Agency, you will be bombarded with upsells upon upsells, even before you have a chance to try it out and see if it works like what it is meant to be.
In this case, do you think Jamie has your interests at heart? Or is he only interested in filling up his own pocket? I will let you decide for yourself.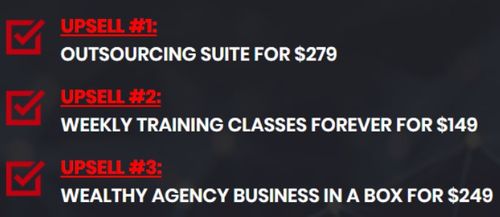 These upsells are very expensive, and just like the upfront product, there is no guarantee that you will earn it back, especially if you do not know the agency industry well enough.
---
I do not recommend Wealthy Agency, because it is overhyped (just like these other products I have reviewed, just to name a few: Traffic Multiplier, 2019 Blast Off, and Ecom Cash Crusher), and things are not as easy as what Jamie makes them out to be. He himself has never earned a cent through agency fees. He does not even own an agency service, so who is he to teach people about setting up agency services?
See how I found my online success through this business model, called affiliate marketing. I do not have to own any products, I simply make use of the vast pool of products that are already in existence, recommend those that are useful to me in solving certain issues, or in a hobby or anything that I am passionate about.
Then as I build up my website around my chosen niche, I get high ranking in search engines, because of the value and authenticity I give to my website visitors. This is how I get free traffic, without spending a single cent.
Once you get it, this traffic is unstoppable. It will make you passive income even months and years down the road, as search engines continue to send traffic to your site.
It is a neat, hassle-free way to make money online, without having to deal with any customer complaints, inventory, delivery, quality issues, etc. Affiliate marketers are making thousands per month using this model, it is an internet space that is exponentially expanding, as people spend more time surfing the internet, doing their shopping online.
Take action now, allow me to show you how exactly you can start creating your passive income stream, for free:

---