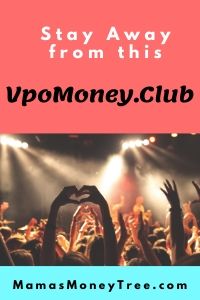 In this post, I will be giving an honest and in-depth VpoMoney.Club review, so that you can see for yourself what a huge scam it is.
You must have seen people promoting this new platform all over social media, splashing their referral links, claiming what a good chance it offers to make some easy money.
Those are victims of the scam themselves, unaware that they had walked right into the trap laid by the crooks behind VpoMoney.Club.
Join me as I walk you through all its red flags, and examine how exactly it cheats people of their time and effort, and what exactly they want from you.
Without further ado, let's dive right in now!
---

VpoMoney.Club Review Summary

Product: VpoMoney.Club
URL: https://vpomoney.club/
Creator: Unknown
Product type: PTC (paid to click) platform
Price: free to join
Scam / Legit? : SCAM
Recommended or not? : NOT recommended
VpoMoney.Club is a data harvesting site disguised as a PTC site. The fees it promises you for just viewing ads on its platform are way too high for the industry, because they are meant as bait, they never intended to pay out a single cent right from the onset.
Besides selling your contact information to third party advertisers, they will also send you to shady websites, possibly dangerous ones as you engage on those other promotions to provide your payment details, home address, phone number, etc.
---
---

What is VpoMoney.Club

To find out what is VpoMoney.Club, let us first take a look at its website.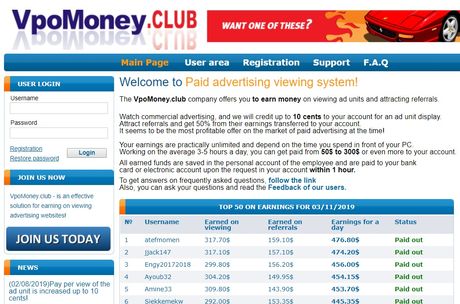 The idea is simple. VpoMoney.Club is a platform that allows you to earn money by simply viewing ads and referring more people onto their platform.
Sites like this are called PTC (paid to click) sites, where advertisers work with these platforms to place their ads. When you click on those ads and stay on them for a specified time, you earn a small sum.
Advertisers get to grow their brand exposure, hence will be happy to pay for such access to a large audience base. The platform owners then share their ad revenue with members.
Though this model is a legitimate way to make some extra money on the side, it will never come close to a part time income, much less a full time one.
The hours you have to spend clicking on and watching those ads are not worth the tiny amount of money that you will make.
That is, provided the platform is even legitimate in the first place.
VpoMoney.Club is not an honest platform.
It will never pay out.
Why do I say that? Let me show you some interesting stuff.

Red Flags on VpoMoney.Club

Promised payment is out of this world
VpoMoney.Club claims to pay you 10 cents per ad that you view. Though it does not sound like a lot, others in the industry are paying not even 1 cent on average.
And when your referral earns, you get paid 50% of their earnings. Where does this money come from? Surely not from your referrals, otherwise it would mean your own earnings would have to go to the person who referred you to the platform.
So it would have to come out of the pockets of VpoMoney.Club.
But where in the world are they to find all this money to pay out to its members, if advertisers are not even paying them this much?
They would have gone bankrupt the moment this business started.

Fake numbers on Leaders Board
On the leaders board of VpoMoney.Club, showing the daily top 50 earners, the first person is making $317 by viewing ads, and $159 from referrals' commissions.
This would have to mean he or she viewed 3170 ads in a day.
This is impossible.
A common feature of such PTC sites is that members are always imposed a strict limit on the number of ads they are allowed to view, simply because there are not enough ads to go around.
This way of advertising is actually not targeted at all, as members are more interested in earning money than spending money to buy stuff from a company after viewing its ads.
So in the first place, not many advertisers will choose to make use of PTC sites. You won't find established companies on there.
Hence members are limited to typically less than 100 ads each day, on some platforms even as low as 10 or 20 per day.
Hence for a member of VpoMoney.Club to be making money by watching 3170 ads tells me that something is seriously wrong here.
Anyway, I still signed up to see what exactly they are up to.

There are no real ads
There were no real ads for me to view, once I signed up and got on the platform to start making money.
Unless this amounts to an ad:


They are just wasting my time, fooling around with all their audience who trusted them.
Each time I enter the number I see, I 'earn' 10 cents, according to my dashboard.
At my fastest typing and processing speed, I was making $3 per minute. That works out to $180 per hour.
Such a cool full time income, if only it were true.
But this does not amount to viewing ads at all. In fact, there are no ads, because companies will never advertise their brand on such a dishonest platform like this one.
There are some links below this section for filling in the numbers, but those are static links that brought me to some websites, not advertisements at all.
I hastily signed out when some of the links brought me to error pages. I did not feel safe at all navigating the VpoMoney platform.
---
---

Fake news
The news section on the left menu of its home page is fake.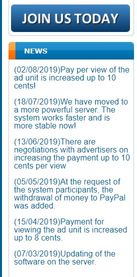 How did they post all those updates starting from March 2019, when their platform only came into existence on October 26, 2019?


No contact email
For such a big company that is supposedly paying out hundreds per day to each member, they do not provide a single email address for support.
The only form of 'contact' is on a message board.

No legal pages
Again, for such a bustling platform where lots of monetary transactions are taking place, there are no legal pages, or terms of services, to protect both the company and its members.
It seems like its operation is too simplified.

Duplicate sites with the exact same home page design
There are many duplicate websites with the exact same home page design sprouting up all over the internet.
Just take a look at these, OluMoney and AuxMoney.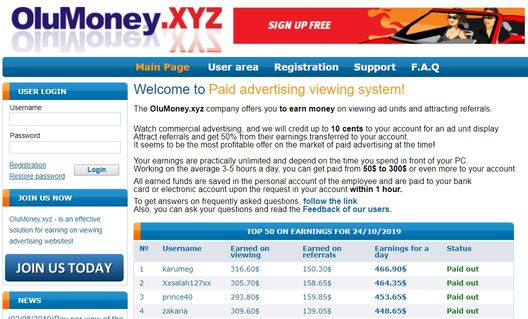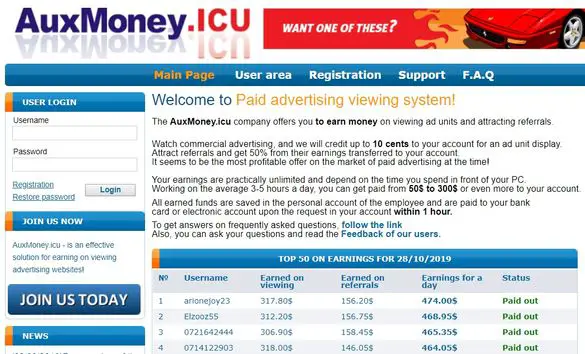 If VpoMoney were a legitimate company, wouldn't they try to sue any other company that tries to copy their website design?
Hence I'm pretty sure that these are run by the same crooks, simply buying a new domain to continue running their scam each time the previous one gets exposed.

What VpoMoney.Club really wants from you

Your contact details
All that VpoMoney.Club wants out of you is your contact details: your name and email address. Together with the entire list of their other members, they will sell this to third party advertisers, who see this as a very precious list of targeted audience.
It is targeted because the owners of VpoMoney.Club can show that their members are all interested in making money online.
Advertisers will try to sell you more junk, promising you can get rich quick with minimum work, by simply using some program or software or course that they have created.
So be prepared to get your inbox flooded with unsolicited emails.

Compromise your online safety and security
It is a possibility that you may land on some shady websites as you click on the links on VpoMoney.Club. Since they are that dishonest, you really never know what kind of companies they deal with.
You may also get viruses or malware downloaded onto your devices as you engage on the VpoMoney.Club platform.
At some point, if you are asked to provide further personal information, like your home address, phone number, credit card details, or even bank details, all these are opportunities that these scammers may use to inch a step closer to what they really want.
---
---

To round up this article, let me recap and summarize the pros and cons, before I finally make my conclusion.

Pros of VpoMoney.Club

To be frank, there is not a single advantage of being on the platform. It will do you a lot more harm than good, so I'd strongly suggest you steer clear of it.

Cons of VpoMoney.Club

1. Sell your contact to third party advertisers
Your email contact will be sold to others, and your inbox will be flooded with spam. Though a minor irritation, it is still a dishonest act on the part of VpoMoney.Club.

2. Compromise your online safety
You never know what these people are capable of, and what kind of companies they work with. The longer you stay on the platform, the greater the risk to your online safety.

3. Complete waste of your time and effort
Though you may see your earnings increase drastically, day by day, as you bring in referrals, and also work on viewing as many 'ads' as you can, ultimately it will all be for nothing.
VpoMoney.Club has never intended to pay out a single cent to anyone, from the onset. And there is no way to contact them, when you try to cash out your earnings and find that there is something wrong with the process.

4. People whom you referred may not trust you anymore
If you had referred friends and family to the website, genuinely believing it was a good opportunity to make some money, then they may not trust your judgement anymore, after the truth comes out.
---

Is VpoMoney.Club Scam or legit? 

VpoMoney.Club is a scam. Stay away from it. Do not ask others to join, as you will be giving these crooks what they want.
---

An Alternative

Everyone wants to be rich, but guess who will make it?
It's a very natural thing, that's just human nature. I mean, find me someone who doesn't want to get rich fast, and with minimum effort.
I wasn't spared of all the temptations on the internet, hopping from one shiny object to the next.
But when I realized those empty promises are only going to make other people rich, and not me, I stopped looking for shiny objects.
I found a dull-looking object, but I knew in my heart that is the real deal. And from then on, I have never looked back.
An honest, down-to-earth method that will get you there. It's not going to be easy, but it will get you there.
Versus the fast and easy way that gets you nowhere.
Which would you choose?
I am now working full time from home, growing my internet business, and making an online income. I started from scratch with zero knowledge in this area. If I can do it, you can, too.
Here's a peek into my daily earnings:



That's almost $200 in just one single day. It's nothing to boast about, though, as it's just a small fraction of its full potential. I just wanted to show you the possibilities.
Check out this training platform that provides all the resources, tools, along with an entire community of aspiring as well as already successful online income earners:


This real deal does not promise instant results.
Instead, it provides the knowledge and lifelong skills required to grow a successful online business.
And for reading all the way to the end of the post, I believe you have it in you to make this work. Here is your FREE PDF Guide: 4 Simple Steps to Making Money Online. Fill in your details to claim it:


If you have any concerns or questions regarding this VpoMoney.Club review, do comment below, and we will start a conversation from there.
---