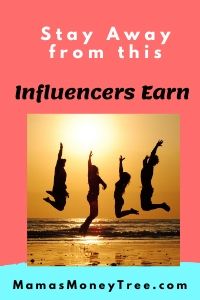 Welcome to my InfluencersEarn.com review.
In this honest and in-depth look into this influencer platform, I want to show you all the telltale signs that point towards it being a HUGE SCAM.
Please do not believe people putting up their promotional videos on YouTube, or payment proof on social media.
They are victims to the scam as well, doing all that work but no one will ever be paid out a single cent.
I hope more people can see this before they give those crooks what they want. So do share this article in whatever ways you can, and get the word out.

Without further ado, let's dive right in to examine the platform closely.
---

InfluencersEarn.com Review Summary

Product: Influencers Earn
URL: https://influencersearn.com/
Creator: Unknown
Product type: influencer network
Price: free to join
Scam / Legit? : SCAM
Recommended or not? : NOT recommended
InfluencersEarn.com is a FAKE website that is out to exploit people's trusting nature, borrowing your hands to do the dirty work for them.
After you refer friends, complete tasks and surveys, and upload videos to promote them, you will not receive any money from them.
Their ulterior motive is to collect as many email contacts as they possibly can, and then sell them at a handsome price to third party advertisers. They also earn as you engage on the other activities on their platform.
---
---

What is InfluencersEarn.com

To find out what is InfluencersEarn.com, let us first take a look at their website.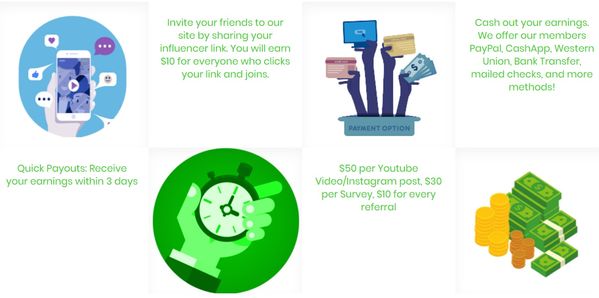 At first glance, it looks really tempting.
Not only do you get $25 bonus by just signing up, the various ways to make money seem so easy too!
$10 per referral, $30 per survey completed, and $50 per YouTube video or Instagram post!
You may be thinking: what have I been missing out on all these years?
Wait… not so fast in joining them, though.
The big bucks they promise is the biggest red flag.
If everyone is signing up for free, where do they get the money to pay each member the $25 bonus?
Yes, they will say advertisers use the platform to gain exposure to their potential customers (all the members), and these advertisers will pay them, so they can in turn share their ads revenue with you.
But in the industry, no one pays such big bucks like that.
InfluencersEarn.com are going to go bankrupt in a matter of days if they keep their word and pay you out-of-this-world figures like $10 per referral, $30 per survey, etc.
It's just absurd.
If it were true, no one would have to work anymore.
We can all just sit in front of the laptop all day, completing surveys and posting on Instagram to make something much more than a full time income.
Besides this, I want to show you other LIES they blatantly tell.

Other red flags on Influencers Earn

10 years in business? Who are you fooling?
Look at these fake counters on their website.



10 years in business, just to make themselves look credible.
It's not difficult to find out the truth, so I really do not understand how they can insult their audience like that.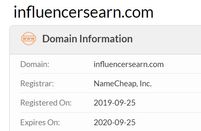 Their website domain was only registered on September 25, 2019.
How could they have already paid out $52 million?

Social media buttons – GREAT effort!
Ooh, I was surprised that for this particular scam site, they actually bothered to create some 'real' social media profiles, instead of having those buttons link to nowhere like what they usually do!
Getting more sophisticated eh?
But I guess it turns out to be just another means for them to shoot themselves in the foot.
It's not easy to tell a convincing lie just to cover up another lie, is it?


0 posts and 28 followers, after 10 years in operation and paying out $52 million?
You can do better than this, guys!

Fake testimonials
Look at this, stating that he or she has been earning with InfluencersEarn.com for the past 6 months.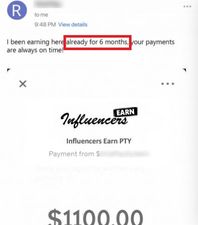 Really? The platform wasn't born yet at 6 months ago, you know?

No email contact
How do you get in touch with them for payment issues or technical issues, when such a basic thing as an email address is not available?

I hope you can see by now, everything about this influencer platform is FAKE.
Pardon me, I'm usually not so nasty, but I can't help it that my blood is boiling, in the face of these scammers.
---
---

What does InfluencersEarn really want from you?

You may be wondering how does InfluencersEarn.com scam people, if they have not taken any money from you.
Well, scams these days do not have to take people's money directly.
By enticing you to refer others onto the platform, posting Youtube videos, completing surveys and other tasks, they are earning money off your effort.
And then refusing to pay you your fair share.
That's how they scam people.
You see, firstly, they sell your email contact to third party advertisers.
This can fetch a very high price, because a targeted list in the make money niche is a very precious and highly sought after one.
The very act of signing up on their platform shows that you are interested in making money online.
And vendors who create crappy products that promise to make you the first $1K in the next 7 days want to get their hands on targeted lists like that.
They will then spam your inbox with offers of such rubbish, trying incessantly to get you to part with your money.
Furthermore, by luring you to post on Youtube and Instagram, it makes their website seem really legitimate, as people can see real members promoting the platform.
The second way through which they scam you is by luring you to complete tasks and surveys.
Those are not real surveys. They likely send you off to some website, or some offer, or get you to complete a form that steals even more of your personal information.
They earn through these Pay Per Click or Pay Per Action campaigns.
If you sign up for free trials, they may try to get your credit card details.
Some of the websites you land on may be shady ones. If you're really unlucky, your device may even get infected by viruses or malware.
With the dishonest people hiding behind InfluencersEarn.com, we really do not know what they are capable of.
---

To round up this article, let me recap and summarize the pros and cons, before I finally make my conclusion.

Pros of InfluencersEarn

There is not a single plus point to this platform. It will do you much more harm than good, so do steer clear of it.

Cons of InfluencersEarn

1. Sells your contact details
Your contact details will be sold off to advertisers, who will bombard your inbox with lots of spam, many of which will tempt you with even more offers of easy money like InfluencersEarn itself.

2. Online security risk
Your online safety and security will be at risk. You do not know what kind of website you may land on at the next click. Some offers may try to extract more personal information or payment details from you.

3. Waste of all your time
After trying to promote the platform by putting up your referral link everywhere, or even creating Youtube videos about how great the platform is, you will not get paid a single cent.
They never had any intention of paying their members, right from the onset.

4. Your referrals will lose their trust in you
When the scam comes to light, people whom you referred onto the platform will find it hard to trust your judgement in future.
---

Is InfluencersEarn.com Scam or legit? 

InfluencersEarn.com is a SCAM website.
It is as dangerous as these other websites: NiceCash, AuxMoney.icu, OluMoney.xyz, and Paid4Tasks, to name just a few.
---

An Alternative

Everyone wants to be rich, but guess who will make it?
It's a very natural thing, that's just human nature. I mean, find me someone who doesn't want to get rich fast, and with minimum effort.
I wasn't spared of all the temptations on the internet, hopping from one shiny object to the next.
But when I realized those empty promises are only going to make other people rich, and not me, I stopped looking for shiny objects.
I found a dull-looking object, but I knew in my heart that is the real deal. And from then on, I have never looked back.
An honest, down-to-earth method that will get you there. It's not going to be easy, but it will get you there.
Are you game for it?
I am now working full time from home, growing my internet business, and making an online income. I started from scratch with zero knowledge in this area. If I can do it, you can, too.
Here's a peek into my daily earnings:



That's almost $200 in just one single day. It's nothing to boast about, though, as it's just a small fraction of its full potential. I just wanted to show you the possibilities.
Check out this training platform that provides all the resources, tools, along with an entire community of aspiring as well as already successful online income earners:


This real deal does not promise instant results.
Instead, it provides the knowledge and lifelong skills required to grow a successful online business.
And for reading all the way to the end of the post, I believe you have it in you to make this work. Here is your FREE PDF Guide: 4 Simple Steps to Making Money Online. Fill in your details to claim it:


If you have any concerns or questions regarding this InfluencersEarn.com review, do comment below, and we will start a conversation from there.
---