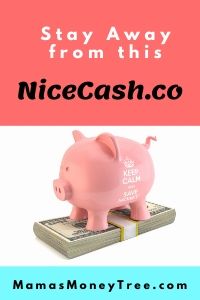 Welcome to my NiceCash review.
You may have come across people promoting this program on social media, and are trying to find out how legit it is.
Can you really start making $500 today? How can there be such an easy way to make money?
Well, if it sounds too good to be true, it most likely is.
In this honest and in-depth review of NiceCash.co, I will be pointing out all the red flags that tell us this program is not so honest afterall.

Without further ado, let's dive right in now!
---

NiceCash Review Summary

Product: Nice Cash
URL: https://nicecash.co/
Creator: Unknown
Product type: influencer network
Price: free to join
Scam / Legit? : SCAM
Recommended or not? : NOT recommended
NiceCash is a blatantly dishonest site that lures people in by dangling money right in front of you, making it seem like such an easy way to make money on the internet.
What it really wants is your contact information, which it will sell to third party advertisers, fetching a high price. After referring many others onto the platform, doing the dirty work for them, members will then start to realize that something is amiss only when they try to cash out.
---
---

What is NiceCash.co

To find out what is NiceCash, let us first take a look at its home page.



It is supposedly an influencer network, where you are the influencer!
It brings advertisers and their customers together. So when you bring in the crowd, by referring friends and any others whom you can find onto the platform, NiceCash earns advertising revenue, and shares it with you!
Get $25 sign up bonus, and make $10 to $15 for every person you invite really sounds like an easy way to make some quick bucks! And it feels so tempting.
Unfortunately, this is the biggest red flag.
Promising what they will never deliver.
No one pays such a handsome amount for referrals, considering the revenue is from advertising. NiceCash would go bankrupt even before it starts running.
Think about it. It is free to join, so where do they get the $25 sign up bonus to pay you?
Where are the advertisers?
And inside the members' area, in fact throughout the website, you won't be able to find a single advertisement at all.
The only sign of any partners putting up advertisements on their website are Burger King, Dunkin' Donuts, etc. But if you hover above those logos, you will realize that they are not even clickable.
As a matter of fact, no legit company will want to place their advertisements on this terrible platform and ruin their own reputation.

Other red flags on NiceCash.co

Fake payment proofs
Take a look at one of their payment proofs: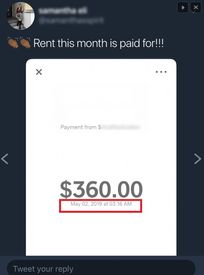 I know this is fake because their website domain was only very recently registered on September 24, 2019.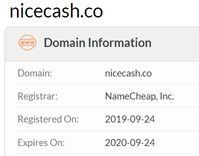 So how did the payment from May 2019 come about?
And when you try to click on their video testimonials button to see what they have, it leads you to a page with some short write-up. NO video testimonials.
---
---

They lie about the year of founding
On their 'About' page, they claim to have been founded in 2015.
We all know by now, that's a huge lie.

Fake social media buttons
Their social media buttons like Facebook, Twitter, Pinterest, etc. lead you nowhere, except to fall back on the same page that you were on.

Support email is fake
This is very bad too.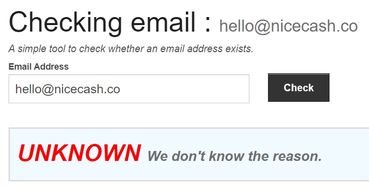 It shows that they never intended for anyone to get in touch with them right from the onset.
But people will not bother to contact them until they have problem trying to cash out their earnings.
The truth will start to come to light, but before that, NiceCash would have gotten what they wanted – as many members as they possibly can assemble.

What NiceCash.co really wants from you

You may be perturbed as to what Nice Cash really wants from you, if it is free to join and they have not taken any money from you.
Well, scams these days do not have to take money directly from you.
They can take other stuff from you that ultimately earns them money.
By gathering all their members' contact details, it makes a highly targeted list for vendors selling products related to the make money niche, since the owners of NiceCash can prove that their list is very much interested in making money.
It means you may get your inbox flooded with unsolicited emails, with offers and promotions for other useless things that promise to get you rich quick by doing little to zero work.
At the same time, when you try to complete offers or tasks in the members' area, you may find yourself compromising your online safety and security.
For instance, signing up for a free trial may mean giving away your credit card details. I would be really careful about it on such ill-intended platforms like this.
Or as you click away from the platform on certain links, you may land on some shady sites, like online casinos, unregulated health supplements sites, etc.
Worse still, your device may get infiltrated by viruses or malware.
---
---

To round up this article, let me recap and summarize the pros and cons, before I finally make my conclusion.

Pros of NiceCash

There is not a single pro about this illegitimate platform. It will do you more harm than good.
Do steer clear of it.

Cons of NiceCash

1. Huge waste of your time
For people who do not know it is such a huge scam, they would have wasted all that time trying to find referrals to join the platform.

2. Your email contact will be sold to third parties
Without your permission, they infringe upon your privacy rights, bringing inconvenience as those spam mails would be such a nuisance.

3. Online safety and security may be breached
Depending on what partners NiceCash works with, it is very possible that you will run into equally dishonest websites or promotions run by other scammers.

4. People you referred will lose their trust for you
Especially if they are your own family or friends, they may not trust your judgement in future.
---

Is NiceCash.co Scam or legit? 

NiceCash.co is a scam, through and through. There is nothing nice about them.
I have seen tons of 'influencer' sites like this, in my experience reviewing hundreds of programs. Examples include Paid4Tasks, Tap2Earn, EmotePay, RainMoney, and CashOG, to name just a few.
---

An Alternative

Everyone wants to be rich, but guess who will make it?
It's a very natural thing, that's just human nature. I mean, find me someone who doesn't want to get rich fast, and with minimum effort.
I wasn't spared of all the temptations on the internet, hopping from one shiny object to the next.
But when I realized those empty promises are only going to make other people rich, and not me, I stopped looking for shiny objects.
I found a dull-looking object, but I knew in my heart that is the real deal. And from then on, I have never looked back.
An honest, down-to-earth method that will get you there. It's not going to be easy, but it will get you there.
Versus the fast and easy way that gets you nowhere.
Which would you choose?
I am now working full time from home, growing my internet business, and making an online income. I started from scratch with zero knowledge in this area. If I can do it, you can, too.
Here's a peek into my daily earnings:



That's almost $200 in just one single day. It's nothing to boast about, though, as it's just a small fraction of its full potential. I just wanted to show you the possibilities.
Check out this training platform that provides all the resources, tools, along with an entire community of aspiring as well as already successful online income earners:


This real deal does not promise instant results.
Instead, it provides the knowledge and lifelong skills required to grow a successful online business.
And for reading all the way to the end of the post, I believe you have it in you to make this work. Here is your FREE PDF Guide: 4 Simple Steps to Making Money Online. Fill in your details to claim it:


If you have any concerns or questions regarding this NiceCash.co review, do comment below, and we will start a conversation from there.
---