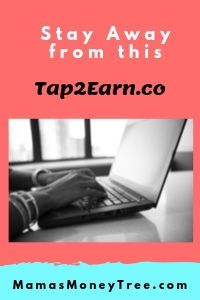 What is Tap2Earn? I came across many positive reviews of this scam as I did a quick search on the internet. Please do not believe those people claiming that they are earning money with this platform.
Welcome to my Tap2Earn review.
I do not want to waste your time. I will be upfront with you that Tap2Earn.co is not about to make you any money soon. In fact, never.
If you see people making money, they are very likely victims of the scam themselves. What they are showing are the 'earnings' from their Tap2Earn.co dashboard. When they try to cash out, the real issues will creep in.
Join me in this honest and in-depth article, as I show you all the red flags that are screaming at us not to fall for this scam.

Without further ado, let's dive right in now!
---

Tap2Earn Review Summary

Product: Tap2Earn
URL: https://tap2earn.co/
Creators: Henry Chaplin and Davis O'Brien
Product type: influencer network
Price: free to join
Scam / Legit? : SCAM
Recommended or not? : NOT recommended
Tap 2 Earn claims to be an influencer network that allows you to earn simply by referring others to join, and by completing easy tasks. It lures people in by promising huge payouts.
It is a totally dishonest platform that harvests your data to be sold to third party advertisers, and makes use of you to complete tasks so that they make even more money for themselves. They will not pay out a single cent to anyone.
---
---

What is Tap2Earn

To find out what is Tap2Earn, let us first take a look at their website.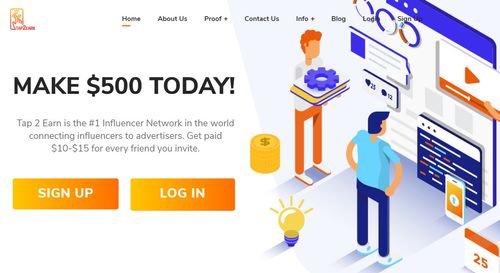 Proclaiming to be the #1 influencer network in the world, they connect influencers (you) to advertisers.
To start making $500 today, you simply refer friends to sign up. You get an easy $10 to $15 for every friend whom you invite!
If this sounds too good to be true, it's because it is.
I'm sure you have 50 friends who will be interested to make easy money this way. That is how you can supposedly make at least $500 today!
Not so fast, though.
Please do not go around putting your referral links everywhere just yet.
Think about it. If it is free to join their platform, where do they get so much money to pay you?
Well, it is easy for them to say that they earn from the advertisers, who are happy to pay to get their brands exposed to all the Tap 2 Earn members. Tap2Earn.co then shares its ads revenue with all its members.
Legitimate platforms that run on this principle are paying their members closer to 10 cents or 20 cents per referral.
Far from the $10 to $15 that Tap2Earn.co wants to pay you. They will be running into bankruptcy within a week if they really pay out what they promise.

Other red flags on Tap2Earn.co

1. They were not founded in 2013 as they claim
On their 'about us' page, it was stated that Tap2Earn.co was formed in 2013. That is untrue.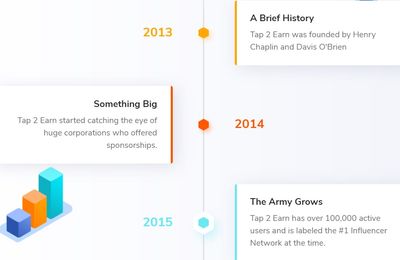 Look at what I uncovered. Their domain was very newly registered just a month ago!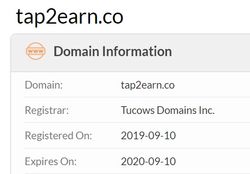 Why would anyone lie about the year of founding, except to gain credibility and trust where there is none?

2. Who are Henry Chaplin and Davis O'Brien?
It smells really fishy that the founders of the world's number 1 influencer network do not seem to have any online footprints.
You can try to do a search for them, there are no characters by these names who identify themselves as founders of Tap 2 Earn.
Why do they not show their photographs on the website of Tap 2 Earn, if they are the proud founders of such a great organization?
Why do they not provide their social media accounts so that their fans could follow them?

3. Have they really paid out $68 million?
Take a look at this from their website:



Even if they were formed in 2013, this is the year 2019. That's 6 years, it's not too difficult to count. Where do those 10 years of experience come from?
If you ask me, I find it hard to believe they have really paid out $68 million to their members, and have 500 million shares.

4. Their parent company does not exist
Tap2Earn claims that their parent company is Zindex, on their FAQ page.
Again, a simple search will reveal that it is a lie.
No such company exists.
It can't be that difficult to trace a company that is the #1 influencer network, can it?

5. Fake contact email address
The email address provided on their website for contact and support does not exist.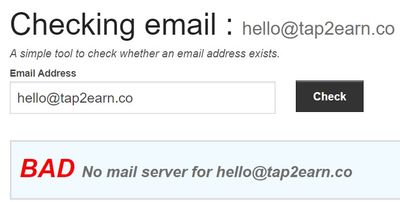 There is no chance of getting in touch with anyone from Tap 2 Earn, because they had never intended to support any member from the onset.
By the time people realize that Tap2Earn is non-contactable, and is in fact such a huge scam, those crooks behind this fraud would already have gotten what they want.
---
---

What Tap2Earn.co really wants out of you

It doesn't cost anyone a single cent to join Tap 2 Earn, to get you a chance of earning $500 a day. What's there to lose, you may question.
Well, plenty.
Because scams these days come in many forms. They do not have to take your money directly.

They sell your contact details
In the case of Tap2Earn.co, they take your contact details, specifically your name and email address, and sell it off at a good price to third party advertisers.
The list is precious to vendors who are selling products in the make money online niche, because from the act of signing up, the owners of Tap2Earn know that all their members are interested in making money on the internet.
Hence you can expect to receive lots of unsolicited emails involving offers to even more programs, done for you systems, etc. that will earn you your first $1K within the next 7 days, and other crap like that.
They make even more money when you complete offers and tasks
There are many simple offers and tasks on their offer wall. Some could be providing even more information, like credit card details, mailing address, telephone number, etc.
When you provide these, Tap2Earn will make even more money, from the companies that pay them per lead.
Another example could be signing up for a free trial of some service. Again, to the unsuspecting person, there seems to be nothing to lose. But we really do not know the companies behind these services.
The fact that they are using a dishonest platform like Tap2Earn.co to obtain their leads could point to some dubious activities.
Yes, I'm speculating here, but my concerns are not unfounded. There are just too many red flags on Tap 2 Earn to ignore.
---

To round up this article, let me recap and summarise the pros and cons, before I finally make my conclusion.

Pros of Tap2Earn

There is not a single plus point to Tap 2 Earn. You should stay as far away from it as possible.

Cons of Tap2Earn

1. They sell your information
This may not be a very big thing, you may see it as an irritation to get so many emails that you never gave explicit permission to be sent to you. But still, it is an infringement of one's privacy.

2. Tasks may be dangerous
With the kind of lies they are so blatantly capable of, you never know what else they may do. The companies they work with may have no legitimate means to advertise their businesses, and hence resort to using Tap 2 Earn's platform.
For all you know, you may get malware or viruses installed onto your devices as you engage on the tasks and offers on the website.
Or you may be led to some shady sites that could involve online casino, online betting, illegitimate health products, etc.

3. No payout
After referring as many people as you possibly could, thinking this is such a great platform to earn some easy money, you will come to a rude realization that you had been scammed only when you try to cash out.
All the time and effort would have gone to waste, when you could have spent it on something much more worthwhile.

4. People you referred will lose their trust in you
If you had referred friends and family to Tap2Earn, they would be disappointed in you, and may not trust you so easily in future.
---

Is Tap2Earn Scam or legit? 

Tap2Earn.co is definitely a scam.
I have seen too many of it, among the hundreds of products that I have reviewed.
Very similar scams include CashLoad.net, CashOG, CloutBucks, and EmotePay.co, to name just a few.
---

Final Words…

Everyone wants to be rich the easy way, but guess who will make it?
It's a very natural thing, that's just human nature. I mean, find me someone who doesn't want to get rich fast, and with minimum effort.
I wasn't spared of all the temptations on the internet, hopping from one shiny object to the next.
But when I realized those empty promises are only going to make other people rich, and not me, I stopped looking for shiny objects.
I found a dull-looking object, but I knew in my heart that is the real deal. And from then on, I have never looked back.
An honest, down-to-earth method that will get you there. It's not going to be easy, but it will get you there.
Versus the fast and easy way to empty your pockets or get scammed in other ways, ending up getting you nowhere.
Which would you choose?
I am now working full time from home, growing my internet business, and making an online income. I started from scratch with zero knowledge in this area. If I can do it, you can, too.
Here's a peek into my earnings on a recent day:



That's almost $200 in just one single day. It's nothing to boast about, though, as it's just a small fraction of its full potential. I just wanted to show you the possibilities.
Check out this training platform that provides all the resources, tools, along with an entire community of aspiring as well as already successful online income earners:


This real deal does not promise instant results.
Instead, it provides the knowledge and lifelong skills required to grow a successful online business.
And for reading all the way to the end of the post, I believe you have it in you to make this work. Here is your FREE PDF Guide: 4 Simple Steps to Making Money Online. Fill in your details to claim it:


If you have any concerns or questions regarding this Tap2Earn.co review, do comment below, and we will start a conversation from there.
---