You have a passion in everything beauty – hair, makeup, nails, and skin. And you are contemplating blogging, but are unsure if it can become profitable.
Question no more, for you will find all your answers here. In this blog post, you will learn how to start a beauty blog and make money with it.
I have done it, and am still at it (though not in the beauty niche). So I know exactly how it should be done.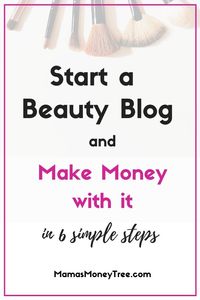 These days, with such advanced internet and website building technology, even someone like me who knows nuts about coding and had zero prior experience with creating a blog can find it a breeze. I can assure you – YOU CAN DO THIS TOO.
And I'm going to walk you through the steps so you have a very clear idea of what blogging really entails.
Without further ado, let's get started right now.
(Related: 5 compelling reasons why everybody needs their own website)
---

Step 1: Find a niche, target an audience
A niche, put very simply, is the topic that you want to blog about, that your content will revolve around.
Yes, you are passionate about beauty. But 'beauty' in itself is a very broad niche, which can be a bit too competitive for beginning bloggers.
For a start, you should niche down – which subtopic within the beauty niche is your forte in? Makeup? Nails? Or even something more unique like vegan beauty products?
At the same time, give some thought to your target audience that you want to reach out to. Are they working professionals? Students on a budget? Seniors who are trying to keep the wrinkles away?
Narrowing down your niche and targeting a specific audience group ensures that you are speaking the right language to the right people.
This strategy is especially important for any brand new website or blog. Relevancy keeps visitors engaged on your site, and this sends signals to the search engines that your blog deserves a good ranking on page 1 of search results, as it can meet the needs of your target audience.
As your blog establishes itself, you can then move on to another subtopic within the broad niche, and gradually cover a fuller spectrum of the beauty niche.
Here is a full blog post I wrote on niche selection.
Don't worry if you have no idea which subtopic to niche down on at this moment. Simply start blogging, and as you immerse in the world of beauty, feel for what speaks the most loudly and meaningfully to your heart, then strive to become the expert in that sub-niche.

Step 2: Name your blog
The name of your blog is also the title of your website (like how the name of my website is Mama's Money Tree). It can become your company name when you eventually decide to register it as an LLC or whatever other business structure you want to adopt.
A good blog name is one that is easy to remember, is not prone to spelling errors, and preferably has no hyphens in it.
You can even use your name as your blog name!
More importantly, you should use a name for which the .com extension of the domain name is available for purchase.
People tend to remember a website name without paying much attention to its extension (whether it is .net, .org, or even with a country-specific extension). The next time they try to return to your blog by typing your domain name in the browser, they will very likely simply assume it is a .com extension since this is the most popular.
So if you do not get yourself a .com extension, you may lose your readers to the site (with the same name as yours) that has it.
You can check the availability of domain names on the registry that you will be buying the domain from. A popular domain name registry is Namecheap.
Another option is Wealthy Affiliate, an all-in-one training platform that is also a domain name registrar, among many other things.
A domain name is one of the two essential items that you MUST have (the other is site hosting) to start a profitable blog. With one, you have absolute control over all aspects of the blog, since you own it.
At an average price of about $15/year, it is a very small price to pay, to own a piece of online asset over which you call the shots.
Here is a full blog post I wrote on domain name selection.

Step 3: Find hosting for your website
Hosting providers own the servers on which your website will be 'parked', so that it is accessible to everyone on the internet.
After domain name, this is the only other essential item you must have.
The cost to host a website can range from a few dollars a month to hundreds, depending on the number of visitors to your site, the storage space it needs, speed requirements, whether you are sharing the server with others, etc.
Here is a full blog post on what to look for when choosing your hosting service provider.
As you are just starting out, it is important to keep the costs low. Shared hosting is more than enough to do a great job for your new site, it won't be sooner than a few years down the road before you will have to consider more sophisticated hosting needs.
HostGator, at less than $5 a month, is what I'd recommend if you're going it alone. The technicalities of setting up your blog on your own can be found in this post.
Otherwise, the premium membership of Wealthy Affiliate includes hosting for 10 websites, on top of its world-class training (and many other tools and resources) that handholds you every step of the way so you know you're doing it right.
Wealthy Affiliate is what got me to where I am today, so I know its training works. It is also why it is the #1 recommendation on my site.

Step 4: Design of your site and legal pages
Once your site is created, the first time you log into the WordPress editor, you will be asked to choose a theme.
This is really up to you, as you will want your blog to reflect your personal style and preferences. There are many free themes (more than a thousand) that you can choose from within WordPress.
My advice is not to let the aesthetics of the site bog you down, since the main focus should be on content. For a start, use a simple design that you like, so that you can get to work on the stuff that really matters. You can always switch to a different theme as you progress through your blogging journey.
Before the fun (blogging) starts, it is worthwhile to spend some time setting up the essential legal pages, and get it out of the way from the outset, so you can start on the right foot knowing that you've got all the legal aspects covered.
Don't worry, it's not complicated.
In fact, if you're going with Wealthy Affiliate, it has you all covered. You can find templates of the privacy policy and affiliate disclosure statements all within its content editor platform.
Another resource I recommend is the Legal Bundle Value Pack, created by a trained lawyer who is also a blogger. So she definitely knows her stuff!
Also set up your 'About Us' or 'About Me' page, and you're all ready to let the party begin!

Step 5: Blog your heart out
The most successful bloggers out there, no matter the niche they are in, have highly relevant and valuable content that prioritizes helping their audience.
In the beauty niche, these are some examples of the types of blog posts you can create:
– tips and tricks (some beauty hack for makeup, styling your hair, or keeping the shine in your nails, etc., depending on your sub-niche)
– how-to tutorials
– DIY hacks
– product reviews
– whatever is in the current news in your sub-niche (e.g. technological advancement in nail polish, new brands, etc.)
Remember: content is king.
It determines if a website visitor hangs around or leaves within the first few seconds. This sends a strong signal to the search engines, which play a pivotal role in your website ranking in search results.
When your target audience searches for terms related to your niche, you want your relevant posts to show up near the top of the first page. This way, you get free organic traffic which is the most highly targeted, and will respond with high conversion rates to whatever you are promoting, because they have search intent.
This is also the focus of Wealthy Affiliate's training – SEO (search engine optimization), so that you get the most precious form of traffic for free.
Here is a full blog post that explains content marketing for SEO.
When you are able to master free organic traffic, monetization is going to come easy.

Step 6: Monetize your blog
There are a few main ways with which you can monetize your blog.
Promote products and services as an affiliate
Affiliate marketing is what I do to make money, so it is something I'm familiar with, and would highly recommend you do.
Basically you promote some companies' products (or services), and when people make purchases through your affiliate links, you earn a commission.
This is a really hassle-free way to earn, since you are not involved in anything else like logistics, inventory, product delivery, customer complaints, etc. You simply bring customers to businesses, and they reward you.
There are hundreds (maybe even thousands) of affiliate programs in the beauty niche that you can choose from.
Here are just some examples:
– Mica Beauty Cosmetics (22% commission)
– DermStore (up to 15% commission)
– Violet Grey (12% commission)
– Top Secret (15% commission)
– Bend Beauty (15% commission)
Using this very method, you can even promote an MLM (multilevel marketing) company if you are already in an MLM business.
Frankly, I do not have a good impression of MLMs. But I know it works for some people. If you are one of them, then leveraging free online traffic will definitely give you a boost in sales and in growing your team.
Display Ads
As your blog traffic grows, display ads can become a significant source of passive income. Besides Google Adsense, there are many advertising networks that pay publishers really well. For established bloggers, 4 figure months from display ads alone is the norm.
Sponsored posts
As you build a good reputation for your blog, companies in the beauty niche are going to approach you to write articles on your blog about their brands, and they will pay you for it.
You definitely want to be picky here, as you do not want to appear to represent poor quality products.
Sell your own products
Monetizing a blog certainly has the advantage of convenience (since everything is online) and being able to build multiple income streams into passive income.
In contrast, selling physical products with an online store can be very time-consuming and labor-intensive, as you have to take care of inventory, logistics, delivery, quality control, customer complaints and refunds, etc.
People still do it, though, because the margins may be higher than affiliate marketing.
But that doesn't mean you can't have the best of both worlds.
Along with your blog, you can actually weave an e-commerce element into your website, using some plugins to sell single or just a handful of digital products. This way, you get to keep 100% of the profits.
---
I hope you find this guide on starting and making money with a beauty blog helpful.
One last word: blogging is not a get-rich-quick fix to money problems. Instead, it is a rewarding way to combine your passion with writing interest and build up an income that may surprise you, if you give it time and your hard work.
And for reading all the way to the end of the post, I believe you have it in you to make this work. Here is your FREE PDF Guide: 4 Simple Steps to Making Money Online. Fill in your details to claim it:
I wish you all the best on your blogging journey!
And if you have any concerns or questions, do leave a comment below, and we will start a conversation from there.
---