Welcome to my in-depth review of GlobalRTX, a very new platform that supposedly allows you to earn by completing offers and referring friends.
To be clear, this is specifically about the website domain GlobalRTX.net.
Can you really make $150 per day as they claim, from your very first minute of work?
What kind of work are you expected to do? Are there any fees associated with this? Most importantly, will you get paid promptly and fairly at the end of the month?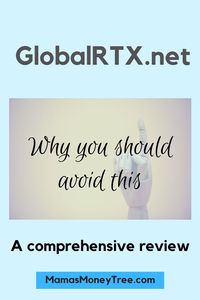 I will be very upfront here. This is a scam. And I'm going to walk you through all the red flags that are warning us to stay away from this malicious scheme.
Without further ado, let's dive right in now!
---

GlobalRTX Review Summary

Product: Global RTX
URL: GlobalRTX.net
Creator: unknown
Product type: advertising platform, GPT (get-paid-to) site
Price: free to join
Rating: 0 out of 5
Scam / Legit? : SCAM
Recommended or not? : NOT recommended
GlobalRTX.net is a very new platform that baits people with very high promised payouts for simple tasks like signing up for free trials, downloading apps, etc. You are also encouraged to refer others so that you can upgrade your own membership, which leads to higher rewards.
The website owners will make money from the advertisers as you complete those offers, but they have never intended to share any of their ads revenue with you.
(This article by TechWarn cautions people against free apps.)
---
---

What is GlobalRTX.net

To find out what is GlobalRTX.net, let us first take a look at its website: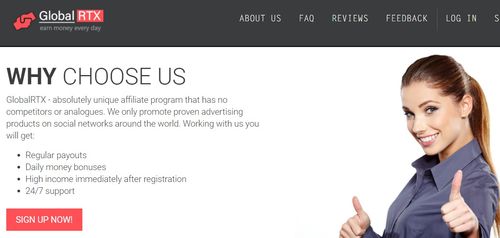 So they claim to be an advertising platform of sorts, promoting proven advertising products on social media.
The one thing that caught my attention at first glance was "no competitors". It didn't make any sense to me. No legit company would make such a claim. Which market does not have any competitors, not to mention the highly lucrative advertising industry?
That rang alarm bells. And as I dug around, more red flags came up.
But before I dwell into those, let's first take a look inside the members' area.

How GlobalRTX Works

It was easy to sign up as a member, there wasn't even any email verification, which was queer. It made me even more suspicious.
Once inside the members' area, I could see the offers that would earn me money if I completed them.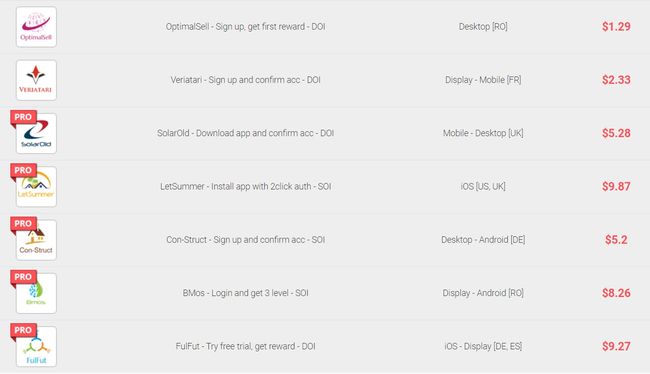 It looked really simple and lucrative. Trying out a free trial or downloading an app could earn me as much as $9 per task! What easy money! Who wouldn't want that?
On top of that, referring others onto the platform also makes you money.


By completing 20 tasks and inviting 10 new users, you get upgraded to an 'active' status.
By completing 50 tasks and inviting 30 new users, you get upgraded to 'pro' status, giving you even better payouts.
This is the gist of how GlobalRTX.net works. Really simple, something anybody can do.
But I would like to save your time and effort.
Even though it is completely free (even the upgrades), it does take work on your part to get referrals. You do not want to be investing your time and energy into something that gets you zero returns.
What's more, completing the tasks may actually cause you to compromise your online safety.
Let me further elaborate on this in the next section.

Red Flags in GlobalRTX.net

1. Promised earnings are too high
$9 for signing up for some free trial, or even $5 for downloading an app, are earnings that are out of this world in the advertising sector.
No company would pay this kind of fee just to get one lead – one person signing up to their product or service, since the free trial may not actually lead to a paying customer.
Don't forget that if $5 goes to you, another sum has to go to GlobalRTX for serving the platform for this model to work. This means the advertising companies are paying way more than what GlobalRTX is portioning out to you.
At the end of the day, when you complete the tasks, GlobalRTX makes money, but not a single cent is intended to be paid to you, as what they earn is way less than what they have promised to pay you. So there is no way they can make this work legitimately.

2. They lie to appear credible
On the home page, they claim to have paid out $24K last month (that's July 2020), and total amount paid out is $343K.
Seriously, something doesn't add up here. Because they came into existence only in June 2020, when they registered their domain.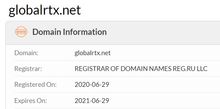 So if they paid $24K in July, that will mean the remaining $300+K was paid out on the last two days of June.
I'll leave you with the raw truth here, that these people can actually tell blatant lies on their website.

The danger that lurks within GlobalRTX.net
If GlobalRTX is out to deceive you, I can't say the vendors advertising on its platform are any better. This means that you will never know what you are getting into when you sign up for those free trials or download apps.
Free trials could be a disguise to steal your payment information by requiring you to fill in your credit card and other personal details.
The apps could be viruses or malware in disguise, trying to access your other files on your device.
One thing you can be sure: your name and email address will be sold to other third party advertisers, so your inbox will be bombarded with offers, from companies that you had never heard of before.
---
---

To round up this article, let me recap and summarize the pros and cons, before I finally make my conclusion.

Pros of GlobalRTX.net
There is not a single advantage to you by getting on the platform. In fact, it will do you lots more harm than good. Please steer clear of it.

Cons of GlobalRTX.net

1. Your online security may be compromised
By engaging on the platform, you will be allowing yourself to be vulnerable to their gimmicks. We will never know what kind of tricks they have up their sleeves. All we know is they are up to no good.

2. You will not get paid
At the end of the day, you will not earn a single cent from this. Right from the outset, it has been their intention to deceive their members.
You may see the earnings on your dashboard going up, making you excited. But those money will never see broad daylight (or your bank account).

3. Your referrals will be left in the lurch
People who trusted your recommendation and used your referral links to sign up with GlobalRTX will feel cheated when they learn about the hoax that the platform is.
---

Is GlobalRTX.net Scam or Legit?

GlobalRTX.net is a huge scam, that's for sure. The best thing you can do for yourself is to run as far as you possibly from it.
Similar platforms I have reviewed (that are also out to cheat people) include Paid2Share, Paid Surveys At Home, VpoMoney, Paid4Tasks, and PaidLeaf, to name just a few.
---

An Alternative

I know you want to be rich. Believe me, I do too.
It's a very natural thing, that's just human nature. I mean, find me someone who doesn't want to get rich fast, and with minimum effort.
I wasn't spared of all the temptations on the internet, hopping from one shiny object to the next.
But when I realized those empty promises are only going to make other people rich, and not me, I stopped looking for shiny objects.
I found a dull-looking one, but I knew in my heart that is the real deal. And from then on, I have never looked back.
An honest, down-to-earth method that will get you there. It's not going to be easy, but it will get you there.
Versus the fast and easy way to empty your pockets and get you nowhere.
Which would you choose?
I think I can guess your choice. 🙂
So now, let me extend my humble invitation for you to join me on this online journey.
I am now working full time from home, growing my internet business, and making an online income. I started from scratch with zero knowledge in this area.
You can do this too.
Here's a peek into my daily earnings: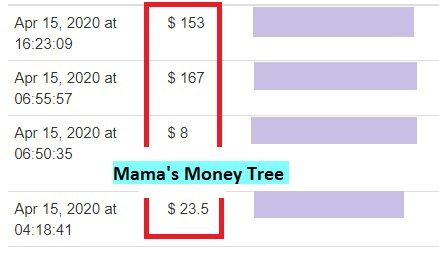 That's $350 in a day. Nothing to boast about, as it is still far from reaching its full potential. I just wanted to show you the vast possibilities here.
Check out this training platform that provides all the resources, tools, along with an entire community of aspiring as well as already successful online income earners:

This real deal does not promise instant results.
Instead, it provides the knowledge and lifelong skills required to grow a successful online business that will sustain itself in the long run.
And for reading all the way to the end of the post, I believe you have it in you to make this work. Here is your FREE PDF Guide: 4 Simple Steps to Making Money Online. Fill in your details to claim it:

If you have any concerns or questions regarding this GlobalRTX review, do comment below, and we will start a conversation from there.
---