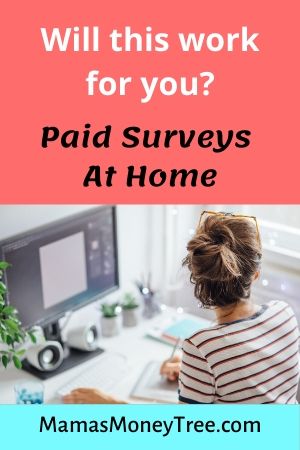 The moment I set foot on its home page, I had a disturbing feeling. I probed around more to uncover what is Paid Surveys At Home about.
Welcome to my Paid Surveys At Home review.
This is not like any other regular paid surveys site. There is something fundamentally different in the way that it operates, and this is what I want to share with you in this post.
Testimonials and earnings disclaimer are also things that we hardly see on other survey platforms. Why does paid-surveys-at-home.com show these?
Let me show you all the red flags on this platform, so that you fully understand how it really works, and can make a better-informed decision about where to spend your time and money.

Without further ado, let's dive right in now!
---

Paid Surveys At Home Review Summary

Product: Paid Surveys At Home
URL: http://www.paid-surveys-at-home.com/
Creator: Patricia Johnson (I have a feeling this is not a real person)
Product type: Surveys aggregator platform
Price: $34
Rating: 0 out of 5
Scam / Legit? : I can't call it a scam, because they give you what they say they will.
Recommended or not? : NOT recommended
Paid Surveys At Home is not a survey site per se that allows you to complete surveys on it. It is an aggregator site that shows you other survey platforms you can use to make money.
It costs a fee to join Paid Surveys At Home. What I dislike most is their sneaky tactics.
---
---

What is Paid Surveys At Home About

To find out what is Paid Surveys At Home, let us first take a look at its website:


Paid Surveys At Home claims that it has connections with hundreds of the best market research firms that are looking for survey takers.
Anyone can do this, from stay at home mom and student to retiree and someone working full-time just looking to make some easy money online.
At least it is transparent about the fact that you do not take the actual surveys on its website. Instead, its job is to connect you to the most reliable and reputable companies in the industry.


It gives people the feeling that $20 for a 20-minute survey and $50 to $150 for focus group participants are the norm in what you will get through its platform.
Though not impossible, these opportunities are very rare in the surveys and market research niche. To throw around these numbers on its website only raises people's hopes unrealistically, so that they would be tempted to join paid-surveys-at-home.com.

Red Flags in Paid Surveys At Home

1. Testimonials
The first thing I observed on its home page was the testimonials, which is not typical of a legitimate survey site.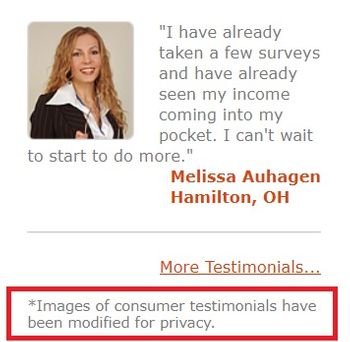 The stranger thing is where it said "the images of consumer testimonials have been modified for privacy".
Why wouldn't they request for testimonials along with their customers' photographs, with explicit permission to use them on their website for publicity?
Photographs of real people do add to credibility. Not many people would notice the small, faint print right at the bottom of the page.

2. Earnings disclaimer
Most people do understand that how much you actually earn from survey sites has a lot to do with the types of surveys you get, whether you qualify for them or not, duration of the surveys, the payment offered, as well as the hours you are able to commit.
To include unrealistic expectations in the testimonials, like replacing your full time job, and even your spouse', AND THEN adding an earnings disclaimer page to protect themselves just does not feel right to me.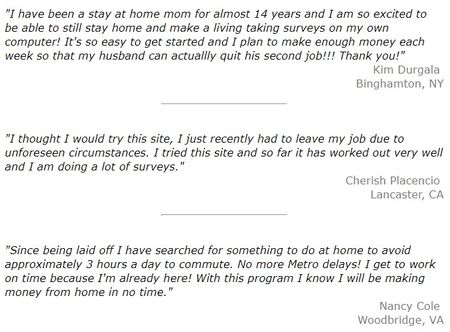 The truth is, it is not easy to make a part-time income out of taking surveys, not to mention a full-time one. And yet Paid Surveys At Home deliberately tries to make it sound very easy.
Most legitimate survey sites do not even try to include users' testimonials or earnings on their platforms.
---
---

3. Unrealistic sample survey
The sample survey is an ultra simple one, with just 15 questions that can be completed within a couple of minutes.
And this is what they claim:


Yet another distasteful attempt to inflate the earnings and get your hopes high.

4. Privacy policy
You have it loud and clear: Paid Surveys At Home will give your contact information to third party businesses, who will contact you.


And when you provided your details for registration, you already agreed to this policy.
Be prepared to receive unsolicited emails in your inbox, from companies you may have never heard of.
What's worse – for Canada residents, you are agreeing to be contacted at your physical address, email address or phone number REGARDLESS of opting out of their contact list.


Look at the way they are running their business.

5. No contact email
Furthermore, I couldn't find their official email address on the website. The only things they divulged were their physical address and phone number.
Wouldn't you expect a legitimate company to provide an email address for people to contact them in the most convenient way?

6. You need to pay (and they don't say this upfront)
This is the biggest issue I have with Paid Surveys At Home. Nowhere on its website does it say you have to pay.
Only AFTER you enter your name, email and country for registration do they tell you that it costs $34 (discounted from the original price of $68).
You can definitely decide not to go ahead with it then, but you would have already provided all your contact details, which they will share with or sell to other companies.
And you do not know what kind of companies they work with, they could be shady businesses for all you know.
Hence the omission of the information that this is a paid platform (until you are going through the registration process) seriously puts me off.

How Paid Surveys At Home Really Works

So after paying, you get access to their database of survey platforms and get-paid-to (GPT) sites, whereby you can complete surveys and engage in other activities to make money.
But frankly, you do not need to pay to see such a list.
Legitimate survey sites are literally everywhere. Do a simple search, and you will find them – FOR FREE.
In fact, here are some I'd recommend: Swagbucks, Inbox Dollars, PrizeRebel, and Survey Junkie, to name just a few.
You don't have to pay anyone to show you such a list.
Another point to note: Paid Surveys At Home has an affiliate program. This means they pay their affiliates to promote them. So you WILL find people singing praises of the platform and trying to convince you to join.
They may not have your best interest at heart, especially since we have ascertained that the information provided by Paid Surveys At Home can be found freely on the internet.
---
---

To round up this article, let me recap and summarize the pros and cons, before I finally make my conclusion.

Pros of Paid Surveys At Home

1. You do get your database
You do get a list of platforms that you can use to make money by completing surveys and other tasks.

2. Refund policy
I cannot find the refund policy on paid-surveys-at-home.com, but knowing that this is a ClickBank (an affiliate network) product, its 30 day refund policy will apply to this program too.

Cons of Paid Surveys At Home

1. Sneaky marketing
To hide the fact that this is a paid service right up to the registration stage is not being transparent and fair to its users.

2. Your inbox will be spammed
It is explicitly made known, in the privacy policy of Paid Surveys At Home, that your contact information will be passed to third parties. So your inbox will be bombarded by unsolicited mails.
Even if it is not from other companies, Paid Surveys At Home itself will send tons of emails your way, trying to sell you other make money products that are very low quality, that it is an affiliate of. It is only concerned with making money for itself.

3. You really do not need this
The only real purpose served by Paid Surveys At Home is to make 'Patricia Johnson' money, whoever that is.

4. Upsells
Once you purchase Paid Surveys At Home, there will be an upsell for buying more information for more work at home opportunities.
Money is never enough (for 'Patricia').
---

Is Paid Surveys At Home Scam or Legit?

Paid Surveys At Home is no good for anyone. I won't go as far as calling it a scam, although some people will.
They do deliver on the list of survey companies, but it's just like me wrapping up a bag of air and selling it to you.
The information is out there for free, you do not need to pay a single cent for it.
---

An Alternative

Taking surveys are a legit way of making money online, and can be a fun past time.
But it can be a waste of precious time, especially since it can be the norm to get disqualified from them only when you are halfway through, or sometimes even almost finishing it.
The earnings are low, and should make you enough for a cup of coffee if you are just doing it on a random and ad-hoc basis.
Here are some great, paying survey sites you may want to consider:
If you are thinking about making some serious money online, that can possibly replace your full time job a few years down the road, check out my #1 recommendation.
I am now working full time from home, growing my internet business, and making an online income. I started from scratch with zero knowledge in this area. If I can do it, you can, too.
Here's a peek into my daily earnings:



That's almost $200 in just one single day. It's nothing to boast about, though, as it's just a small fraction of its full potential. I just wanted to show you the possibilities.
Check out this training platform that provides all the resources, tools, along with an entire community of aspiring as well as already successful online income earners:

This real deal does not promise instant results.
Instead, it provides the knowledge and lifelong skills required to grow a successful online business.
And for reading all the way to the end of the post, I believe you have it in you to make this work. Here is your FREE PDF Guide: 4 Simple Steps to Making Money Online. Fill in your details to claim it:


If you have any concerns or questions regarding this Paid Surveys At Home review, do comment below, and we will start a conversation from there.
---