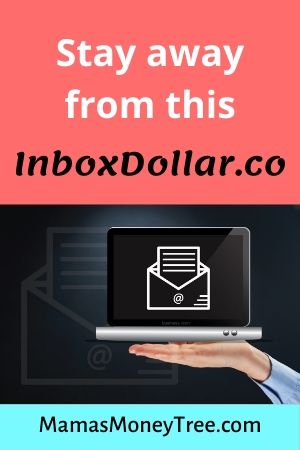 Welcome to my InboxDollar.co review.
What is this #1 social media network that says you can earn $500 daily, just by sharing your referral link, downloading apps, and completing simple surveys?
They even want to give you a $25 sign up bonus.
Is this for real? Or does it sound too good to be true?
You are right if you are feeling uneasy about this platform. It is an imposter, naming itself after the legitimate and established InboxDollars.com. This fake InboxDollar.co is a huge scam that will never pay out a single cent. Stick with me as I walk you through all its red flags, so that you see the wolf under the sheep's skin.

Without further ado, let's dive right in now!
---

InboxDollar.co Review Summary

Product: InboxDollar
URL: https://inboxdollar.co/
Creator: unknown
Product type: social media network
Price: free to join
Rating: 0 out of 5
Scam / Legit? : SCAM
Recommended or not? : NOT recommended
InboxDollar is a data harvesting site that will collect all its members' contact information to be sold to third party advertisers. On top of that, it makes you do work, like completing surveys, installing apps, etc. without any intention to pay out a single cent.
Furthermore, interacting with the activities on the site could put your online safety at risk.
---
---

What is InboxDollar.co

To find out what is InboxDollar.co, let us first take a look at its website: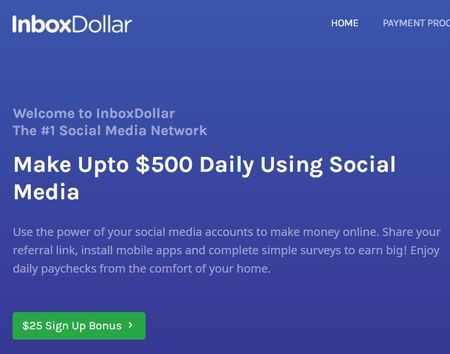 Said to be a social media network, it lets you make money using the power of your social media accounts. When someone clicks on your referral link, you earn $2. And when someone joins the platform through your link, you will get $20.
How easy can it get?
What's more, there is a $25 bonus that is gifted to you, simple for signing up for free!
And there are the task walls, where you get to make $40 to $50 for each task you complete. These are super easy too, taking just 5 to 10 minutes of your time, per task. These include downloading apps and opening them for 30 seconds (or whatever other instructions you are given).
Upload 1-minute video on Youtube, or post on Facebook or Instagram to earn $50 for each completed task. These are to promote InboxDollar.
It all sounds good, doesn't it?
But in fact, herein lies the biggest red flag: the disproportionate amount of money that they are trying to give you.
Surveys and get-paid-to sites can make you some easy coffee money on the side, but this one is going to make you a 4 to 5 figure income?!
That's not possible, because the companies that pay InboxDollar for the completion of the tasks are not even paying them that much, nothing close to those phenomenal amounts that they want to pay you.
So this is not legitimate.
Now, let me show you all the other red flags that point to the fraudulent nature of this platform

Red Flags in InboxDollar.co

1. Fake payment proof
Take a look at one of the payment proofs found on its website.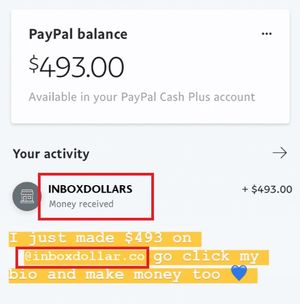 Which company would get its name wrong in its payment processor? InboxDollar.co pays out as InboxDollars?
It would be tough to convince me on this.
What's more, if you observe closely, you would find not a single date on the payment proofs. Why? Isn't the date an important detail when you want to show proof of payment?
---
---

2. Fake video testimonials
If you pay attention to all those video testimonials, none of them show any payment proof. They are just singing praises about the platform and how easy it is to make money on there.
People get excited seeing the numbers on their dashboard go up and up. And they will willingly create a video to promote the platform because they think they will get $50 with a simple video.
InboxDollar then pulls their videos from Youtube to place on its own website, creating hype and making it look legit.

3. Fake email address
The email address provided at the bottom of its home page for contact does not seem to go through.


This is bad. It shows that there is no intention for its support team (if it even exists) to help and support its members, especially when issues arise during paying out.

4. No legal pages
For a platform that claims to have paid out $6 million to members, it seems really off that there are no legal pages on its website. No privacy policy, no terms and conditions of use.
And the entire website is a single page site. Even though there are tabs on the top menu, clicking on those simply bring you to different sections of the same home page.

5. Very new site
InboxDollar.co is just slightly more than two months old.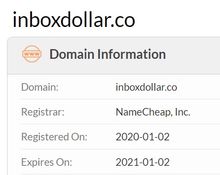 Its website domain was very recently registered, in January 2020.
There is nothing wrong with being new. Every company has to start somewhere.
But for a company that is barely 2 to 3 months old to have paid out $6 million is quite unbelievable.
I can't speak for others, but I do not believe them.

We could spend half the day scrutinizing all the discrepancies and suspicious details on the platform, but I think we shan't let them waste anymore of our precious time.
---
---

How InboxDollar.co Really Works

1. Data harvesting site
First and foremost, InboxDollar.co is a data harvesting site. It collects all the names and email addresses of its members into a list, and sells it off at a handsome price to third party advertisers.
The people behind InboxDollar make good money with this, because it is considered a highly targeted list in the make money online niche.
The act of signing up onto their platform shows that all its members are interested in making money online.
Vendors want to sell you the underground method to instant success, or the done for you business in a box, or the secret formula that no internet marketer would tell you.
So you will start receiving all that useless junk in your inbox. And we all know none of those get-rich-quick schemes will work.

2. They make you do work without paying you
All the tasks inside InboxDollar will earn those crooks money as members complete them. Those are CPA (cost per action) offers, whereby they get paid whenever someone completes a certain action, like downloading an app, signing up for a free trial, providing their phone number, etc.
Typically these can make them $2 per action (sometimes more, sometimes less), depending on the offer itself. But it's nothing close to the $40 they want to pay you for installing that app.
So they are cheating people of their time and trust, to do work that brings in the money for them, and yet refusing to pay its members.

3. Your online security may be compromised
You never know when clicking on a link will land you on some illegal health supplements website.
Or when downloading an app could introduce a virus or malware onto your device instead.
With these people who would stoop low for the sake of money, you can't tell what you're getting yourself into.
So to stay safe, I'd strongly urge you to steer clear of the InboxDollar platform.
---
---

To round up this article, let me recap and summarize the pros and cons, before I finally make my conclusion.

Pros of InboxDollar.co
There is not a single advantage to the platform. It will do you more harm than good. Stay as far away from it as you can.

Cons of InboxDollar.co

1. It sells your information
Although receiving spam in your inbox may sound like a minor thing, the fact remains that they lured people into the platform, and stole their details used for signing up to sell off to third parties. It is unethical.

2. It makes you do work without paying
You may have spent a good amount of time completing tasks and trying to get the earnings up to the payout threshold. All that time and effort is for naught.

3. Your online safety is at risk
If you had connected your InboxDollar account to your payment account, do be very wary, and monitor your money closely.
Or if you had used the same password for InboxDollar as your other important accounts like email and stuff, do change out the passwords for your important accounts right away.
You can't be too careful, these people are up to no good.
---

Is InboxDollar.co Scam or Legit?

InboxDollar.co is a scam, through and through. Worse still, it is trying to pose off as the legitimate survey website that has a very similar name.
Some similar scams I have exposed recently include EZBucks, OGTask, CashInfluence, SwiftBucks, and Earn and Go, to name just a few.
---

An Alternative

Everyone wants to be rich, but guess who will make it?
It's a very natural thing, that's just human nature. I mean, find me someone who doesn't want to get rich fast, and with minimum effort.
I wasn't spared of all the temptations on the internet, hopping from one shiny object to the next.
But when I realized those empty promises are only going to make other people rich, and not me, I stopped looking for shiny objects.
I found a dull-looking object, but I knew in my heart that is the real deal. And from then on, I have never looked back.
An honest, down-to-earth method that will get you there. It's not going to be easy, but it will get you there.
Versus the fast and easy way that gets you nowhere except round and round in circles.
Which would you choose?
I am now working full time from home, growing my internet business, and making an online income. I started from scratch with zero knowledge in this area. If I can do it, you can, too.
Here's a peek into my daily earnings:



That's almost $200 in just one single day. It's nothing to boast about, though, as it's just a small fraction of its full potential. I just wanted to show you the possibilities.
Check out this training platform that provides all the resources, tools, along with an entire community of aspiring as well as already successful online income earners:


This real deal does not promise instant results.
Instead, it provides the knowledge and lifelong skills required to grow a successful online business.
And for reading all the way to the end of the post, I believe you have it in you to make this work. Here is your FREE PDF Guide: 4 Simple Steps to Making Money Online. Fill in your details to claim it:


If you have any concerns or questions regarding this InboxDollar.co review, do comment below, and we will start a conversation from there.
---